Steven Soderbergh: 'Three more movies and I'm out of here'
He directed some of the most memorable films of recent times, but he has had enough. He explains why to Tom Teodorczuk
Tom Teodorczuk
Sunday 22 January 2012 01:00 Comments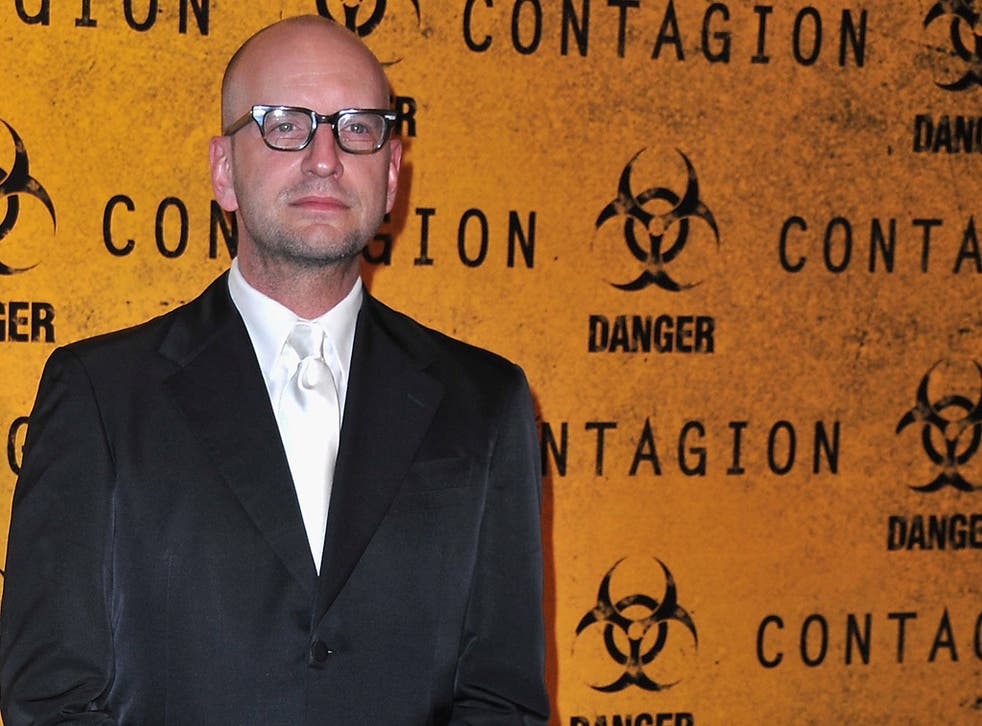 Steven Soderbergh has had enough. It's no secret: his retirement has been a hot topic of conversation in Hollywood since Matt Damon first let slip that the Oscar-winning film director was disillusioned back in 2010. The director of Erin Brockovich, Ocean's Eleven and Traffic has often spoken of his desire to take a prolonged sabbatical, only to contradict this by making films such as last autumn's big-budget medical disaster film Contagion and his latest offering, Haywire, the director's first foray into action which opens this weekend.
When we meet in a suite in downtown Manhattan's Crosby Street Hotel, Soderbergh, 49, reveals a definitive plan to finish with film, and end a 30-year career that began with winning the Palme d'Or at Cannes in 1989 with the indie drama Sex, Lies, and Videotape. He is calm and measured but does not disguise his exasperation at a business that in recent times saw him fired from making Moneyball with Brad Pitt, and walking away from a mooted remake of The Man From U.N.C.L.E. starring George Clooney.
"I need a radical change," he says. The director has a reputation for eclecticism, not to say self-destructiveness: he followed up Ocean's Eleven, the biggest hit of his career, with the obscure experimental film-within-a-film Full Frontal – but now the intellectual curiosity has run dry: "The primary reason is feeling frustrated at my knowledge being at a standstill. I need a complete ... I need to tear down my processes and start over again if I'm going to come back. I'm not going to come back unless I've figured out a new way to do this by my definition."
Soderbergh has three films lined up after Haywire: male stripper comedy Magic Mike, an HBO biopic of Liberace starring Michael Douglas, and a drama, The Bitter Pill, featuring Jude Law and Blake Lively. So when will he be taking a break? "A year from now, I'll be done," he reveals. Soderbergh is unsure what he will be doing but he says he will be in New York. "I've got ideas for stuff that's not movies, whether it's painting or photography or books. I'd like to do one more film book [his book on the director Richard Lester was published in 2000], so I'm working on that." He's been here before. After Sex, Lies, and Videotape Soderbergh had "five movies in a row that nobody went to see" and, in the mid-Nineties, took a break. "This one's bigger because that was just about the way I was working," he says, "and that it was resulting in me being a filmmaker that I didn't start being. This is broader than that. This is 'everything has to change'."
Soderbergh says he has been planning his retirement since 2006. "When Section Eight [the production company he ran with Clooney] closed, I started thinking, 'In five years I want to be out'." One factor preying on his mind is that the output of many directors' twilight years is inferior – think Alfred Hitchcock or Orson Welles: "It's something that I don't want to have happen to me. I don't want people to go, 'Wow, the last group of films weren't very good'."
Ironically given his departure from Moneyball – the acclaimed film about baseball stats which he still has not watched but says "I will eventually" – Soderbergh says Hollywood metrics are screwed up. "I've been trying to convince everyone who releases movies to analyse why this is costing so much. What did you get for between $23m and $30m on this spend exactly? Can you quantify what this last $7m got you? They can't. My attitude is, why are you doing it? 'Well everybody's doing it and if you want to open the movie you gotta spend $30m.' This is broken."
Another source of frustration for Soderbergh is that medium-sized movies, such as Haywire and Contagion, are becoming an endangered species. "The data will tell you that between $25m and $75m is the dead zone in terms of profitability. They're movies. It's not cereal ... the audience isn't sitting around going, 'There's no way I'm seeing a movie if it cost between $25 and $75m.'"
And don't get him started on test screenings. "It becomes a hammer and you can feel a real idiot when someone's got a stack of paper and they're going, 'Don't you see there's 400 people and they don't like him.' And you're going, 'They're not supposed to like him.' " With Out of Sight, his 1998 adaptation of Elmore Leonard's crime novel, starring Clooney and Jennifer Lopez, "I knew we were in trouble when a guy out of a focus group raised his hand and said, 'I just want to say I hate stories that are told this way.' It got worse from there. That might be the least flawed movie I've made, and they hated it."
Haywire, he said, "tested terribly". It stars the former mixed martial arts fighter Gina Carano as a covert ops specialist who seeks revenge on, among others, Ewan McGregor, Michael Fassbender and Antonio Banderas. "It was really because of her," Soderbergh says of making Haywire. "If she had said no, that she wasn't interested in having a movie built around her, I wouldn't have thought: 'oh well, I still want to go and do this.' She was the reason to do this movie."
Access unlimited streaming of movies and TV shows with Amazon Prime Video Sign up now for a 30-day free trial
Sign up
Hollywood's treatment of women is another sore subject. "People just aren't writing a lot of great roles for women. They haven't been for a while but they're certainly not now because the perception in the business is that there are maybe one or maybe two women that mean anything, and that's just horrible."
This is both Carano's first serious film role and Soderbergh's first action movie. "The idea was pretty straightforward. She goes on the run and beats her way through the cast." Soderbergh is known for regularly casting favourite stars such as Julia Roberts and Clooney but he has no plans to work with Carano again: "There's nothing I have coming up that I could really put her in."
It seems fitting that just as people have failed to define Soderbergh's genre style ("People go 'it's one for you, it's one of them.' No, they're all for me"), they can't work out if he really will walk away.
Soderbergh himself is adamant. I ask him whether, if he were Danny Ocean from Ocean's Eleven, he would gamble on a Soderbergh retirement being permanent? He has no doubt: "You should put money on it. Don't bet against me."
Register for free to continue reading
Registration is a free and easy way to support our truly independent journalism
By registering, you will also enjoy limited access to Premium articles, exclusive newsletters, commenting, and virtual events with our leading journalists
Already have an account? sign in
Join our new commenting forum
Join thought-provoking conversations, follow other Independent readers and see their replies