The Independent's journalism is supported by our readers. When you purchase through links on our site, we may earn commission.
Interview
Burning actor Steven Yeun interview: 'I feel like a man with no country'
The Korean-American actor tells Jacob Stolworthy how his new mystery film 'Burning' marks a career first, his reasons for leaving 'The Walking Dead' and why he 'feels his otherness' in all situations
Thursday 31 January 2019 15:09 GMT
Comments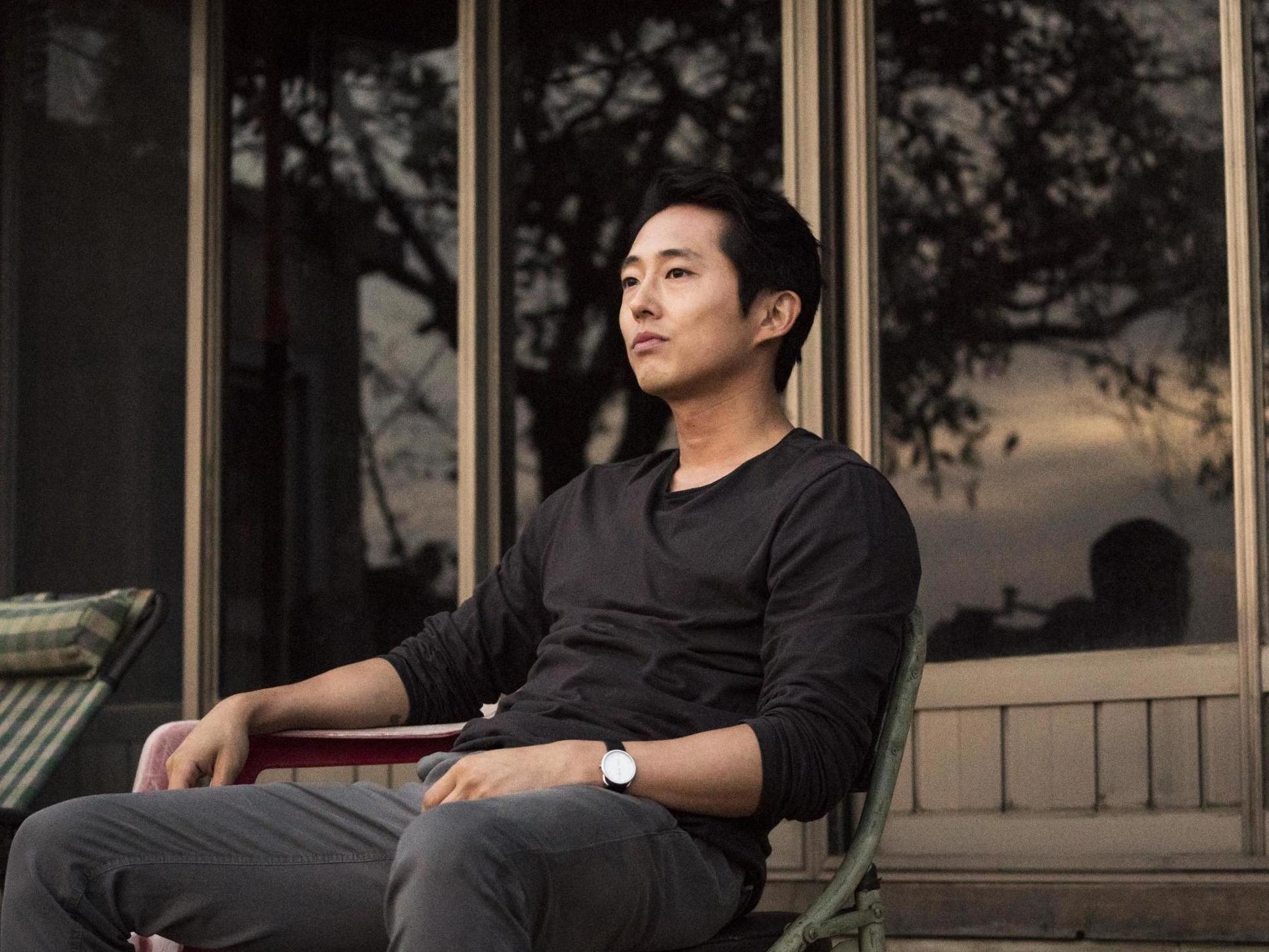 It was a baseball bat to the head that gave Steven Yeun's career the adrenaline shot he was looking for. Well, a fake baseball bat. As a key part of The Walking Dead for seven years, Yeun was concerned the hit US series would "define" him for years to come. But with that crushing blow – which killed off his character Glenn Rhee – came the opportunity to show he could do more than just kill zombies in increasingly inventive ways.
With his new film, Lee Chang-dong's mystery drama Burning, he couldn't be further away from Glenn. He plays Ben, an affluent bachelor with pyromaniacal tendencies. If Ben's not driving his Porsche around town – usually accompanied by a new female passenger each week – he can be found in his kitchen whipping up an impressive dish for guests. He'll probably be sipping red wine while doing so. In other words, Yeun plays someone he feels he's rarely been offered before: a three-dimensional human being.
Save for a recent appearance in Boots Riley's surreal Sorry to Bother You, Burning is certainly the Korean-American actor's biggest role since The Walking Dead (he was written out of it in 2016). He stars opposite Yoo Ah-in and Jeon Jong-seo in the adaptation of Haruki Murakami's 1983 short story and for Yeun, the film marks a first. "I wasn't the Asian American in that group of characters," he tells me. "I wasn't the plucky nice guy. I wasn't the tech-dude or the person that needed to serve some sort of plot device. I was just Ben."
It also sees Yeun play a villain for the first time in his career – or so it seems. Without us giving too much away, Burning presents an unsettling disappearance that Ben may or may not have something to do with. His is a quietly electrifying performance and it's no surprise several critic award circles named him their Best Supporting Actor of 2018; that an Oscar nomination never arrived is a glaring oversight.
From the moment we meet, Yeun is amiable and effusive but intelligent too, never shying away from potentially contentious topics. Perched confidently on a chair in a central London hotel, he balances movie star cool and nice guy charisma with ease.
While the film may be Yeun's first major Korean production, he doesn't view it as a "debut" per se. Rather, he sees it as him finally branching out from the "short-sighted" Hollywood roles he's played since his career began in 2009. He doesn't namecheck specific credits – he's too much of a gent for that – but his past performances include lab assistant Kenny in science-fiction drama I Origins (2014), office worker Derek in action horror Mayhem (2017) and an animal rights activist, who is also a translator, in the South Korea-set Okja (2017). Yeun admits it's been frustrating.
"It's been like, 'Here's what an Asian person looks like to a majority white audience,'" he says. "But if you go to Korea, the characters are just humans because they're not thinking about it like that. That's something that I was made aware of [with Burning], which was really wonderful for me to know. I didn't have to represent all Asians. I could just represent myself."
Born in South Korea, and given the name Sang-yeop, Yeun lived in Seoul until the age of five when his parents relocated to America in the hope that their son would become a doctor. He had other ideas. After he graduated with a degree in psychology, with a special focus on neuroscience, it was a chance meeting with comedian and former Daily Show correspondent Jordan Klepper at Michigan's Kalamazoo College in 2005 that put paid to his parents's aspirations, although they continued to be supportive. Five years later, after several adverts and a small part in The Big Bang Theory, he landed the part of Glenn. "I feel like I got a crash course in Hollywood," he says.
Burning saw Yeun relocate from his current home of Los Angeles back to South Korea for an "intense" five months. Did he feel like an American actor while working there or is it the reverse when he's working in the States?
Access unlimited streaming of movies and TV shows with Amazon Prime Video
Sign up now for a 30-day free trial
Sign up
Access unlimited streaming of movies and TV shows with Amazon Prime Video
Sign up now for a 30-day free trial
Sign up
"These days I feel my otherness in every situation," he says. "If I go to Korea, there are reminders that I'm not fully Korean. I can speak it – and I look it there – but there are cultural and historical things that I don't have because I wasn't necessarily raised there. They really form the identity of being Korean and I'm missing parts of those." Yeun says that he feels like "a man with no country", and tells me: "That's the kind of place I'm operating from."
While it's something conventional Hollywood stars don't have to contend with, he says it helped inspire him when playing Ben (Yeun has previously said that Lee Chang-dong – whom he warmly refers to as "director Lee" – liked that his "Americanness could really help with the [character's] ambiguity" in an interview with GQ).
"You can either war against it and be really afraid or you can just accept it and go with it. I think it's been an invaluable tool to know the loneliness of human beings."
In December 2016, Yeun married his girlfriend of 10 years, Joana Pak, who gave birth to their son three months later. This year, they'll welcome their second child. He classes former Walking Dead co-star Andrew Lincoln as a close friend ("he's a class act") and, recently, a photo of Yeun alongside Harry Styles and Japanese actor Shota Matsuda sent his millions of social media followers, boosted by his Walking Dead fanbase, into a frenzy. But ironically, he thinks a desire for online popularity adds to the world's problems.
"I feel like we're in this place where the internet has made us feel directionless. People are really scared to be on their own and I understand that feeling. It can drive you to try to find inclusive places where you might not feel so lonely, which is why all of a sudden someone might be a white nationalist. Usually, those types of people are the ones that are the most alone. We're all carving out our safe spaces right now. We're all carving out our little tribes."
There's one "squad" he is excited about, though, and it comprises his fellow boundary-breaking actors. Our conversation turns to Crazy Rich Asians, the 2018 mega-hit that was Hollywood's first studio film to feature a majority Asian American ensemble in a modern-day setting since 1993's The Joy Luck Club. He may not have starred, but its box office receipts have made him optimistic that it was more than a flash in the pan (its global takings currently sit at £182.5m – not bad from a £23m budget).
"With Crazy Rich Asians, people could reduce it down to being like, 'We're just going to make this movie to represent all of you.' But the thing I loved about that film is that it showed you there's a gang load of us, man – a bunch of actors that are ready for their moment, ready to show up and do the thing that they're hired to do. I'm excited about that. The squad is deepening and widening."
Yeun may be hopeful that more varied scripts are coming his way, but he's still eager to dedicate a small part of the conversation to the role that won him legions of fans. He appeared in the very first Walking Dead episode back in 2010, but – after seasons of near-misses – met his maker in 2016.
The most shocking film twists of all time
Show all 37
"I actually was [ready to go]," he admits. "That show is one of the greater experiences of my life. I got to work with such incredible people and I got to experience life in its ups and downs in every facet, so it's very integral to my being. But at that moment, it felt very, very appropriate to leave – not because I wanted to go, not because they wanted me to – just that's when my character's story was done. There's nothing greater in my opinion than someone telling you that there's an end to something."
For the past few years, Yeun has been looking for roles that are as far removed from Glenn's nice-guy shtick as possible. In the sociopathic Ben, it seems he's found the antithesis of his Walking Dead character – and, in the process, a benchmark for future roles.
"I had some angst about leaving The Walking Dead," he admits. "I got to experience the extreme ups as well as what it's like when you might not be relevant anymore. But Burning has really allowed me to feel what it's like when…" he smiles, relieved, "nothing defines you."
Burning is released on 1 February
Join our commenting forum
Join thought-provoking conversations, follow other Independent readers and see their replies