Taron Egerton interview: On Sing, Kingsman 2, and wanting to do a musical
The actor lends his voice to the tuneful ape Johnny in 'Sing', an animated musical from the studio behind 'Despicable Me'
Clarisse Loughrey
Wednesday 25 January 2017 16:49 Comments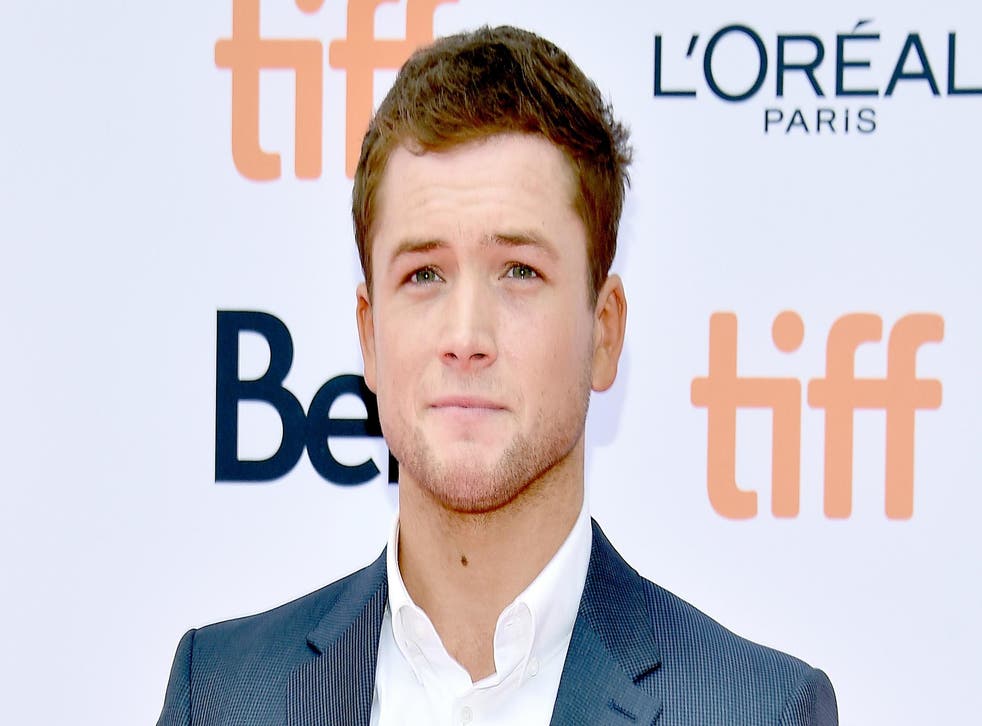 Not everyone's twenties inevitably play out like the HBO sitcom-worthy chaos of a true quarter-life crisis, but I'd always half-assumed the pressures of fame and artistic legacy somehow made those feelings unavoidable in any young actor's mind.
Actors, in some ways, live with two identities: themselves, and the idea of themselves that they build up on screen. We spend our twenties in a half-blind panic as we try to solidify our sense of self, but to do so at the same time as knowing that every role chosen, every character played, might forever determine how we're seen by of thousands of people seems an insurmountable task.
If Taron Egerton – the 27-year-old actor who first shot to fame as Eggsy in 2015's Kingsman: The Secret Service – feels even a flicker of that foreboding, that small inkling of a crisis of self, he's done an incredible job of not letting those feelings surface as he discusses his career with an absolute, calm sense of assuredness, a roll-with-the-punches attitude of someone who's merely focused on the thrill of opportunity.
"I want to have fun," he says. "I'm not interested in being a serious actor because I think it's boring, and I think we've got plenty of them. SoI like to do stuff that has a sense of humour, and stuff that doesn't necessarily take itself too seriously. But equally I'm also now yearning to explore the dark side of life a little bit.
"The joy of the job is the diversity and the variety – and, if you're lucky enough, to have the freedom to do different things. I don't like the idea of a box. It's nice to kind of defy the idea of a box."
Egerton's explorative approach to his work is evident: his roles are varied, interesting, but not deliberately poised to show range like somebody attempting to thrust their portfolio in everyone's face.
Following Kingsman, he went from playing a lover of Tom Hardy's Ronnie Kray – basically a high-pitched laugh on legs – in Legend to the endearing buffoonery of one of the UK's most beloved underdogs, Eddie the Eagle.
"If something appeals, something appeals," Egerton says. "I don't think I'm particularly calculated about it. I know I have an alarm bell that goes off in my head where something feels like it has no creative integrity to it at all, and it's just about making money. I'm not interested in going and doing a big, action-adventure romp with nothing to say about being a human being. Whereas Kingsman's become quite a lucrative thing, but it's also a big arthouse movie in a lot of ways. It defies the parameters within which those big budget commercial films normally operate."
He now enters brand new territory with Sing, both marking the first time he has lent his voice to an animated feature, and the first musical production he's featured in. He voices the soulful ape Johnny, burdened by a father intent on him joining the family business, a business that happens to be theft and robbery. What's surprising, listening to Egerton's utterly soulful versions of "The Way I Feel Inside" and '"I'm Still Standing", is the fact singing remains a fairly new enterprise for him.
Access unlimited streaming of movies and TV shows with Amazon Prime Video Sign up now for a 30-day free trial
Sign up
"I'd done it before," he says. "I'd done, like, amateur musicals and I'd done choral singing at school, but I think it was at [drama school] Rada where I first had that validation and someone actually saying, 'You know, you can sing'. And I go, 'OK, I can sing!' That was the first time I remember feeling that way. Then, when I was in my third year, everyone in their third year has a meatier role – a lead or a really interesting, big character part – and mine was the lead in a musical."
Over the course of his time at Rada, Egerton reflects that he was always, in some ways, considered the "male singer" of the year; though the reputation never made him shift his priorities in terms of career plans.
Sing Clip - Johnny Gets Distracted
"I didn't go to drama school to be a musical theatre performer," he says. "I enjoyed it, but I didn't go to do that; I went to be an actor. So I felt a little bit... not cheated, but a bit miffed that my big chance was in the musical. That said, now I'm desperate to do a musical, and I'm trying to find one. Or find someone who will let me do one. I mean, it's about someone presenting me with an opportunity really, but I'd bite their hand off if they did. I think it's about time we had some."
He's yet to see La La Land and acknowledges he might be the last person on the planet not to have seen the Oscar favourite. But he seems enthused at the prospect of the screen musical's much-discussed grand return: "I feel like we're due a stint of them," he says.
In reality, Egerton has little time to spend waiting by the phone for the next Damien Chazelle to call, considering how packed his current schedule is; he's currently working on Lionsgate's Robin Hood film, playing the titular role alongside Jamie Foxx and Ben Mendelsohn, with two films set for release this year.
First up is Billionaire Boys Club, which almost acts as a who's who of young Hollywood talent; here starring alongside the likes of Ansel Elgort, Emma Roberts, Jeremy Irvine and Billie Lourd, in the real-life tale of a band of LA rich kids whose financial scam soon ended in deadly consequences. "I play a bit of a s*** in that," the actor adds. "Which is kind of nice, since I usually play more sympathetic characters generally. So he's a bit of an arsehole, which is kind of fun. Because there's an arsehole in all of us."
Films to get excited about in 2017

Show all 13
The other is, of course, Kingsman's highly-anticipated sequel The Golden Circle; how does the film's host of A-list Americans (Channing Tatum, Jeff Bridges, Julianne Moore, Halle Berry, Pedro Pascal) may affect what feels like such a quintessentially British blockbuster.
"I think it's still got that quintessential Britishness and it's still about what being a gentlemen is, and we're still in those beautifully tailored suits," he responds. "As much as a large portion of the film is spent exploring what the Statesmen are – the American version – by the end, it's very much the Kingsmen who are saving the day again."
"So I think it's very faithful to its identity and what Matthew [Vaughn, director] established in the first one, but equally I think he recognises the importance of there being a new world to explore. I would never presume to know how his mind works, but I think, in this one, he knew that the audience would have that hunger for stuff they hadn't seen, which was what was fun about the first one, this world of Kingsman opening up before them. So in this one, we discover the Statesmen and we didn't even know they existed, and it's a whole new world to explore again."
SING is available now on Special Edition on 4K Ultra HD™, Blu-ray 3D™, Blu-ray™, DVD and On Demand, courtesy of Universal Pictures Home Entertainment (UK).
Register for free to continue reading
Registration is a free and easy way to support our truly independent journalism
By registering, you will also enjoy limited access to Premium articles, exclusive newsletters, commenting, and virtual events with our leading journalists
Already have an account? sign in
Join our new commenting forum
Join thought-provoking conversations, follow other Independent readers and see their replies