25th anniversary
Some like it goth: How 'The Crow' transcended the tragic, on-camera death of its star to become a superhero classic
Though the accidental fatal shooting of Brandon Lee cast a dark shadow over 'The Crow', 25 years on, the film is still one of the great comic book hits of the Nineties, writes Ed Power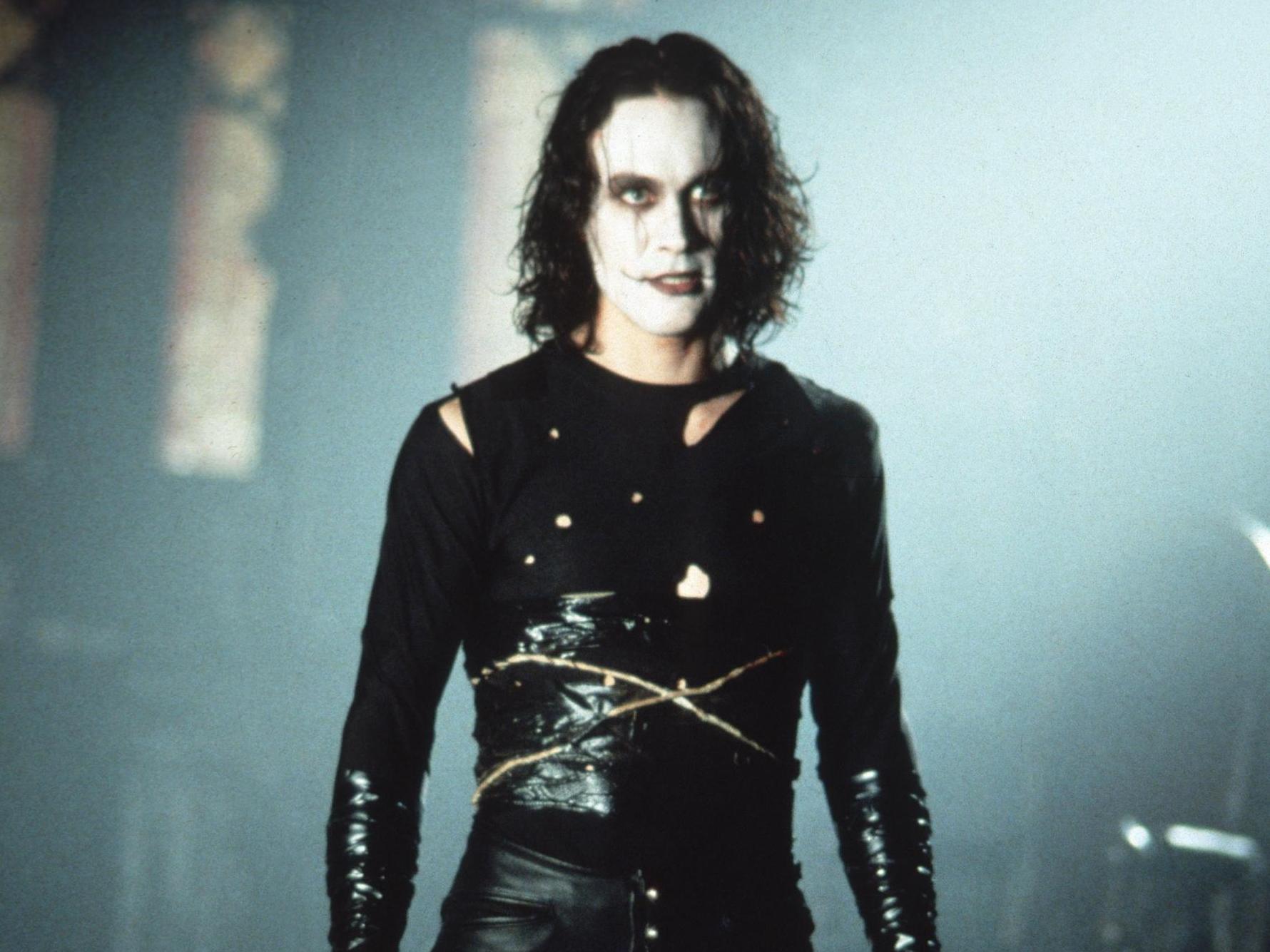 If ever a movie did not require an extra sheen of darkness, it was the 1994 adaptation of James O'Barr's graphic novel The Crow. This revenge fantasy, bathed in stylised Nineties gloom, was more than bleak enough already. "It can't rain all the time," its anti-hero, Eric Draven, declared at one point. But throughout The Crow's spectral 102 minutes, it certainly seemed to. The last thing it needed was a further tinge of tragedy.
It got one anyway. On 31 March 1993, towards the tail end of an already troubled production, the film's young star, Brandon Lee, arrived at North Carolina's Carolco Studios to film his character's death scene.
The script called for skinny rocker Eric Draven to be shot when he returned to his apartment to find hired thugs attacking his fiancée. Lee duly walked through the door. The gun, a Smith & Wesson 629 .44 Magnum, went off. As was the plan, the actor crumpled to the ground. The crew began to pack away their equipment.
But Lee never got back up. First, someone noticed the blood – a small pool spreading ever wider beneath him. Then everyone started yelling at once. By the time the ambulance arrived, Lee was barely clinging on. After five blood transfusions, and six hours of surgery, he passed away without ever regaining consciousness. The 28-year-old was the victim of a horrific accident – cut down by a gun ostensibly loaded with blanks, which somehow discharged a lethal bullet.
What's remarkable is that the tragedy of Lee's death neither detracts from one of the great comic book movies of the Nineties, nor reduces it to a ghoulish spectacle. The Crow, which turned 25 this month, stands tall as one of the landmark superhero films from an age when the genre was at a historic low point – chronically unsuccessful at the box office, a punch-bag in popular culture.
As we dust ourselves off from the latest Marvel juggernaut, Avengers: Endgame, it feels extraordinary that a vision as brutal and uncompromising as The Crow ever made it to the screen – much less transcended the freak death of its star. With his painted-on jester's smile and ghostly white mascara, O'Barr's anti-hero was half voodoo marionette, half Cure album sleeve come to life (it's no surprise that Robert Smith and company were fans, and wrote a song in two days especially for the soundtrack).
Films to watch before you die
Show all 35
Then there was its central story of love ripped apart and the redemption, or so the comic seemed to argue, that violent revenge can bring. Vengeance is the lifeblood of the resurrected Draven, who tracks down and brutally evens the score with the men who killed him and his fiancée, Shelly Webster (Sofia Shinas).
The horror show unfolds against the backdrop of Devil's Night – a real life phenomenon in early Nineties Detroit. On the eve of Halloween, thugs would embark on a spree of vandalism and arson (the city finally shut down Devil's Night in 1995, in part by encouraging communities to participate in the non-violent alternative, Angel's Night). It is as Detroit burns that Draven and Shelly are attacked, the police too busy fighting the chaos to intervene.
Twelve months later, in a rain-whipped graveyard, a crow straight out of Edgar Allan Poe (in fact a raven as crows are difficult to train) alights on Draven's grave and he claws his way out. The only thing on his mind is visiting justice on his assailants. He returns to the now ruined apartment and – to the strains of The Cure's "Burn" – daubs on his iconic face paint. He is Eric Draven no longer. Now he is the Crow, and he will have his payback.
Access unlimited streaming of movies and TV shows with Amazon Prime Video
Sign up now for a 30-day free trial
Sign up
Access unlimited streaming of movies and TV shows with Amazon Prime Video
Sign up now for a 30-day free trial
Sign up
The parallels between Lee's life and the origins of the O'Barr comic series are striking. The actor's father, martial arts star Bruce Lee, suffered a tragic death when he collapsed from a cerebral edema at age 33. His son was just eight. O'Barr's original comics, meanwhile, were obsessed with mortality. O'Barr, an orphan and former marine who had illustrated army technical manuals, had created it as a vehicle for his grief after his fiancée was killed by a drunk driver. Into its black and white pages he poured his fury and heartache. It was hard to tell where one ended and the other began.
"My life was changed instantly, forever, because I had, unhealthy or not, wrapped my whole existence around this person," O'Barr said of his fiancée's death in 2016. "Suddenly, there was nothing in my future but nothingness and I was angry and furious, angry with God, and so I carried that around for a few years until it became almost poisonous and I needed to do something."
In a terrible echoing of O'Barr's ill fortune, Lee had likewise been engaged at the time of his death. He was due to tie the knot with his girlfriend, Eliza Hutton, a week after cameras stopped rolling in North Carolina. All he had to do was survive The Crow.
But the film was taking a toll on the usually chipper Lee long before the terrible events of 31 March. Shot mostly at night and calling for Lee to be soaked over and over by artificial rain, The Crow quickly became an endurance test for the actor. At one point, his manager Jan McCormack even called the producers, accusing them of "trying to kill" Lee.
Nonetheless, he persisted. Lee believed in the material, and considered its frank exploration of grief and the revenge impulse brave, even transgressive. "The comic book is an underground comic book, it's not Spiderman or Superman," Lee reasoned in an interview mid-shoot. "It's not something for mass consumption. It has a very hard edge to it."
O'Barr had published his first Crow comic strip in 1989, 11 years after his fiancée was killed. He was further inspired by a story about a young couple murdered by thieves over their £15 engagement ring (the recovery of Shelly's engagement ring from a fence is a major plot-point in the movie).
He had been eager for a film adaptation, convinced the comic's stark sensibility would take on a new life on screen. Yet O'Barr was initially unconvinced when producer Jeff Most suggested casting Lee as the lead. At that time, the young actor was best known as the son of Bruce Lee, and his CV was strewn with straight-to-video kung fu fests. O'Barr feared Lee would turn the Crow into an action movie lunkhead.
In fact, Lee wasn't top of Most's list either. His first choice was Christian Slater. But Slater, then on a hot streak, demanded too high a salary. Approaches to Johnny Depp and River Phoenix likewise came to nothing. Lee, by contrast, had impressed O'Barr, Most and director Alex Proyas with his enthusiasm. That earnestness would carry through to his performance, for which Lee slimmed drastically, losing the muscles that had been his signature in hokey cult hits such as Showdown in Little Tokyo and Rapid Fire.
A cloud had seemed to hang over the production from the outset. On the very first day of shooting, an electrician drove into a pylon and nearly died. A freak storm later buffeted North Carolina, causing tens of thousands of dollars' worth of damage and eating into the modest £11.5m budget. An onset carpenter would accidentally wedge a screwdriver into his hand. And, just a few weeks before Lee's death, a crew member, supposedly disgruntled, smashed a car into a props workshop. To this day, it's unclear if he had become ill behind the wheel or was embarking on a deliberate rampage.
Yet no matter the mishaps or reversals, Lee remained a driving force. He set an example with his dedication, giving everybody else hope and encouragement. He also helped shape the story – convincing Proyas, for instance, to remove a subplot about a villain who steals the Crow's power, because of its problematic Asian stereotyping.
"The level of physicality and charisma he brought to the role was amazing to witness," O'Barr would remember. "Not a lot of people realise just how hard he worked – he did all of his own fight choreography and nearly all of his own stunts. The only thing he didn't do was falling off buildings because they wouldn't let him. That's without even talking about his performance – he brought the right mix of humour, pain and menace to the role."
Still, it was also obvious that Lee was pushing himself too hard. "He lost 20 pounds after getting the role, and he didn't have a lot to lose," said O'Barr. "I could lift him up with one arm, he was so thin. There was absolutely no fat on him whatever. He was just completely streamlined."
Nonetheless, as weeks ticked by, the pieces fell into place and the outline of a coherent movie coalesced. Lee was looking forward to getting on with the rest of his life. He'd driven himself constantly through the previous three months, but with his wedding just a fortnight away, things were finally winding down. Lee had shot most of his big action sequences. All he had to do now was fill in Draven's backstory and his pre-Crow life as a happily-engaged musician. First up, Draven's death at the hands of thuggish Funboy (Michael Massee).
There had been a lot of gun play in The Crow. However, with most of the big action scenes completed, the onset firearms advisor had left. In the Draven death sequence, the script called for Massee to fire a .44 loaded with blanks at Lee. A squib in a brown grocery bag held by Lee would go off, mimicking a bullet impact, and he would slump to the ground. Watched by Proyas and half a dozen crew, the death played out just as in the screenplay. The only difference is that when Lee flopped, rag-doll-fashion to the floor, he didn't get back up.
It soon become clear that he was the victim of a hard to fathom cavalcade of mishaps. Forensic tests found a metal-tipped bullet had become lodged in the chamber of the gun used in the scene. The bullet had been modified for a previous sequence, in which it rested in the chamber as a "dummy cartridge". This meant that the shell was intact, but the gunpowder primer removed. Effectively, it was a bullet that could not fire. The problem was that a residue of primer had remained in the rear of the cartridge, which had discharged.
The force wasn't enough to project the bullet out of the gun. Instead, it had wedged part way into the barrel. And it was still there when blank rounds – which contained gunpowder but no bullet – were inserted for the death scene. The gunpowder went off and the lodged bullet was discharged from the chamber and into Lee's stomach, where it impacted against his spine.
After the actor's death, Proyas's immediate instinct was to shut down the movie. A significant chunk of the crew agreed, and a third would leave the production, too upset to carry on. However, Lee's fiancée urged the director and producers to continue, as did his mother. The big stumbling point was Paramount's refusal to stump up for re-shoots, which would require a stunt double onto which Lee's face could be digitally imposed. Enter Harvey Weinstein and the Miramax corporation, which provided the £6m necessary to finish the film without Lee.
The biggest change was the removal of a mentor character, the Skull Cowboy. Several scenes had been shot of Lee interacting with actor Michael Berryman (whose unusual facial features had made him famous in The Hills Have Eyes and One Flew Over the Cuckoo's Nest). But Proyas decided to cut the Cowboy, who serves as Draven's conscience, urging him to set his thirst for revenge to one side. The director had never been keen on the Skull Cowboy, whom he deemed "cheesy". With Lee gone, it would have been difficult to work him into the story anyway.
When it finally made it to the screen on 13 May 1994, The Crow was a fitting memorial to Lee, a hugely charismatic talent snatched away before his time. And it demonstrated that comic book movies could be about more than spandex clad do-gooders swapping one-liners (are you listening, Marvel?). It waxed dark and brooding, whilst also saying something about human nature. And if the scenes shot after Lee's death didn't quite obscure his absence, they were assembled with enough verve to carry the story along.
Critics, it is true, were divided. Variety praised The Crow as "a seamless, pulsating, dazzlingly visual revenge fantasy that stands as one of the most effective live-actioners ever derived from a comic strip". But The Independent on Sunday couldn't get past the portentousness and the face-paint, decrying it as "little more than an extended pop video, the thin plot an excuse for an orgy of destruction and vengeful violence".
Yet notwithstanding the mixed reviews, it became a huge hit, earning just under £40m at the US box office alone, and attaining cult status with its release on video and DVD. Three forgettable sequels, and an even less memorable TV spin-off, followed. And attempts at a remake have floundered, with Bradley Cooper and Jason Momoa among those fleetingly attached to a Crow 2.0.
Support free-thinking journalism and attend Independent events
For one individual in particular, The Crow would always carry a chill. Having pulled the trigger in that fateful scene in which Lee died, Michael Massee left North Carolina a haunted man. For an entire year, he was too upset to work. And, though he would resume his career with small parts in 24 and The Amazing Spider-Man, he was still coming to terms with the tragedy when he passed way in 2016.
"It has taken me the time it took to be able to not so much put it in perspective, but to be able to move on with my life," Massee said in a rare interview about Lee's death. "What happened to Brandon was a tragic accident… Something I am going to live with."
Join our commenting forum
Join thought-provoking conversations, follow other Independent readers and see their replies