The Independent's journalism is supported by our readers. When you purchase through links on our site, we may earn commission.
The Disaster Artist: How James Franco managed to make a wide-release, studio film about a niche, film-fan joke
Christopher Hooton
Friday 08 December 2017 12:45 Comments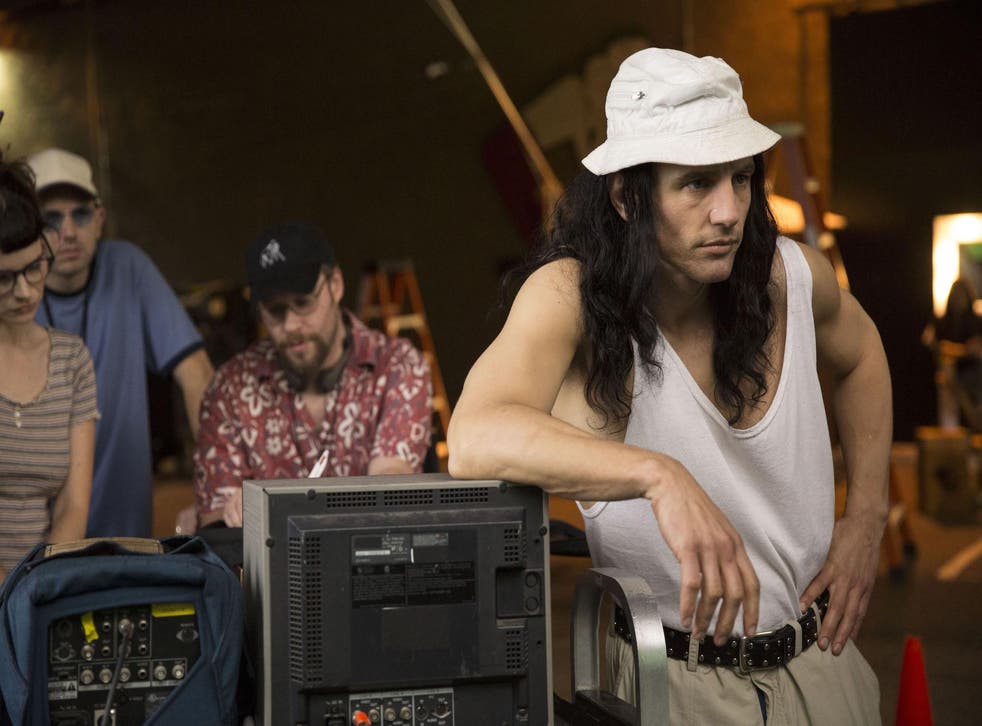 If you'd like to listen to the interview this piece is built around instead, you can do so below, here or through podcast apps here.
"Oh my God, you have to see it," film fans the world over have implored friends upon discovering they have never seen The Room. It is essential viewing: a film so bad it is genuinely fantastic, fully deserving of its "best worst film ever made" epithet, and quite possibly being the legitimately funniest film ever made, too. Its simultaneous banality, surrealism and nonsensicality combine more potently than a film parody could ever hope to knowingly achieve, and its curious, non-sequitur dialogue is eminently quotable.
This all makes for an enduring gag and cult hit among cinephiles, sure, but a Warner Bros feature-film adaptation for wide-release? And at a time when studios want bankable hits based on recognisable properties?
Talking to The Disaster Artist actor/director James Franco and his co-star (and brother) Dave, I ask whether life imitated art a little with their dramedy about how the disaster-piece came to be – a film that must have appeared an odd proposition to Hollywood just as The Room did for Tommy Wiseau.
"Actually, what's funny is we went to New Line, which is a subsidiary of Warner Bros, and three guys there were huge fans of 'The Room'," James, whose voice booms in a genial way, explains.
The Disaster Artist - Trailer
"My first ever experience seeing 'The Room' at a midnight screening [a Room fan staple] was because of those guys," Dave interjects. "This was before we even knew we were doing the film with them; they were just obsessed with the screenings and went all the time."
There were inevitably a few people who needed convincing along the way, but the Francos had an ace up their sleeve.
"I know what you mean – we did have to say to some of the other heads of the studio and marketing people, 'Don't worry, there are enough famous people that are obsessed with 'The Room' that want to be in our movie.' It was not that hard to get them because people do really love it," James says.
These famous people include Seth Rogen, Judd Apatow, Bryan Cranston, Alison Brie, Zac Efron, Hannibal Buress, Josh Hutchinson, Nathan Fielder and Bob Odenkirk, and that's just the supporting cast, with a few more celebrities jumping on the opening of the film to profess their love for The Room before the scripted drama begins.
Access unlimited streaming of movies and TV shows with Amazon Prime Video Sign up now for a 30-day free trial
Sign up
"Still, it is kind of incredible to take a step back and realise that they did give us a lot of freedom to make whatever we wanted out of this crazy story," Dave says. "I just feel so indebted to those guys."
The brothers knew they had the comedic side of their movie sorted – it's endemic in the source material – but in order to make it function as a story with heart, they brought in 500 Days of Summer scribes Scott Neustadter and Michael H Weber, who adapted The Disaster Artist – actor Greg Sestero's book account of his experience and complicity in the shambles of The Room.
"We hired these amazing writers," James says, "who were not really comedic writers; they were known for writing great relationship films and that's the reason we got them. We knew that was what we were going to hang this story on, the relationship."
Making the film work for people who hadn't seen The Room was going to be tricky, and the writers went to risky lengths to ensure it.
"I didn't realise until just a month ago at a Q&A," James continues, "Mike Weber told me he didn't actually watch 'The Room' before he wrote the first draft because he wanted to be sure it would play for the uninitiated fans."
Shooting the thing was not without its challenges. Creating a film within a film means managing a set within a set, and to complicate matters, real film crews were used instead of extras to fill out the crew in front of the camera so that they'd look like they knew what they were doing when changing lenses, adjusting lighting etc in the background. In addition to filming The Room 'being filmed', as it were, there was also the small matter of actually remaking it, with about 20-25 minutes worth of "shot-for-shot, beat-for-beat" scenes straight from The Room ending up in the can.
It's uncannily accurate stuff, and Seth Rogen, who plays The Room's beleaguered script supervisor, struggled to keep a straight face for two weeks when he saw just how much James, his long-time friend, had inhabited the role of Tommy Wiseau. "This is weird for me but this is your f**king brother, how are you getting through a single take?!" he asked Dave at one point.
James got Tommy and his curious, untraceable accent absolutely down for the role, which I assumed was from spending many hours with the inscrutable man himself. But this was not the case, nor was his main source Greg's book – nor indeed The Room itself.
"It was actually a series of tapes I got from Greg. Tommy used to talk to himself on a mini recorder, we're talking five or six years before he made 'The Room', and he would be driving around in Los Angeles talking about his very private thoughts.
"Tommy knows I have them, he calls them [adopting Tommy's distinctive voice] 'the secret tapes'. They were the best insight into who he was right before he made the film, and he's there talking about everything I would have wanted him to talk about... his acting teachers, how they don't understand him and how this would pump him up, you know: 'Maybe teacher is intimidated, he senses my power.' It was like everything I needed to know about his character and how he defended himself against a world that rejected him, so that was invaluable."
I tell James and Dave about my own experience with Tommy, and the phone conversation we had about seven years ago that ended up running over two hours.
"You got Tommy'd!" James exclaims. "What do you remember about that call?"
I say that I seem to remember him going on a long rant about the power women apparently hold over men. "Oh God, you don't wanna go down that road [with him]," James responds, clearing having been the victim of many a Tommying himself.
We're segueing into a dissection of Wiseau's personality, and it was always going to go this way. He is endlessly fascinating, which is why he's the soul of Franco's film. But what's next for Tommy?
"Tommy, I think, is entering the third major phase of his career. Before 'The Room' he'd faced years of rejection and just willed his movie into existence. Then it came out, didn't land with audiences as expected but then became this cult hit and he took ownership of that, took on this new persona of this comedic director and this Tommy Wiseau he thinks everyone wants him to be.
"But when he was at this SXSW screening of 'The Disaster Artist' – the first time we really showed it to an audience – they gave a standing ovation, and I realised later that that was the first time Tommy had heard unironic applause in his whole life.
"They were cheering on his story. When people are watching 'The Room' they're laughing, they're having fun – it's not exactly cruel, especially because he claims that he did that on purpose, so he's giving them the freedom to laugh – but then here, they are genuinely cheering him on for sticking to his dream, striving in the face of so much rejection. So he was really humbled that night, he was unlike I'd ever seen or heard him being before.
"So this new phase could be a more truthful earnest Tommy... or it could just be that he goes deeper into this idea of a Tommy Wiseau."
The Disaster Artist is in cinemas now.
Register for free to continue reading
Registration is a free and easy way to support our truly independent journalism
By registering, you will also enjoy limited access to Premium articles, exclusive newsletters, commenting, and virtual events with our leading journalists
Already have an account? sign in
Join our new commenting forum
Join thought-provoking conversations, follow other Independent readers and see their replies