The English Teacher: Julianne Moore is a quirky woman forced out of a straight-laced life
The Craig Zisk-directed movie is informed by his strong female TV characters Nurse Jackie, Weeds and The Big C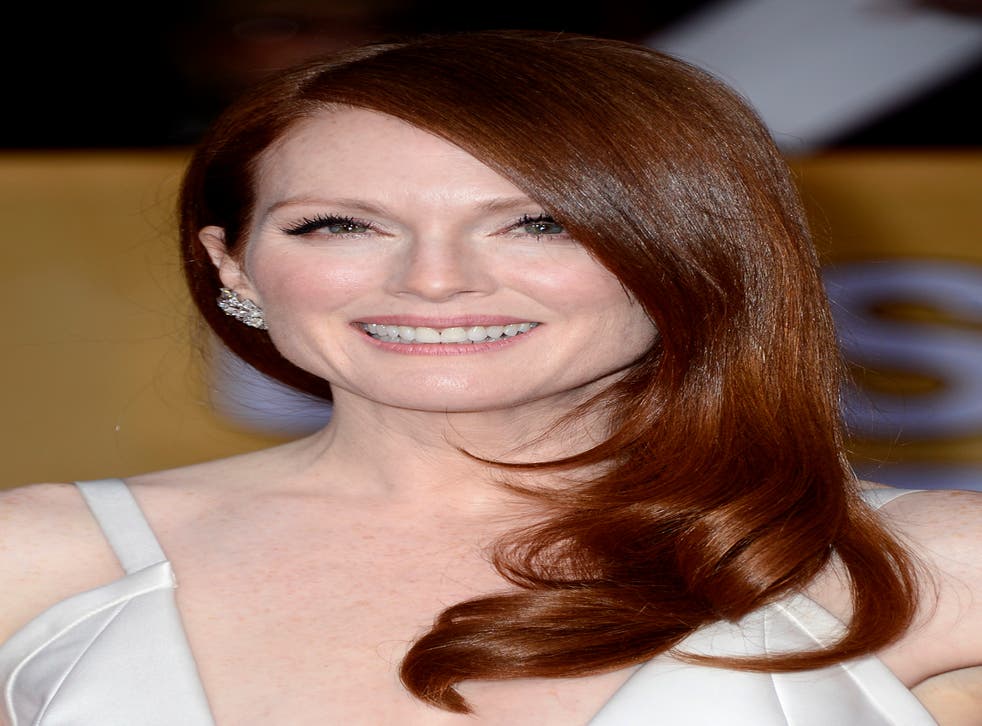 Fans of Nurse Jackie, Weeds, and The Big C will recognise the quirky lead of The English Teacher as she steps out of her straight-laced life to encounter unexpected consequences, the movie's director said in an interview.
The film, which has its world premiere at the Tribeca Film Festival on Friday, the lead character Linda Sinclair, played by Julianne Moore, tries to mount a high school production of a play written by a former student (Michael Angarano) who has returned to his small hometown in Pennsylvania.
With the help of Nathan Lane as the high school's drama teacher and Greg Kinnear as the playwright's father, putting on the production leads almost everyone involved into trouble.
Directing the tale is Craig Zisk, who has dozens of well-regarded television series under his belt as producer or director, including Parks and Recreation, The Big C, Nip/Tuck, Weeds and Scrubs.
"Most of the shows that I either produced or directed feature very strong female leads," Zisk said in an interview, ticking off the names of Mary-Louise Parker in Weeds, Laura Linney in The Big C, Toni Collette in United States of Tara and Edie Falco in Nurse Jackie.
"With these incredibly talented strong women, I was really attracted to that when I read the script," he said.
"They are all very flawed characters," he added. "In the case of Linda, she's actually someone trying to do the right thing ... even though every time she tries to do something nice for somebody, it backfires and blows up in her face."
The English Teacher is Zisk's first feature film, an undertaking he said he weighed for five years before finding the right movie to make. Zisk is a four-time primetime Emmy nominee.
"I know how important the first feature is, especially for someone coming from television, because in the past there's kind of been a knock on television directors and people getting one shot," he said.
Access unlimited streaming of movies and TV shows with Amazon Prime Video Sign up now for a 30-day free trial
Sign up
But apart from the obvious appeal of branching out, he said that making a film rather than a television show gave him the unprecedented luxury of time to prepare and an autonomy he enjoyed.
"The producers pretty much left me on my own, which was really great," Zisk said. "I feel like I made the movie I wanted to make."
Being distributed domestically by Cinedigm Entertainment Group and Tribeca Film, The English Teacher opens in American cinemas on 17 May but does not yet have a UK release date. It also can be found on-demand on television.
Reuters
Register for free to continue reading
Registration is a free and easy way to support our truly independent journalism
By registering, you will also enjoy limited access to Premium articles, exclusive newsletters, commenting, and virtual events with our leading journalists
Already have an account? sign in
Register for free to continue reading
Registration is a free and easy way to support our truly independent journalism
By registering, you will also enjoy limited access to Premium articles, exclusive newsletters, commenting, and virtual events with our leading journalists
Already have an account? sign in
Join our new commenting forum
Join thought-provoking conversations, follow other Independent readers and see their replies