The Founder's Nick Offerman interview: 'What is disturbing to me is that so many McDonald's eaters or Trump voters are happy'
It's Nick Offerman's time to shine as Dick McDonald, one of the brothers who developed the fast food chain McDonald's, in John Lee Hancock's, 'The Founder'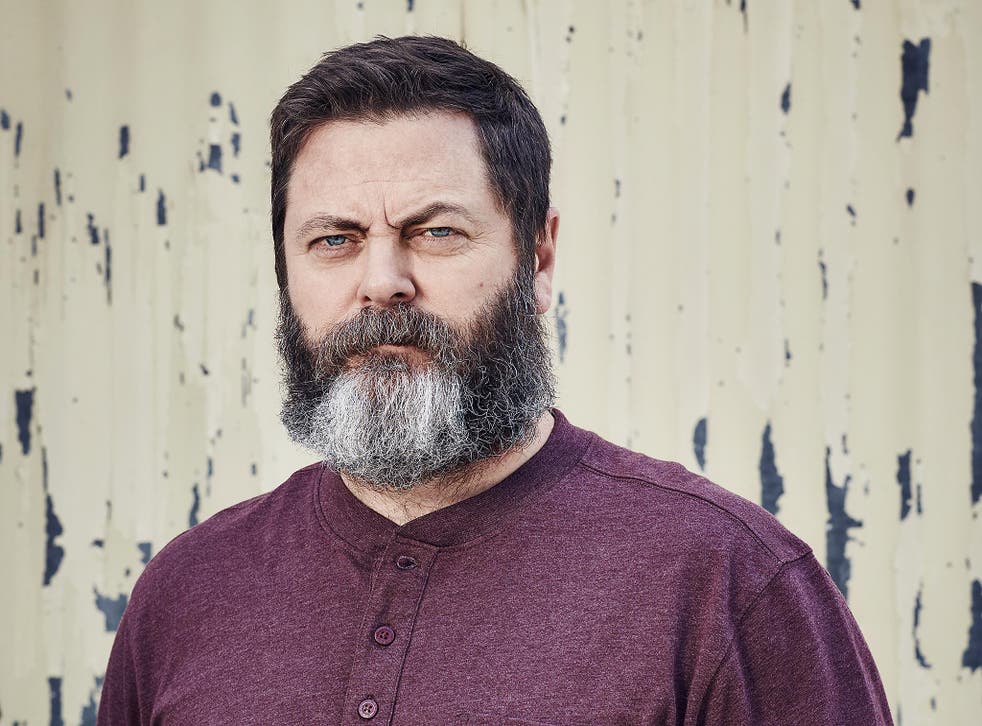 Nick Offerman's reputation as one of the funniest people in America is built on playing stand-up guys. Most famously he was the stalwart in the long running television comedy Parks and Recreation, playing Ron Swanson, a bureaucracy-hating local-government clerk who believes that if you can't survive without the Internet for a week then you're failing at life.
The end of Parks and Recreaction has been a boon for the movies and popular culture. Co-stars Amy Poehler, Chris Pratt and Aziz Ansari have gone on to rule Hollywood, and or present Saturday Night Live, in addition to writing books. Now it's Offerman's turn to blossom away from Pawnee, the fictional town the sitcom called home.
In The Founder he plays Dick McDonald, one of the brothers who developed the fast food chain McDonald's, but were duped out of their ability to exploit the brand by fast talking businessman Ron Kroc, played by a dastardly Michael Keaton.
It's the story of the victory of capitalism over idealism where quality is the first victim in the fight for profits.
The movie's moral is one that the 46-year-old actor can sign up to. Doing right by others was a lesson that was installed in Offerman by his parents in Illinois. "To me that's what my vision of America is all about. I was brought up that way, if you work hard and think of others in your work then the worst that can happen is that you end up well fed surrounded by loving family and friends.", he says.
And Offerman is clearly a man who doesn't shy away from hard work. Rather than being content with a career delighting audiences in front of the camera, he also owns Offerman Woodshop in East Los Angeles, a small collective of woodworkers who focus on hand-crafted, traditional joinery & sustainable slab rescue. Then there are the three books he has written and he also plays guitar. Such is his mastery of trades he can probably tickle himself.
The parallels between the story of McDonald's and a perceived disquiet in America, which for some is signalled by the election of President Trump, is not lost on Offerman, who says, "I think that this movie about Ray Kroc is timely because it points to the national malaise we are seeing. What is the result when you create a food business that is all flash and no substance? Yes you become very financially successful but you have no soul. How good can the karma be for a restaurant company that is not interested in serving healthy food to its customers?"
He uses his own experience to back up his belief that taking the short money only leads to bad tidings. "I've had the unique good fortune to have come from a very frugal low-income family in Illinois and achieved a certain amount of success and I was able to see, by comparing the two lifestyles, that I preferred the lifestyle in which honest hard work was required. I have learned the lesson that easy street is something we are being sold by the corporations to try and get us hamsters to run harder on the wheel so that we will buy more products and go along with dubious choices for Attorney General."
He is worried that humans are turning into fat lazy lemmings: "I'm really disturbed by that great Pixar movie, WALL•E, where adults are depicted as these fat grub-like babies floating around on robot ships speaking into screens, never seeing their surroundings. What is disturbing to me is that so many McDonald's eaters or Trump voters are happy, they almost insist on being fed the shiny lie so that they won't have to do the work of discovering what is the substance of the meal that they are shovelling into their maws."
Access unlimited streaming of movies and TV shows with Amazon Prime Video Sign up now for a 30-day free trial
Sign up
I point out that such a tone can appear condescending to those who think differently. He recognises that this might be a problem but states: "It's very difficult and it's something that I'm failing at because I'm angry. The incredible anger I feel comes from a sense of unfairness. It's hard not to feel outrage to think that a person with absolutely no training in leadership and in defending American principles has been handed the keys to the kingdom.."
Although he admits that the need to preach to more than just the converted has led to him rethinking his approach: "I'm planning my next book, which will be my fourth, and the mission of the book is to try and appeal to all Americans and all English speakers. I recognise that our great challenge is to discern how these poor folks have shot themselves in the foot."
Such has been the seismic shift that the actor now looks back on the presidency of George W. Bush as the good old days. Offerman explains: "I was very opposed to a lot of the policies of George W Bush when he was in office and we would all shake our fists and voice our opinions but at least his policies were in the realm of accepted political mishaps and even Dubya had spent a life preparing somewhat for public service, he had a knowledge of American legality and he'd heard of the constitution."
It's amazing to see how his tone and attitude shifts when the topic moves away from the current state of affairs to his wife, Will And Grace star Megan Mullally. They met while working on a stage production of The Berlin Circle in 2000 shortly after Offerman moved from Chicago to Los Angeles. In a few episodes of Parks and Recreation, Mullally played Ron's mean-spirited ex-wife Tammy. This seemed to be a return of the tennis ball as Offerman, appeared in an episode of Will and Grace playing a plumber who gets to kiss Mullally.
It was recently announced that Will And Grace will return to our screens and Offerman couldn't be more stoked: "I'm possible the most excited person of this Will and Grace reunion. I was such a massive fan. I feel like Will And Grace has clear ties with classical Western theatre, it's rife with social commentary and also vaudeville. I think we are in for a treat."
He retains a great love for the theatre. Whilst Chicago is famous for the number of performers who graduated from the Windy City's eclectic comedy improv scene, Offerman's background was treading the boards. A dream of his is to appear on the West End, preferably with his wife by his side. "My wife and I still love working on the stage and we are going to be in London and Manchester in April with her band, Nancy and Beth, which I'm really excited about. I've never seen a more entertaining couple of ladies sing and dance and they're incredibly musically gifted and they are also delightfully filthy and hilarious. She and I did a play in New York a couple of years ago, and I did a stage version of Confederacy of Dunces which we hope to take it to London. It's a matter of working out the scheduling. That is absolutely a dream. London is our favourite city in the world and we are trying to strategise how to live there for half of the year."
The Founder is out 17 February
Register for free to continue reading
Registration is a free and easy way to support our truly independent journalism
By registering, you will also enjoy limited access to Premium articles, exclusive newsletters, commenting, and virtual events with our leading journalists
Already have an account? sign in
Register for free to continue reading
Registration is a free and easy way to support our truly independent journalism
By registering, you will also enjoy limited access to Premium articles, exclusive newsletters, commenting, and virtual events with our leading journalists
Already have an account? sign in
Join our new commenting forum
Join thought-provoking conversations, follow other Independent readers and see their replies