The Happiest Day In The Life Of Olli Mäki rethinks and revitalises the boxing movie genre
Finnish boxer Mäki's story in the new film, The Happiest Day In The Life Of Olli Mäki, is one of the most romantic boxing movies ever made
Geoffrey Macnab
Monday 17 October 2016 18:17 Comments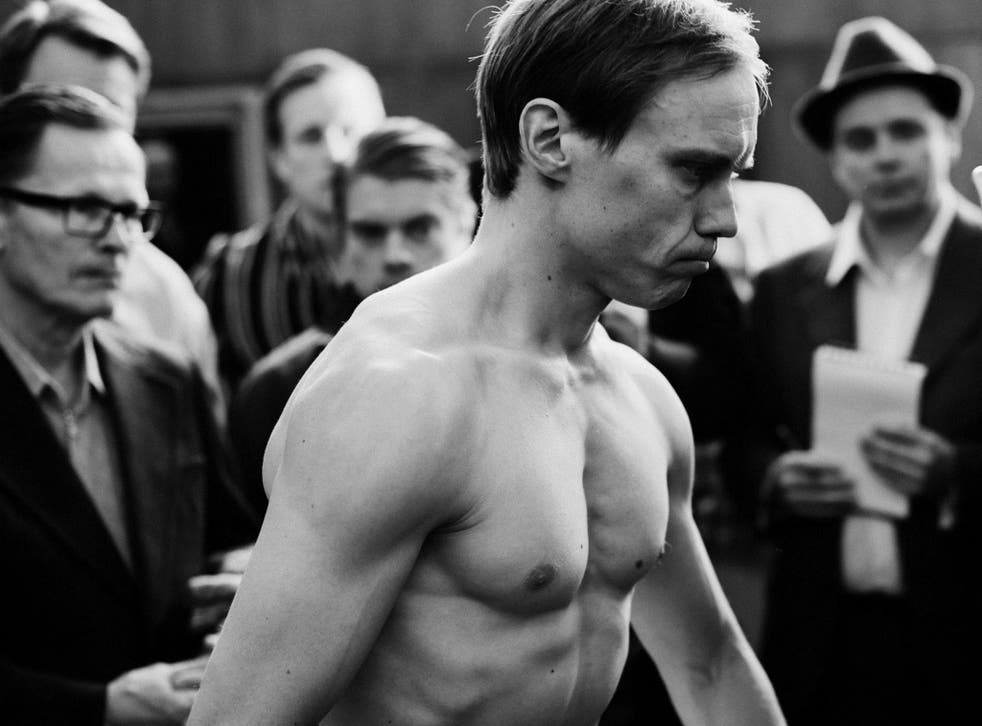 Imagine you're a boxer in training for the most important fight of your career, a world title bout. You're trying to get yourself into the perfect mental and physical shape. There is just one thing that is holding you back. You're madly in love. When you should be thinking about the punishment you're going to inflict on your opponent, your head is full of images of your sweetheart. Hers is the face you see on the punchbag. You would far rather be riding through the woods with her sitting on the wheel of your bike than sparring in the rain.
This was the real-life predicament of Finnish boxer Olli Mäki in the summer of 1962 when he was preparing for his Featherweight bout against the American, Davey Moore. Now, Mäki's story has been told in a charming new film, The Happiest Day In The Life Of Ollli Mäki, which has a fair claim as the most romantic boxing movie ever made.
What is most remarkable about The Happiest Day is that it isn't fiction. Writer-director Juho Kuosmanen insists that he is telling the story more or less exactly as it happened.
"There aren't those many things that we invented," Kuosmanen says. The real-life Olli Mäki did indeed disappear from Helsinki a few days before the fight in order to visit his beloved Raija. (During this illicit trip, they bought each other wedding rings.) The words that Olli uttered to the press after the fight are also taken from the real-life source. When one journalist suggested to the fighter that this must have been one of the toughest bouts of his life, the still dreamy Olli replied that, no, it was actually one of the easiest. After all, it was over so quickly.
The real-life Raija has seen the film and has told the director that it was "just like re-living those days again." Olli himself, now an old man suffering from Alzheimer's, has watched it several times too. ("At least he stays awake…I don't what he thinks about it but after the first screenings, he said to the main actor, "well done!")
When the director met Olli for the first time four or five years ago, the former boxer was asked if the Davey Moore fight was the worst and most humiliating day of his life, Olli said that, in fact, it was the happiest.
Of course, the result of that 1962 title fight might have stayed the same, even without the distraction of Raija. Davey Moore (who died a year later in tragic circumstances after being injured in another title fight) was a great champion. Olli was still then a young fighter with only a handful of professional bouts behind him. Some observers believe that he was too gentle to make a great fighter - he didn't like knocking people out. "He was very kind. The elements that made him a good person did not make him a good boxer," the director reflects.
It didn't help either that Olli had to lose weight to compete in the featherweight division. During that era, the weigh-in was the same day as the fight. Having shed so many pounds so quickly, Olli felt weak even before he entered the ring. The manager, though, blamed Raija.
The film is shot in black and white in the same style as New Wave films of the early 1960s like A Blonde In Love or The Loneliness Of The Long Distance Runner. If you didn't know better, you would think that the film was actually made in the period in which it is set.
Access unlimited streaming of movies and TV shows with Amazon Prime Video Sign up now for a 30-day free trial
Sign up
Olli is played in the film by Jarkko Lahti. To get in trim for the role, Lahti trained as a boxer and actually had two proper fights. He lost them both. "Was Lahti in love too?" I ask. If he was, he didn't tell Kuosmanen but the director doesn't put it beyond the realm of possibility that Lahti had taken a shine to his lead actress, Oona Airola, and that this may have contributed to his defeats.
The filmmakers come from Kokkola, which is Olli's home town. In Finland as a whole, Olli has been largely forgotten but he is still celebrated in his own backyard.
On one level, the film is as much about Kuosmanen as it is about Olli Maki. A softly spoken figure with a studious disposition, the young filmmaker was being dubbed as the next big thing in Finnish cinema even before he made the movie. His shorts had won prizes at major festivals. Everyone had very high hopes for him, just as they had had for Olli back in 1962. Making the feature was "the chance of a lifetime" as he puts it. "When I had this huge pressure and I felt these expectations, I lost the creative input totally. I was trying to write something that would be premiered in Cannes."
For a while, the director struggled to come up with a big idea that would impress all his admirers. In the end, he realised that, like Olli, he had to set his targets modestly and to be honest to himself. "I also tried to find the joy and the love of filmmaking again," he says.
Kuosmanen is married and has children. Like a boxer preparing for a fight, he had to turn his back on his domestic life when preparing and shooting his film. "It's still going on. I am away all the time," he says of the effort of travelling from festival to festival to promote the movie. It's "hard" for his family but, he asks, "what can you do?"
Olli Maki himself seems to have got over his infatuation with Raija. Once he was safely married to her, his fortunes in the ring began to improve. He fought on for another decade and won a European title in the mid 1960s. He had a famous fight with French-Moroccan boxer Aissa Hashas, which he won with a technical knockout in the last round.
His manager Elis Ask (Eero Milonoff) had a more chequered career. In the film, Elis Ask is like a Finnish version of a character from Guys And Dolls, a relentless hustler in very sharp clothes.
"He (Elis) died in 2003 but we talked with his kids. He was an extremely interesting guy. He spent a childhood in the streets and then started boxing. He had quite a good career in the US." Elis knew Rocky Marciano, Muhammad Ali and Frank Sinatra - and was friends with Idi Amin. "He (Elis) had money and lost money, he had money and lost money. His wife had a nervous breakdown because life with him was so demanding."
The Happiest Day In The Life Of Olli Mäki is one of a number of recent films that are re-thinking and re-vitalising the boxing movie genre. Soon to be released is Bleeder, a very genial and Falstaffian tale about Chuck Wepner, the genial New Jersey journeyman whose reel-life story inspired Sylvester Stallone's Rocky. At the London Film Festival this week, there have been screenings of Bleed For This, executive produced by Martin Scorsese and about Vinny "Paz" Pazienza (played by Miles Teller) a Rhode Island fighter who came back from a broken neck to resume his career.
As all these films attest, the boxing movie is an increasingly fluid and supple genre. It is not just about the rise and fall of head banging, Raging Bull-like contenders. In Olli Mäki's case, the boxing is secondary to the romance and to the meditation on the meaning of success and happiness. Already a leading contender for a foreign language Oscar, it is one of the most likeable films of the year - sweet-natured and completely free of bragging or trash talk.
The Happiest Day In The Life Of Olli Mäki was screened at the London Film Festival. It will be released in the UK next year by MUBI.
Register for free to continue reading
Registration is a free and easy way to support our truly independent journalism
By registering, you will also enjoy limited access to Premium articles, exclusive newsletters, commenting, and virtual events with our leading journalists
Already have an account? sign in
Join our new commenting forum
Join thought-provoking conversations, follow other Independent readers and see their replies