The Intern: Robert De Niro and Anne Hathaway on age and the art of acting
Robert De Niro reveals that he still studies the art of acting, while Anne Hathaway jumped at the chance to work with him. They both learnt a lot from each other when working together on 'The Intern', they tell Tom Teodorczuk
Tom Teodorczuk
Wednesday 30 September 2015 22:09 Comments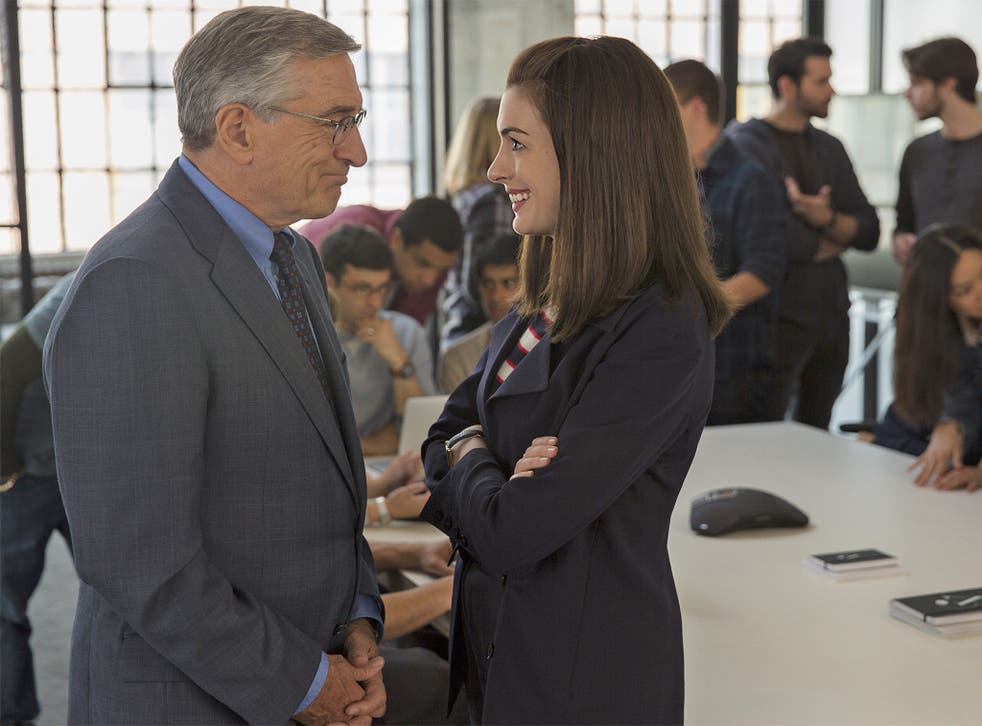 In his new film The Intern, Robert De Niro plays a widower who signs up to a senior citizen intern programme at an online New York fashion emporium run by a stylish entrepreneur played by Anne Hathaway. It's something of a rich irony therefore, even by Hollywood standards, that the process of getting cast in a film depicting how society under-appreciates the elderly proved much harder for the young actress than it did for 72-year-old De Niro.
"I auditioned," admits Hathaway, 32, who rose to fame in The Princess Diaries, graduated with another fashion comedy, The Devil Wears Prada, then made Brokeback Mountain and won a Best Supporting Actress Oscar playing Fantine in Tom Hooper's adaptation of Les Misérables. De Niro, sitting beside her in a New York hotel room, gallantly interrupts: "I didn't think she had to audition."
"You were super supportive from day one," responds Hathaway. "I was happy to audition but scared because I didn't want to lose the part. and it was such a good one within a great story, directed by one of my favourite directors, starring one of my favourite actors. For me it was, 'Please don't mess this up, Hathaway!'"
The director she's referring to is Nancy Meyers, Hollywood's most successful female writer-director (It's Complicated, What Women Want). What marks The Intern, which at one stage was going to star Michael Caine and Tina Fey, as unusual is that it's about a man and woman becoming close friends rather than lovers or adversaries, and chronicles a professional bond over the course of a few months rather than a May-to-December romance.
"For me it was back to normal in some ways," says De Niro. "This is not the type of movie you see much of these days.
"She's my generation," he observes of Meyers, "and I'm used to doing movies the way she does them and taking a long time to shoot. Times are changing. Nancy had difficulty getting this idea made. It's not the formula-type thing of, 'We'll put these two together and we don't even care what the script is. Just do it!' They do that. You'll fix it as you go along and spend an enormous amount of money – millions and millions of dollars on certain action films. This is the opposite side."
Hathaway hadn't been born when De Niro won his two Oscars (for The Godfather Part II in 1974 and Raging Bull in 1980) and was barely a year old when Bananarama recorded their hit song "Robert De Niro's Waiting". But she enjoys learning from elders such as De Niro and Meryl Streep on The Devil Wears Prada. "A more seasoned actor will have more work to show, so to have the opportunity to see how that work came to being is tremendous," she says. "But age is a fluid thing. I remember when I worked with Emily Blunt [on The Devil Wears Prada]; she floored me every day and I don't think I'd seen any of her work yet."
De Niro has a reputation for being a difficult interviewee, recently walking out of an interview with Radio Times. Yet during our interview, it's Hathaway who doesn't hide her awkwardness. Asked if she researched with any start- up founders for her Intern character Jules Ostin, she replies, "I thought you were going to ask did I start up a company? I'm not that devoted!" (She did, however, spend time with fashion online entrepreneurs Sophia Amoruso and Lauren Santo Domingo.) Was she nervous in the presence of De Niro "I get nervous walking down the street but Bob did give me a special thrill."
Her latest film reminded Hathaway of the two-week internship she took on at Christie's auction house to prepare for The Devil Wears Prada. "I had a great experience," she says. " I got to see beautiful art and they let me re-organise the library which made my nerd self very happy."
Access unlimited streaming of movies and TV shows with Amazon Prime Video Sign up now for a 30-day free trial
Sign up
The Intern is set in Brooklyn and Hathaway loved the early morning sunrises in New York: "Everyone's asleep and the light's soft and golden. One of my favourite things about working in New York is before a city or a borough wakes up. It's just you in the car with the whole day and its potential before you."
It's not surprising that she loves the part of the day when few people walk the streets, given the online opprobrium that has come her way these past few years – "Hathahate", as it was dubbed.
Following her ill-judged relationship with Italian fraudster Raffaello Follieri, Hathaway married actor Adam Shulman in 2012. But a backlash followed her 2013 Oscar win, with her alleged misdemeanours ranging from being too pushy, having an unflattering pixie haircut, taking too long with her awards acceptance speeches and making over-elaborate excuses for her red carpet outfits. The criticism brought to mind art critic Matthew Collings's observation that the problem with Charles Saatchi is that nobody quite knows what the problem is.
Now Hathaway seems rehabilitated in the star chamber of social media. Recently fashion website Refinery29 confusingly described her as "clearly the normest and nicest of normcore". I tell her I recently saw her at New York's Public Theatre in George Brant's military-themed monologue Grounded, and ask if she'd like to perform in London. "I thought you were going to say you saw me on Second Avenue because that's where I was last night and I was like, 'Oh My God, were you there?'"
Once we've established I was watching her film the previous evening and not snooping around Second Avenue, she says: "The dream hasn't changed. I love getting to express myself as an actor in different ways. The show I did at the Public was a very new form of expression. It's about finding the right material and the right fit at the right moment. I love the idea of doing something in the West End."
Recently Hathaway moved to Los Angeles from New York. "My husband and I gave up our place in New York nine months ago," she says, "and I think we've been in New York for seven of those nine months. We clearly made the right choice there!"
De Niro is a dyed-in-the-wool New Yorker who presides over the Tribeca Film Festival and he maintains his Big Apple curiosity is still as heightened as the day he landed his first starring role in Brian De Palma's 1969 film The Wedding Party. "I observe everybody and pick up things. I was in the park the other day and had to stop and watch this guy, a homeless guy sitting on a bench, and hear the things he was saying. It was sad but interesting."
De Niro still wants to collaborate with Martin Scorsese for the 10th time on gangster film The Irishman as well as direct a sequel to his underrated spy drama The Good Shepherd. He made The Intern because "especially in America people aren't as respectful of old people. It's an attitude of, 'You're too old. Move on! We don't need that any more'." Yet he stresses: "I like young people, I get a big kick out of them because I see them doing things that remind me of myself."
Hathaway is among De Niro's young tribe. Clearly she would love to make more of the personal, low-budget movies her co-star made over the course of his five-decade career. At one point she quotes wistfully the lyrics from a song entitled "Afraid of Heights", which she co-wrote for Song One, an indie drama set against the backdrop of the New York music scene, that she starred in and produced with her husband. But the song was cut from the film, which is still unreleased in Britain and barely made a splash in the US. Would Song One have got more love had it been released in the 1970s and 80s, a time when De Niro was in his cinematic pomp? "I wasn't there," she replies, "but thank you for thinking my film deserves to be appreciated. I love it."
Having ridden the wave of a very public backlash, Hathaway is back stronger and more sensitive than ever with The Intern. In the unlikely event she tires of acting... well there's always Christie's.
'The Intern' is released tomorrow
Register for free to continue reading
Registration is a free and easy way to support our truly independent journalism
By registering, you will also enjoy limited access to Premium articles, exclusive newsletters, commenting, and virtual events with our leading journalists
Already have an account? sign in
Join our new commenting forum
Join thought-provoking conversations, follow other Independent readers and see their replies