The many layers of Léa Seydoux
Léa Seydoux doesn't see herself as a big deal – but Woody Allen and Quentin Tarantino disagree. Kaleem Aftab meets a reluctant star in the making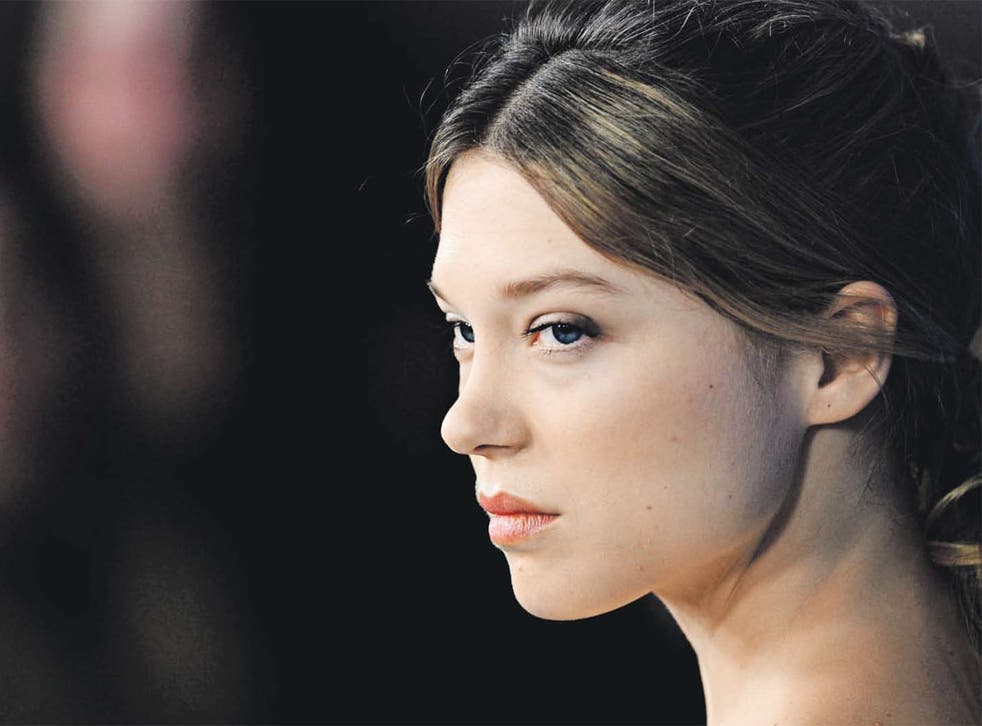 So often does Léa Seydoux play "the hot French chick" that the decision to cast her as a dowdy guardian, more interested in drinking and partying at a ski resort than looking after her 12-year-old charge, in Sister seems brave. It's a performance that will come as something of a surprise to audiences more familiar with Seydoux's English-language appearances in Robin Hood, Midnight in Paris, Inglourious Basterds and Mission Impossible: Ghost Protocol.
The 27-year-old actress admits she had doubts about taking on a character she initially saw as "selfish and cruel." Indeed boisterous Louise couldn't be more different from the actress, who initially comes across as shy and cautious. (She's extremely well-connected; her grandfather is the chairman of the major French studio Pathé, and her great-uncle is CEO of the other big French studio, Gaumont.) But probe a little deeper and a more extrovert side to her eventually becomes apparent.
Take when she speaks English, which she insists on doing when the tape recorder is on. She's constantly tripping over words and querying, "You understand what I mean?" Yet I've sat next to her at dinner when, feeling no pressure, she's chatted away as one would expect of someone who attended summer camp in Maryland as a child.
There she developed her love of American culture, though as a youngster her aim was to become an opera singer, "I was a huge fan of Carmen and Michael Jackson." She would amuse her friends by doing Jackson's moonwalk and, despite her waif-like appearance, does a brilliant impression of Beyoncé. "I like performance and in France you don't have those kinds of entertainers." Her angelic voice has made it to the screen; she sang in Italian in Jessica Hausner's religious drama Lourdes.
In just eight years in the professional acting game, Seydoux has shown a penchant for risk-taking. She says she got into acting at 19 because an unnamed actor she was infatuated with seemed to have a nice life with plenty of free time. Unlike many French stars, such as Audrey Tautou and Romain Duris, she's happy to appear in English-language roles.
"The first casting I did for an English movie was for Ridley Scott and Robin Hood. It was playful and I taped myself. Is that the right thing to say, taped myself?" she queries. "I was like it's funny and amusing and they really liked what I did and asked me to do some new scenes, but then they turned me down saying they liked me but I was too old. One month later they asked me to do it again and then I was cast. Then Tarantino was in town looking for a French actress and I did a casting and Woody Allen saw some pictures of me."
She recognises that by expanding her horizons she can "work with great directors?" And work is something she's not shy of: in the past year she's played an assassin in Mission Impossible: Ghost Protocol and a servant with a sexually ambiguous relationship with Marie Antoinette in Farewell, My Queen, which opened the Berlin film festival.
"When you're French you study Marie Antoinette in school, but I'm not really interested by Marie Antoinette," she states. "But I can understand the fascination that someone can have for someone else, especially this young girl I play, who is a nobody, I can understand why she is fascinated by someone who is a beautiful queen. It's not love. I think it's even narcissistic. And when you are obsessed with someone there is something in that person that makes you addicted – it's a neurotic combination."
When I ask if that makes her understand the public's fascination with her, Seydoux retorts, "Nobody has a fascination with me!" She doesn't come across as trying to be modest, but as someone who genuinely doesn't see herself as a star.
Access unlimited streaming of movies and TV shows with Amazon Prime Video Sign up now for a 30-day free trial
Sign up
Seydoux arrived at the London Film Festival with her golden locks cropped. She had her hair cut short and dyed blue to play a lesbian in the upcoming Blue is a Hot Colour, an adaptation of the graphic novel by Julie Maroh directed by Abdellatif Kechiche. She has just wrapped Grand Central, opposite A Prophet star Tahar Rahim and next will don a wig to play Beauty to Vincent Cassel's Beast in Christopher Gan's Beauty and the Beast.
She sees her French-language roles as an almost totally different job to appearing in Hollywood films. "There are so many differences when appearing in American cinema. The whole thing is far more fictional. It's more aimed at entertainment and in French cinema the roles are more about people with psychological problems."
The irony is that Sister director Ursula Meier later tells me that she chose Seydoux because of her fantastical looks. "For me Sister is a fairy tale, and Seydoux helped me to make it seem like a fairy tale," she says. "Because physically you know that you're not in the realm of social realism with her, because physically you do not know if she comes from a rich or a poor family, the spectator can project a history on this girl and people can imagine what it's like being her."
This same beautiful blank canvas makes her perfect for modelling, and indeed, the big brands have come clamouring – she is currently the face of Prada's Candy fragrance, but sees it as an extension of acting: "I don't really see it that I'm modelling" she says, "It's the same when I'm doing photographs for a magazine, I'm putting myself into a character, I like the mise-è*-scene and I like the costumes and I like the props."
A fan of movies from the 1950s, Hitchcock and the Italian neo-realists especially, Seydoux says she chooses roles because of who the director is, but she doesn't have a wish list: "I think cinema is also a question of desire, if you desire someone before they desire you, it doesn't work!"
'Sister' opens on 26 October
Register for free to continue reading
Registration is a free and easy way to support our truly independent journalism
By registering, you will also enjoy limited access to Premium articles, exclusive newsletters, commenting, and virtual events with our leading journalists
Already have an account? sign in
Register for free to continue reading
Registration is a free and easy way to support our truly independent journalism
By registering, you will also enjoy limited access to Premium articles, exclusive newsletters, commenting, and virtual events with our leading journalists
Already have an account? sign in
Join our new commenting forum
Join thought-provoking conversations, follow other Independent readers and see their replies