Oscar Isaac on The Promise: 'There are incredible horrors happening right now in that part of the world'
Oscar Isaac and Christian Bale star in 'The Promise', the first big-budget mainstream film to depict the Armenian genocide by the the Ottoman Turkish government in the First World War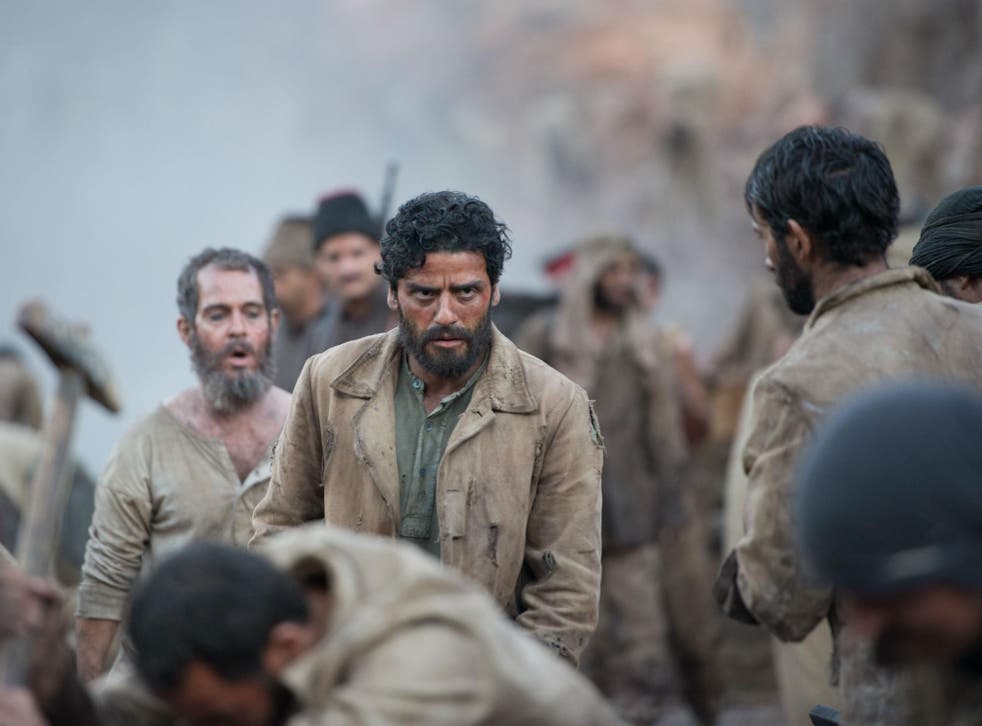 The Promise is a sweeping romantic epic in the tradition of Dr. Zhivago, its lavish budget denoted by its stars, Oscar Isaac and Christian Bale. It includes a scene unlikely to be equalled in importance this year. It is 1915, and Mikael (Isaac) has slipped back through lines of marauding Turkish troops towards his home village, hoping to rescue his family. Instead, he finds the villagers piled like rubbish by a river, the female corpses' headscarves a futile effort at modesty. The wooded setting could be a Belorussian forest in 1941, in one of the souvenir photos Nazis snapped of the Jewish Holocaust.
But these are Armenians, the Christian minority who lost 1.5 million to systematic extermination by the Ottoman Turkish government in the First World War. The term "genocide" was coined by Jewish lawyer Raphael Lemkin in 1944 to describe the Armenians' destruction, when its pre-echo of ongoing Nazi slaughter was clear. And yet this is the first time a major film has shown audiences what happened. After 102 years, its visceral impact finally pierces the silence.
Isaac, who made his name as the failed folk-singer anti-hero of the Coen Brothers' Inside Llewyn Davis (2013), and found true fame as dashing, sexually ambiguous X-wing fighter pilot Poe Dameron in Star Wars: The Force Awakens and its upcoming sequel, felt the scene's impact when he read it.
"I was incredibly moved every time I would go back to it," the 38-year-old says, speaking in a Manhattan hotel room. "I had questions about certain other aspects of the movie, but every time I would read that scene, it would never not affect me. That was one of the big reasons I wanted to do the movie – to try to understand how a moment like that could happen, and to figure out how I would get myself to have an at least somewhat honest reaction to it."
Isaac's preparation for playing an Armenian villager who leaves for cosmopolitan Constantinople to be a medical student in 1914, only to be almost drowned by history's tide, involved deep research amongst LA's Armenian community, and in the genocide's copious archive. "What was particularly useful," he explains, "was listening to recordings of older gentlemen speaking many, many years after the fact about what they witnessed as children. Seeing their grandmother stabbed to death by the gendarmes. Little babies being laid by a tree and left there. Being marched out to the desert. All these different kinds of images that you read about, so they became very personal."
Isaac entered an almost meditative state as the crucial, draining scene approached. "I just came on the set and tried to feel quietly concentrated, but not overly focused, and listened to music. So you're in a state of relaxation, and ready to respond. Doing that scene felt like it did when I read it."
Belfast-born director and writer Terry George, Oscar-nominated for co-writing the Guildford Four film In the Name of the Father (1993) and for his Hotel Rwanda screenplay (which he also directed in 2004), relied on Isaac for this pivotal scene. "As with Hotel Rwanda, you can't possibly show the horror and gore and inhumanity of the events itself," he says. "You have to develop that event in the audience's mind rather than portraying it onscreen. And it's the actor who conveys that mostly. And we had actors and some crew who are Armenian. So the emotional tension on the day was very high. The big challenge was for Oscar to take himself to a place that he'd never experienced – none of us have."
Isaac laughs when asked if he drew on anything in himself to react to this unimaginable horror. "Yeah," he says. "It's just as imaginable as I could imagine it. It's all me because it's my imagination, it's my voice, it's my body, they're my tears, it's my eyes, my snot! It's all me."
Michael's doctor is an unusual, quietly decent hero, reminding Isaac of people almost as close to home. "There's a gentleness to him," he considers. "I come from a family of doctors – my father and two brothers are all doctors, my sister's a scientist – and there's an element of people who dedicate their lives to helping others, or hoping to understand things, where there's an innate gentleness. And on the other hand, they can quickly feel pretty superior! I was more interested in the gentleness."
Access unlimited streaming of movies and TV shows with Amazon Prime Video Sign up now for a 30-day free trial
Sign up
Isaac admits he was "pretty ignorant" about the genocide before working on The Promise. The Independent's Robert Fisk has relentlessly fought to bring its well-documented events to public light, most memorably in the report recalled in his book The Great War for Civilisation (2005), when he and his photographer, searching for evidence of the mass killings in Margada, Syria, discover they are standing on a hill of skeletons.
Mainstream cinema, though, has turned a blind eye. Micro-budget Armenian-language films apart, there's been the fine Armenian-Canadian director Atom Egoyan's modern-day meditation on the genocide, Ararat (2002), and maverick German-Turkish director Fatih Akin's The Cut (2014), starring Tahir Rahim as an Armenian death-marched into the desert before a picaresque journey.
Hollywood attempts to breach the subject, though, have collapsed under pressure from post-Ottoman Turkey where, in a bleak inversion of post-Nazi Germany, admitting the genocide is a crime. Attempts to film Franz Werfel's epic 1933 novel The Forty Days of Musa Dagh, about a real, desperate mountaintop siege of Armenians by Turkish forces, were thwarted by Turkish pressure in 1934, 1968 and again when Sylvester Stallone tried in 2006 (an ultra-low-budget, barely seen version slipped out in 1982).
The Promise finally immortalises this heroic battle, after a dollar budget in "the high double figures" of millions, George says, was raised by Armenian-American multi-billionaire Kirk Kerkorian before his death in 2015. The doomed glamour of pre-war Constantinople is recreated, too, as a romantic triangle plays out between Ana (Charlotte Le Bon), American reporter Chris (Bale) and Michael.
"One of the briefs from Kerkorian and the producers was they wanted a film of epic scale in the mode of Zhivago, and Warren Beatty's Reds – the love triangle within an enormous political situation," says George. "It allows people with no knowledge or interest in the Armenian genocide to enjoy the film in the way of these great old political dramas made in the last part of the 20th century. We've been accused of being old-fashioned. But that's exactly what was wanted."
"That's what makes it feel relevant," Isaac believes, of this "very personal and relatable" love story swept along by history. "Because we're all going about our day, doing our jobs, trying to get good at what we do, falling in love with people – and at the same time there's incredible horrors happening right now in that very same part of the world [in modern-day Syria]. There's all of the same stuff going on again."
"As we were actually filming [in Malta and Spain], these events were on the TV," George agrees. "Masses of refugees fleeing across the desert, being pushed towards Aleppo and Deir es-Zour. It's exactly the same region [as the genocide]. And people – the Yazidis - besieged up a mountain, people fleeing into the Mediterranean and drowning. It was like we were prophets of doom. One image that shocked the world, and I recreated in the film, was the little boy [Alan Kurdi] who was drowned on the beach in Greece. In the massacre, you see Chris finding a little girl laid out the same way, because I wanted to memorialise that as best I could. The contemporary relevance of the film is that it's a refugee story."
Though its indie finance and deliberately below-the-radar shoot prevented Turkish protests, when The Promise premiered at the Toronto International Film Festival to 3,000 viewers, they somehow generated 55,000 one-star IMDb reviews, and 30,000 top marks. George suspects Turkish bots battling Armenians. The film is less partial, showing individual Turks dying to protect Armenian friends and neighbours. "It's very much not an anti-Turkish movie," Isaac insists. "It's about something that happened."
Isaac has been this way before, with Robert Connolly's Balibo (2009), an Australian film about the execution of five mostly Australian journalists by the Indonesian army as it prepared to invade East Timor in 1975. Playing charismatic East Timorese leader José Ramos-Horta in the first film shot on the island, Isaac walked almost literally in the footsteps of that suppressed crime.
"To me the character is everything. That's my job – how do you imitate humanity?" Isaac says, laughing at the thought. "The political aspects of it, or whether something [in a film] happened or it didn't, those are things that can help. And definitely I feel very proud to have been a part of shedding some light, in whatever way artists can, on stories that are not so known to the rest of the world. You feel like you're trying to do your job in service to something." Here, he sounds like his doctor father and siblings. "When there is a sense of responsibility, then that can invest you even more."
Looking back at the films Isaac made before the breakthroughs of Inside Llewyn Davis, Ex Machina (in which he's almost unrecognisable as an alpha male tech mogul) and Star Wars, the similar strength of his choices is striking. From Agora (2009), a fourth century Spanish epic about religion and knowledge starring Rachel Weisz, and Drive (2011), as Ryan Gosling's sullen rival, to today, he seems on an unbroken course.
"I feel it's for the most part, yeah, on course!" he laughs. "You never know, except in retrospect. But I know why I choose the movies that I do, and I feel happy. Sometimes they come out close to how you think they're going to come out, sometimes not as much. Since I let the character lead me, that allows me to feel pretty confident in the choices I make."
The Promise has had mixed reviews so far. But its potential importance hasn't yet been grasped. It isn't Schindler's List. But, in telling the Armenians' story in the mainstream at last, it's an overdue start.
"Armenians have always said, 'When is someone going to make a film about this event that is burnt onto our souls?'" George says. "And now that they have it made, they're overwhelmed by it."
"There's a lot of gratitude that someone stepped up and spent so much really trying to tell the story," Isaac says, "in a way that a lot of people can see it. You can imagine," he considers. "It's one thing to have this as part of your history, but another to have it be completely denied by a large part of the world. And the injustice of that."
'The Promise' is in cinemas from 28 April
Join our new commenting forum
Join thought-provoking conversations, follow other Independent readers and see their replies