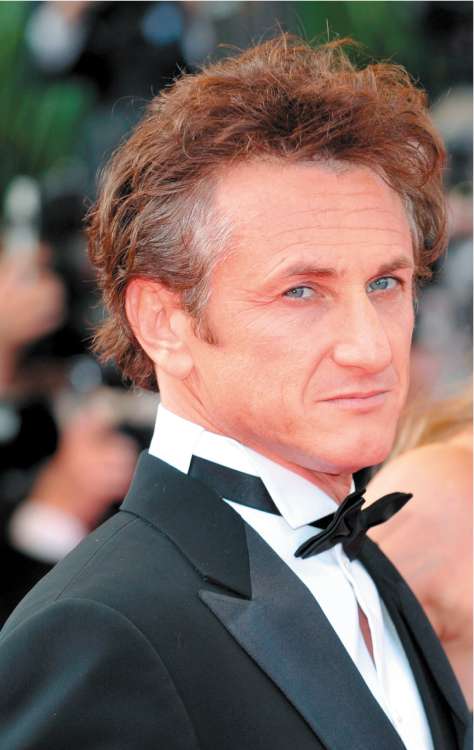 Forget the Palme d'Or – the real action has been at the parties, premieres and press conferences. And there have been some award-winning performances
Biggest rebel: SEAN PENN
When festival organisers asked Sean Penn to be president of this year's jury at Cannes, they would have done well to factor in his famously unruly temperament.
Penn, never a stranger to controversy, had insisted he would stay "wise and sober", but then casually "lit-up" in his first official appearance as president to open the festival.
The act might not have been incendiary had he not been flouting a smoking ban in front of the world's cameras. Penn vented his spleen in defence of bringing politics into a film festival.
"When we select the Palme d'Or winner, I think we are going to feel very confident that the film-maker who made the film is very aware of the times in which he or she lives." Rock on.
Cringiest press conference: PENELOPE CRUZ
The stars smile, the cameras flash and massed ranks of the world's media launch a charm offensive to get that vital quote. But sometimes relations can turn a little bit sour.
There was no more uncomfortable moment this year than the icy confrontation at the briefing of Woody Allen's Vicky Cristina Barcelona, which features a smouldering ménage-a-trois between Javier Bardem, Penelope Cruz and Scarlett Johansson. Cruz was asked to describe the quality of her "lesbian kiss" with Johansson. After a short, stony silence, she answered curtly: "I've been asked about this three times today and I have no answer to this question."
Red carpet queen: Angelina Jolie
She was competing with the impossibly glamorous Cate Blanchett and Penelope Cruz, but it was Angelina Jolie, complete with baby bump, who stole the limelight at the festival.
Appearing on the red carpet twice – once for the animated children's film, Kung Fu Panda and later for Clint Eastwood's drama, Changeling, she stylishly dealt with questions which ranged from the challenges of her film roles to life with Brad. The actress, 32, arrived at the first premiere in a floor-length green evening gown. Even sensible "pregnancy" shoes could not shake her pole position as Cannes' most enchanting woman.
Access unlimited streaming of movies and TV shows with Amazon Prime Video
Sign up now for a 30-day free trial
Sign up
Access unlimited streaming of movies and TV shows with Amazon Prime Video
Sign up now for a 30-day free trial
Sign up
Most lavish floater: DENNIS HOPPER
There's nowhere quite like the French Riviera to go yacht-spotting, Even when Hollywood's finest aren't camped out here. At this time of year, they have the place blockaded.
Lurking around like a personal aircraft carrier was Microsoft co-founder Paul Allen's 413ft yacht Octopus. And Alberta Ferretti's party for the Steven Soderbergh film Che, on the yacht Prometej, pulled in the stars. Elsewhere, Margherita Missoni held a bash on the Pegasus yacht in Cannes' old port that drew Mischa Barton, Goldie Hawn, Jade Jagger, Natalie Imbruglia and Harvey Weinstein.
But the king of the offshore party people was Dennis Hopper. For his 72nd birthday a dance floor was erected on a yacht's helipad off Carlton Beach and the London-based DJ Max Chipchase flew in to entertain Hopper and 30 friends. It was "French jazz and Brazilian bossa all evening", said a source. Easy rider rules the waves.
Most shameless self-promotion: Toby Young
We had Jack Black parading along the pier alongside 40 people in giant panda suits to promote Kung Fu Panda. And the Russian pop group tATu took to the beach in matching micro-minis. Yet it is Toby Young who lifts the golden palm for making the most noise about himself.
How to Lose Friends and Alienate People, which stars Simon Pegg, is loosely based on Young's book about his disastrous stint at Vanity Fair magazine.
Young said he would have preferred a more illustrious star than Pegg, pictured here, to have been cast in the lead role. "I was disappointed to get Simon Pegg playing me – I was thinking I'd get someone bigger," he said.
Pegg replied: "If there's one defining feature of Toby Young, it's just the continual self-promotion."
Young insisted his words had been "ironic", and that he had been misquoted. Then he wrote a column about the incident in The Spectator.
Maximum exposure sought.
Most memorable dress: Eva Longoria
Few fashion disasters can compare with the Icelandic singer Bjork's swan dress which came with an oversized egg when she wore it to the Academy Awards in 2001. That found almost universal derision and has become the stuff of celebrity legend. There were those who said nothing quite so bizarre would ever grace the red carpet again.
Well, this year at Cannes a challenger emerged. Yes, Eva Longoria turned up in a netted white dress that led to some observers describing it as a wedding meringue.
Not everyone was so scathing, however, and the fashion-watchers were left divided. Some of the kinder critics commended her outfit for originality.But Cannes is nothing if not competitive and Longoria's frock will no doubt have had more than a few screen rivals smirking about her "swan's egg moment".
Best 'charidy' moment: Madonna
Madonna's presence in Cannes delivered not just one precious charity moment but multiple "good causes". First came the screening of her new documentary, I Am Because We Are, which aims to raise awareness of children orphaned by Aids in Malawi. Then it was on to host the fundraising gala extravaganza for amfAR, the Foundation for Aids Research. Madonna said: "To say that this is a labour of love is true, but that's kind of trivial because really what it is, is a journey of a lifetime." And yes folks, they're doing it all for the kids.
Dampest squib: Indiana Jones party
If it's Cannes it must be mega-champagne receptions and high-octane parties all the way, right? Wrong. Of course there have been the big bashes you might expect, such as that thrown by Vanity Fair at Eden Roc.
But there were let-downs. Colin Firth and Kevin Bacon, for instance, were reportedly turned away from the Soho House party.
The ultimate damp squib, though, came in the shape of celebrations for Indiana Jones and the Kingdom of the Crystal Skull. Perhaps mindful of the atrocious publicity which greeted the 2006 premiere of The Da Vinci Code after a lavish party, Paramount Pictures downgraded plans for the Indiana Jones launch. A mere 250 people – minuscule by Cannes standards – got an invite. Rather lacking in fizz.
Most candid quote: Woody Allen
At Cannes they speak from the heart. Oh yes, the celebs owned up about hopes, aspirations and disappointments. For instance we had Cate Blanchett telling us that she had actually been gunning for the lead male role in Indiana Jones – after all she played Bob Dylan in I'm Not There.
Meanwhile, Woody Allen, again on the subject of Vicky Cristina Barcelona, and its enactment of a middle-aged man's lesbian fantasy, revealed: "It's hard enough trying to get one person interested and figuring out your feelings."
Topping the lot was Gwyneth Paltrow, who feared not being able to return to films after having her second child.
She said: "I didn't know if there would be a place for me. There's always someone younger or prettier or hotter."
Biggest cry-baby: Steven Spielberg
Sometimes it just all gets a bit much. Steven Spielberg had last made a trip to the French Riviera 26 years ago with ET so it was hardly surprising that the rousing reception he received at the world premiere of Indiana Jones and the Kingdom of the Crystal Skull left him a little emotional. Fans had gathered on the red carpet outside the Grand Theatre Lumiere to welcome the director. But he temporarily absented himself after becoming "overwhelmed" by the queues.
The film's 65-year-old star, Harrison Ford, meanwhile, spoke gushingly about his co-star. With a slight tremble of his lips, he described being reunited with Karen Allen, who appeared in the first of the Indiana Jones series. A moment to tug at the heartstrings.
Join our commenting forum
Join thought-provoking conversations, follow other Independent readers and see their replies