The unsung heroes of Bafta
The Baftas saw honours go to home-grown talent from behind the scenes. Now, Hollywood gets its chance to recognise the skills of our unsung heroes as well as the stars. We meet four winners with high hopes for the Oscars
The unsung heroes of Bafta

Show all 4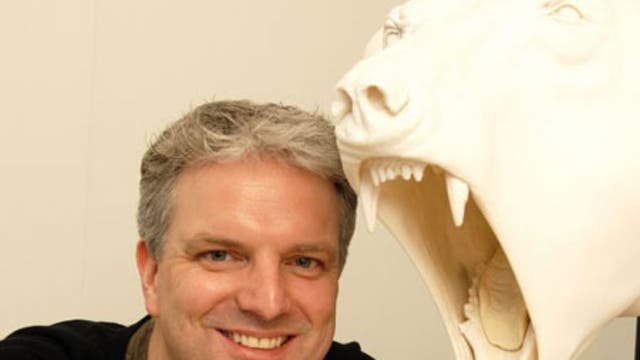 BEN MORRIS
Best Visual Effects- The Golden Compass
When the big-budget blockbuster The Golden Compass was released at Christmas, who was it that garnered breathless adulation in a set of otherwise mediocre reviews? Not Daniel Craig or Nicole Kidman. Not even the precocious Dakota Blue Richards. Rather, it was a computer-generated polar bear called Iorek.
"It is the computer-generated animals and rodents which are the real stars – rarely has so much human talent been so overshadowed by digital effects," gushed The Daily Telegraph. The Guardian singled out the clash of the armoured bears, while Cosmo Landesman in The Sunday Times noted, with surprise, that "some of the most stunning moments – when we see Lyra, riding, on the back of her bear, across the wasteland of the north – are computer generated".
These "stunning moments" are the work of Ben Morris, now the owner of a shiny Bafta for Best Visual Effects. When we meet in his studio at Framestore CFC in Soho soon after his triumph, he is full of the joys of last Sunday, producing his Bafta with a flourish from a paper bag under his desk ("I've had to keep it in the office because my colleagues keep wanting to be photographed with it..."). After our interview the 37-year-old is off to Devon to see his mum, who "wants to touch the golden face", before he flies to Los Angeles for next Sunday's Oscars; he's nominated in the Achievement in Visual Effects category. "It feels like getting married or having children, when everyone comes together and wishes you well," Morris beams.
Where will he put his Bafta? His Emmy (for Dinotopia) is on top of the kitchen cupboard, and he and his wife had considered putting the Bafta in the lavatory: "People like to have their own private moment with it, don't they?" But someone told them that was terribly passé, so it's likely to end up in his daughter's bedroom.
Another helpful friend told him: "Whatever you do, don't rush the red carpet." So Morris milked the moment ("Even though people are looking at you and saying, 'Who the hell is that?'") in his best Moss Bros suit. After a wardrobe malfunction – a stud popped off and he had to scrabble under the seats in front, occupied by Brad Bird from Pixar, who won a Bafta for Ratatouille, and Trudie Styler ("I'm name-dropping now, because I can") – he and his wife relished the occasion. Emily Blunt, the Devil Wears Prada actress, presented him with his award, but the highlight was chatting to Sir Anthony Hopkins in the queue for the limos after the ceremony. "He tapped me on the shoulder and said, 'Hello old boy, I see you got one of these too.'" After a winners' photograph, they headed off to dinner at the Grosvenor House ballroom before continuing the party at The Dorchester.
Morris shares the award with three other visual effects (VFX) supervisors, unsung heroes who carved up the task of bringing Philip Pullman's masterpiece of the imagination to life on the big screen. Mike Fink was overall supervisor, Bill Westenhoefer was responsible for the daemons, and Trevor Wood took charge of physical effects. Morris and his 240-strong crew at Framestore took on the bears, including Iorek, an exiled prince (voiced by Sir Ian McKellen) of a race of armoured bears. "When we got up on stage on Sunday, we were really representing the work of 1,000 people," says Morris, modestly.
The job was "a dream come true". Morris had read the His Dark Materials trilogy in 2000 when he was working on the second Harry Potter movie, and remembers saying to a colleague: "Can you imagine making that film? And can you imagine doing the bears? So it was always nagging at my mind." When they heard a film was in the offing, they pitched for it, putting together a 20-minute presentation package, which included the scene in which Lyra rides on Iorek's back across an Arctic landscape. Morris and team got the job. "Chris Weitz, the director, said to me, 'You have the co-star. If the bear doesn't look real, the film won't work.'"
There followed 16 months of intensive work – filming polar bears in captivity near Oxford, gathering thousands of photographs, sculpting a lifesize model and then scanning images into a computer to create a lifelike animated character. The finished Iorek has a coat of five million hairs. His armour is made up of 36,000 chainmail links. Such detail meant that each frame took up to 12 hours to shoot. During the seven-month shoot, Morris was on set to tell the actors what was happening "virtually" all around them, using such lo-fi props as "eyes on sticks" and a giant "inflato-bear" to focus the actors and cameramen. For the scene in which Lyra rides on Iorek's back, they created a customised "bucking bronco" in a white fur rug, on which Richards was filmed against a green-screen backdrop. The CGI Iorek was added later.
The greatest challenge was to make a convincing emotional foil for the actors, one that could embody human traits such as nobility and stoicism. "Six months in, everybody stopped talking in terms of technicalities and Chris started talking to us about the bears as if they were actors. That was a huge breakthrough. But that's the goal you have to hit now."
After 15 years in the business, Morris clearly remembers the moment he made his career choice: "When I was seven, I went to see Star Wars and I knew that was what I wanted to do." His parents bought him a Super 8 camera on which he made films using plasticine models. After art college, he went to Bristol to study engineering. During his degree, he went to a talk at the BFI about Jim Henson's Creature Shop; at the end of the lecture, he marched up to Muppets supremos John Stevenson and David Housman and asked for a job. He spent five years there among the puppets, eventually becoming part of the team that won an Oscar for Babe. Although it remains one of his favourite pieces of work, a screening of Jurassic Park II made him realise that the future lay in CGI. Over the last eight years he has brought to magical life Gladiator, Charlie and the Chocolate Factory, Harry Potter and the Chamber of Secrets and Troy.
Now, the focus is on the Oscars. He flew to LA three weeks ago for the "bake-off" when a long-list of seven films was reduced to three. Having beaten The Bourne Ultimatum, I Am Legend, Evan Almighty and 300, now only Pirates of the Caribbean III and Transformers stand between Morris and an Oscar. "I don't want to tempt fate. The nomination is accolade enough," he says. "But when I got the news of both nominations, my wife said, 'Sorry, it's got to be two dresses.'"
Morris is at the pinnacle of what his industry can achieve. "Technologically, we're at the point where we can make things look photo-real and it's down to the subtleties of creating entire performances that need to be as powerful as those of human actors. But you don't want the effects to overwhelm the story."
Framestore is now working on the next Narnia, Batman and Bond films, but Morris has his eye on the Golden Compass sequels. "We're waiting for the phone call. There's unfinished business and I really feel that the story needs to be told to its conclusion." Is there a tiny part of him that wishes he wasn't an unsung hero? "I'm not a closet director. Visual effects have become so integral to film-making that I get just as big a kick out of that. I'm quite happy where I am."
By Alice Jones
Watch a clip of Ben Morris's work on 'The Golden Compass'
RONALD HARWOOD
Best Adapted Screenplay - The Diving Bell and the Butterfly
At 74 years of age, Ronald Harwood has never been busier; he's about to fly to LA, perhaps to pick up a second Oscar (he won for The Pianist in 2002), and he's won the Bafta and a Golden Globe. "I had no idea this was coming," he says of the success of The Diving Bell and the Butterfly (right) "A French-language film with subtitles? I didn't think the Americans would go as mad as they have. I thought it was what they used to call an arthouse film."
It's in the category of Adapted Screenplay that the South-African born Londoner, once a would-be conductor ("I wasn't any good") is in the spotlight again. And it didn't come easy: "In the case of Diving Bell I was terribly, terribly stuck; for two weeks I paced and God knows what and didn't sleep and thought I might have to chuck the whole thing in. I even took myself off to Paris, where the man who wrote the story, Jean-Dominique Bauby, came from – in order to write, but it didn't help.
"What do you do in that state? I pretended to do research, I met the mother of Bauby's children, one of his nurses. None of it made any difference, of course." Then the idea came to Harwood that this unique tale of a man trapped in an inert body after a stroke-like trauma, forced to narrate his memoirs through a series of blinks, could be captured from the point of view of the man himself. "The camera would do the blinking – it would be Jean-Dominique Bauby – that was the breakthrough idea." Harwood went straight to his desk and put down the first scene "in its entirety. And then I was just away."
The producer Kathleen Kennedy, who went to Harwood first after buying the rights to the book, green-lit his script on his first go. "It's the only time it's ever happened to me!" he chuckles. Maybe that's why Bafta and Academy voters are impressed; it's not easy to tell the story of a man who cannot speak or move in pictures. The director Julian Schnabel is receiving accolades for his direction, but it is because of the script Harwood gave him that he was able to paint the pictures that he has.
Now it's time for the Moulin Rouge! director Baz Luhrmann to link up with Harwood. Will there be singing and dancing? "No, no! It's Doctor Zhivago in the Australian outback, an epic love story." Nicole Kidman and Hugh Jackman star in Australia, and Luhrmann has already aired a rough cut of the film for cast and friends.
By Nicola Christie
Watch a clip of Ronald Harwood's work on 'The Diving Bell and the Butterfly'
ROGER DEAKINS
Best Cinematography - No Country For Old Men
Roger Deakins first worked with the Coen Brothers in 1991 on Barton Fink and became their principal cinematographer. This is his second Bafta; the first, in 2001, was for the Coens' crime noir The Man Who Wasn't There.
Deakins, 58, grew up in Torquay, Devon, where he enjoyed painting. As a cinematographer, he says, he has "a sense of composition and light and it might have been from growing up there". At school, he rejected all advice from his careers officer and went to art school. He was in a local film society, but "I never thought I'd work in films," he says. He discovered still photography and spent a year in North Devon documenting the way of life on farms and in villages.
When he heard that the National Film School was opening, Deakins applied and was accepted in 1973. He had a passion for the films of DA Pennebaker and Fred Wiseman, and he started with the aim of following in their footsteps, making documentaries. He shot several in Africa for TV – his first, Zimbabwe, was a powerful film about the country's guerrilla war. He covered the Whitbread round-the-world yacht race, which involved him working for more than nine months as a crew member while filming a documentary that captured the relationships between the yacht's crewmen. He made music videos, including Carl Perkins's "Blue Suede Shoes", before starting feature-film cinematography, first in England and then in America. His first feature, in 1990, was Mountains of the Moon. The following year he began his collaborations with the Coen Brothers. "It's really nice working with Joel and Ethan. We do a lot of prep, talking about our approach so when we come to the day of the shoot we will be very well prepared."
The filming of No Country for Old Men involved much travelling. It's set in the Texas border area, which is much dryer and flatter than Santa Fe in New Mexico, where they shot most of the movie. "The trick of filming is that for the most part you're shooting out of sequence – a bit on stage, a bit on location three weeks later – and it has to flow. That's the hardest part.
"What I enjoy most is working with great actors. I get such a buzz filming someone like Tommy Lee Jones [Ed Tom Bell in No Country for Old Men]. Seeing him just acting, just becoming the character in the story. When it all comes together, that is the story right there, coming alive in front of you. That is a thrill."
Deakins's Oscar nomination is one of eight in total for the film.
By Elisa Bray
Watch a clip of Roger Deakins' work on 'No Country For Old Men'
JAN ARCHIBALD
Best Make-up & Hair - La Vie en Rose
For her role as hair designer for La Vie en Rose, which picked up four Baftas and is up for three Oscars, Jan Archibald set about researching the life of the film's subject, the French singer Edith Piaf, and studying film footage before applying the look to the actress Marion Cotillard.
"There's a lot of photographic evidence of Edith Piaf," Archibald says. "I came across some things of great interest; old home-movie footage taken by one of her friends when they were all on tour together in the 1930s, when she was at the height of her fame. Many images of her are very well-known; people will recognise them instantly, especially in France. It was about choosing the images that pinpointed moments in the story of her life."
Archibald describes the varying hairstyles of the singer through her life: her well-groomed days in the early 1930s; her increasingly glamorous styles following her rise as a singer and her growing fame; and her less glamorous days in the late 1940s and early 1950s, when her health was failing. "Obviously she was physically fragile, and when she got older her hair got very thin. She also started dying her hair red in the 1950s because it was fashionable," Archibald says.
Through the film, Cotillard's own hair is never on show. Instead, eight wigs were designed by Archibald (who has more than 20 years' experience of wig design) to represent the different hairstyles, from the bouncy, wavy hair of the young Piaf to the thinning, frizzy hair of her later life. For this late period, Cotillard wore bald caps underneath the wig. Archibald decided to use the old method of curling hair before the arrival of the perm – steaming and baking it – and she overprocessed it to reconstruct the appearance of unhealthy hair later in the singer's life.
To recreate Piaf's high, wide forehead, Archibald began by shaving Cotillard's hair back almost two inches. Archibald also studied a sample of Piaf's own hair that had been cut from her head after her death, kept first by a friend in a locket and then at a private museum in Paris.
Archibald's creations met with the approval of Piaf's former secretary. Archibald says: "She approved. She said she used sometimes to curl Piaf's hair herself."
Archibald began studying fashion design before going on to study costume design in London. The history of clothes was a passion. "When I worked in theatre," she recalls, "I got hooked on hair and wigs. That's when I found my niche. You go where the opportunities take you."
She began her career as a film hairstylist with A Private Function in 1984. More recently, she gained a Bafta nomination for her hairstyling in the Robert Altman-directed film Gosford Park, and has worked with many actresses, including Laura Linney and Keira Knightley.
Of this year's Bafta win, which she shares with the make-up artist Didier Lavergne, she says: "I wasn't really expecting it. I don't expect to get an Oscar, but I'm very chuffed to be nominated. It's very exciting and a little nerve-racking."
As a designer, Archibald is in charge of the overall look. "The day starts with the main artist, making sure the looks are right and that they are happy with the image. All day, you are watching the shoot for the little things that need to be adjusted." It's not just aesthetic; getting the look of the main actors right is essential, she says, in "helping the viewers to understand the story". She laughs off the assumption that the job must be glamorous, saying: "It's a hard job, and exciting."
Of Cotillard, who won the Bafta for Best Actress, she says: "I knew from day one that this was going to be an exceptional performance. She was so committed and so prepared. The lip-synching and the body language were spot on. One knew whenever one watched her on the set that she was exceptional."
By Elisa Bray
Watch a clip of Jan Archibald's work on 'La Vie en Rose'
Join our new commenting forum
Join thought-provoking conversations, follow other Independent readers and see their replies