Tina Fey - From spoofer to movie stardom
Tina Fey became famous globally for her take-offs of Sarah Palin, but had already won awards for Saturday Night Live. She tells Gill Pringle about Date Night, her new comedy with Office star Steve Carell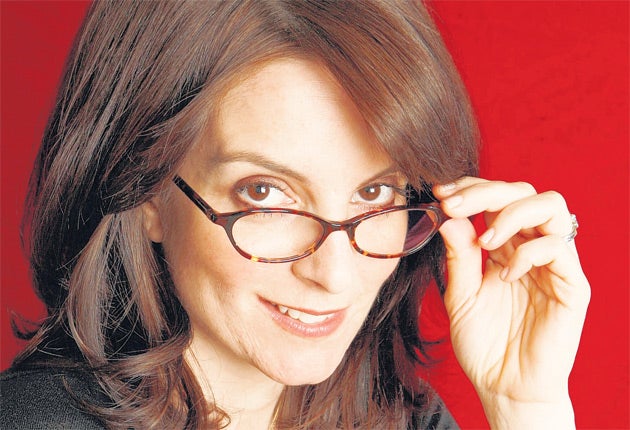 Introduced to British audiences as luckless Liz Lemon in TV's 30 Rock, writer Tina Fey has come a long way for a self-confessed "super-nerd" whose career once revolved around making other people sound funny. More than anything, Fey's savagely spot-on skits of former US vice-presidential candidate Sarah Palin propelled her into the spotlight, adding an Emmy to her growing collection of awards including five other Emmys, two Golden Globes and numerous Writers Guild awards.
Born Elizabeth Stamatina Fey in suburban Philadelphia, she majored in drama, moving to Chicago where she trained with famed improv troupe Second City, while working a local YMCA desk by day. By 1997, she joined the writing staff of the US satirical sketch show Saturday Night Live, the long-running late-night show responsible for launching the careers of John Belushi, Adam Sandler, Chevy Chase, Bill Murray and Eddie Murphy among many others. She graduated to head writer two years later and was added to the cast the following year. But it was Fey's uncanny resemblance to Palin that proved a major career springboard.
Having left SNL four years ago to focus on her own TV series, 30 Rock, she was lured back to the show after former Alaskan governor Palin appeared on the political scene, plucked from obscurity as John McCain's running mate.
"For years I'd been physically compared to Nana Mouskouri although there's not much you can do with that these days, so Sarah Palin was a real gift," laughs Fey, 39, whose other writing credits include the script for 2004 hit teen flick, Mean Girls.
Aside from her TV credits, Fey's big-screen career is also rapidly gathering speed, with her starring in comedy Baby Mama two years ago and opposite Ricky Gervais in last year's The Invention of Lying. Now she has teamed up with fellow small-screen star Steve Carell in couples comedy Date Night, a witty take on that peculiarly American term that has worked its way into everyday vocabulary.
"I think it is sort of a relatively recent thing," she ponders. "Just in the same way parents now say 'playdate' when their children play together. That wasn't a thing when I was a kid, you just went over to someone's house to play, now they schedule a 'playdate'. But I do know a lot of couples that refer to this as their 'date night'," says Fey whose own parents Donald, a grant writer, and Greek-born brokerage worker Jeanne, introduced her to classic comedies from Monty Python and The Marx Brothers from an early age.
As mother to a four-year-old daughter, "date nights" are nothing new to Fey and composer/comedy director husband Jeff Richmond, 50, although Fey's screen date-night with Carell goes horribly wrong in this comedy.
"I think its something that any married couple with kids can relate to. When you're married and you have a kid and you work, there's a part of being in the relationship with your spouse that can be really like an irritating burden at some point and you have to remember that what brought you there in the first place was your love for your spouse, because it becomes like: 'Oh great, now I've got to go talk to him too. Great! I just want to go to sleep.' So you have to remember to tend to that garden. Its important to find time to see friends too and just try to battle against the general fatigue level.
"I don't have any seriously disastrous 'date night' stories of my own but I do know that feeling when you're so tired, and you've made plans to go out and when you leave, you're actually envious as the babysitter settles in to watch TV and order food, and you're like: 'Aw, I want to stay with the babysitter. I'm jealous of the babysitter.'"
Access unlimited streaming of movies and TV shows with Amazon Prime Video
Sign up now for a 30-day free trial
Sign up
Access unlimited streaming of movies and TV shows with Amazon Prime Video
Sign up now for a 30-day free trial
Sign up
Deliberately avoiding versions of their TV incarnations, Fey says her and Carell's Date Night husband and wife have little in common with their small-screen personas: "But maybe there will be some satisfaction if people like those two shows where they might be able to pretend in their minds that Michael Scott [Carell's Office character] and Lemon are finding love.
"Playing Steve's wife came remarkably naturally. I started berating Steve immediately and he resented me immediately," she quips. "But I think the aspect of trying to take control of everything and not really letting the husband in on the day-to-day family stuff rings true. I think that's a real thing that people do, women especially. I like that my character Clara is smart, and I like the core of this relationship. They do love each other. They're not bickering; they're not horrible to each other, they're just in a frustrating patch in their marriage. I feel like that's intelligent and truthful. Seriously, once you're married, you stop even celebrating Valentine's Day. Maybe I'm bitter but I think that's strictly amateur night!"
Having once envisaged a career behind the scenes, Fey admits to a certain amount of doubt at her recent good fortunes: "Ah, the impostor syndrome!? The beauty of the impostor syndrome is you vacillate between extreme egomania, and a complete feeling of: 'I'm
a fraud! Oh god, they're on to me! I'm a fraud!' So you just try to ride the egomania when it comes and enjoy it, and then slide through the idea of fraud. Seriously, I've just realised that almost everyone is a fraud, so I try not to feel too bad about it.
"Having become a public figure perhaps later in life than most I think has helped me deal with the aspects of intrusion into my private life. I mean, it is insane. But I think because I'd worked a lot of places for a long time before stuff like this happened, I have an almost terrifying clarity of how much longer are they going to let me do this.
"People do treat you differently, so it's nice to come into it a little bit older because you sort of know not to believe it 100 percent. Everyone is so nice to you all of the time, telling you, 'you look great,' when you know you don't. But that's OK. Being a little older, it's easier to take things with a grain of salt. For example, a lot of times, with 30 Rock, the writers will tease me when I come in looking the absolute worst, that I could be eating something that I found on the floor, just really bad... They'll be like: 'You're a star! You're living your dream,' but there's no time to really walk around and feel powerful."
Discussing the fate of 30 Rock, in the light of her co-star Alec Baldwin telling everyone he's about to quit, Fey laughs: "He's leaving Earth! He's going into space! But Alec says that all the time. I think he's a brilliant guy, and certainly talented enough and smart enough to do a lot of things, but I think his curse is that he's a brilliant actor, and he won't be able to stop. I also think that the job is very hard. I've always been impressed that to do that five nights a week, all year, it's a grind, and it's difficult to be fresh and original. Hopefully we'll continue for two more years. Obviously it's not really up to us, but if we could go to season five and six, that would be ideal. I would love the people at NBC to give us that. You want these series to be good the whole way through, I think we'll have to see if we get that far, and see how we feel."
One aspect of her success is the fact that Fey today has thousands of followers on Twitter – despite the fact it's not even the real Tina Fey.
"Isn't that crazy? It's not me! It has like 300,000 people following me, but it's not me. I'm way too old to get into twittering and all that stuff," she sighs. "I'm a writer, so the thought of having to write one more thing, be responsible for turning out anything else, is way too many."
Fey's own four-year-old daughter is famously responsible for some of 30 Rock's biggest catchphrases: "It's true," she smiles.
"We've incorporated several things she's said. I think it's because I bore everyone to tears in the writer's room with stories about her that subconsciously it gets into their brains. But, yeah, things like 'I want to go to there' and 'touch my knee's butt' are all her work. One of these days she's going to figure it out and start charging," says Fey who confesses she has become the sort of parent she once poked fun at, planning 'playdates' for her daughter around her busy work schedule.
"It's a cliché isn't it? The way modern parents are today expected to spur their kids into becoming mini-geniuses? Already its like, Saturday is ballet... You do sort of build your day around taking them someplace or going somewhere. These kids are going to be amazing. A whole generation of super-fit geniuses! But I don't think I'll be encouraging my daughter to take up acting. After working with two children on Date Night, and those children were lovely, but it's a long day for a kid. They're very happy to be there, but I do think it's too much like real work for a kid."
Once Fey and Carell had signed on for Date Night, such is their kudos among fellow actors that a whole host of A-listers came out of the woodwork, resulting in a supporting cast that includes Mark Wahlberg, James Franco, Mark Ruffalo and Ray Liotta.
"It was weird having Mark Wahlberg on the set. I mean, he produces Entourage and has this serious career after being a teen idol. But he totally understands comedy and ad-libbed so much funny stuff," she says.
One of the few successful female comedians today, Fey laments the dearth of comedic opportunities for women in a largely male-dominated occupation. "I know a lot of women who are very funny, but mainly in TV. Women for a long time have driven TV comedies, going back to the Fifties with I Love Lucy, but, for some reason, it's different in movies. Maybe more women need to produce movies.
"I also think, as a mom, that when a movie comes out, I kind of don't get a babysitter and I don't show up, whereas a teenage boy will go to the movies, so I think producers follow where the money is. If boys are going to the movies more, you're going to get movies for boys. TV has always been more for the ladies," says Fey who developed her own savage comedy skills as a teenager, understanding that a sense of humour was a great way to avoid criticism and win friends.
Today Fey sees no respite from the comparisons with Palin who, although resigning her post as governor of Alaska, remains in the US public eye after publishing her memoirs and still engaging in numerous television appearances.
Despite their shared trademark black-rimmed spectacles and physical similarities, Fey insists she's rarely mistaken for the politician: "It happens less than you might think. But I do always think when I'm in the airport or at Disneyland, that's the first thing people will think of if they see me."
Having made her name in comedy, Fey admits to a secret desire to do something totally unfunny.
"I always joke," she says, "that as my working retirement I'd want to be a judge on Law & Order! Improv is tough."
'Date Night' opens on 21April
Join our commenting forum
Join thought-provoking conversations, follow other Independent readers and see their replies