Interview
'It's about self-love': How TINA captures an icon who refused to falter
The new documentary about Tina Turner is a detailed look at how the singer overcame the abuse of her ex-husband and relaunched her career, against the odds. It's a tale of survival, self-reliance and redemption, its directors tell Rachel Brodsky
Saturday 27 March 2021 07:38 GMT
Comments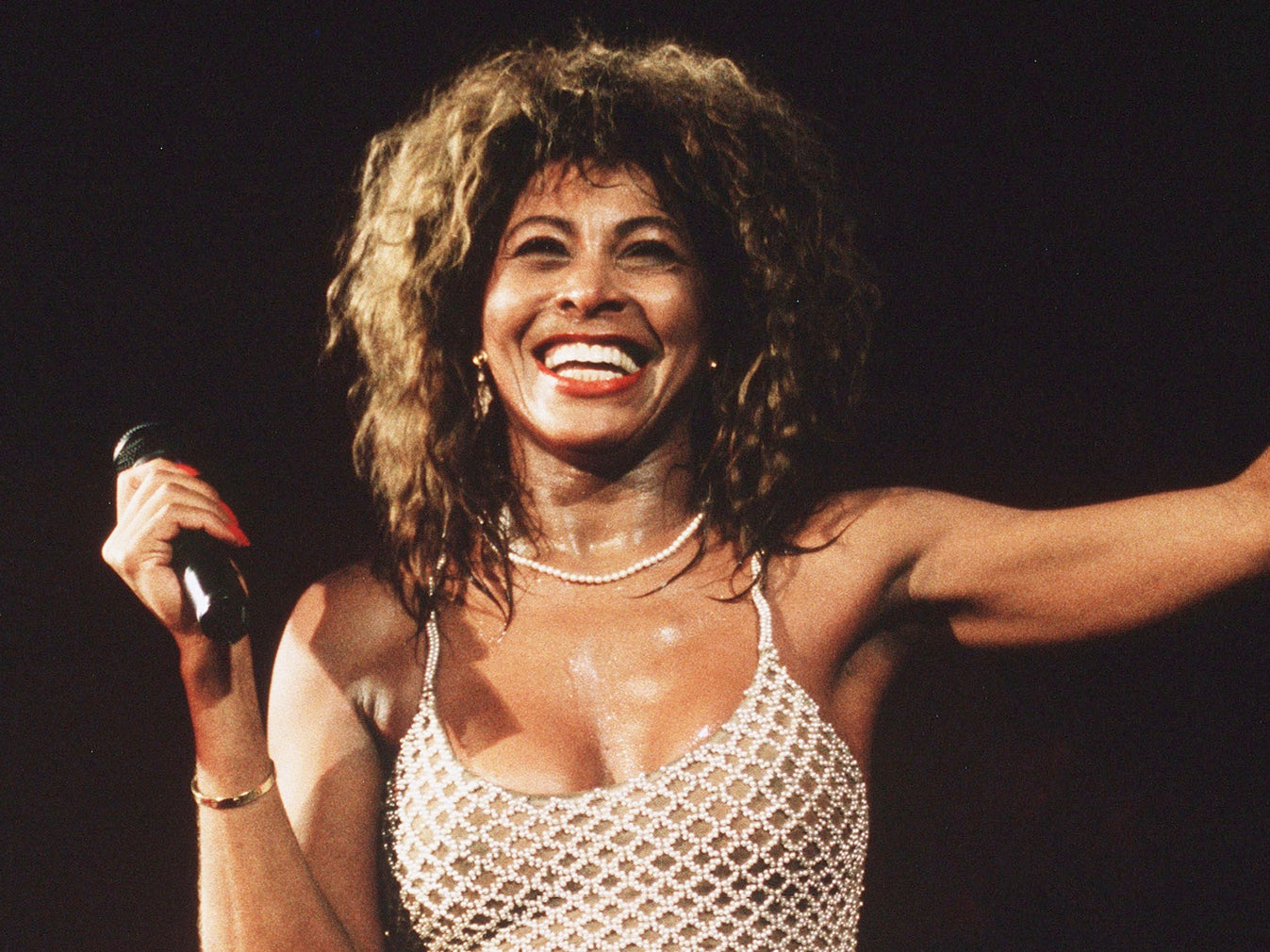 TINA opens at a pivotal moment in Tina Turner's life: it's 1981 and the pop legend is sitting down for a tell-all interview with People. For the first time, she will speak publicly about the constant abuse she suffered under ex-husband and longtime musical partner Ike Turner. At the time, a story like this was the equivalent of going viral today.
"That was quite nerve-wracking," Turner says in the film. "I called my psychic and said, 'What's going to happen?' I was really apprehensive about giving the story away because it was telling, it was really telling... And she said, 'No, Tina, it's gonna do the opposite. It's going to break everything wide open.'"
The documentary, directed by Oscar-winning filmmakers Dan Lindsay and TJ Martin, is an intimate portrait of a woman who, against all odds, managed to launch and relaunch a massive music career unbound by genre or age. It premieres in the UK and US this week, and traces her history as an artist who went on to sell more than 100 million records and earn 12 Grammy awards, three Grammy Hall of Fame awards, a Grammy Lifetime Achievement Award, and even have a Broadway musical dedicated to her.
The career-spanning film is told through interviews with Turner, associates like longtime manager Roger Davies, journalists and playwright Katori Hall, who wrote The Tina Turner Musical. It spans from the singer's duo with Ike and their eventual split to her 1980s pop/rock rebirth. But while it's soundtracked gloriously by Turner's numerous hits, Martin and Lindsay's first concern was to tell a bigger story, about survival, self-reliance, redemption, and learning how to love. It's absolutely the most up-close-and-personal look at Turner's many-chaptered life so far.
The directors wanted to make sure they handled the story uniquely. "We've been reluctant to do any kind of biopic or artist profile 'rock doc' because for us, they always seemed like a catalogue of music in search of a story as opposed to a proper story," says Lindsay, both directors being best known for their 2011 Oscar-winning sports documentary Undefeated. They used the 2015 Nina Simone doc, What Happened, Miss Simone? as a reference. Like that doc, "what Tina presented was a way to make a proper film tell a story that just happened to be centered on an iconic musician", Lindsay adds.
Turner's story, however, is more groundbreaking than most. When Turner, born Anna Mae Bullock in Nutbush, Tennessee, met Ike in 1957, she'd gone to see his band, Kings of Rhythm, perform in East St Louis. She eventually got him to listen to her sing, and the pair teamed up as the hugely successful rhythm'n'blues and soul duo Ike & Tina Turner Revue, churning out era-defining singles like "A Fool In Love", "River Deep – Mountain High", and "Proud Mary". Ike even gave Turner her stage name, drawing inspiration from the comic book character Sheena, Queen of the Jungle.
But, as audiences would come to learn, with Ike, Turner had been locked in a terrifying cycle of physical and emotional abuse for years. When she was finally granted a divorce in 1978 (he died in 2007), all she'd asked for was the rights to her name. She was in career limbo. Post-divorce, Turner was struggling to catch the music industry's attention without the Ike association and was relegated to performing in Las Vegas cabaret shows and the odd TV variety hour.
While TINA recounts how Ike created Turner's entire stage persona without consulting her, how he would beat and abuse her, and how quickly and unexpectedly he'd turn violent, it also looks at the psychology behind his actions, zooming in on his deep fear of abandonment. It's shocking but also complex, as Turner recounts the beginning of the "torture", how Ike would "beat me with a shoe stretcher", because he was afraid she "was being a star and I was going to go on my own".
"By humanising Ike, it doesn't excuse his actions," Martin says. "If anything, it actually makes it a little bit more frightening because people in abusive circumstances usually have some kind of really complicated and/or deep relationship [with their abusers].
Access unlimited streaming of movies and TV shows with Amazon Prime Video
Sign up now for a 30-day free trial
Sign up
Access unlimited streaming of movies and TV shows with Amazon Prime Video
Sign up now for a 30-day free trial
Sign up
"It's trauma and love and abuse all wrapped up into a messy ball," he continues. "We didn't want to shy away from this notion that Tina actually really did love Ike. Tina really did learn a lot from Ike. Tina did really want a healthy life for Ike, but Ike made some bad f****** decisions, and it doesn't make him the devil, because then it's too easy to totally villainise him, which is not an accurate reflection of what life is."
Meanwhile, TINA does a tremendous job of delving into the hardships Turner faced while trying to relaunch her career in the 1980s, which she eventually did with arena-filling anthems like "What's Love Got To Do With It" and "The Best".
Primarily known as an R&B performer in the Sixties and Seventies, Turner had a goal in mind after splitting from Ike: a transition to rock. It shouldn't have been difficult for her; after all, she is said to have directly inspired Mick Jagger's strutting dance moves, and she even opened for the Rolling Stones in 1981. But, as Lindsay and Martin outline, the famously rigid music industry didn't make a genre crossover easy for Turner, who was by then entering her forties. "The American labels, they saw her as The Pointer Sisters," Lindsay says. "She's like, 'No, I want to be like rock'n'roll.' They're like, 'No, you're soul and R&B.'"
In fact, when Lindsay first visited Turner's home in Switzerland, he was astounded at how segregated her many awards looked, even as recently as the 1980s (though he'd be the first to admit that he should not have been surprised). "In 1985 or 1986, she wins 'Best Black Video.' 'Best Black Artist.' It's just like, what?" says Lindsay. "That's the American Music Awards. Even as recently as the mid-Eighties, it was segregated. If you go to their Wikipedia page now, it's not categorised like that. You'd have to do a deep dive to find out the stuff. That's how awards were still being handed out, just to show you the level of segregation in the music industry. That s*** just blows my mind.
"I think the thing for us," Lindsay continues, "is that it never seemed like Tina fully understood the irony of [how] she is part of the music foundation that influenced the Stones. They looked to her and Ike [for inspiration]. Later in life, she's trying to be them. She wanted to sing about happy things and have a good time. I think, rightly or wrongly, she associated 'R&B' with being sad."
Even as Turner moved into film, notably appearing as Aunt Entity in 1985's Mad Max Beyond Thunderdome, she had a difficult time securing roles that were not rooted in Black trauma, an issue that is still a major topic of conversation today. "That's a section of the film that we didn't have time to explore," Lindsay says. "She gets the opportunity with Mad Max and then all the parts that she gets sent from there on are playing a prostitute. She got offered Roots [an award-winning 1977 TV miniseries about American slavery] and she turned it down."
"Mad Max was very much in line with her sensibilities," Martin agrees. "Even if you ask Tina, it's not [that she] wants to show the world what empowerment looks like. It's like no, I want to f****ing drive fast cars and I want to do the s*** that the boys are doing. Why does everything have to be this statement? I see the kind of accolades and the liberation that the boys have – I want that, too."
In the documentary, even Turner herself admits to not wanting to watch her 1993 biopic starring Angela Bassett, which looks at her tumultuous relationship with Ike, their divorce and her subsequent solo success. Constantly reliving the abuse she suffered at Ike's hands, though, has always been something Turner's shied away from.
"I don't think people understand the emotional taxing it takes on you to constantly be looking back at your own history and being like, 'There it is again, being f****ing abused. There it is again, being f****ing not cared for. There it is again, being not wanted," Martin says. "After a while you're like, 'Yeah, I still want to make high art, but does it have to be about pain in my own community all the time?' That takes a toll on you."
Today, Turner is one of the most decorated artists in history, with a star on the Hollywood Walk of Fame, a spot in the Rock and Roll Hall of Fame, a recipient of the Kennedy Centre Honors, and, of course, the aforementioned Broadway musical (temporarily on hiatus due to the coronavirus crisis). Much of those accolades are due to her immense talent, of course, but as Martin points out, Turner's career longevity has everything to do with how "she re-found her voice and didn't try to adapt".
"It's about love and self-love and love of another person and all of these things," Martin continues. "That's ultimately what, in diving into countless interviews with Tina and talking to her and all these things, that's something that becomes very clear about her life."
TINA premieres on Sky Documentaries and NOW (28 March in the UK) and HBO (27 March in the US)
Join our commenting forum
Join thought-provoking conversations, follow other Independent readers and see their replies