Tippi Hedren - Hitchcock's caged bird
Tippi Hedren's career was destroyed by the British director's obsession. Yet there was an upside, she tells Geoffrey Macnab
Geoffrey Macnab
Friday 10 February 2012 01:00 Comments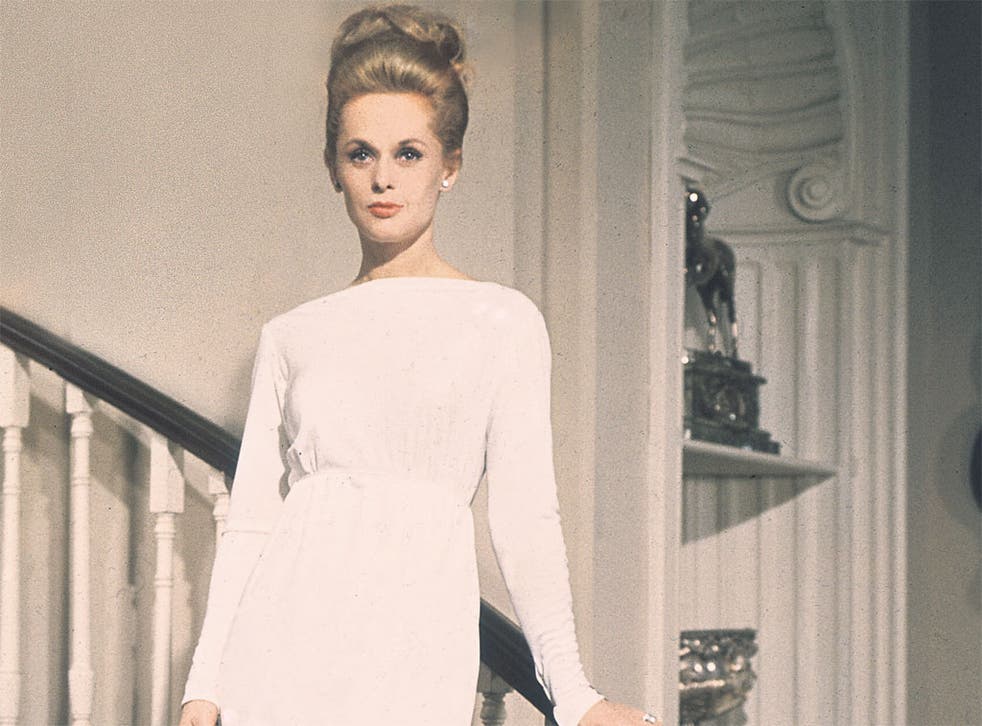 To call Tippi Hedren's attitude toward Alfred Hitchcock ambivalent would be to understate the case in the extreme. The star of The Birds (1963) and Marnie (1964) is due in Croydon next month to introduce an evening of clips and music from Hitch's films.
She waxes nostalgic about the British director's favourite composers one moment before describing, in chilling detail, how he sexually harassed her the next.It's a story that has long since passed into movie lore. Hedren was the glacial blonde who was supposed to take over from Grace Kelly as Hitchcock's favourite leading lady. He put her under contract and groomed her to be a star but, gradually, became ever more obsessive about her. The portly film-maker in his sixties wanted the actress to sleep with him. When she refused, he kept her under contract on $600 a week, but stopped her from working for almost two years.
"He ruined my career but he didn't ruin my life," is how Hedren sums up it up today.
A new BBC film starring Sienna Miller as Hedren and Toby Jones as Hitchcock will be on our screens soon. The Girl, which has been directed by Julian Jarrold, looks at what its writer, Gwyneth Hughes, has called Hitchcock's "twisted and obsessive love" for Hedren. The title comes from how Hitchcock referred to Hedren when – as she puts it – "I was not in favour". The film promises to be harrowing in the extreme but has still been made with the 82-year-old Hedren's full blessing. Sienna Miller, she says, came out to see her at Hedren's Shambala Preserve wildlife sanctuary. The two women got on famously.
"We were able to spend several hours together. I like her so very much," Hedren says of Miller. She told Miller the details about her own upbringing in Minnesota. And she sees traces of her younger self in the British actress.
"I see a very strong woman," she says. One might have suspected that Hedren would want to bury the memories of her traumatic time with Hitchcock. The reverse appears to be the case. She is very friendly with biographer Donald Spoto, who has written various exhaustively detailed books foregrounding Hitchcock's dark side. In his research, Spoto went through exactly the same process of disillusionment that she had, becoming increasingly depressed about the personality of his subject.
"It was an extremely difficult time for me," Hedren reminisces of her own years with Hitchcock. "To be the object of someone's obsession is horrible. Any woman who has had that kind of situation will certainly agree with me. I demanded to get out of the contract but when I did that he said: 'Well, you can't. You've got your daughter to raise and your parents are getting older.' I said: 'No, I want to get out. The people who love me do not want me in this situation.'" Why didn't Alma, Hitchcock's famously formidable and practical wife, intervene to stop the harassment?
"You'd think she'd put her foot down, wouldn't you? I don't understand that relationship either. There you have it... one day she said to me, 'I am so sorry you have to go through this.'"
It was common enough for Hitchcock to flirt with and become infatuated with leading ladies. However, as Peggy Robertson (Hitchcock's assistant) later pointed out, with Hedren, the infatuation didn't stop off-camera.
Hitch's obsession with Hed had its upside. He fussed over her more than he ever did over any other tyro actress working with him.
Access unlimited streaming of movies and TV shows with Amazon Prime Video Sign up now for a 30-day free trial
Sign up
"He was such a fabulous drama coach. What better person to have than Alfred Hitchcock? His work as a director was impeccable. I learned so much." Yes, he made her endure some very gruelling scenes in both The Birds and Marnie. But she insists that what he taught her in making the two movies was invaluable.
"He gave me an education in film-making that would have taken 15 years for me to acquire. It was an amazing time. He had me sit in on meetings at every single phase of making a motion picture." She chuckles with affection as she recalls Hitchcock's penchant for telling jokes and reciting dirty limericks. She acknowledges, too, that Hitchcock was held in high esteem by most of his cast and crew.
"He used the same people over and over again, the same DP [director of photography], the same set designer... they were very loyal to him. He was a smart man. If you don't treat the people you're working with well, you're not going to get the results you want."
What makes Hedren such a disconcerting interviewee is her strange mix of admiration and disdain for Hitchcock. She is self-evidently very proud of her work on The Birds and (particularly) on Marnie, where her character was a frigid kleptomaniac with a terror of thunderstorms – not an easy part for a relatively inexperienced actress.
"I did all kinds of research. I read the book by Winston Graham several
times. When you read things over, you see new things in it. I talked to psychologists and psychiatrists... it wasn't until fairly recently that we found out that when a child suffers something traumatic, if it isn't dealt with it has horrible effects on their later life." Reviewers then, she suggests, simply didn't understand Marnie.
"We knew it at the time that this was something very new and that people weren't going to accept it. But, as the years went by, it has become a favourite of many of the real solid movie buffs."
The use of the word "we" in the context of Marnie is surprising. Hedren is referring to herself and her other collaborators, including Hitchcock. They were all in it together – true comrades. Nonetheless, the reason every interview with Hedren is so lop-sided is that he, effectively, sabotaged her career.
"By the time I got out of The Birds and Marnie, I was – as the Hollywood expression goes – hot," she remembers. However, as Hitchcock kept on turning down requests from other directors who wanted to work with her, that heat ebbed away.
For all her subsequent work saving lions or her films with her daughter, Melanie Griffith, (with whom she will shortly be working on screen again) or her more recent movies with directors from John Schlesinger to Alexander Payne and David O Russell, there is nothing in her CV that compels as much attention as The Birds and Marnie. The Hitchcock films have grown, not diminished, with age and the story of her own tussles with Hitchcock have assumed near mythic status.
When she finally disentangled herself from Hitchcock's contractual ties, Hedren went on to work with a British film-maker who was arguably even more famous – Charlie Chaplin – on A Countess From Hong Kong (1967). She wasn't top of the bill, though (her credit came after that of Marlon Brando and Sophia Loren).
Her reminiscences of Chaplin have none of the sting of her stories about Hitchcock: Chaplin was a joy to work with. Nonetheless, The Countess From Hong Kong wasn't one of Chaplin's more memorable films. It certainly didn't have anything like the impact of The Birds and Marnie. Hitchcock was furious that she had betrayed him by working with another director.
"I heard he almost had a heart attack when he heard I was going to do the Chaplin film," says Hedren.
She never set out to become an actress. When she was growing up in Minnesota in the 1940s, her ambition was to become a professional figure-skater. An injury to her foot wrecked that dream. Then, she was talent-spotted, when she was getting off a bus in Minneapolis, by a modelling agent. She was 14 at the time.
"This woman handed me her a card and said, 'will you give this to your mother and ask her to bring you down to Donaldson's Department Store because I'd like to have you model on our Saturday morning fashion shows?'" Thus began the modelling career which would eventually send her spinning into Hitchcock's orbit.
One lasting irony, given how traumatic her time with Hitchcock became, is that she still thinks of him whenever she is working. "I use every single thing that Alfred Hitchcock taught me in my acting career... I am very grateful for the education he gave me in making motion pictures."
Tippi Hedren will appear at the Fairfield Concert Hall, Croydon, on 17 March at 7.30pm. 'The Girl' will be on BBC this year
Register for free to continue reading
Registration is a free and easy way to support our truly independent journalism
By registering, you will also enjoy limited access to Premium articles, exclusive newsletters, commenting, and virtual events with our leading journalists
Already have an account? sign in
Join our new commenting forum
Join thought-provoking conversations, follow other Independent readers and see their replies