When Iggy Pop met Michel Houellebecq: They admitted that they were die-hard fans of one another
France's best-selling novelist Houellebecq and Iggy Pop, who feature in a new documentary about struggling artists, many with mental problems, have formed an unlikely friendship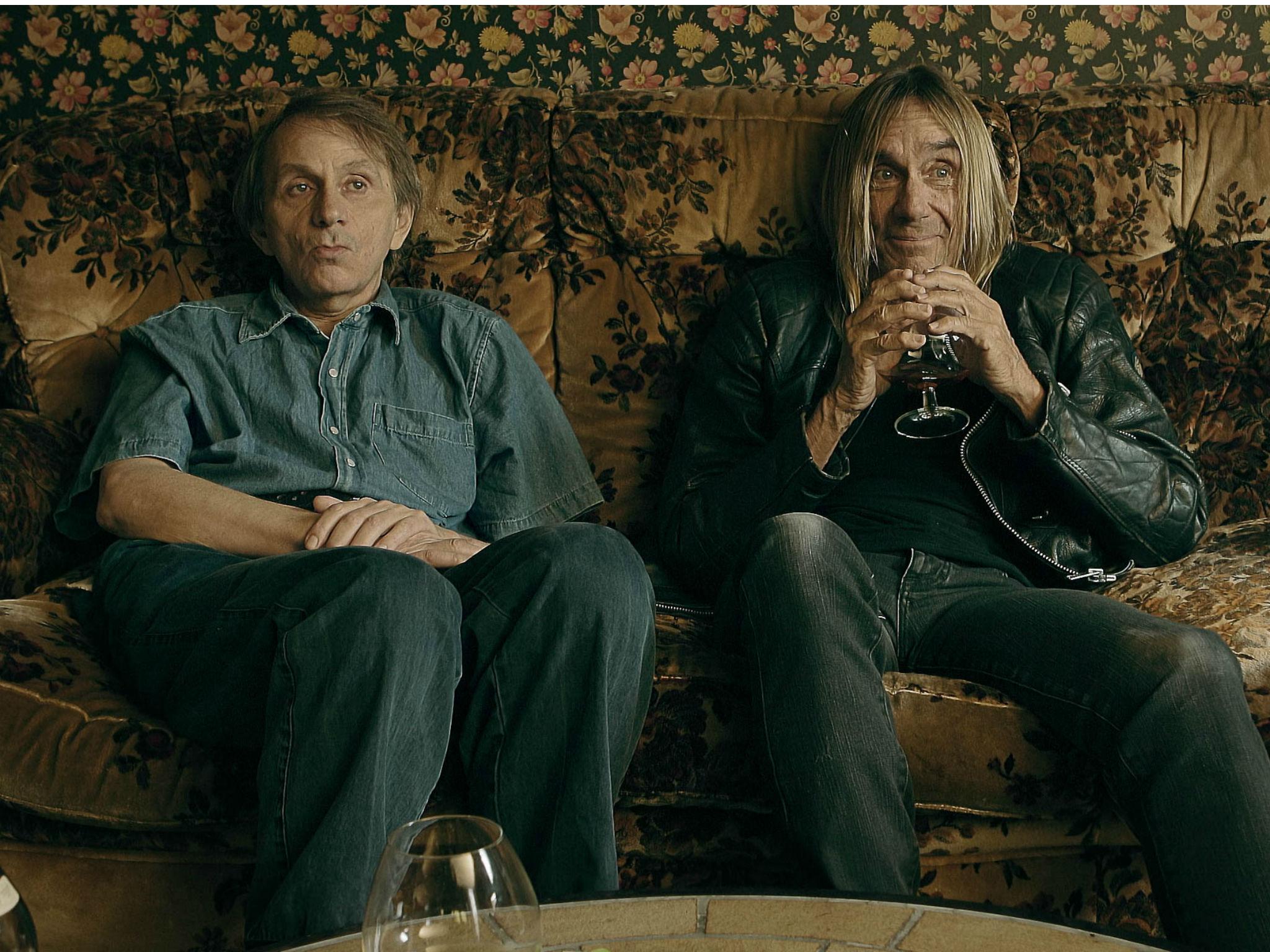 When bad boy French writer Michel Houellebecq was an unhappy teenager, living with his grandmother in Meaux in France, one of the ways he sought relief from the world was in listening to Iggy and the Stooges records. Years later, when he was trying to become a writer, he lived in a tiny room, bare save for a mattress, some alcohol and a huge poster of Iggy Pop on the wall.
If Iggy Pop is the patron saint of unhappy teenagers, it's partly because the veteran rocker was once an unhappy and slightly nerdy teenager himself. Iggy reads widely and Houellebecq is now one of his favourite writers. The French novelist (whose books include Atomised, Platform and Submission) once stated that the role of the artist is to "put your finger on the wound in society and press down real hard". That is pretty much what Iggy Pop thinks too. It was in 2007 that the chain of events were put in motion that would eventually lead to Iggy and Houellebecq collaborating and, becoming fast friends – and, indirectly, to Iggy recording two albums in French, a language he barely speaks.
The go-between who brought the writer and the rock star together was a Dutch journalist and filmmaker Erik Lieshout (whose film featuring the duo, To Stay Alive – A Method, has been screening this week at International Documentary Festival Amsterdam.)
Lieshout had met Houellebecq in France at the time the author was doing publicity for The Possibility of an Island, which he was later to make into a film. Lieshout was there to interview him for Dutch TV. Lieshout's first question to Houellebecq was engagingly pretentious. "Is style a quality of vision?" The question actually came from an interview that Marcel Proust had given in 1913. Houellebecq didn't recognise the source but spent the night pondering it and the next day gave Lieshout and his crew a nine-and-a-half-minute answer to that question alone. He later saw Lieshout's short film about him. "He said it is the best thing ever made on me… much better than the BBC's film," Lieshout recalls.
Interviewed in a bar in the Spui in Amsterdam, Lieshout looks every inch the Dutch equivalent to the Left Bank intellectual. He began to collaborate with Houellebecq when the French novelist was directing the movie version of The Possibility of an Island. It was a chaotic shoot and Lieshout and his collaborators, Arno Haggers and Reinier van Brummelen, had been brought along to make a documentary, Last Words, about it. Houellebecq was glad to have them there. "We were eating together and sharing his worries about the film," Lieshout says. "I love his company. It's quite addictive actually because when you sit next to him, the whole world gets a sense of meaning. Immediately, everything is interpreted which is very nice for human beings who are looking for a clue. And he's extremely funny, extremely aggressively funny… one of the ingredients of his success is his aggression against the world which he fits into beautiful interpretations. We had nights out, of course, and there was a lot of drinking and there was singing."
It was in this period that Lieshout approached Iggy's manager Henry McGroggan to ask if the rock star might be prepared to provide a song or two for the documentary. It was a speculative approach and he didn't expected to hear anything back. However, a little while later, when he was out sailing with his three-year-old son Ilja on the IJsselmeer, his mobile phone went off.
"It was wind force six. I thought, my God, I need to get back in the harbour. I was almost there, which is when you need most to concentrate. That is when he [Iggy Pop] called. I thought, I can't say call back later so I decided not to go back into harbour but to put the ship right back into the wind, with the sails loose. I said to my son, 'sit down there so you don't fall overboard'."
Lieshout and Iggy spoke for 45 minutes. The rock star had been staying with former Stooge Ron Ashton in Normandy a few days before and had spent his vacation reading The Possibility of an Island. When he realised that Lieshout was working with Houellebecq, he immediately agreed to provide some music. Lieshout went to Miami to meet him. During this first encounter, Iggy pulled a guitar from the wall and started performing a song called "On The Beach", which he had never recorded and which had a line that still sticks in Lieshout's mind: "You can convince the world that you're some kind of superstar while an asshole is what you are."
Iggy gave permission for this song to be used in the film – and provided some others. "The reason he started singing in French, is because the rights to the translation of "Autumn Leaves" were too expensive: 'Fuck it, I'll do it in French', Iggy said. These songs formed the basis for the Preliminaires record," Lieshout remembers.
Access unlimited streaming of movies and TV shows with Amazon Prime Video
Sign up now for a 30-day free trial
Sign up
Access unlimited streaming of movies and TV shows with Amazon Prime Video
Sign up now for a 30-day free trial
Sign up
Lost For Words marked the first (loose) collaboration between Houellebecq and Iggy Pop but they still hadn't properly met. The duo finally came face to face during a live concert Iggy gave at Radio France in May 2009. Houellebecq was in the front row. When Iggy realised he was there, he addressed several of the songs at him directly. "Iggy was really singing for Michel and Michel was cheering. When Iggy said 'fuck' or something aggressive, Michel would cheer a little more." After the concert, they all went to a Paris brasserie for a late-night meal and to compare notes. Over oysters and wine, they finally began to talk together. Initially a little shy and star-struck, they admitted that they were die-hard fans of one another.
To Stay Alive – A Method is a documentary about struggling artists, many with mental problems, who are fighting against the odds to make their art. It is based on Houellebecq's essay of the same name. Alongside the anonymous artists, Houellebecq and Iggy Pop feature prominently. Iggy reads Houellebecq's words on camera in a growling and professorial way.
"Michel said that if you want this film to work, the people in the film should be really marginal, they shouldn't be too successful. On the other hand, I had the idea that the film also speaks to the ordinary [person] – someone with a normal job in an office who wants to step out of his chains and do something with his life," the director states.
In spite of his success, Iggy had a strong sense of identification with the downtrodden protagonists in the film. "I had him read To Stay Alive and he said it was exactly his story. He sent me a version of "Open Up And Bleed", the song in the film. He said, listen to this, it represents for me exactly the feeling of To Stay Alive. At that time, like he admits in the film, he was doing self-mutilation and he had mental problems. His records were selling for 80 cents, even Raw Power which is [considered] one of the 100 top classic albums right now."
Lieshout talks of the "bliss" of making the film. Everything seemed to go right. A scene was shot without official permission on the Boulevard Saint-Germain but Houellebecq's security guards – put in place to protect him when his novel Submission provoked accusations of Islamophobia – helped keep the crowds at bay. The irony was that Iggy Pop and Houellebecq proved to be entirely reliable collaborators. In spite of their reputation as troublemakers who leave chaos in their wake, they were always on time. "Lieshout is now making another documentary, Made In Europe, about art that "binds Europe together". Exasperated by some of his collaborators, Lieshout told them that "I can only count on Michel Houellebecq and Iggy Pop. They never let me down."
'To Stay Alive – A Method' is screening this week at International Documentary Festival Amsterdam (IDFA) until 27 November. It will be released in the UK next year.
Join our commenting forum
Join thought-provoking conversations, follow other Independent readers and see their replies