Tom Hardy interview: Inception actor on his path from crack addiction to stardom
Hardy: 'You have to try everything and it's all a process of elimination, but ultimately you find your path'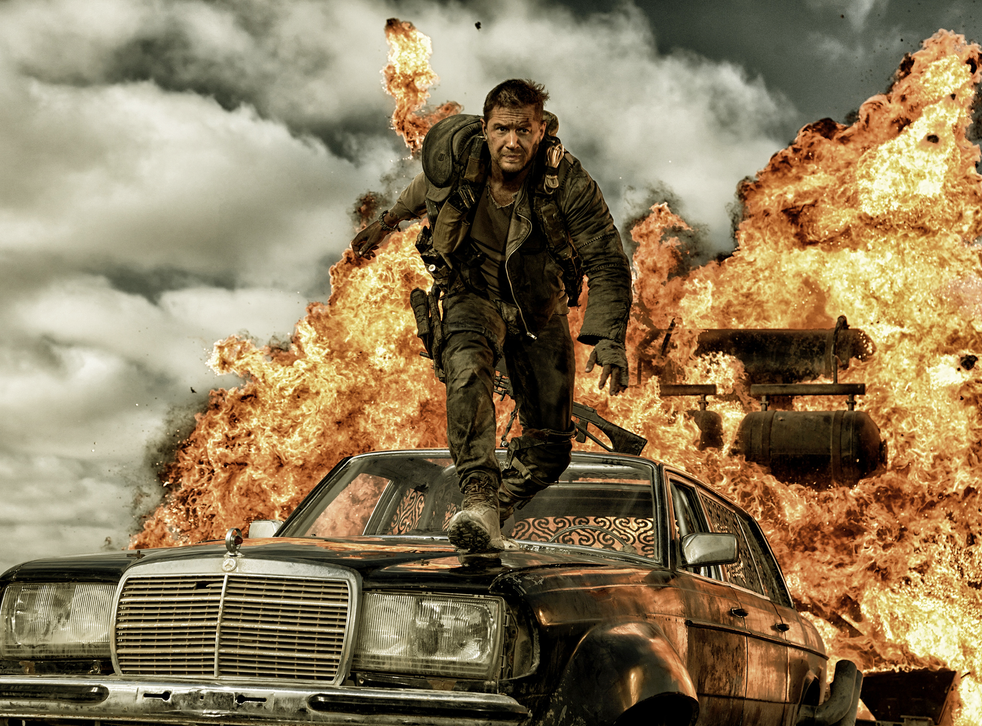 Tom hardy likes to prowl.
I recall when I interviewed him for Gavin O'Connor's Warrior, he hardly sat during a 40-minute conversation, instead roaming the large Soho hotel suite we were in, smoking out of the window or demonstrating martial-arts moves and training routines with Peanut, the African-American ex-Marine who was his personal trainer/best friend at the time and who he insisted on having by his side during the interview. He just couldn't bear to sit still.
Another time, I was sent to speak to Hardy in his make-up trailer while on location for Bronson, the film that first pushed his career onto its inexorably upward trajectory. Even though he was confined to a chair while a make-up artist applied menacing clown paint for one of the film's fantasy stage sequences, the actor's legs were in rapid motion under the protective smock; it felt like being in confined quarters with a manacled carnivore that was struggling to stay calm until it was finally free to pounce on his prey, even more so because Hardy admitted to me that he was "ready to punch" Bronson's director, Nicolas Winding Refn. The make-up artist and I exchanged a nervous glance.
It's a restless, dangerous, coiled energy that film-makers like Winding Refn, O'Connor, Christopher Nolan, John Hillcoat and Steven Knight have exploited magnificently in films like Inception, The Dark Knight Rises, Lawless and Locke. Up close and personal, Hardy wouldn't be described as threatening – in fact, he is pleasant, open, accommodating and unfailingly polite – but it seems that he's perpetually suppressing turmoil and conflict, and just barely at that. His demons have been well documented (booze and crack addictions in particular) and may be impossible to banish completely. For a man who says he thrives on fear (of the inward rather than outward variety), perhaps that's not an entirely bad thing. "Fear runs everything," he says. "It's adrenalin. It's energy as well as a crippling emotion."
Meeting Hardy to discuss his new crime drama The Drop, on a warm, sunny day in Toronto, he does indeed prowl into yet another sizeable hotel suite, striding up and extending his hand in greeting, then circling the table before he takes a seat. Wearing a snug olive T-shirt, jeans and a camouflage hat and puffing throughout on an e-cigarette, the 37-year-old actor sports multiple tattoos, proudly showing off the one on his right bicep that reads "Figlio mio bello" – "My beautiful son" in Italian.
Hardy's son Louis, with his ex-girlfriend Rachael Speed, is now six. When we met for Warrior back in 2011, he was about to head to Australia to shoot Mad Max: Fury Road and having to leave his child for months was already devastating him. "This has come at a time in my life when I'm actually settled," he said. "All this was a fantasy before but now that it's happened, I can't actually get past the idea of being away from my child for 11 months. I'm going to be in denial until I'm on the plane."
As it turned out, the Fury Road shoot ended up being postponed until summer 2012, but Hardy's itinerant lifestyle only became more hectic in the interim with his rampant post-Bronson ascent. Hollywood beckoned, Hardy answered. Somehow, he even ended up in a Reese Witherspoon action-comedy directed by McG, This Means War, in which he looked less relaxed than a penguin in a shark pool.
The Drop is a far more comfortable fit for Hardy. It is directed by the Belgian film-maker Michael Roskam, whose 2011 crime drama Bullhead, about a steroid-addicted cattle farmer, was nominated for an Oscar. Dennis Lehane, chronicler of America's dark underbelly, adapted it from his own short story "Animal Rescue". Hardy stars as the impassive, taciturn barman of a dive bar in Brooklyn who rescues an abused puppy from the fragile Nadia's (Noomi Rapace) rubbish bin, where it was dumped by her thuggish ex (Matthias Schoenaerts). The film also features James Gandolfini in his final role as the bar's beaten-down owner, who's in over his head with the Chechen mafia. "James was a great actor, a great artist and such a beautiful guy," says Hardy. As a tightly wound saga of gangsters, have-nots and life's wounded strays healing each other, The Drop has the sting of over-familiarity. But Hardy is mesmerising; with none of the bombast he brought to his Batman villain Bane or Bronson, the actor steers a course of quiet, restrained magnetism, until the trigger is inevitably pressed and the violence within unleashed. Of course they wanted Hardy for bartender Bob (whose nickname should have been "Silent", an honorary twin to the small-time crook "Handsome Bob" Hardy played in Guy Ritchie's RocknRolla).
Hardy signed up for The Drop after his good friend Rapace had scouted the script, met Roskam in Brussels and excitedly Skyped Hardy while he was shooting George Miller's Mad Max sequel in Namibia to enthuse about the European sensibility the director would bring to this working-class American noir.
Hardy says, half jokingly, "I like dogs, I like New York and I like characters that are desperate and lonely and aren't normally looked at under the microscope. Hustlers and pimps and villains and drunks and homeless people and loneliness; disparity and the losers."
Access unlimited streaming of movies and TV shows with Amazon Prime Video Sign up now for a 30-day free trial
Sign up
With Bob, Hardy set out to explore "the layers of denial and the masks that you have to create in order to participate in life, on life's terms, whilst trying to deal with having done something so heinous that you can't forgive yourself, but at the same time you can justify. The complexity of that I found fascinating; that was a big challenge in its own right."
Interestingly, Hardy admits to missing a crucial element of Lehane's script which had huge repercussions on his character's motives and actions and directly relates to the "heinous something" he mentions. Without revealing what it is, it acts as the linchpin for everything Bob does during The Drop's climactic stretch, and I confess to Hardy that it boggles my mind that he missed it in the script – which he surely must have read several times while preparing? "It was a big miss," the actor says. He's laughing now, not in a flippant "silly me!" or sheepish fashion but because he finds the blunder genuinely funny. "I like to think I'm confident and pretty good at what I'm doing – and I missed that key thing! Three weeks into the shoot, Noomi turns to me and says: 'You do realise what's in Bob's basement?' I said: 'That's a very good point, Noomi. Why is it in my basement?' And Noomi says: 'I love the way you're living Bob because he would shut it out too.' I was like: 'No Noomi, I just didn't read the script properly.'"
Hardy's merriment reaches a crescendo. It's reassuring to hear a big-time actor own up to a mistake, and you never would have been able to see that anything was amiss with his performance in the final film. Although, had Rapace not alerted him, it makes you wonder… Hardy describes himself and the Swedish actress, who's making her own strides across the American movie landscape, as "kindred spirits". The pair met on a project that never came to fruition but decided to scout hard to find something else instead, although Rapace did the heavy lifting.
"It's all about teams of people," says Hardy, who's also due to appear opposite Rapace in the Stalin-era thriller Child 44. "No one auditions at the top level. It's a conversation with a director or other actors as people discuss a project that's in the ether. And Noomi is awesome at finding stuff. She's ahead of the game; she knows everything about everyone, whereas I'm not so good at that. I do sitting down and waiting."
"If I don't know who a director is," he continues. "I'll text Noomi and go, 'who's this dude?'
"'Oh, he directed The Godfather.'
"'What's that about?'
"So, I'm a prick. But getting me in the room with a director is key because I'm not a great reader or watcher of films."
Born in Hammersmith, Hardy, who first came to prominence when he was cast as the villain in 2002's Star Trek: Nemesis, is way past the stage where he has to beg directors to cast him. "I've done that. It doesn't get you anywhere good and leaves a bitter taste in your mouth." Those post-Star Trek years were the most difficult ones he faced, professionally speaking. That near miss at stardom left him resentful that his big break hadn't transformed immediately into a glorious career, but that was partly due to the personal troubles that followed him out of his wayward youth. It was around this time that Hardy's addictions to booze and crack cocaine spiralled out of control. He once said, "I would have sold my mother for a rock of crack", but he conquered both addictions with rehab and cognitive therapy. He has been sober for over a decade and married his long-time girlfriend, the actress Charlotte Riley (they met as co-stars on the Sky 1 series The Take and Wuthering Heights), over the summer.
His lack of awareness about film-makers or people to know in the industry has had no adverse impact on his career. Assuming the role of Max Rockatansky from Mel Gibson in Miller's post-apocalyptic franchise is a big building block for Hardy's international profile. Following his solo car journey for writer-director Steven Knight in Locke, he popped up this autumn in the second series of Knight's Peaky Blinders. He also has a featured role in Rufus Norris's adaptation of his National Theatre production London Road, and Reggie and Ronnie Kray for Brian Helgeland in his biopic of the East End gangsters, Legend.
Despite his concerns about not having enough time to be with his son, Hardy is driven by work. He can't stop because the offers won't stop. "If you're on something, once you've done it, you move straight onto the next one," he says. "But I see it all as a big school. What we do in many ways is a university of a type, metaphorically speaking, and I have the opportunity to study people and life through my work. I open up doors to experiences that I wouldn't have if my job wasn't this, and I get to visit lots of places, in extremis."
Back when we spoke in Soho, with Peanut by our side, Hardy told me he'd made a conscious decision to sculpt himself into a musclebound athlete "to establish myself as someone you would take notice of and further my employment". It worked wonders, sending Hardy's career skyward and giving him options he'd never dreamed of. As long as he can continue channelling what he refers to as "dysfunctional, erratic personality-disorder characters" and prowl the recesses of damaged, lonely, tormented minds, he'll be around for a very long time. "You have to try everything and it's all a process of elimination," Hardy says of finding his way through the dark days to today. "But ultimately you find your path."
'The Drop' is released in cinemas on 14 November; 'Child 44' is released on 17 April; 'Mad Max: Fury Road' is released on 15 May
Join our new commenting forum
Join thought-provoking conversations, follow other Independent readers and see their replies