Tom Holland: From the stage of 'Billy Elliot' to a star-studded Hollywood blockbuster 'In the Heart of the Sea'
Tom Holland promises more levity as Marvel's webslinger, but first he's enjoying playing a castaway
Tom Teodorczuk
Friday 11 December 2015 09:22 Comments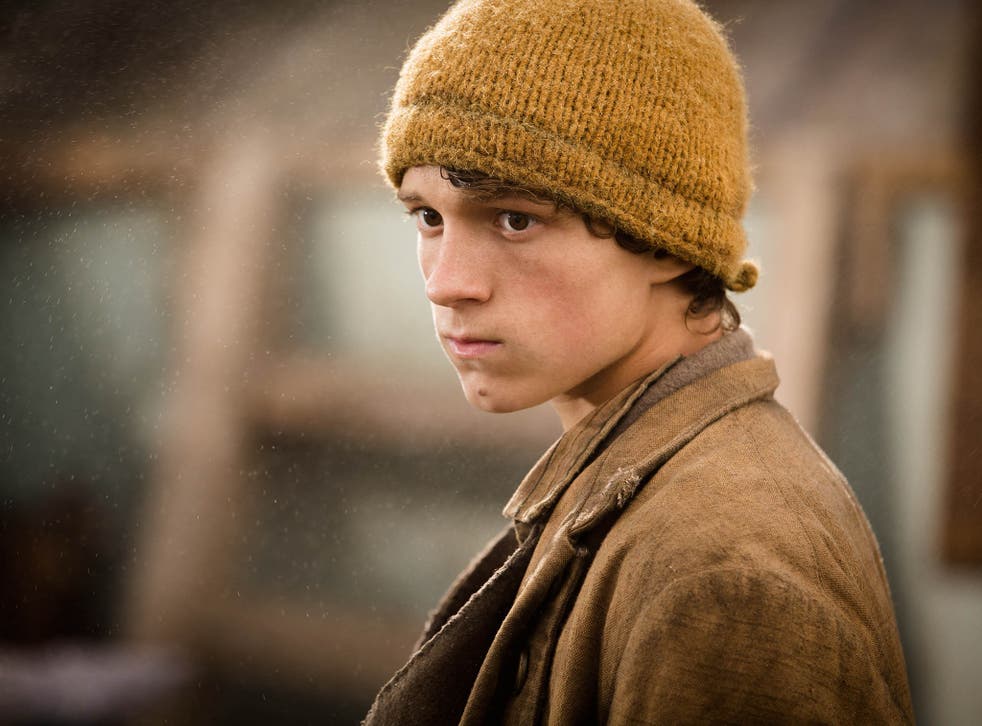 "Everything that happened to Thomas Nickerson was for the first time," Tom Holland says of the cabin-boy character he plays in the maritime epic In the Heart of the Sea, in which he stars alongside Chris Hemsworth, Ben Whishaw and Cillian Murphy. "It's the first time he's been sea-whaling, the first time he's at the top of a boat and he just gets on with it. He's nervous but excited. There's no hesitation, he doesn't show his fear."
It's tempting to connect character with actor. In the Heart of the Sea marks the first time that 19-year-old Holland, who grew up in Kingston-upon-Thames, has appeared in a Hollywood blockbuster (he previously appeared opposite Naomi Watts and Ewan McGregor in 2012 film The Impossible but, while that film's subject was huge – the 2004 Indian Ocean tsunami – it wasn't a big studio movie). It won't be his last since he has been cast as Spider-Man for Sony's latest reboot of Marvel Comics' webslinger, to be directed by relative unknown film-maker Jon Watts.
The new Spider-Man film has a release date of 28th July 2017, and Holland has already shot a cameo as Spidey in Captain America: Civil War. But he says there's no firm start date when I ask if that's what he's filming next. "I'm trying to find a small little indie film to do towards the beginning of the year," he says, "but as of yet all is up in the air."
In the Heart of the Sea recounts the 1820 voyage of the whaler Essex that culminated in the sinking of the vessel by a sperm whale and left the surviving sailors resorting to eating the dead bodies of their shipmates in South America. The tragedy inspired Moby Dick (Whishaw plays Herman Melville).
Holland is personable and polished when we meet in Nantucket, the tiny island in Massachusetts from where the whaler set sail. His boyish features are complemented by a physical agility and alertness that make it easy to understand why he has been anointed Hollywood's latest adventure hero.
The gruelling six-week regime Holland undertook for the film sets him in good stead for a superhero in waiting. There were months of research: "We were in the gym every day with a trainer and spent days on the boat learning how to row and assemble the sail once we were marooned. But the physical training was fun as we were working out together. The rowing classes were difficult and a pain in the arse but they did benefit us."
Director Ron Howard (Apollo 13, A Beautiful Mind) says he chose actors whose complexions "were striking because you see the devastation on their faces – Cillian Murphy's eyes, Ben Whishaw's bone structure". Holland conveys a haunted look in the film, perhaps heightened by the fact that he isn't one of life's water-babies. "They are heroes, those men on the Essex. I went on a scuba diving trip and spent three nights on a boat and hated it," he says. "It was awful… one of those things that made me realise how tough the film was going to be.
"I'm not a very good swimmer and every time I'm in the water, I'm constantly reminded of that because I feel like I'm going to drown! But I felt like I would be able to draw from my experience on The Impossible to help me get through it." As for the sea: "The ocean to me is one of the most terrifying things on the planet. There's too much we don't know about the ocean to make me feel comfortable around it."
Does anyone stay together in Hollywood? The couples who disprove the rule

Show all 11
Holland's physical displays on Instagram have got fans convinced he'll master Spider-Man's athletic web contortions, but, for his latest film, shot in a studio in Leavesden, Hertfordshire, and then on the island of La Gomera in Spain, he was clearly not having a whale of a time. "When we were on set it just felt like we were at sea," says Holland, who on terra firma spends time with his girlfriend and childhood sweetheart Elle Lotherington, now an assistant film director.
Access unlimited streaming of movies and TV shows with Amazon Prime Video Sign up now for a 30-day free trial
Sign up
"As soon as the wind machine and rain started, you couldn't hear yourself. It was cold, wet and noisy, we had no shoes on and we were on a boat. The fact that the shoot was really difficult and the days were really long and we were starving and uncomfortable helped our performances reach a level that was realistic and truthful. The shoot days were incredibly tough but tough for the right reasons. I was never scared because I knew I was in good hands. I knew that Ron would know exactly what he wanted. The stunt team I trusted with my life, really."
Hemsworth has been particularly vocal about the dieting extremes the cast went to in order to convince. "The scene I'm most proud of has to be the starvation sequence," says Holland, "because, as an actor, you do your work on set and then you enjoy being in a beautiful hotel and having a lovely meal. But on this film, you bring the work home with you because you're hungry. You go to bed hungry, you wake up hungry, you go to work hungry, so it was relentless and the work never stopped."
As Holland was under 18 during filming, his dieting regime was complex: "When we first started getting into shape I was notified that legally I wasn't allowed to lose any weight I had previously so I had to gain as much weight as I could prior to the weight loss and then lose it all again. Towards the end of the film I did lose a little more than I should have but it's my art and I love it." How much weight did he lose? "Unfortunately I can't remember – it was all a bit of a blur."
Holland could be forgiven for thinking life has been a blur ever since Stephen Daldry spotted him at an audition for Billy Elliot and instructed him to have dance lessons in order to play the ballet-loving coalminer's son in the West End between 2008 and 2010. Yet he credits none other than Naomi Watts for getting him to where he is today: "On The Impossible, I was taught how to act. Naomi Watts was there every day constantly teaching me. That was where I discovered I wanted to be an actor."
He's also indebted to his father Dominic Holland, the comedian and novelist, who authored the e-book How Tom Holland Eclipsed His Dad: "Being in this industry my dad is able to advise me about things that I should do, and things that I should stay away from. But he'll tell me off when I'm being an idiot."
When I ask Holland if he'd like to do more comedy, he drops a clue about his forthcoming portrayal of Peter Parker: "I'm sure there will be a lot of levity throughout Spider-Man but I'd love to do a comedy in the future."
Among the films Holland watched to prepare for In the Heart of the Sea was Peter Weir's Master and Commander. Max Pirkis, who played the cabin boy in that film, spent a week on the London Evening Standard's Londoner's Diary column a few years after the release of the film. The only newspaper office I can picture Holland ever entering is Marvel's Daily Bugle.
'In the Heart of the Sea' is out on 26 December
Register for free to continue reading
Registration is a free and easy way to support our truly independent journalism
By registering, you will also enjoy limited access to Premium articles, exclusive newsletters, commenting, and virtual events with our leading journalists
Already have an account? sign in
Join our new commenting forum
Join thought-provoking conversations, follow other Independent readers and see their replies