The Independent's journalism is supported by our readers. When you purchase through links on our site, we may earn commission.
The 'twin films' phenomenon: Why two movies about the same subject come out at once
'First Man' and 'The First', in which two astronauts try to keep their families together as they head on daring, unprecedented space missions, is just the latest example of film and TV twins. Christopher Hooton looks into the many reasons why this can happen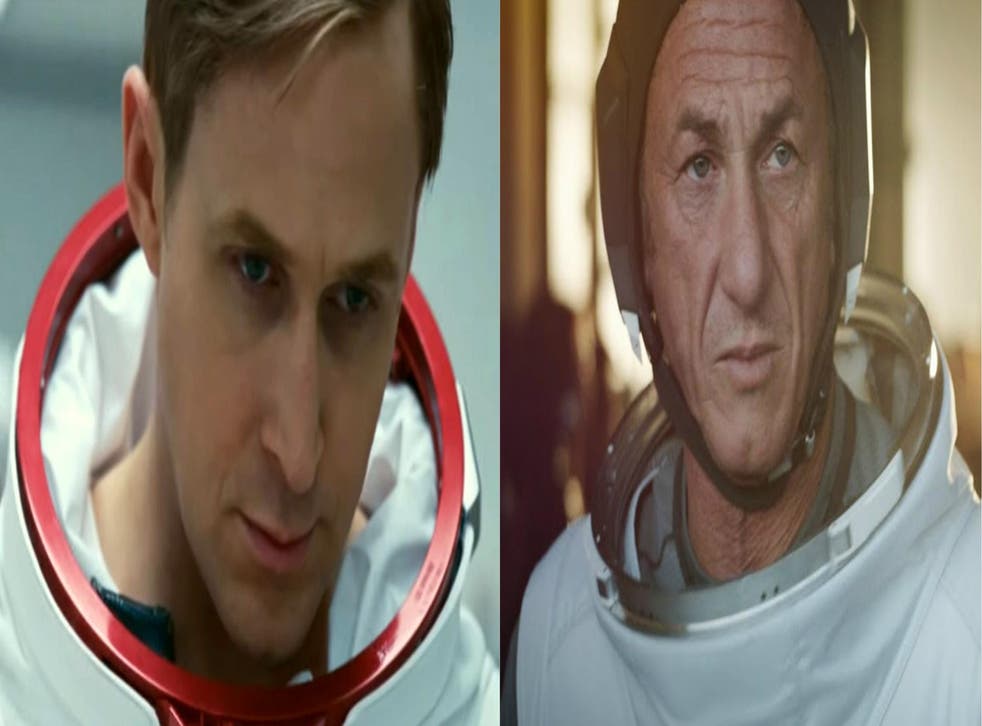 You know what they say: you wait all day for a comedy about an overweight mall cop, then two come along at once.
Paul Blart: Mall Cop and Observe and Report are just one example of a strange phenomenon whereby a film or TV show on a certain, often very specific, subject matter is closely followed by another.
Last week, The First, a new drama about an astronaut (Sean Penn) trying to become the first man on Mars, launched on Channel 4. It arrives as First Man plays in cinemas, Ryan Gosling taking on Neil Armstrong, and shortly after Missions, another Mars-centric series, aired on BBC Four. In September, meanwhile, Truth, about J Paul Getty, began on BBC Two – nine months after the film All the Money in the World, about the same man, came out.
For the purpose of this article, though, let's focus on "twin films", which are found everywhere, from action blockbusters to high-brow biopics. When Winston Churchill films Darkest Hour and Churchill came out in the same year (along with the not unrelated Dunkirk), Churchill screenwriter Alex von Tunzelmann was surprised to find people believing there had been some sort of political conspiracy at play.
"I saw some people claiming this was something to do with Brexit," she tells The Independent, "which it certainly wasn't as far as I'm concerned because I was commissioned to write the screenplay in 2012 [before the referendum]."
I'm sure a few more pairings have already drifted into your mind as you read this, but – in case you're in any doubt that "twin films" are indeed a thing – let's run through some notable instances.
There's Deep Impact and Armageddon (1998), both disaster movies about asteroids set to hit Earth, and Liberty Stands Still and Phone Booth (2002), thrillers where someone answers a ringing phone and is then pinned to the spot by a sniper on the other end of the line. Capote (2005) and Infamous (2006), both centring on the same Truman.
There's 2007's Ray Winstone-starring Beowulf and 2005's Gerard Butler-starring Beowulf & Grendel. In 2006, there were two films about the same plane in the 9/11 attacks, United 93 and Flight 93. This year there is Utøya​– July 22 and 22 July, both on the 2011 massacre in Norway. There's also Zodiac and The Zodiac, Coco Chanel and Coco Before Chanel, Jobs and Steve Jobs.
Two similarly plotted and often similarly titled films can cause confusion in viewers, and occasionally for film executives too. When screenwriter Douglas McGrath called him to announce that he had finished the screenplay for Infamous, producer Bingham Ray said, "I know, I've got it on my desk!" An awkward silence followed, as Ray realised he was looking at Dan Futterman's script for the Philip Seymour Hoffman-starring Capote.
Access unlimited streaming of movies and TV shows with Amazon Prime Video Sign up now for a 30-day free trial
Sign up
Fun though it would be to believe that there's some secret Hollywood society at work here, one obsessed with numerology and quietly lobbying for two of every film, the truth isn't quite so neat. There is, in fact, a multitude of reasons for simultaneous releases, ranging from the prosaic (anniversaries) to the more sexy (industrial espionage).
Often, the clash is simply down to several screenwriters and producers reacting to the same event. Take the death of Steve Jobs, for instance. When the Apple co-founder took medical leave due to pancreatic cancer in 2011, Matt Whiteley began working on a screenplay that would become the Ashton Kutcher-starring biopic Jobs. At the same time, Steve Jobs himself asked author Walter Isaacson to write an authorised biography on him, for which Sony Pictures acquired the rights in October of that year, the same month Jobs passed away. The delay while the film is actually made might make movies feel less reactive by the time they open in cinemas, but often they were conceived on the very same day.
In some cases, twin films are the result of one project's knowledge of the other. When Charlton Heston was chosen over Kirk Douglas to star in Ben-Hur, Douglas put his own Roman epic into production, optioning the Howard Fast novel Spartacus. It's of course not only the actors who can pinch ideas. Staff are constantly moving between studios, scripts picked up by one studio will usually have already been shopped at others before it, and word of a new film usually reaches the Hollywood trade magazines very early on in their development.
In April 2012, The Hollywood Reporter covered what it called "the race to destroy the White House". Development of Nu Image and Millennium's Olympus Has Fallen was rudely interrupted by Columbia acquiring its own action thriller set at 1600 Pennsylvania Avenue, White House Down. Olympus Has Fallen ultimately beat White House Down to theatres by a couple of months, but both still managed to make a tidy profit.
Which recent movies will become classics?

Show all 21
Blockbusters Deep Impact and Armageddon didn't suffer from their similar narratives in terms of box office sales either. The New Yorker wondered whether, when it came to Infamous and Capote, "a five-foot-three-inch writer from Monroeville, Alabama holds the same universal fascination as the end of the world". He didn't – while Capote was a hit, Infamous bombed, the 13 million dollar film taking just $2.6 million at the box office.
Two films coming up against each other isn't always a bad thing though – something to race through production in order to avoid. Some films hope to benefit from the interest in their twin, and often smaller films will try to ride the coattails of larger ones. The straight-to-video HG Wells' The War of the Worlds is a good example of this. Though it had a modest budget of $25 million, this paled in comparison to 132 million dollar Steven Spielberg vehicle, War of the Worlds. As the name suggests, the former film aimed to provide a version of the story more faithful to Wells's novel.
Von Tunzelmann thinks it's not twin films we should be surprised by, but rather that there aren't more film triplets or quadruplets.
"I think it's quite common for projects on the same subject to be developed at the same time because development can take years or decades," she says. "At one point when we were developing Churchill, there were five or six Churchill projects in the offing. As it was, only two of them made it to the screen in the same year, Churchill and Darkest Hour. Some of the others may still be coming out."
With more films and TV series being commissioned than ever, twin projects are likely to increase in both number and similarity. Only this year we saw Sink or Swim and Swimming with Men, the staggering case of two films about a man facing a midlife crisis who joins an all-male synchronised swimming team.
It's real-life figures that lead to the most twin films, though, and when Donald Trump's made-for-cinema presidency comes to an end at some point in the next six years, we can expect a potentially unprecedented number of duplicates.
Support free-thinking journalism and attend Independent events
Register for free to continue reading
Registration is a free and easy way to support our truly independent journalism
By registering, you will also enjoy limited access to Premium articles, exclusive newsletters, commenting, and virtual events with our leading journalists
Already have an account? sign in
Register for free to continue reading
Registration is a free and easy way to support our truly independent journalism
By registering, you will also enjoy limited access to Premium articles, exclusive newsletters, commenting, and virtual events with our leading journalists
Already have an account? sign in
Join our new commenting forum
Join thought-provoking conversations, follow other Independent readers and see their replies