Interview
Uzo Aduba: 'I had seen so few examples of people like myself not just survive but thrive'
The Emmy-winning Mrs America star is the supporting actress no more as she steps up to play the lead in new film Miss Virginia. But, as she tells Micha Frazer-Carroll, success didn't always come so easy...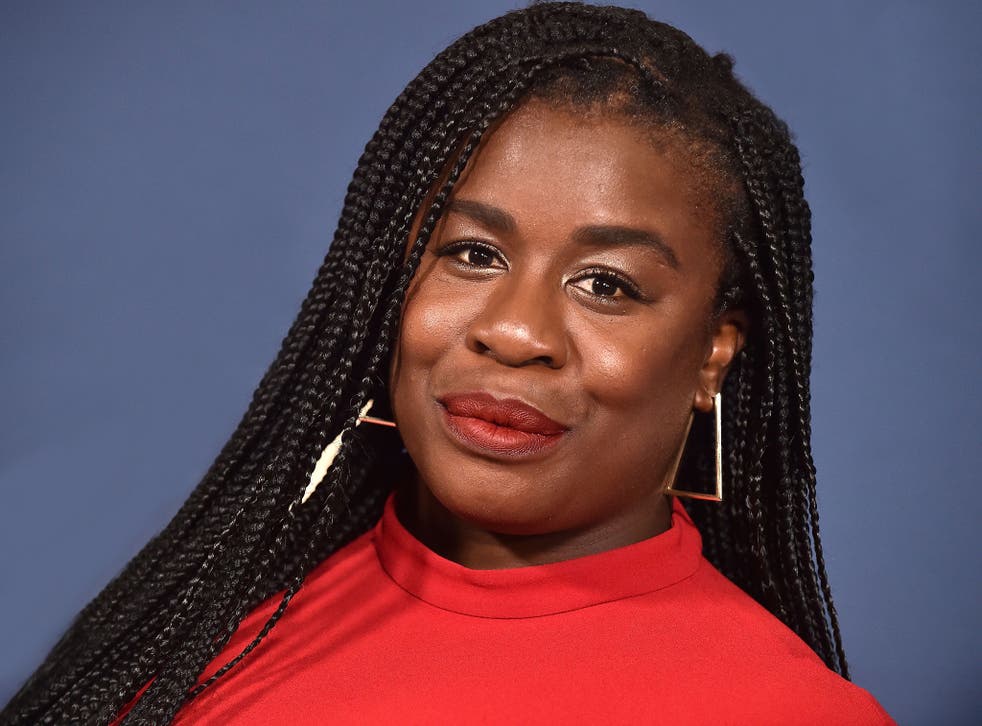 Uzo Aduba's award wins are always a family affair. She's just won another Emmy, her first since the show that brought her to screens worldwide, Orange Is the New Black, ended but her third in total. This time it was for her role in new historical Hulu miniseries Mrs America, in which she portrays Shirley Chisholm, the first black woman elected to Congress. As she accepted her award for Outstanding Supporting Actress, she wore a T-shirt emblazoned with the words "Breonna Taylor" in gold lettering and shouted out of shot: "Mom, I won!"
"I was actually just FaceTiming with my aunt and uncle this morning," she says, as she makes her way to Maine for a much-needed break, "and were like, 'We want to congratulate you on our Emmy' – meaning their Emmy – in very typical Nigerian fashion."
Born to immigrant parents in Boston, and having moved to New York after college, I get the sense that Aduba loves to talk about the characters of cities. As we settle into chit-chat, she describes them like they are people: "I love London. Where in London are you from? I know Hackney!"
"Once when I was in London, I said to my taxi driver: 'If New York and Boston had a child, it would be London.' He was like: [imitates English accent] 'If New York and Boston had a child? We gave birth to you!'" Aduba breaks out into a self-deprecating cackle, which I instantly recognise from TV.
The 39-year-old's breakout performance in Orange Is the New Black (perhaps the very first runaway Netflix hit) was in the role of Suzanne "Crazy Eyes" Warren, an intelligent yet troubled prisoner. Warren is intense; at the show's beginning, she is obsessed by protagonist Piper – her character serving up equal parts emotional tumult and comic relief. Down to her namesake glare, much of her acting is exaggerated, physical and at times oratorical – in one episode in the first season, she gives an impassioned Shakespeare recital, shouting poetry in another prisoner's face.
Fittingly, Broadway was where Aduba's passion for drama first flourished. "Theatre was my home base," she tells me. "It's such a living, breathing thing – every single day is a new experience in theatre."
It was only in the summer of 2012, almost a decade after Aduba first garnered recognition for her stage acting, that her manager asked if she'd ever given film and television a try. Two months in, it seemed like Aduba had made a big mistake. "All of a sudden I felt like I was starting over again in a way I hadn't felt since I moved to New York. I was watching my savings swiftly disappear and hearing resounding 'no's in response to my ambitions at that time."
This was unfamiliar territory for a stage actor and considering representation on screen hadn't yet approached its tipping point (which Orange Is the New Black was very much a part of), it wasn't the most welcoming space for black women. Earlier this year, Aduba told The Guardian about advisors who suggested she change her name or close her much-loved gap in her teeth. One potential agent not-so-politely enquired: "So what are we doing about that gap? Are we keeping it?"
Aduba tells me: "It felt like I had stepped into an environment that had no place for me historically. I had seen so few examples of people like myself thrive – not just survive, but thrive. I did not feel like this was a party to which I might gain an invitation."
Access unlimited streaming of movies and TV shows with Amazon Prime Video Sign up now for a 30-day free trial
Sign up
It seemed like time to throw the towel in. "I thought to myself: 'your parents always thought you were going to be a lawyer when you grew up – because you can talk a lot – and you should just go and do that.' So I decided on the train home from an audition that that's what I was going to do. And then I got home, and got the call that I had booked Orange Is the New Black."
Despite Warren's more comedic purposes in the show's early episodes, Aduba excelled at drawing out the character's nuances as the series went on – most memorably in season four, where we learn of the character's heartrending backstory. (Warren, who was always considered be "different" from her peers, had attempted to befriend a child who then died under her supervision.) But now, after racking up seven seasons and a string of accolades to her name, Aduba is starting to be recognised not only as "Crazy Eyes" by passers by in the street.
"Yesterday I was walking my dog and a mom with her two kids was like 'I loved Mrs America – you were so great!' And she is: slipping effortlessly into Chisholm's plucky persona, she brings to life the politician's cheeky spirit and fierce determination – as an audience member, you are genuinely rooting for her. She also experienced similar reach-outs during the initial release of her new film Miss Virginia, which comes to the UK next week, the first film where Aduba has played the lead.
This time her character tells the true story of Virginia Walden, a mother turned education advocate who tries to improve the Washington school system that is failing her son. Walden's story is a rollercoaster that sees emotional peaks and troughs abound – with the threats of violence, campaign failure and political scandal looming throughout.
"I was interested in that challenge of being heard," Aduba tells me of Walden's battle in Washington. "This is a woman who for all intents and purposes was made to feel that she doesn't have a political voice, or hold any political space."
The interaction between the circumstances of Walden's own life, being a working class single mother, and the political work she turned to, was also of interest to Aduba. "I think it highlights the fact that activists aren't born, they're made. I don't think anyone wakes up and decides they want to be an activist, it's something born out of necessity." As one of the first 130 children selected to desegregate Arkansas' Little Rock High Schools in the 1960s, the theme of educational inequality, like Aduba suggests, was embedded in so many of Walden's formative experiences.
The theme of historical political trailblazing in Washington also threads through Mrs America, which was taken on by BBC Two in the UK and dramatises the political movement to pass the Equal Rights Amendment. Aduba stars alongside a slew of other Hollywood powerhouses like Cate Blanchett, Rose Byrne, Elizabeth Banks and Sarah Paulson, and steals the show in the third episode as Shirley Chisholm, the first black woman elected to congress, and the first woman to run for the Democratic presidential nomination. True to Chisholm's reputation, we see flashes of Aduba's oratorical streak once again, demonstrating how the Black-Caribbean working class woman candidate, against all odds, managed to stir the electorate from each of those demographics.
In part, by virtue of sitting at a number of cross-sections of identity, Aduba sees Chisholm's election to congress and groundbreaking presidential bid as not only having paved the way for Barack Obama's presidency, but for the careers of women like Elizabeth Warren, Kamala Harris and Hillary Clinton. Yet I remark to Aduba that it still feels unbelievable, perhaps particularly in light of the current US presidential election, that it ever happened.
Aduba takes note of how not all facets of history become common knowledge. "I couldn't believe I'd never really learned about who she was, and what she had done for the political landscape… That a black woman ran for, and won, the congressional seat in the state of New York in 1968, the same year that Martin Luther King died. She was standing in the shadows is the Civil Rights Voting act and also standing in the shadows is the Jim Crow South. This was a time where women still needed their father or husband to co-sign for a credit card."
Aduba found herself deeply attracted to that unabashed gutsiness – the idea that Chisholm didn't restrict herself to the constraints black women were boxed into. That's something I see in Aduba – and she says she sees it in herself too. "This woman didn't even stop and think that those limitations were her limitations. That was something I could connect with."
"I know what it feels like when people have a definition of you that in no way, shape or form lines up with the definition that you hold for yourself," she reflects.
"You must write your definition for yourself – don't let anyone else write it for you."
Miss Virginia is available on streaming platforms from 5 October, and Mrs America is available to watch on BBC iPlayer now.
Register for free to continue reading
Registration is a free and easy way to support our truly independent journalism
By registering, you will also enjoy limited access to Premium articles, exclusive newsletters, commenting, and virtual events with our leading journalists
Already have an account? sign in
Register for free to continue reading
Registration is a free and easy way to support our truly independent journalism
By registering, you will also enjoy limited access to Premium articles, exclusive newsletters, commenting, and virtual events with our leading journalists
Already have an account? sign in
Join our new commenting forum
Join thought-provoking conversations, follow other Independent readers and see their replies