Val Kilmer - The Hollywood bad boy done good
After years of searching, Val Kilmer tells Kaleem Aftab how he finally found his ideal role – as himself
Kaleem Aftab Comments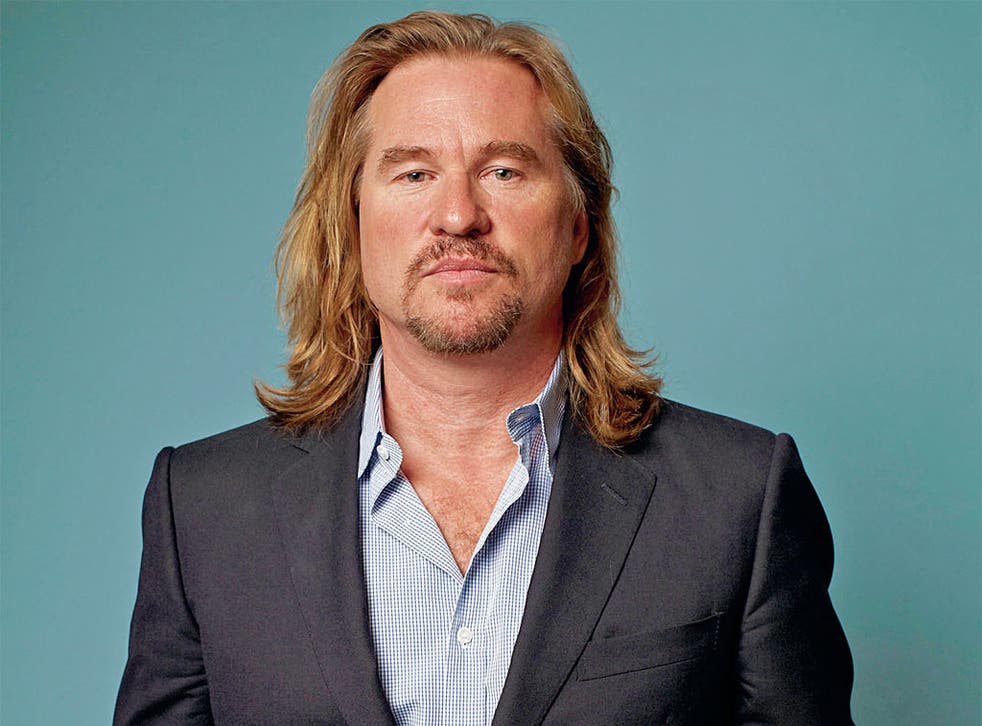 Val Kilmer has been looking for a part to give him a career resurrection, a role that would remind the world of his talent, a part only he could do justice. In The Fourth Dimension, the Top Gun star has finally found such a role: he plays Val Kilmer.
Before half of Hollywood runs to the cardiologist complaining of heart palpitations, worried that the actor would relive the infamous on-set shenanigans that led to his reputation as the most difficult star to work with in the 90s (Charlie Sheen had nothing on him), it should be pointed out that in Harmony Korine's film he plays a fictionalised version of himself. This Kilmer is a former actor, now a self-help guru who preaches to freaks in a roller rink.
It's a sign of how far Kilmer has dimmed from the limelight that the actor admits that an extra on the film asked him, "What's it like to play myself? I said, 'Do you think I ride a BMX, live in Nashville, work as a motivational speaker and live with Harmony's wife as my girlfriend?' The answer is, it's not really me."
The Fourth Dimension is a collection of three standalone short films about parallel universes produced by Vice Films in collaboration with Grolsch Film Works, a new arm of the beer company. By far the most entertaining short of the triptych is Korine's.
Los Angeles-born Kilmer claims it was an accident that he joined the list of actors, which includes John Malkovich (Being John Malkovich) and, most recently, Al Pacino (Jack and Jill), who lampoon their real-life persona in fictional movies. "I still love saying the premise because it makes me laugh every time. Harmony has written a self-help monologue and the guy is an idiot," he recounts. "In the script, the character was called Hector, but when we got on set Harmony started calling him Val Kilmer, which I suggested might be bad for me professionally because I say so many horrible things in the film and people might get confused!" But, convinced that it would indeed be funnier, Kilmer jumped full swing into the character.
To some it would seem incongruous that the star of The Doors would be so concerned about his professional reputation. After all, this is the man for whom being difficult has become legend. Most of the stories revolve around his behaviour in the mid 90s. On the set of The Island of Dr. Moreau, original director Richard Stanley was fired after three days of solid fighting with Kilmer and replacement John Frankenheimer had no qualms about saying he would never work with Kilmer again. His maverick behaviour had him cited as "childish and impossible" by easy-going Batman Forever director Joel Schumacher.
Yet, as is often the case, the bad word of mouth comes from movies where directors have a vested interest in blaming others for poor results. Kilmer was also noted for his tremendous dedication, spending a year preparing to play Jim Morrison for Oliver Stone. He was able to work despite his errant reputation because his performances were so good. His turn as tuberculosis-ridden gunslinger Doc Holliday in Tombstone elevated the popular Western.
Kilmer says it was his choice to shy away from blockbuster parts in the last decade. "I never had an ambition, commercial or professional, that was about success," he insists. "The only way my career makes sense, until about 10 years ago, [is that I made studio films] when I needed money for ranch projects in New Mexico. It takes about a year to make a big movie and I would come back and my daughter would be a different person. I didn't like that feeling. When I found out it was the same with my son, I just didn't want to be away, so I hardly did anything overseas. I did a play in England, but stayed closer to family."
He has no great love of the press. This comes out in his defence of Francis Ford Coppola's critically derided horror film Twixt, in which Kilmer plays author Hall Baltimore, a bargain-basement Stephen King entangled in a murder case while on a book tour. Kilmer is again at his best delivering a madcap monologue; this one takes place after he drinks himself into oblivion in an attempt to come up with the first line for a new vampire novel. His ex-wife Joanne Whalley has a role and Elle Fanning plays a young ethereal girl who appears from beyond the grave.
Access unlimited streaming of movies and TV shows with Amazon Prime Video Sign up now for a 30-day free trial
Sign up
"Francis has made some of the greatest films ever, so expectations are higher. But he was very hurt by some of the reviews." These came after the premier of the film at the Toronto Film Festival. "Francis is really trying to do something, but critics aren't concerned with figuring out what an interesting man is doing at the apex of his career."
For the past seven years Kilmer has immersed himself in writing one-man play Citizen Twain. The show ran as a workshop in Hollywood in April and is now the basis of a film project about the antagonistic relationship between Mark Twain and Christian Science Church founder Mary Baker Eddy.
The film will be Kilmer's directorial debut and he says that he simply can't get enough information on Twain: "You want to get to a place where you know everything, but the more you know, the more you realise you don't know anything!"
'The Fourth Dimension' and 'Twixt' will be out later in the year
Register for free to continue reading
Registration is a free and easy way to support our truly independent journalism
By registering, you will also enjoy limited access to Premium articles, exclusive newsletters, commenting, and virtual events with our leading journalists
Already have an account? sign in
Join our new commenting forum
Join thought-provoking conversations, follow other Independent readers and see their replies