We all know the classic First World War films - but what of flops and political embarrassments?
While films such as A Farewell to Arms and Lawrence of Arabia have achieved Oscars and box-office success, others have delayed peace talks and enraged renowned world leaders, says Chris Evans
Chris Evans
Wednesday 28 May 2014 23:45 Comments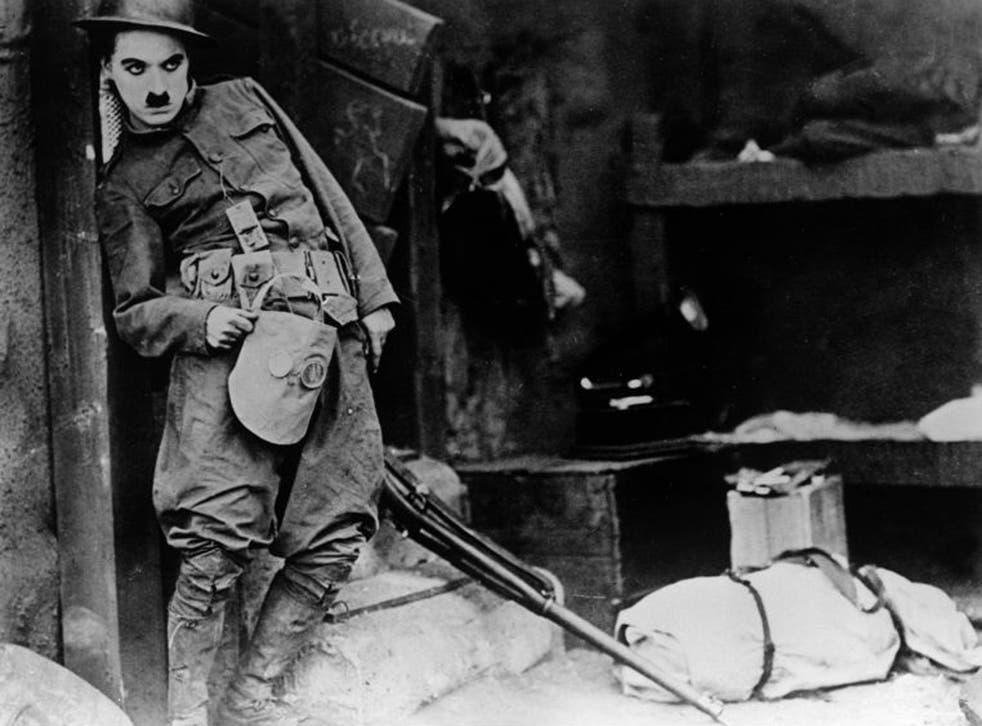 Movie legends including Charlie Chaplin, Stanley Kubrick and Steven Spielberg have attempted to tackle the First World War, but while some have achieved Oscars and box-office success, others have delayed peace talks and enraged renowned world leaders. One of the most famous films, A Farewell to Arms (1932), directed by Frank Borzage, has been digitally restored and is due for re-release in UK cinemas tomorrow.
Based on a celebrated novel by Ernest Hemingway, A Farewell to Arms stars Gary Cooper as a young lieutenant in the ambulance brigade on the Italian front who falls for a British nurse (Helen Hayes). It picked up a Best Cinematography Oscar and is lauded as a classic, but Hemingway didn't approve of the film's overemphasis on the romance.
Indeed, Borzage's passionate scenes between Cooper and Hayes were considered so racy at the time that they fell foul of the Legion of Decency and the Production Code Administration for their "suggestive dialogue", "lustful kissing", "illicit sex" and "lack of moral compensation".
Another First World War film considered to have a faltering moral compass was D W Griffith's propaganda movie Hearts of the World (1918), released shortly before the end of the Great War. The film was heavily criticised for its depiction of German brutality, so much so that it famously delayed the signing of the Treaty of Versailles because the Germans were outraged, considering it an affront by the Americans.
"It is a silly film depicting baby-bayonetting Huns in spiky helmets, even Griffiths himself was ashamed of it," says Bryony Dixon, senior curator of silent film at the British Film Institute (BFI). "There are other American war films released in that period soon after the war that were hugely successful, but equally criticised for their sentimentalised or sensationalised depiction of war, such as King Vidor's The Big Parade (1925) and [William Wellman's] Wings (1927). They're often about the Americans saving the day."
One of the few exceptions is Charlie Chaplin's comedy Shoulder Arms (1918) about a doughboy dreaming of being on the frontline. It was seen as very sympathetic and empathetic to the lot of the soldier, depicting the extremes of trying to sleep in a flooded trench and gags about smelly cheeses being thrown into the German trenches.
The film helped make Chaplin famous, although he himself was criticised for not returning to the UK to enlist. Instead, to compensate, as many stars have done since, he used his fame to help raise money for the war effort, including making short films like The Bond (1918) for the Liberty Loan Committtee.
In terms of sympathetic portrayals of the enemy, the undoubted winner is Lewis Milestone's Oscar-winning classic All Quiet on the Western Front (1930). Based on a novel by Erich Maria Remarque, who was injured fighting for the Germans, the film is about idealist young enemy soldiers crushed by war. It stars real German and Austrian veterans as extras, including future director Fred Zinnemann (High Noon).
However, while the film received praise around the world, back in Germany, where the Nazi party was gaining more power, the reaction was one of anger at the film's portrayal of Germans as weak. At one screening, the German politician and future Reich Minister of Propaganda, Joseph Goebbels, disrupted the viewing by letting off a stink bomb and releasing white mice into the theatre out of disgust.
Access unlimited streaming of movies and TV shows with Amazon Prime Video Sign up now for a 30-day free trial
Sign up
By equal measure, Sir Winston Churchill was so appalled by Michael Powell and Emeric Pressburger's The Life and Death of Colonel Blimp (1943) that he tried to have it banned. The film follows the life of a fictitious soldier, Major General Clive Candy, through the Boer war, First World War and Second World War. What most incensed the then prime minister was that there was a sympathetic German in the film and that it challenged the idea of fair play.
Across the Atlantic, another Great War film released during the Second World War happily conformed to jingoism and derring-do. Howard Hawks's Sergeant York (1941) told the tale of a hillbilly sharpshooter who becomes a war hero. It was hugely successful at the box office in America, helped by its release at the same time as the attack on Pearl Harbor. Men watching the film apparently left the cinema and went straight to military enlistment centres. But Geoff Andrew, head of Film Programme at the BFI Southbank, insists "it is not a great Hawks film, especially compared to his previous First World War film The Dawn Patrol in 1930, which is far more insightful".
Twenty years later came one of the most famous films of all time, David Lean's epic Lawrence of Arabia (1962). Relative unknown Peter O'Toole beat off competition from Marlon Brando and Albert Finney to play the flamboyant and controversial First World War army officer T E Lawrence, who embarks on adventures in the Arabian Peninsula.
The film beautifully dealt with the physical and emotional conflicts of war as Lawrence struggles with the personal violence of battles and his own identity, torn between his allegiance to the British army and his newfound comrades within the Arabian desert tribes.
Since then there have been few Great War films of great note. Richard Attenborough's Oh! What a Lovely War (1969), adapted from a stage musical, had an impressive cast list, including Dirk Bogarde, John Gielgud and Laurence Olivier, but divided the critics.
Attenborough's second attempt, In Love and War (1996), starring Sandra Bullock and Chris O'Donnell as a young Ernest Hemingway, fared a lot worse. It was described by Entertainment Weekly as "a love story in which the sparks don't fly so much as trail limply to the ground".
The most recent high-profile effort was Steven Spielberg's War Horse (2011), based on a play at the National Theatre that was in turn based on a book by Michael Morpurgo, which ultimately failed to set the critics or audience alight. The Independent described it as "woefully misconceived, an object lesson in why certain narratives are suited to one medium and not another".
Next up is Russell Crowe's directorial debut, The Water Diviner, starring Crowe as an Australian man who travels to Turkey after the Battle of Gallipoli to try and find his three missing sons. Some footage of the film was shown at the Cannes film festival, and it's likely to be released in cinemas at the end of this year.
In the meantime, it is worth looking out for screenings in select cinemas of Kubrick's Paths of Glory (1957) about a French military court-martial during the First World War. "It is a powerful indictment of war and an acerbic study of establishment corruption," says Andrew.
Then in 2016, the BFI will be marking the centenary of the Battle of the Somme with screenings of battle films, news reels, home front films, propaganda cartoons and land girl films that give a fascinating and accurate insight into life during the Great War.
Register for free to continue reading
Registration is a free and easy way to support our truly independent journalism
By registering, you will also enjoy limited access to Premium articles, exclusive newsletters, commenting, and virtual events with our leading journalists
Already have an account? sign in
Join our new commenting forum
Join thought-provoking conversations, follow other Independent readers and see their replies