Wes Anderson and the best props in Hollywood: Meet the graphic designer tasked with bringing the director's films to life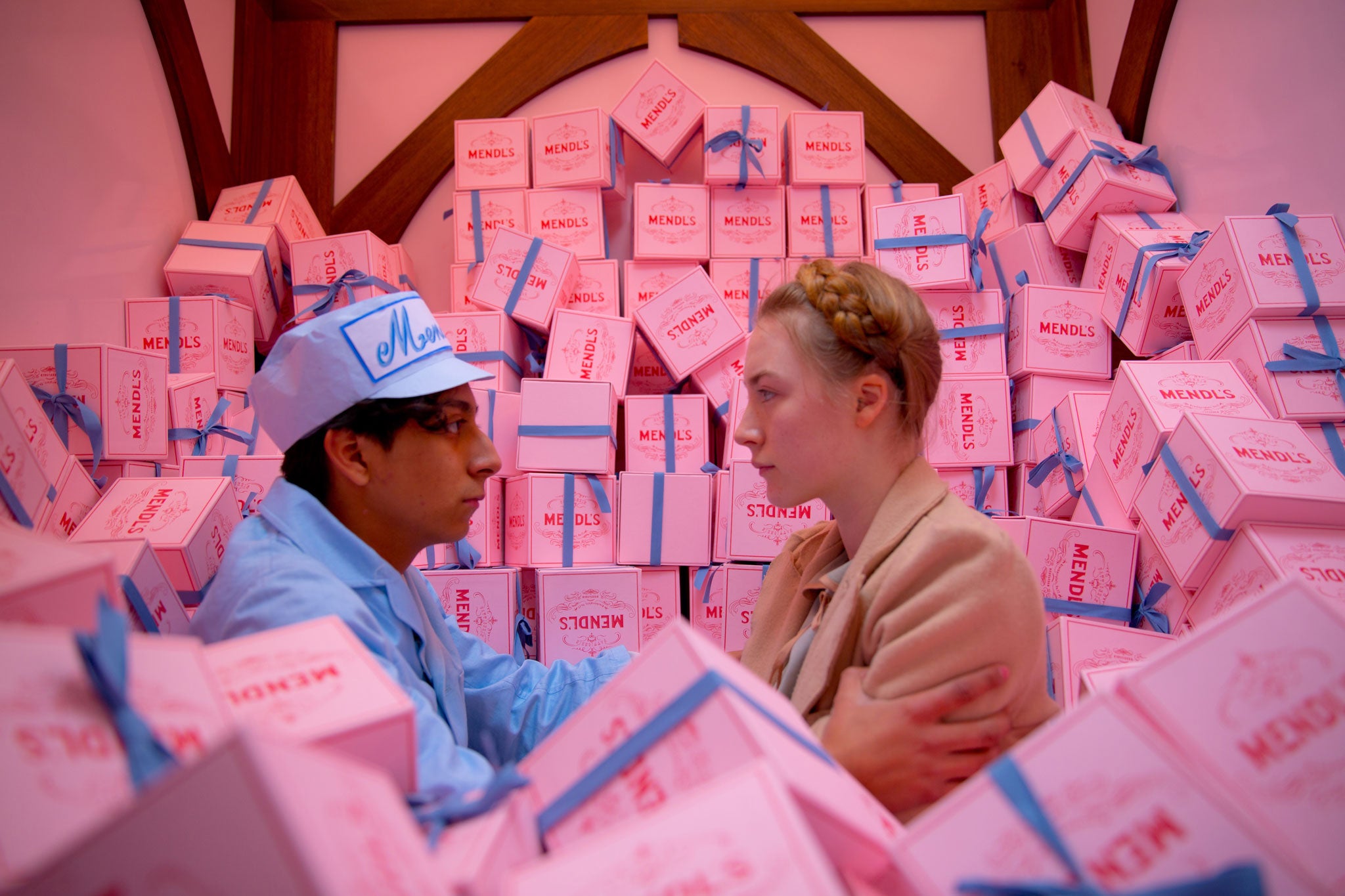 A Wes Anderson film is usually instantly recognisable as a Wes Anderson film. Droll, dysfunctional characters in kooky costumes; meticulously realised, often imaginary settings; eye-popping colour; witty details; whimsy; Bill Murray. The Grand Budapest Hotel, his eighth feature, is no exception. Quite apart from the astonishing cast list – Brody, Dafoe, Fiennes, Goldblum, Keitel, Law, Norton, Swinton, Wilson and, yes, Murray – it may be the auteur's most visually sumptuous film yet.
Set in a spa hotel in the fictional Eastern European country of Zubrowka, a crime caper involving the hotel's concierge, a priceless painting, and two young lovers, unfolds between the wars. Framing devices show the Grand throughout history, from its heyday as a rich man's retreat, to its use as a fascist base, to its Sixties decline. That's a lot of devilish design details and Anderson left nothing to chance on set. There are credits for the porcelain pendant-maker and the handkerchief cross-stitcher, for the pâtissier and the mural painter.
There is a credit, too, for Annie Atkins, the film's lead graphic designer. She made the gorgeous, surreal poster which superimposes the pink wedding cake of a hotel on an alpine backdrop. She also designed and created every piece of paper that appears on screen. Newspapers, letters, shopping bags, police reports, wills, menus, books – if it has letters on it, Atkins made it.
Annie Atkins' striking graphic designs for Wes Anderson's films
Show all 7
It was a massive undertaking. The fictional setting meant that everything – stamps, banknotes, flags – had to be invented from scratch. "On the one hand, you're working in the style of the period, but you're also working in Wes's style," says Atkins. "So it's an amalgamation of two very special worlds and a lot of imagination."
Atkins, 34 years old and from Dublin, lived with the cast and crew in Gorlitz, a tiny German town on the Polish border for the duration of the six-month shoot. Her office was on the upper floor of the old department store which served as the hotel. "It was like being in a Wes Anderson movie," she says. "Snow everywhere and Bill Murray wandering about."
It was a labour-intensive job. Documents had to be typed on a vintage typewriter, letters hand-written in calligraphy, cake boxes screen-printed. "Adam [Stockhausen, the production designer] and Wes were very, very specific that if it was made by hand at the time, we should make it by hand now," says Atkins. "On another film, you might get away with using a laser printer. Sometimes we'd do 20 different versions of an item before Wes was ready to shoot it." Sounds demanding. "He's very particular, but he really loves this stuff."
The Grand Budapest Hotel is Atkins' first feature film. After art school, she worked as a graphic designer at an advertising agency in Iceland before enrolling on a film course at University College Dublin. There she met a producer on The Tudors and was hired for two series, to make scrolls and stained-glass windows and teach Jonathan Rhys Meyers how to use a quill. Since then, she has worked on Camelot, Titanic and Vikings and is currently on set for Penny Dreadful, a new Victorian horror series from Sam Mendes and Bond writer John Logan.
Working with Anderson was a rare opportunity to see her backstage work in the spotlight for once, she says. "Wes has such a graphic sensibility. The thing with graphics and film is that if it is good, it won't jump out at you. You really only notice the poorer stuff. Knowing that the stuff we were making was going to get some proper screentime was great."
'The Grand Budapest Hotel' is released on Friday; annieatkins.com.
Join our commenting forum
Join thought-provoking conversations, follow other Independent readers and see their replies