I used to hate the Western – but now women are riding in to save the genre
A new generation of female directors are giving them the makeover they've long been in need of
Kaleem Aftab
Friday 13 April 2018 10:38 Comments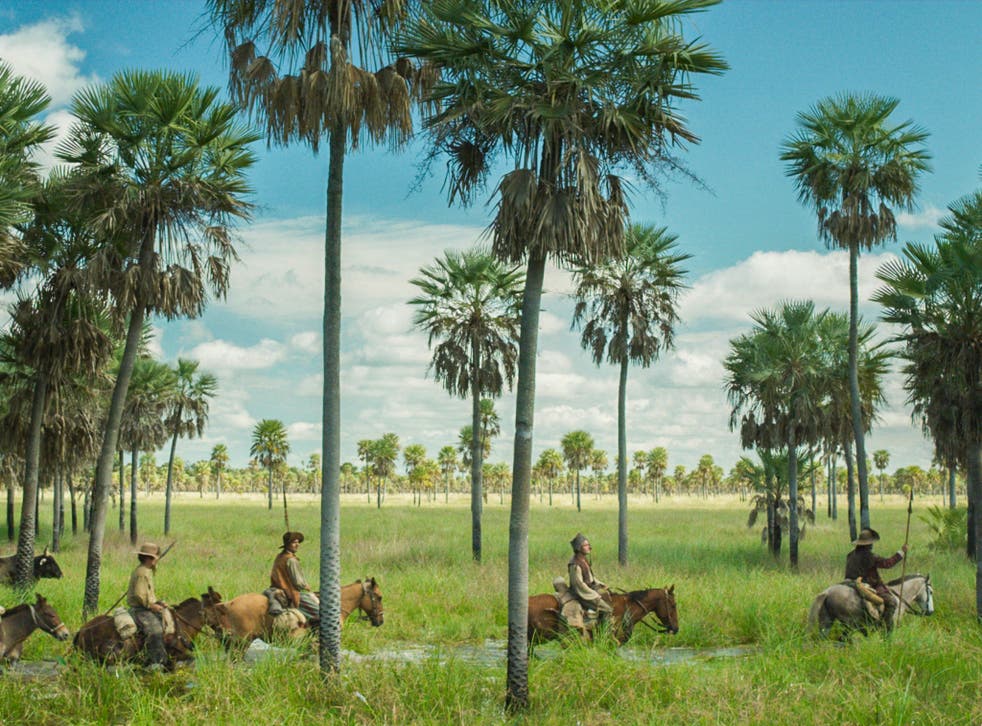 Until this year I hated westerns. It's the genre that is all about the celebration of white male power.
Westerns helped popularise and market the myth of cowboys and Indians, encouraging kids to take up guns against a monolithic other, and spreading the idea that anyone who doesn't speak English is part of a backward people who don't deserve rights to property, to respect, or to live the life they desire within their cultural traditions.
Westerns gave the world Ronald Reagan, Clint Eastwood and John 'I believe in white supremacy until blacks are educated to the point of responsibility' Wayne. The women are pretty much all harlots, or religious wives who know their place is in the kitchen waiting on their man.
For decades westerns have falsely failed to recognise the diversity of the cowboy, or that the ladies were not all saloon hussies. We are never far from being reminded who the good, the bad and the ugly are, none of whom are women. And then we could talk about all the numerous Western actors asked to play the parts of Native Americans...
Of course there are some outliers: a few black cowboys have popped up, or a band of women have appeared, pistols in their garter belts, but they largely fed into the genre rather than deconstructed it.
But this year it seems like a few directors have decided it's time to steal the hats from westerns and stamp all over them, giving the genre the makeover it has long been in need of.
What's more, and perhaps unsurprisingly given the tropes of the western genre, the cavalry that has come to save the day, spurring a radical reinterpretation of the cowboy movie, are mostly women. Valeska Grisebach, Lucrecia Martel, Chloé Zhao and Mouly Surya are all following the trail blazed by Ana Lily Amirpour, who in 2014 released the Iranian vampire western, A Girl Walks Home Alone at Night.
So what have these women done?
German filmmaker Valeksa Grisebach has made a film called Western that is situated in wasteland on the Romanian and Bulgarian border. The 'cowboys' are German construction workers. They don't need guns to assert their dominance, or have to hoist their flag into their new 'home'.
Local women are their prey. One construction worker tries to take advantage of sunbathers with masculine showmanship that Grisebach lets play out in its full boorish ridiculousness.
Access unlimited streaming of movies and TV shows with Amazon Prime Video Sign up now for a 30-day free trial
Sign up
"I was fascinated with the western when I was growing up," says Bremen-born Grisebach, whose favourite westerns were High Noon and Stagecoach.
"They have these very romantic themes of loners searching for something in the wilderness on the border of society. It was interesting because maybe it is bittersweet: as a girl, at some point you realise that you are excluded from this genre."
And yet she found that she had to play into that exclusion with her new film by making the central characters male. And while she gives her female protagonists layered personalities and complex lives, she admits "when I started to think about the project, I realised how strong the genre is. I was thinking about the female figure, but then I realised that to do a really different perspective for the women of this film I would need to make another film."
Perhaps, if you want to completely undermine the western, it's better to be a female director who hates the genre – as is the case with Marlina the Murderer in Four Acts director Mouly Surya.
Her incredible Indonesian drama follows a widow as she seeks justice after a robbery and a rape.
Surya says that making a western came as a byproduct rather than a starting point: "It was set on Sumba island, and when I saw pictures of the island it reminded me of a western. I'm not a big fan of [traditional] westerns because of the masculinity of them."
Straddling these two approaches is Argentine director Lucrecia Martel. She uses aspects of the western in adapting Antonio di Benedetto's celebrated novel Zama. It tells the story of the eponymous Zama, an assistant magistrate on a long administrative posting in Asunción, Paraguay, awaiting a transfer to Buenos Aires at the end of the 17th century.
In Zama, it is the power structures that nod to the western: there's an isolated, colonialist man at the top, surrounded by locals he can't understand – his version of the 'Indians' – who despise and ridicule him. It is also, like a western, all set in the midst of a wondrous (if hardly typical) landscape, with llamas under palm trees, green woodland and perfect beaches.
For Martel, she wanted to adapt the book because she was fascinated by "the idea of the image of oneself that then itself becomes a trap".
Martel explains her film in terms of emotional context rather than plot: "For the first 90 minutes we see a man who has all these masculine problems, he cannot fail and he has to be someone. Then the film ends up in a feminine way. Women are more trained for failure and also not to accomplish what they would like to accomplish, and I think that this life outside of power is more interesting. There is a knowledge that women have that can be conveyed to men."
Meanwhile, in the modern-day story The Rider, set on the Pine Ridge reservation in South Dakota, director Chloe Zhao has real people play themselves. The film follows the story of Brady who, after a head injury, is told he can no longer ride rodeo, can no longer be a cowboy.
It's a film of identity crisis that brings the silent, brooding, unemotional character right into the modern day.
It's not just female directors who have subverted the genre. Australian director Warwick Thornton has been at it too, and used a simple but radical technique when making the beautiful Sweet Country.
"We looked at the western with an inverted point of view," he says. "We are not following John Wayne; we are following the Indians. The film is about white colonialists, but it's from the perspective of the oppressed and the indigenous community they are about to destroy."
Set in 1920s Central Australia, Sweet Country also does something extremely clever, complex and interesting with the Sam Neill character. He is a good man who uses his belief in Christianity to try to deliver a better life. Compared to everyone else, he is a saint.
But Thornton completely undermines religion by showing the role of the church in destroying aboriginal culture, because the route to salvation he offers involves abandoning traditional culture.
"The obliteration of indigenous cultures around the world by religion: it's one of the biggest genocides," Thornton points out.
And that's what these new westerns are all doing and what makes them so much more interesting. By pushing the genre envelope, they encourage empathy and understanding with the characters who have to cope and live with the actions of the cowboy figures.
'Western' is out 13 April; 'Marlina the Murderer in Four Acts' is out 13 April; 'Zama' is out 25 May; 'The Rider' is out 21 September
Register for free to continue reading
Registration is a free and easy way to support our truly independent journalism
By registering, you will also enjoy limited access to Premium articles, exclusive newsletters, commenting, and virtual events with our leading journalists
Already have an account? sign in
Join our new commenting forum
Join thought-provoking conversations, follow other Independent readers and see their replies