The Independent's journalism is supported by our readers. When you purchase through links on our site, we may earn commission.
What it's like living in one of the largest Syrian refugee camps in the world
A conversation with the After Spring directors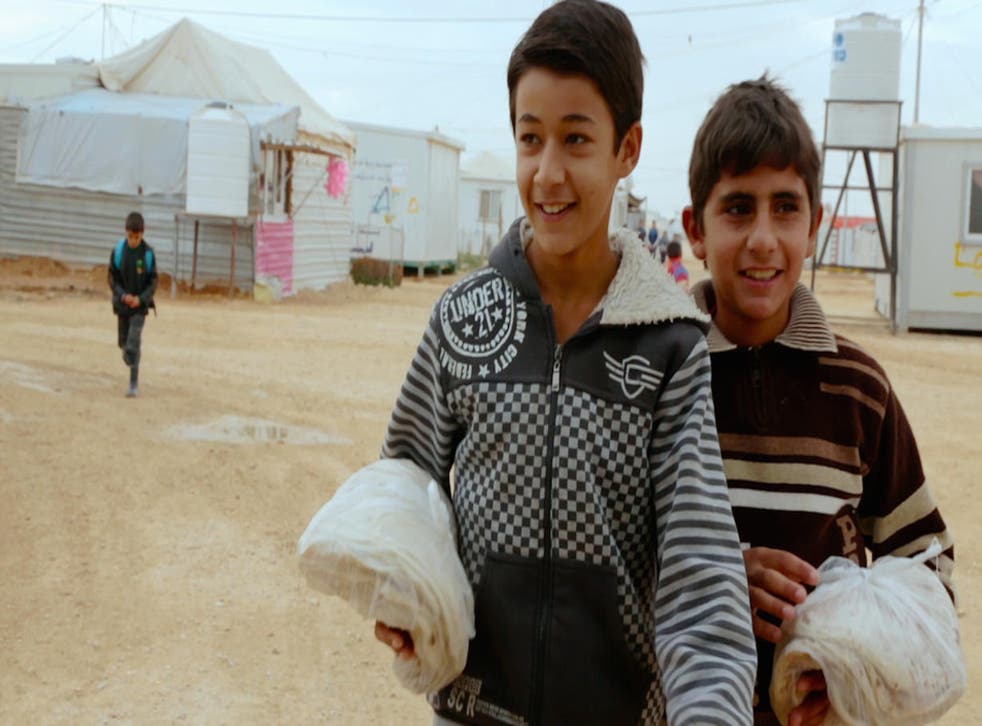 The Syrian Civil War has killed over 450,000 people and forced more than 10 million residents to flee their homes in search of safe, stable living conditions, resulting in one of the largest humanitarian crises of our time. Housing the largest population of displaced families in the Middle East, the Zaatari Refugee Camp is home to nearly 80,000 Syrians and is considered the fourth-largest city in Jordan.
Zaatari, where more than half of camp's residents are under 18-years-old, is the prime setting of Ellen Martinez and Steph Ching's directorial debut, After Spring, an intimate portrait of two Syrian families struggling to make peace with uncertain futures. With severely limited options for food, medical resources, and educational opportunities, the heads of each household must decide whether to spend years, maybe even decades, living in the underfunded camp or risk safety to return back home to their war-torn country.
The documentary explores one of the camp's only positive outlets for children, the Zaatari Taekwondo Academy, where Korean martial arts instructor and founder Charles Lee teaches his students the art of discipline and focus after experiencing traumatic events before escaping the civil war. The Independent caught up with Martinez and Ching during the second-week of this year's Tribeca Film Festival, where their film debuted worldwide.
The Independent: What drew the two of you two to the project, I understand you both have personal connections to Syria and the refugee crisis?
Ellen Martinez: We both have different reasons for why we wanted to make the movie: I lived in Damascus, Syria for four years and spent eight years in the Middle East, total. I was reading a lot about refugee camps and [Steph] and I have been friends for awhile, and we've always wanted to make a movie together.
Steph Ching: It took me a longer period of time before I had this revelation why I was personally connected to it. I was always drawn to these humanitarian stories and a lot of my work has always been in that world. It wasn't until we actually went to the camp and started talking to the people that I understood why that connection was there — my grandmother is a refugee at the end of World War II. This was something that was obviously a part of our history but it was not something that she labeled herself as. We had grown up with these stories of her talking about crossing the border and how she had to board a boat.
It wasn't until we were talking to Ibrahim and Mohammed about their journey and hearing these stories that were so similar to my grandma's story, you know, 70 years ago. And it sort of solidified for me, and for our film, this is something that happens with every generation. Everyone has some connection to that whether it's you, your parents, or somebody ten generations ago that's lived through it.
What led you to the Zaatari Refugee Camp, when did you begin filming and how long did you end up staying?
EM: Right now, it's the largest camp for Syrian refugees and we knew we wanted to do something with the neighboring countries because that's where everything is going on right now, the numbers are between anywhere between 600,000 to 1 million Syrians in Jordan, over one million in Lebanon and over two million in Turkey, we really wanted to go somewhere nearby.
Access unlimited streaming of movies and TV shows with Amazon Prime Video Sign up now for a 30-day free trial
Sign up
SC: The whole process of our movie took about three years. We spent about three months total filming at the camp, spread throughout the year. We went for one month, came back for six, then went back again for another two months in 2014.
What was your vetting process like while seeking out subjects for your film, what were you looking for, and how did the two families fulfill those roles?
EM: We initially found them through the Zaatari Taekwondo Academy with Charles Lee. We weren't going in to specifically find anyone, we were more curious as to who we would meet, and these two families were really open to sharing their stories with us. They were really kind and generous throughout the whole filmmaking process. Mohammed even donated his wedding video, one of the only things he brought with him from Syria, and he wanted us to use it in the film.
We also gave them small portable cameras, left and came back two weeks later, and Mohammed had filmed everything going on with his family, like his kids going to school. We really wanted to help them tell their own story.
What was the biggest challenge you faced while making the film?
SC: The biggest challenge from the start to finish was the language barrier, which was mostly in Arabic and Korean, two languages that neither of us speak. From pre-production to final cut, we had about 24 translators in the movie. We were really lucky that we had an amazing fixer and an amazing associate field producer who spoke Arabic and really helped us build relationships.
How did you two link up with Jon Stewart? How much was he involved in the filmmaking process?
EM: We knew that Jon visited Zaatari while he was filming Rosewater in Jordan, and our main fixer was also his driver during Rosewater. So, we went on our first trip and we shot enough to make a trailer, then we came back to the states, and we reached out to see if he was interested in supporting the project in any way. He liked it and he joined on as the executive producer and he was really supportive. Him and his company watched a few cuts throughout post-production.
Were you surprised that some families would rather go back to Syria than stay in the camps?
SC: At first, I was surprised but then I thought about what I would do in that situation, and I would obviously want to go back—that would be my first thought.
EM: At the time, hundreds of families were going back each day.

What do you think about the anti-refugee rhetoric coming from the states, and are the folks living in camps aware of the negative voices in the US?
EM: I think they're definitely aware of it. They watch the news everyday and most of the families have a TV or a phone with connection to the Internet so they're staying updated with the situation in their country as well as the news from the global crisis.
It's very disappointing that's happening right now, and I mean, one thing that you want to do is help raise awareness to show that these are just normal, regular people with normal lives back in Syria who were forced to leave. The dangers that the refugees are leaving, are the same things people in the United States would be afraid of.
SC: That's one thing we do want to keep reminding people is that countries like ours, that are made up of immigrants, have the resources and ability to help people and it's sort of hypocritical for us to say "no, we don't want you," even though this is what we are.
Is there anything you wish could be added to the film, that didn't make the screening?
SC: One of the people that we met, that was so impressive, that we couldn't really fit into the movie, is this girl named [Mazoun Almellehan]. She just turned 18. At the time she was 16, and she lived at Zaatari before being moved to the other camp. She kind of became this pioneer for girls education in general, which is one of the biggest issues of the camp, that education is so limited and there aren't enough resources, the classrooms are overcrowded and there are short hours. She would hold study groups and recruit her friends to recruit others to go to school, and she's been called the "Malala Yousafzai of Syria." She's really a symbol of this next generation of people who do have high hopes for the future.
EM: She's recently moved to the UK where she's working with Malala to provide Syrian refugees access to education.
What projects are next for the two of you, and how can people learn about your outreach campaign?
EM: We do want to keep making documentaries, but for now, we're still seeking distribution for After Spring. We also have an outreach campaign, and we're hoping that in the next few months, we're going to partner with several organizations related to resettlement, one that provides access to education and hopefully we can work with them to direct viewers to ways they can help.
SC: That's really important to us, we didn't just make this movie, to make a movie. We want the conversation to continue afterwards. The response has been really great and our audiences have been coming up to us after every screening asking how they can help. I know it's always frustrating for me, when I watch something that was so moving and there's no way to direct my energy, that's something we want to do — direct others to ways they can help.
To learn more about the film, visit AfterSpringFilm.com. You can watch the film's trailer in full below:
After Spring Trailer from After Spring on Vimeo.

View more of The Independent's Tribeca Film Festival 2016 coverage here.