Why do great Hollywood actors keep turning up in bad VOD releases?
Al Pacino's latest film 'Hangman' sees him languishing in the hinterland of lacklustre VOD – and he's far from the only one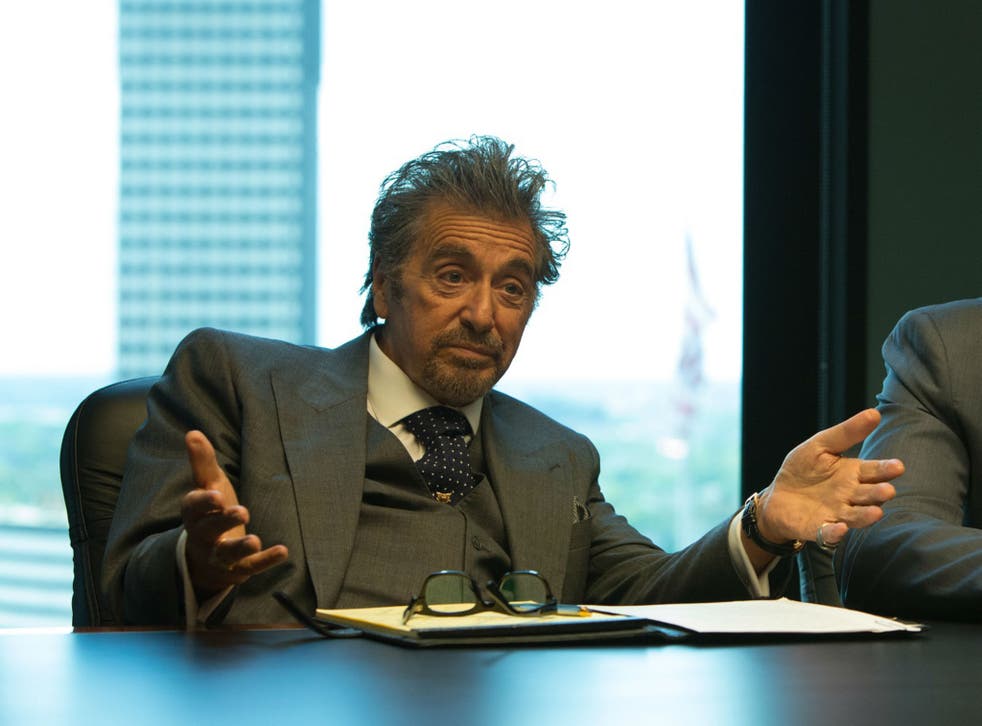 Al Pacino looks weary. Aged 78, he somehow finds himself with his hair black and youthfully spiked, pointing a pistol at a perp. Though his character in Hangman, Ray Archer, is recently retired, he's still the number one choice to help in a cat and mouse game with a serial killer who has watched Seven too many times.
Somewhere along the line, Pacino took a wrong turn, and entered the twilight zone of the straight-to-DVD/VOD thriller.
VOD no longer necessarily means obscurity and irrelevance – look at Netflix aggressively trying to change the model (to suit their own ends), with credible releases such as Okja, The Discovery and Annihilation. But still, many films that swerve the big screen still do so for good reason – for now at least.
But Pacino is not alone in this strange purgatory. Many of Hollywood's greatest living stars are now serving time in the barely documented, rarely viewed land of films deemed unworthy of cinema release. Wonder where John Travolta, Bruce Willis, Burt Reynolds or Meg Ryan have been lately? They're still busy in leading roles. It's just the pictures and the screens that got small.
When the likes of Burt Lancaster and Robert Mitchum hit their fifties in the 1970s, they left Hollywood to make Westerns and crime films in Europe, where their name retained lustre it had lost at home. In the 1980s, straight-to-video B-movies were the last port of call. Once Hollywood royalty lose their box office kingdom today, VOD is their inevitable place of exile.
Pacino, at least, is hardly locked in this netherworld. Since his box office appeal declined around the start of the century, he's sought admirably challenging roles. He's looked to TV for grandstand opportunities such as David Mamet's Phil Spector (2013), and cinema for appropriate vehicles for a star of his years such as his simmeringly unhappy, titular locksmith in Manglehorn (2014).
He'll be seen next as Jimmy Hoffa in his debut for Martin Scorsese, The Irishman. Pacino still operates like a contender.
Why, then, is the star of The Godfather, whose 1970s and 1980s filmography was so fastidious, doing in Hangman? And this straight after the VOD brace of Pirates of Somalia (2016) and Misconduct (2015)?
The latter sees Pacino share scenes with a similarly slumming Anthony Hopkins, getting by on charisma as a Southern lawyer mentor to Transformers star Josh Duhamel until he pulls a little more out of his kitbag for his climactic scene.
Access unlimited streaming of movies and TV shows with Amazon Prime Video Sign up now for a 30-day free trial
Sign up
"There's some Shakespeare for ya," he offers Duhamel. "I apologise for the theatrics," he adds to the police, before turning this film's gun on himself.
Misconduct is actually passable entertainment, and no worse than Pacino's pair of cinema-released cop duds, 88 Minutes (2007) and Righteous Kill (2008). He gave a sort of rationale for them all in the Village Voice. It was like his early days of Off-Off-Broadway graft, he suggested: "You're getting practice... That's been my mantra. Just keep doing it."
Hangman's director Johnny Martin recalls Pacino quizzing him on the motivations of background characters in what is just a B-movie. It sounds like a trip to the thespian gym, keeping his muscles trim till they're needed.
"I don't think I'm very good at it," Bruce Willis told Esquire of his acting. "But I like doing it." Actually watch Willis's nine and counting VOD films, though, as his career has plunged since Rian Johnson's visionary Looper and Wes Anderson's Moonrise Kingdom (both 2012), and he surely stopped caring a long time ago.
The latest, Acts of Violence (2018), offers tired, tough guy wisecracks from his mostly deskbound cop, who keeps a straight face giving the film's real Z-grade stars Cole Hauser and Shawn Ashmore "24 hours" to solve the case. The misbegotten Precious Cargo (2016) sees his gangster shot in the back from long-range by a criminal sniper "hero". Willis is listless on either side of the law, his measured under-acting in The Sixth Sense now reduced to an imperceptibly low simmer, as he swaps pay cheques for the remnants of his name.
This year's Death Wish remake briefly returned Willis to wide cinema exposure (as opposed to the token bookings which can accompany VOD). And yet the "gun fights, car chases, a robbery, a crash" a Kentucky paper warned locals to expect during the shoot of his just-finished Reprisal don't suggest a wildly promising change in tack.
Maybe M Night Shyamalan's Unbreakable sequel, Glass, and Edward Norton's 1950s-set Jonathan Lethem adaptation, Motherless Brooklyn, will signal a renaissance next year. VOD, meanwhile, is a world where Willis marks time. With only undemanding fans watching, why bother?
John Travolta's case is more complex. His tin ear for scripts squandered two periods of huge popularity, after Saturday Night Fever/Grease, and Pulp Fiction's remarkable return. The last decade's doldrums, though, show he's still trying.
His Ahab-style black beard as a Serbian special forces veteran stalking Robert De Niro in Killing Season (2013) was his most ridiculous look since his blue-skinned alien in the catastrophic Battlefield Earth (2000).
But as a Boston Irish conman bonding with his irascible criminal dad (Christopher Plummer) and disappointed son (Mud's Tye Sheridan) in The Forger (2014), Travolta finds moments of bleak pathos before the film pulls apart. His grizzled, worldly, wooden-legged marshal in Ti West's Western In a Valley of Violence (2016) also shows his charismatic persona's enduring range.
Yet the same year's I Am Wrath is where Travolta hit rock bottom, mixing Biblical bombast and cynical banter in a haywire right-wing Death Wish riff. The pleasure of going off-piste in video stores always involved junking mainstream competence and constraint, and though this very bad film leaves Travolta up to his eyeballs in cinema sewage, it's still more interesting than the studio safety of his last, midlife crisis hit Old Dogs (2009).
Meanwhile, the distributors of Gotti, which stars Travolta as the silver-haired "Teflon Don", have fought to upgrade its intended VOD status to a full US cinema release this month. His varied recent employment suggests he's ready for his next comeback.
Sometimes, VOD is an outlet for an actor who's lost his cinema power, but still wants to stretch out. Michael Douglas produced Beyond the Reach (2014), and stars as an LA executive who hunts a young tracker across the Mojave, overriding an absurd plot with the pleasure of a satisfyingly fierce lead role he created for himself, when no one else would.
Pierce Brosnan, meanwhile, alternates midlife romcoms and superannuated spy films, and still finds room for the self-produced I.T. (2016). Though the DVD box promises hard-eyed, gun-toting Bondage, Brosnan's self-made Northern Irish mogul's battle with a young tech-savvy stalker lets him explore the blunt force of a powerful man.
VOD careers are mostly male preserves. Hollywood's patriarchal norms permit actors in their seventies and even eighties to punch and shoot adversaries just as they've always done. Meg Ryan's tentative continuance of a career which imploded in the early 2000s, does, though, offer late additions to her romcom CV, with partners including William H. Macy (2008's The Deal), Antonio Banderas (2008's My Mom's New Boyfriend) and Timothy Hutton (2009's Serious Moonlight).
VOD is finally a kind of afterlife, comfortable or cringe-making depending on past cinematic deeds. America's former favourite film star Burt Reynolds has gone from TV movies to straight-to-video to VOD in a 40-year decline. His 31 films since Boogie Nights (1997) have rarely troubled cinema screens.
Though The Last Producer (2000) was followed by The Last Movie Star (2017), his updated good ol' boy role running a porn star beach volleyball team in Cloud 9 (2006) confirmed such elegiac titles were not earned.
Reynolds' career is the opposite of his former rival Clint Eastwood's. Self-awareness and strategy confuse him. He is the VOD star at its purest. Its infinite digital hinterland is simply a place where he will always find work.
'Hangman' is out on VOD on now
Join our new commenting forum
Join thought-provoking conversations, follow other Independent readers and see their replies