Why Bob Hoskins didn't make the final cut of Bafta's in memoriam slot
Video tributes to departed stars have become a standard part of awards ceremonies. But who decides who is included – and who is left out?
Simon Usborne
Monday 09 February 2015 20:48 Comments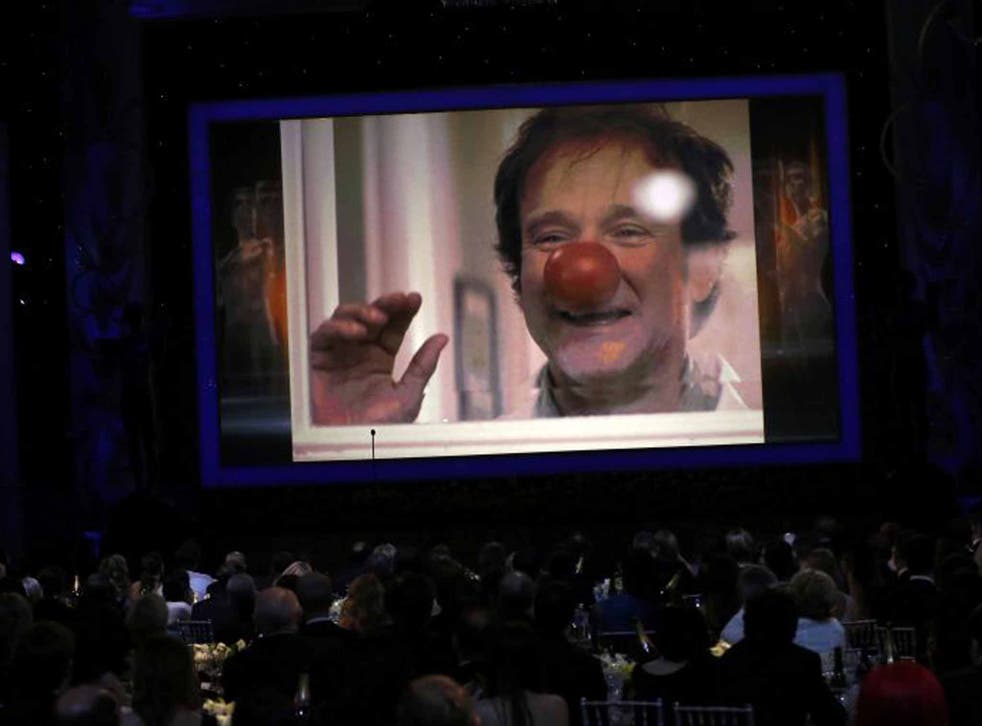 A maudlin ritual with its roots in Oscar history entered the modern age of outrage yesterday. When Stephen Fry introduced the Baftas memorial montage (the "death reel", if you will) during the luvvie awards ceremony on Sunday night, some viewers were incensed that Bob Hoskins, a Bafta winner and stalwart of British cinema, did not feature alongside, among 27 other names, Lauren Bacall and Mickey Rooney.
Actor Paddy Considine called it a "complete travesty", while Piers Morgan included 11 additional question marks after he asked the British Academy: "Seriously?"
David Baddiel smelt a conspiracy: "The omission of Bob Hoskins… seems symbolic of the erasure in modern times of the working-class actor," he tweeted.
A bleary-eyed Bafta press office issued a response late yesterday morning, revealing the pitfalls of a singular form. In summary, it said that, because it had honoured Hoskins in the death reel at the telly Baftas last year, it could not include him again, but did include him in the ceremony's souvenir brochure on Sunday. A minor, well-intentioned snub at worst, then.
Pity Hoskins, but also the producers whose job it is to make these films, which now feature in dozens of awards ceremonies. When valuing life after death, how do you decide who makes the cut, and in which order? What music to play in the background, and who gets the last, fade-to-black slot before the director cuts to a wet-eyed Meryl Streep?
"It is always an agonising part of the production process, believe me," Carl Doran writes in an email. The editor of BBC Sport also has responsibility for Sports Personality of the Year, which features a death sequence. "Most difficult of course is who you sadly leave out. You don't have time to include everybody or do people justice… I found it very difficult with David Coleman in particular last year. He was a close friend of mine and the show itself."
The Oscars producers arguably have the toughest task. After an early appearance in 1978, the "In Memoriam" film became standard in 1994. "It is a beloved segment, but I would much prefer we didn't do it," former Oscars executive director Bruce Davis told TheWrap several years ago. "When you sit down to do the list, the last 15 or 20 cuts you make are people with substantial careers. You just feel like shit for days afterwards. And there is nothing you can say to somebody's wife or daughter about why they didn't make it into the sequence."
The anonymous panel of Academy members who make the list have about 30 slots to fill in about three minutes. The Oscars website's memorial page features 106 people who are eligible for inclusion in the montage at this year's ceremony later this month. Hoskins, who received an Oscar nomination for the 1986 film Mona Lisa, does not feature. He may yet get a late entry, but Oscar "snubs" are inevitable. In 2009, Maila Nurmi, a Finnish actress who played a vampire in an obscure sci-fi film, got the posthumous nod. Eartha Kitt, who had a long filmography, did not. "The producers are either 12 or have been living under a rock for the last 60 years," Kitt's former publicist, Andrew Freedman, told The New York Post. Other recent snubs have included Donna Summer and Farrah Fawcett.
Sunday's Bafta obits ran over innocuous Philip Glass-a-like piano chords. No issues there, but at the 2009 Academy Awards, Queen Latifah defied convention and raised (some) hackles by singing live. The sing-a-long death reel has since become commonplace, too, in part to drown out that other awkward problem with the form – the applause or lack thereof. Last year, when Bob Hoskins did kick off the roll call during the TV Baftas, he received warm applause. But then poor Eddie Braben, the comedy writer best known for his Morecambe and Wise work, who popped up next, got silence. On Sunday night, audience members at the film Baftas were told not to applaud at all.
Access unlimited streaming of movies and TV shows with Amazon Prime Video Sign up now for a 30-day free trial
Sign up
How about ditching the whole damn thing? Goodness knows these ceremonies could do with being shorter. Think again. Organisers of the Tony theatre awards in New York played its memorial film to the theatre audience only during a commercial break last year. Viewers at home could see a longer, more inclusive sequence online, if they wished to. Cue outrage about the blanket snub of all dead people. Damned if you do...
Register for free to continue reading
Registration is a free and easy way to support our truly independent journalism
By registering, you will also enjoy limited access to Premium articles, exclusive newsletters, commenting, and virtual events with our leading journalists
Already have an account? sign in
Join our new commenting forum
Join thought-provoking conversations, follow other Independent readers and see their replies