Why Derek Jarman's life was even more influential than his films
On the 20th anniversary of Derek Jarman's death, his friend Philip Hoare reflects on his legacy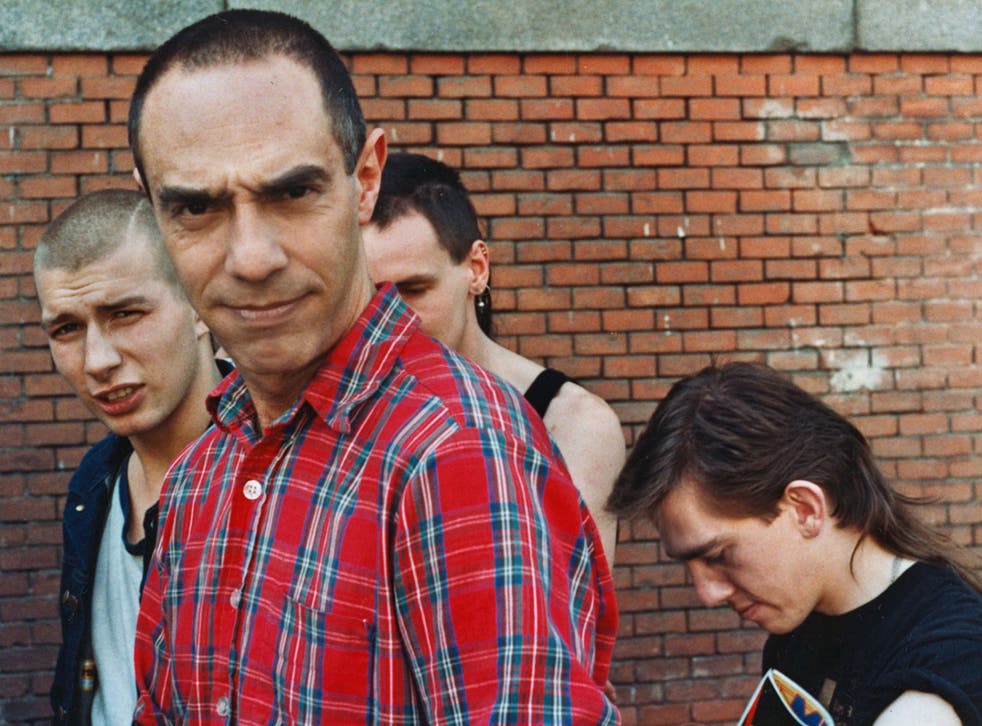 In 1977, a friend showed me a photocopied, A4 film script and offered me a role as an extra during its shooting. I read the script and thought it preposterous – and turned down the offer. The film emerged a year later – as Derek Jarman's Jubilee.
What did I know? But even now, 20 years after Jarman's death, from HIV-related complications, and as we commemorate the anniversary with a plethora of conferences, lectures, exhibitions and screenings, I find myself more resolute than ever in my heresy: that as fantastical and extraordinary as his films are, it is Jarman's life, and what he has come to represent, which has become almost more important.
Jarman is much more than a film-maker. Like Oscar Wilde and David Bowie, he exceeded, in his excess, the sum of his parts. He channelled elements and worlds beyond the work he actually produced, beyond his physical presence and ambition. More magician than artist, time and place were crucially important to that art and effect – partly because he seemed to invent new landscapes of his own.
Indeed Jarman's last book, Modern Nature (1991), was an inspiration to my own recent book The Sea Inside, with a sensibility that reached back 20 years to some of his earliest film work. The Journey to Avebury, a shaky, scratchy 16mm short shot in 1971 using a yellow filter, might as well have been filmed in the Neolithic as in the nuclear age. It is luminous with deep-time, idyllic and melancholy, a culmination of lost summers, a memory of the ancient West Country landscape he had known as a boy. Yet it has an underlying sombre tone, a kind of white noise. Jarman's relationship to the land, the city, the beach, was ever caught between glamour and apocalypse, between the sensational and the sublime.
This was implicit and explicit in the very real darkness of three-day weeks and power cuts, of strikes and piling rubbish – the payback for all that 1960s excess, now thrown into 1970s decadence and anarchy. In 1977, when Jubilee was filmed, London was an entirely different landscape. I remember walking to Covent Garden over Waterloo Bridge to reach the Roxy Club in Neal Street, an ill-lit place entirely lacking boutiques and gentrification, its narrow streets and warehouses only recently abandoned as a working market.
We were more innocent then, for all our daring. The patina of late Seventies/early Eighties London, tarry with cigarettes and the scent of amyl nitrate, was incarnate in Jarman's name, a landscape in itself. From the midnight Thames running below his Bankside studio to Soho's back alleys and eventually Dungeness's bleak strand, Jarman's eclecticism and found narratives predated psychogeography; but he might have invented it.
Jarman's flat in Phoenix House on the Charing Cross Road, which he moved into in 1984, resembled a monastic cell (Tilda Swinton told him he ought to have been a Catholic), with its huge, dark, rough-hewn furnishings made from reclaimed wood by Andy the Furniture Maker. From the busy Charing Cross Road outside you could tell which was his place: a mirrored witch ball hung in the Crittall window. From here Jarman made his night-time sorties into Soho and beyond, casting for characters among a punk generation which redefined itself in an era devoted to escapist "dressing-up" and nocturnal utopian environments. From the Roxy to the Blitz, from Heaven to Taboo, we were all escaping the repression outside, and the fear within.
With the onset of illness, Jarman retreated from London to Dungeness, where his garden was to become a celebrated art-work in its own right, a kind of post-apocalyptic version of Sissinghurst, with Derek as Vita Sackville-West. (The latter had an affair with Virginia Woolf and inspired her sex-changing novel Orlando, which was filmed by Sally Potter in a homage to Jarman). Ironically, this was his most successful work, too, in commercial terms – albeit posthumously. The best-selling Thames & Hudson book based on his journals and Howard Sooley's exquisite photographs turned a tabloid monster into a national treasure.
Access unlimited streaming of movies and TV shows with Amazon Prime Video Sign up now for a 30-day free trial
Sign up
Even at the time, this incarnation was an antidote, as Jarman himself said, to "Derek the black magician" – a modern-day John Dee, the Elizabethan alchemist. It also evokes the ending of Jubilee at Dancing Ledge on Dorset's rocky shore, where Elizabeth I tells Dee, "All my heart rejoiceth at the roar of the surf on the shingles, marvellous sweet music it is to my ears – what joy there is in the embrace of water and earth".
To me, Jarman's art has the air of flotsam and jetsam; all his work might have been found on the beach. It's a sensibility reflected in the flickering marine luminosity of Fellini's Satyricon, and the irradiated beachscape of the video for Bowie's "Ashes to Ashes", filmed on Hastings beach, close to Dungeness and clearly influenced by Jarman's aesthetic. (Jarman's relationship with Bowie is a fascinating one. A friend recalls the two men crossing the Strand in London in 1979, being followed across the road by a swathe of fans. In 1983, Jarman and Bowie had discussed the latter's participation in Derek's post-apocalyptic but unrealised Neutron, scripted by Jon Savage and scheduled to be shot around the decaying Berlin Wall).
In Jarman's world, the strand became a parade ground for the carnival and the grotesque, for protest and performance. If his films add up to one long fancy-dress party, they also reflect his fluid identity, a past caught between land and sea and the elusive freedom of some future utopia. In the final scene of The Last of England, Tilda Swinton slowly tears her own wedding dress to rags on Dungeness beach.
Modern Nature, published in 1991, just three years before his death, redefined Jarman with its queer nature, mixing memoir and contemporary journals. It still evokes an intense sense of the moment, defined by mortality. Jarman's love of plants surviving against the odds contrasts vividly with his work in the world – in particular his designs for the Pet Shop Boys' lavish, Fellini-esque first tour in 1989. Derek had made the video for "It's a Sin", and created the films and costumes for the tour which accompanied its success. Watching that impossible work of pomp and decadence on the vast stage at Wembley, it seemed the perfect marriage of Jarman's lushly confrontational aesthetic with pure pop culture.
In the (perhaps artificial) historical perspective of this anniversary, Jarman cuts a curiously old-fashioned figure for an avant-garde enfant terrible. An Edwardian Andy Warhol, a Victorian Jean Cocteau, yet terribly English, born out of a Noël Coward upbringing – his RAF father, the colonial, middle-class background. Perhaps that explains the elegiac quality of his sense of the past, forever seen through his Super 8 lens.
Ultimately, Jarman's was a love-hate relationship with "England". How ironic that it is this fractured connection, an accident of birth and what he called "a barbed-wire crèche", which defines him as an artist of lasting significance. And how remarkable the shift in that landscape – from the cold war of Jarman's youth and the queer war of his career, to now, a society in which gay marriage is promoted by a Tory prime minister.
The holey stones which Jarman collected from the beach in front of Prospect Cottage and threaded on to leather thongs, became amulets for friends – as if to protect them from Dungeness's radiation. Invested with the archeological landscape of his past and future, they were a cure-all for the incurable Derek; incurably curious, to the end.
Derek Jarman season, part one, BFI Southbank, London SE1 ( bfi.org.uk) to 7 April; Derek Jarman: Pandemonium, Inigo Rooms, Somerset House, London WC2 ( kcl.ac.uk) to 9 March
Philip Hoare's 'The Sea Inside' (Fourth Estate) is published in paperback on 6 March
Register for free to continue reading
Registration is a free and easy way to support our truly independent journalism
By registering, you will also enjoy limited access to Premium articles, exclusive newsletters, commenting, and virtual events with our leading journalists
Already have an account? sign in
Register for free to continue reading
Registration is a free and easy way to support our truly independent journalism
By registering, you will also enjoy limited access to Premium articles, exclusive newsletters, commenting, and virtual events with our leading journalists
Already have an account? sign in
Join our new commenting forum
Join thought-provoking conversations, follow other Independent readers and see their replies