The Countdown
Will Ferrell: His 10 greatest performances ranked, from Anchorman to Elf
To celebrate the Netflix debut of Will Ferrell's characteristically silly Eurovision parody, Adam White revisits the 10 roles most reflective of his brilliantly stupid genius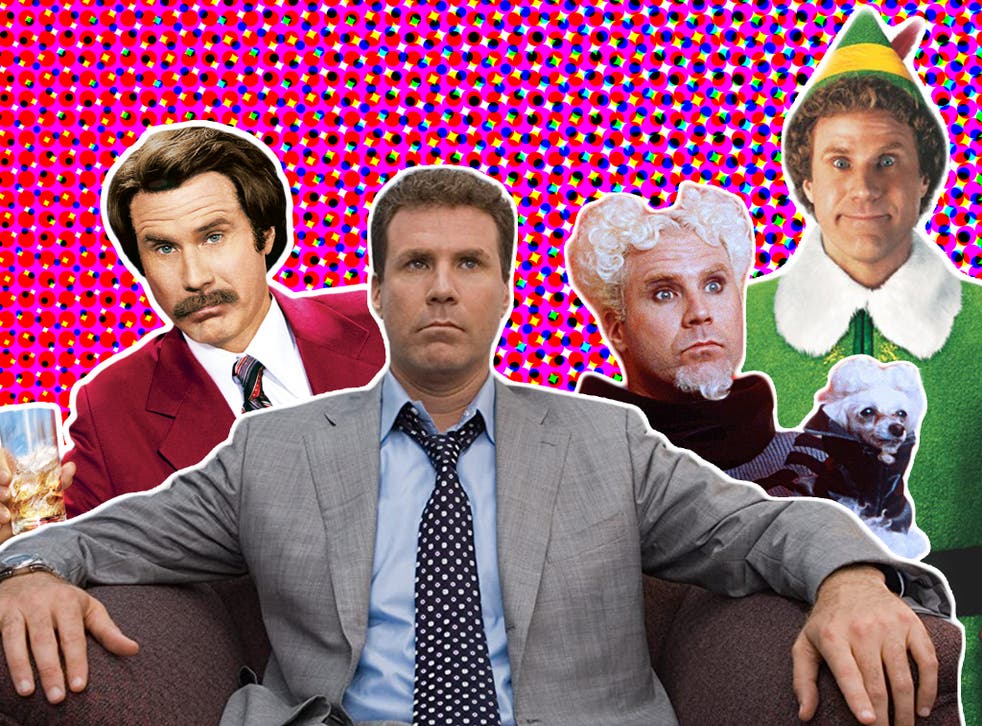 Will Ferrell doesn't play the same person in everything, but it wouldn't be outrageous if you thought he did. The comic actor, who found fame on US sketch institution Saturday Night Live, became an international star playing varying forms of idiocy – the sweet kind (as in Elf), the retrograde kind (as in Anchorman), and the generically empty-headed kind (almost everything else). There's genius in that stupidity, though – a precision and craft that is easy to overlook.
This week marks the release of Eurovision Song Contest: The Story of Fire Saga, a comedy very much in the Ferrell wheelhouse: he plays a self-mythologising caricature; there's an exaggerated wig involved; it has a lengthy title with a colon in it. It's also Ferrell's first film for Netflix, reflective of a climate slightly resistant to big-screen comedy, but especially to Ferrell's brand of tried-and-tested macho goofiness (Holmes & Watson, we hardly knew ye, because not a single person bought a ticket to see ye).
As one half of a derided Icelandic musical duo, the other played by Rachel McAdams, determined to win Eurovision, Ferrell is doing absolutely nothing new here. But it's great all the same, Ferrell once again playing a brilliant, awkward and misguided dreamer. To celebrate, we've ranked his 10 greatest performances.
10. Dick (1999)
Ferrell's early movie career is full of supporting roles like his one in Dick – the cult 1999 comedy imagining that two ditzy high school girls (played by Kirsten Dunst and Michelle Williams) were the "Deep Throat" that brought down the Nixon administration. Ferrell is Bob Woodward, of Nixon-bothering journalist duo Woodward and Bernstein, and scene-stealingly vapid. The film depicts the pair as bitter, camp rivals, and you can spot the seeds of the Ferrell of the future.
9. A Deadly Adoption (2015)
Whether it's a lack of ambition or a lack of opportunity, Ferrell rarely embraces the surrealist flair so often lurking beneath the surface of movies like Anchorman – which makes A Deadly Adoption all the more compelling. This is a little-seen and curiously sincere celebration of bad American TV movies, with Ferrell and Kristen Wiig a married couple who recruit a secretly psychotic young woman to carry their unborn child. That it's played deathly straight throughout only adds to its thrilling, under-the-radar weirdness, as well as the tension in Ferrell's performance.
8. Step Brothers (2008)
Despite the genius of Elf, which deliberately casts Ferrell as an isolated oddball, he is usually at his best when paired with another comic of a similar temperament. Step Brothers, more than, say, A Night at the Roxbury (1998) or Blades of Glory (2007), sees Ferrell finding an on-screen partner with whom he is in perfect tandem. The film casts him alongside John C Reilly as a pair of argumentative man-children forced to share a room when their single parents get together. Bratty, petulant brilliance emerges, and you'll never see a drum-set the same way again.
7. Talladega Nights: The Ballad of Ricky Bobby (2006)
A key entry in Ferrell's mid-2000s hot streak, Talladega Nights saw him continue to dismantle American masculinity. He's a clueless race-car legend staging a comeback, his breathless vapidity only matched by his very human determination. Like Anchorman, the film also recognises the power of a deep supporting cast of go-for-broke comedy players: Reilly is here, too, along with Sacha Baron Cohen, Gary Cole and a wonderfully mousy Amy Adams.
6. Everything Must Go (2010)
Unlike his other "vaguely serious" star vehicle (which we'll get to in a second), Everything Must Go isn't quite as good as Ferrell's performance itself. Based on a Raymond Carver short story, it's almost too slight, with Ferrell cast as an unemployed sad sack who decides to sell all of his belongings on his front lawn. There's something hauntingly tragic about his acting here, though, as if the neediness he displays so regularly in his more overtly comic roles has gone dark.
5. Wedding Crashers (2005)
Ferrell only cameos in this cult party-boy comedy, playing a middle-aged womaniser still living with his mother. It's a masterclass in sleaze, Ferrell dressed in a Hugh Hefner robe, crying out for meatloaf and reminiscing about picking up girls at funerals. His performance is like staring into an abyss of over-the-hill horror, skilfully merging the hilarious and the horrifying.
Access unlimited streaming of movies and TV shows with Amazon Prime Video Sign up now for a 30-day free trial
Sign up
4. Zoolander (2001)
Let's not talk about Zoolander's belated (and dismal) 2016 sequel, and instead focus on Ferrell's work in the first one. A spontaneous combustion in human form, his fashion mogul Mugatu is an appropriately outlandish caricature of clothing industry flamboyance. Even while dressed in a leather bodice and sporting tufts of white poodle hair, Ferrell doesn't shrink inside the costuming, sourcing a wonderful petulance that would come in handy with other roles down the line.
3. Elf (2003)
Considering how revered Elf has become in recent years, cemented as a festive classic watched every Christmas, it's easy to forget that it's one of Ferrell's least repeated roles. Unlike Anchorman, which inspired a run of similar he-man buffoonery via the likes of Semi-Pro (2008) or Talladega Nights, Elf didn't lead to Ferrell repeating that same sense of guileless joy or child-like naivety. It makes the film feel particularly special as a result. Ferrell plays an adorably upbeat elf working in Santa's grotto, who finds out he is actually a human and travels to New York City to track down his father.
2. Stranger Than Fiction (2006)
Not quite as serious as it's sometimes considered to be, Stranger Than Fiction does at least reduce many of Ferrell's most tried-and-tested comic tropes. He's a dull tax auditor who discovers he is actually a character being written by a frustrated novelist (Emma Thompson), who also plots to kill him off. The Truman Show comparisons remain apt. Like Jim Carrey before him, Ferrell here is a comic actor famous for rubber-faced spontaneity, who is suddenly restrained and heartfelt in a high-concept tragicomedy.
1. Anchorman: The Legend of Ron Burgundy (2004)
Everything leads back to Anchorman. It didn't just push Ferrell's career into the stratosphere, it also rewrote the rules of modern comedy. The story of an arrogant 1970s newsman repelled by the arrival of a female co-anchor, it deftly blends the surreal and the conventional, the touching and the dirty. Ferrell pulls it all together, his Ron Burgundy a caveman weirdo high on his own fumes, yet one who you actually want to spend time with. If Ferrell did this schtick a lot in the aftermath, it's not because he's lazy. He's just that good at it.
Register for free to continue reading
Registration is a free and easy way to support our truly independent journalism
By registering, you will also enjoy limited access to Premium articles, exclusive newsletters, commenting, and virtual events with our leading journalists
Already have an account? sign in
Register for free to continue reading
Registration is a free and easy way to support our truly independent journalism
By registering, you will also enjoy limited access to Premium articles, exclusive newsletters, commenting, and virtual events with our leading journalists
Already have an account? sign in
Join our new commenting forum
Join thought-provoking conversations, follow other Independent readers and see their replies