Willem Dafoe interview: 'I don't want people to know who I am' – The Florida Project actor reflects on his career
A familiar face across three decades of cinema, Dafoe is still looking out for curiosity and wonder in his work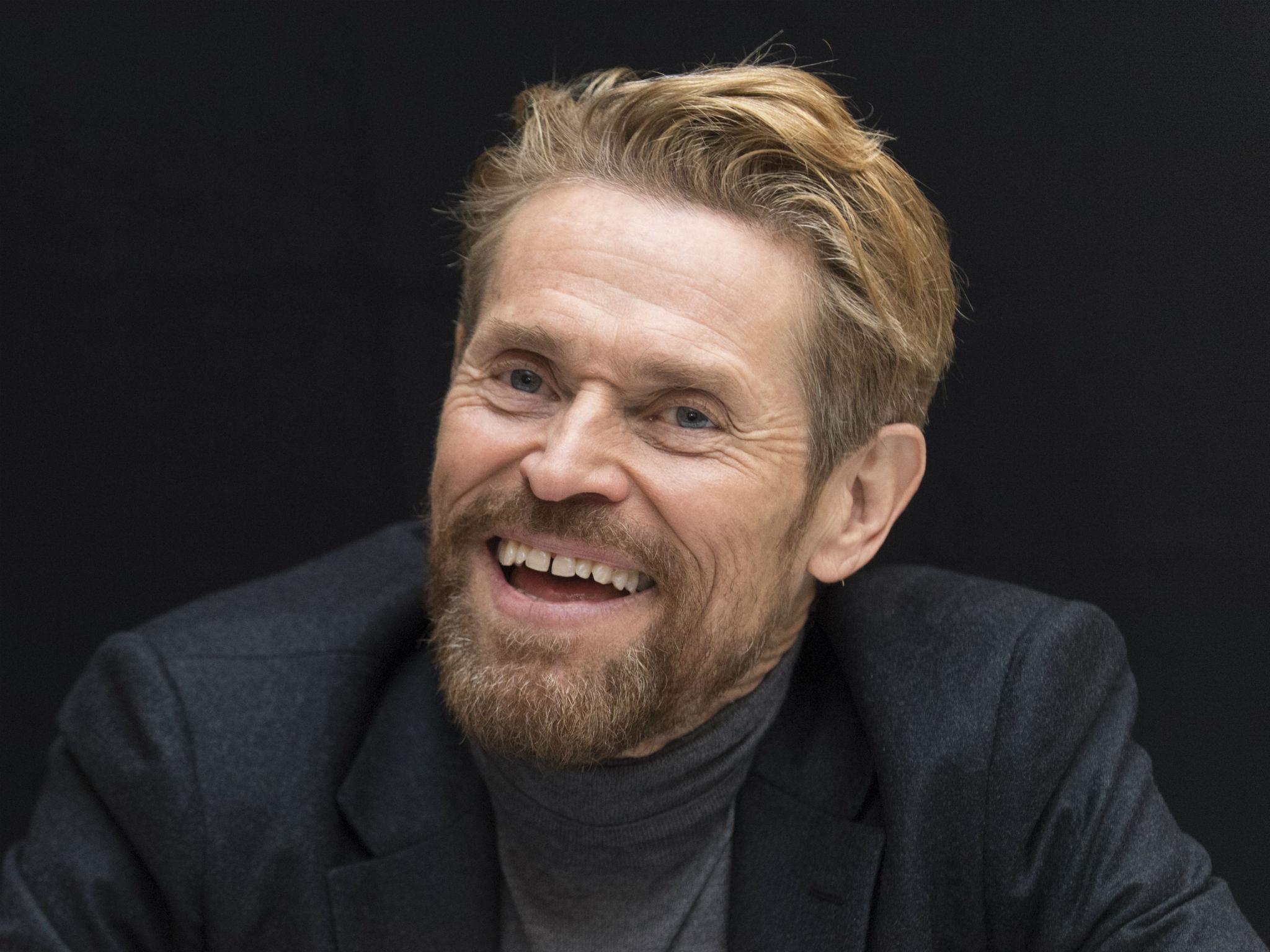 "I understand why you ask a question like that but there's no good answer."
Willem Dafoe is an actor unlike his peers. Hero, villain, historical figure – he's played them all throughout his illustrious film career kick-started with Heaven's Gate in 1981 following a career-shaping stint at the New York-based theatre company the Wooster Group.
Dafoe has starred in the past three decades' most notable films – Platoon, Mississippi Burning, The English Patient, The Grand Budapest Hotel to name but a mere few. Add to that list The Florida Project, an indie drama from director Sean Baker (Tangerine) following a mischievous young girl living in a motel with her mother (Bria Vinaite) in Kissimmee, Florida. Dafoe plays kindly manager Bobby, a role which seems to have sewn up the actor's third Oscar nomination.
The Independent spoke to the actor – a self-confessed "squirly" interviewee – who spoke candidly about his awkwardness of engaging with inquisitive journalists. "I don't want people to know what I think," he tells me. "I don't want them to have that to wade through when they see me – a part of me doesn't want them to know who I am."
It's to Dafoe's credit that he still manages to provide a fascinating insight into the inner psyche of one of the most prolific actors working today.
The Florida Project - Trailer
Firstly, what a special film to be promoting.
Yeah, the response has been good and there's stuff to talk about. It just feels special because so many of the conditions ranging from how it was made are not typical.
In what ways was it different for you as an actor being on set?
It's a combination of things – first of all, the fact that we're shooting in an actual place, an operational motel that is basically the real place that we're talking about in the story. And the management and the people that are there are living there so we're living next to them. That helps a lot. That's partly Sean's way, because he likes to mix found existing stuff with fiction. Then, of course, the composition of the performers is unconventional. You've got a lot of children, you've got a lot of first timers, you've got non-actors – it's a whole mix of people and they're all living in this community. It's a low-budget movie with a very strong script, and its very rare to have someone like Sean who's a writer a director and an editor. So I've experienced all those things before as aspects of movies but not all together at the same time.
The film's shining star is seven-year-old Brooklynn Prince.
We got lucky with her.
Her story is one in a million – what was it like working with her?
Most of the kids were just kids and didn't have a sense of performing. Brooklynn did. She wants to be an actress and her mother's an acting coach. She used words like "the business" and all that but when it comes down to it, she's precocious and very smart so you can't ignore her. But at the same time, when she got there she blended with all the other kids. Sean set it up so he made it able for them to do things and not worry about performance. I've seen her idea of being an actor blossom as we promote the film, but when were there she was a natural talent. But it wasn't as full-blown as I've seen it become since.
The scenes in which the kids are playing seem so authentic – were they just playing for real?
More or less. You tell them what the action is and they do it. That's the beauty of working with people that it's all new to – they're all in. They're not comparing it to anything, they don't have any jadedness of someone that's been around, so that's nice. Really it's my job to fit in with them, more than vice versa. The significant thing is my kind of role – I'm with them but I'm also outside, 'cause I live there too but I also wear all these different hats. It's similar to the reality of making it, of working with Sean.
Another of the film's standout performances comes from first-time actress Bria Vinite who assimilated perfectly to star in so many scenes opposite a reputable actor such as yourself.
Access unlimited streaming of movies and TV shows with Amazon Prime Video
Sign up now for a 30-day free trial
Sign up
Access unlimited streaming of movies and TV shows with Amazon Prime Video
Sign up now for a 30-day free trial
Sign up
As far as I'm concerned, the job of an actor is disappearing into the material – those are the performances that I like. Not so much that the person has transformed but that you don't think about them outside of the situation. So when I meet Bria, she's all tatted out, she's funky looking she's iconoclastic, she's got an attitude – one that most actors don't have. The truth is, I thought: "Where did they find this woman? She's not a regular actress." But I keep that to myself and after about two seconds I forget about it. Sean talks about doing rehearsals with the kids and Bria for about a month before – they came down early and practised things. But Bria, and Brooklynn, had some deep understanding of her character – an understanding of performing. Just because they haven't made movies before doesn't mean they don't know performing. They both have big personalities so they get those personas and adjusted to the situation. Sean has a nose in casting very well.
What do you think Sean Baker is bringing to cinema that's been absent?
He's a very thoughtful guy – he has a great cinema culture. He's not particularly careerist – I don't think you'll see him run off with the attention he's getting to make a big studio picture. He knows himself and knows what he needs. He's very kind and thoughtful, and knows cinema. So this technique, its not even a technique. He loves to go into worlds that he doesn't know and almost journalistically explore them initially to gather material and then make a fiction, place it in a place that really exists and then runs with it. This was a strong script but what made it really kick in was all the connecting pieces – the casting, the place...
The motel really becomes a character in the film.
Very much – and your realise you put limitations on yourself with your imagination. When I arrived I saw the colour and thought it was a little over the top and Sean said, "We didn't do it, that's the place." They'd wanted to paint it, wanted to make themselves presentable for the movie. They were very kind, these people. There are some unflattering aspects of running a motel like that but they were very generous. That kind of access they gave us, the kind of trust they gave us, it's hard to find and it really helped because they trusted us so they let us in. The mantra is their people become our people, you know? You come to understand them in a different way and then you're telling a story about people that you know because they are your people for a time. You're breaking bread with them – my dressing room is a hotel room next to people that are living there. I start hanging out with them in the morning, make small talk, they ask about the movie, they tell you their story, you tell them your story. There isn't always the opportunity to have that [working] on a movie.
You've worked with several notable directors and played an eclectic range of characters throughout your career – what is it you actually look for in a role?
I think something that engages you. Something that either presents a challenge or a pleasure or an adventure or a really compelling question that puts you in a mindset where you're like, "I don't know what this is but I'm going to find out what it is." Something that really taps into a sense of curiosity or wonder. I'd say the basic condition is to say you're going to do something you've never done before and no matter how it turns out, it's going to be interesting and if you're open to it, something's going to happen. You aren't always guaranteed what that's going to be but it's going to be something – you're not just going to make another movie, you're going to make a movie you have a stake in. You can find a stake in different ways – your commitment to doing a film like Aquaman compared to a film I'm doing now with Julian Schnabel [a biopic of artist Vincent Van Gogh] is different but you don't say one is greater than the other. They can be conditioned by different things. But don't think, for me anyway – I've always got to remember to only talk for me – I don't think you can keep doing the same thing as an actor and be free. Or at least I can't. I feel better when I'm a little – I don't want to say out of control, but yeah, I guess control's a big issue. All performing is about control and discipline versus abandon and just letting go.
So it's about continually adapting?
Yeah, and you've got to trick yourself because that's not human nature. People like to know what they're getting but you've got to trick yourself into going away from that. Right now I'm just starting a movie and I'm scared to death, but I recognise the feeling and I know the elements and that I'm attracted to it. I don't know what I'm f***ing doing but I'm doing it and in a way with the energy of someone who is struggling or trying to find their way. That's better than having conceptions of nailing it. I personally can't do that.
That's quite refreshing to hear, actually.
Well, I don't know whether I'm full of shit either. The first thing I do is identify the problem and make a challenge for yourself and whether you fall short or not, that's for you to say, not me. But I like these ideas that I'm spouting right now and I think The Florida Project bears them out a little bit, because I'm not supposed to be in this movie. Do you know what I mean?
Not really – how do you mean?
Traditional career wisdom and all that would not have me be in this movie. But I've never followed that really. You know what I'm saying?
I guess I do.
I threw it out there irresponsibly but you get what I mean. People say, "Wow, you were little crazy there – to work with kids on a low budget movie with first-time actors," this kind of thing. Well, it didn't occur to me; I saw the script and thought it was fantastic. "Hey Will, what you doing?" "I'm going to Florida to make this movie, it's about a world I don't know, I run a motel – I've never done that before." And somewhere – I didn't know it at the time – but somewhere in the making of it, certain themes were revealed to me that are important. I think I just intuited them when I read the script but I didn't known they were going to be in the movie. But that's beautiful when a thing happens like that – it encourages you to go into it a little blind. Not totally blind because Sean is clearly a good filmmaker. So you have that to reassure you a little bit. But it's a little leap of faith.
It's not an exact science.
Not for anybody. Even studio films are complicated. Particularly in the States, there's no uniformity – no uniform way to make a movie or uniform actor training. There's much more in the UK – it's much closer to something that's consistent.
How do you go from a low-budget film like The Florida Project then go onto such a huge project like Aquaman?
You're not thinking about what you're doing. It's on a case by case basis. and also, Aquaman is something you commit to – the script's in transition. You don't know when you're on shoot and then this other movie comes. I read the script, I meet the director, I can do it in my schedule. Aquaman actually precedes The Florida Project - not in the shooting but in the formation of signing on for it.
It seems – admirably – you're quite impulsive when it comes to choosing roles – and it's paid off with The Florida Project. Has it ever gone the other way?
Of course. Sometimes there's a good movie that just doesn't resonate with people – the time's wrong because of what's in the news or how they get released or a poster. There are so many things that can trigger how people enter the experience of a movie.

Have there been any films in the past you think were particularly overlooked?
Many (laughs). I've made enough.
Are there any films that you think would have fared better had they been released today?
Not many, but some. I get too self-conscious to say. If you had my filmography right now and we weren't on the clock – and I didn't have the self-consciousness state that people are going to know my inner thoughts – I would tell you. You've got to protect yourself. Also, I sometimes use these interviews to try out thinking in association with trying to promote a movie. But in some ways, I don't want people to know what I think. I don't want them to have that to wade through when they see me. A part of me doesn't want them to know who I am.
Early Oscars Best Picture Contenders 2018
Show all 15
Is it important for an actor to have that?
I don't know but it's important for me. I just think, for example, if I know someone's politics and they're repugnant to me, I have a hard time watching them in a movie. I remember one time the late Robin Williams kind of apologised about a movie that I thought he was very good in and then talked very highly about a movie I thought he was terrible in. So it's better to make them, help them the best way that you can but in terms of your private thoughts, it's much better to... I love watching movies from another culture where I don't know who the people are – I don't know if they're actors, if they're wealthy, if they have celebrity spouses. I can enter more deeply into it. I've been making movies for so long the chances are if someone sees me in a movie, they might have seen me in another movie before that conditions who they think I am. But if you can minimise that…
Do any of your many experiences working with directors stand out to you?
There are some that stick out. The more recent ones linger. You know, so much of my approach to performing and so much of my feelings about making movies comes from the theatre and many years with the Wooster Group, and also subsequent work with the theatre. It seems strange but that really shapes me.
What role would you say presented you with the biggest challenge you've faced as an actor?
It sounds stupid but I think Last Temptation [Martin Scorsese film The Last Temptation of Christ, in which he played Jesus Christ] was important because that was a movie that when I finished it, I felt so spent – not in a method actor way, in a purely physical way. It demanded a lot from me and when I was done, I was done and that was such a good feeling. There were also many things after that. And before... I really hate to [answer] because the second I say it, it seems untrue and I feel like I'm... If I sound like a squirly interview that doesn't want to commit to something, it's not so much that as I understand why you ask a question like that. it's interesting to think about but there's no good answer. It's ever-changing.
'The Florida Project' is in cinemas now
Follow Independent Culture on Facebook
Join our commenting forum
Join thought-provoking conversations, follow other Independent readers and see their replies