St Vincent interview: Annie Clark on all-female horror anthology XX, plus Danny Elfman's dead cat
We spoke to the musician about making her directorial debut with short 'The Birthday Party'
Clarisse Loughrey
Thursday 04 May 2017 14:13 Comments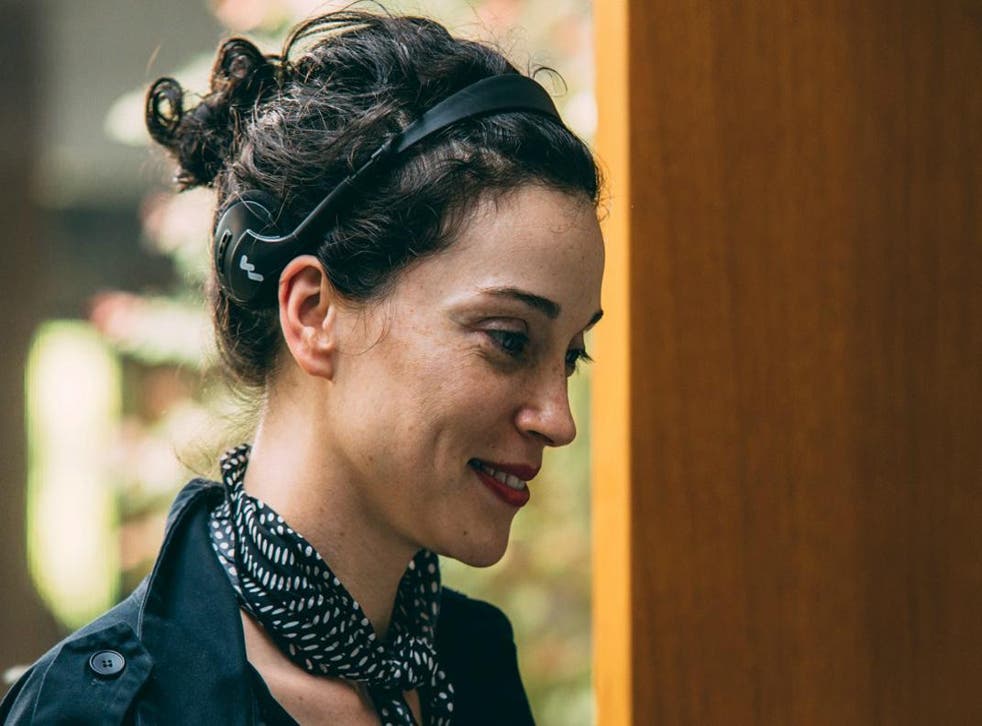 Annie Clark (aka St Vincent) has made her directorial debut as part of the all-female horror anthology XX. She also, as it happens, doesn't like horror movies.
"I really can't unsee things," she confesses over the phone. "And if I see something particularly gory, I will obsessively play it over and over in my mind and not be able to sleep. I just sort of fixate on those things. So, I intentionally avoid things like gore and sexual violence."
Any personal aversion Clark may harbour is untraceable in her XX contribution, however, as it sits comfortably alongside work from horror stalwarts Karyn Kusama, Jovanka Vuckovic, and Roxanne Benjamin.
Entitled The Birthday Party, her short is morbidly hilarious, following a frenetic housewife (Melanie Lynskey) as she attempts to hide her husband's cold, departed body in fear it may ruin her young daughter's birthday celebrations.
A piece that she wonderfully, succinctly describes as "Weekend at Bernie's meets Who's Afraid of Virginia Woolf?", though it was never originally intended as such a comedic venture. Penned alongside Benjamin, her fellow XX contributor, it started off life as this "sort of dark wood mahogany, slow-creep, self-serious kind of thing".
Halfway through, the pair realised they were actually in the midst of writing a black comedy, and an entirely new palette was born. The Birthday Party is a pristine, pastel dream, immaculate in its conception, its 1960s-flavoured wigs and dresses, its suburban mirage. Yet, something far more sinister hides within.
"Everything that you see is completely fastidious, and everything is in its right place, but you open a drawer and it's a mess," Clark explains. "This woman's so focused on creating this sweet life for her daughter and, in some way, keeping up with the Joneses, that she doesn't realise she has a Leonard Cohen rip in her robe."
"She's really trying to keep it together, but she's just going to be the whipping boy," she adds. "It's just not going to happen for her. Melanie brings so much art and humour to it, she's an absolute vision."
Indeed, Lynskey's role in The Birthday Party arrives during somewhat of a hot streak for the New Zealand actor, thanks to her riveting performance in Sundance's Grand Jury Prize winner, I Don't Feel at Home in This World Anymore. Clark, however, is a long-time fan of hers.
Access unlimited streaming of movies and TV shows with Amazon Prime Video Sign up now for a 30-day free trial
Sign up
"I thought of her for the role, but thought there was no way she would do it," she enthuses. "She's truly one of my absolute favourite actors of all time. Just on a lark, I asked her, and I was thrilled when she said, 'Of course!' and seemed legitimately excited about it!'
That said, Clark reveals Lynskey wasn't actually the biggest star on set. That honour, apparently, belonged to a taxidermy cat that features in the film and happens to be owned by the composer Danny Elfman, whose children are friends with Benjamin.
"The cat basically had its own trailer," she laughs. "You know what I mean? The cat was the most important person on set, because we were under strict orders to make sure the cat was not harmed."
XX's core philosophy lies in the promotion of female-focused, female-crafted narratives in a genre that's had a troubled history with women; Vuckovic and Kusama's pieces deal with mothers coping with supernaturally difficult children, while Benjamin's sees a group of teenagers stalked by an ancient spirit while camping out in the desert.
Though Clark's tale is female-focused only, as she sheepishly admits, coincidentally since she's "bad at reading all the way through e-mails", she still has some wise words to say about the state of the industry.
"We are all one," she says. "And there's this incredible connection between all of humanity that is deep and that is powerful. But, some experiences are not universal. So, that's why it's important to have people who have lived stories telling their own stories."
Clark conveys both a deep enthusiasm for, and literacy in, the medium of film. Yet, it's something she confesses she approached with a level of naiveté, to the point that scoring the film felt like a jump straight back into her comfort zone.
"The process of making the film was so immersive and so all-encompassing that, when it came time to do the score, I was just, like, 'Wow! Phew, I can do this! This is so easy!' I did it in, like, a day," she jokes.
"That part was just completely instinctual and, I don't want to say I just threw it together, because that's not the truth, but I was so relieved to be in a space that I knew what to do that I just did it really quickly."
Clark, of course, is far more familiar to the public by her stage name St Vincent, best known for her widely-praised, Grammy-winning, self-titled fourth solo album from 2014. "Music is a way more ethereal medium," she reflects. "As far as structure and form.'
Not that her years in the music industry proved entirely useless, as she adds: "Both mediums are deeply collaborative. I think, in so many cases, the brilliance doesn't necessarily come from one person and their exact vision. It's more about one person's ability to surround themselves with the most inspired team and, also, to motivate people. And have vision enough that people want to get behind it and execute it."
Either way, Clark confesses she's "really caught the bug, as they say". Already, she seems to be brewing plans for a follow-up, which she envisions as falling somewhere between black comedy, drama, and erotic thriller. The cinematic world would do best to gear up for a real treat.
'XX' will be released on DVD on 8 May
Register for free to continue reading
Registration is a free and easy way to support our truly independent journalism
By registering, you will also enjoy limited access to Premium articles, exclusive newsletters, commenting, and virtual events with our leading journalists
Already have an account? sign in
Join our new commenting forum
Join thought-provoking conversations, follow other Independent readers and see their replies