Interview
'I had a fantasy of a dream girl saving me from myself': Zach Braff on depression, criticism and his ex Florence Pugh
The 'Scrubs' star and writer/director behind 'Garden State' has returned with 'A Good Person', an emotive drama inspired by the tragedies that have shadowed his last four years – and starring his ex-girlfriend. He speaks to Adam White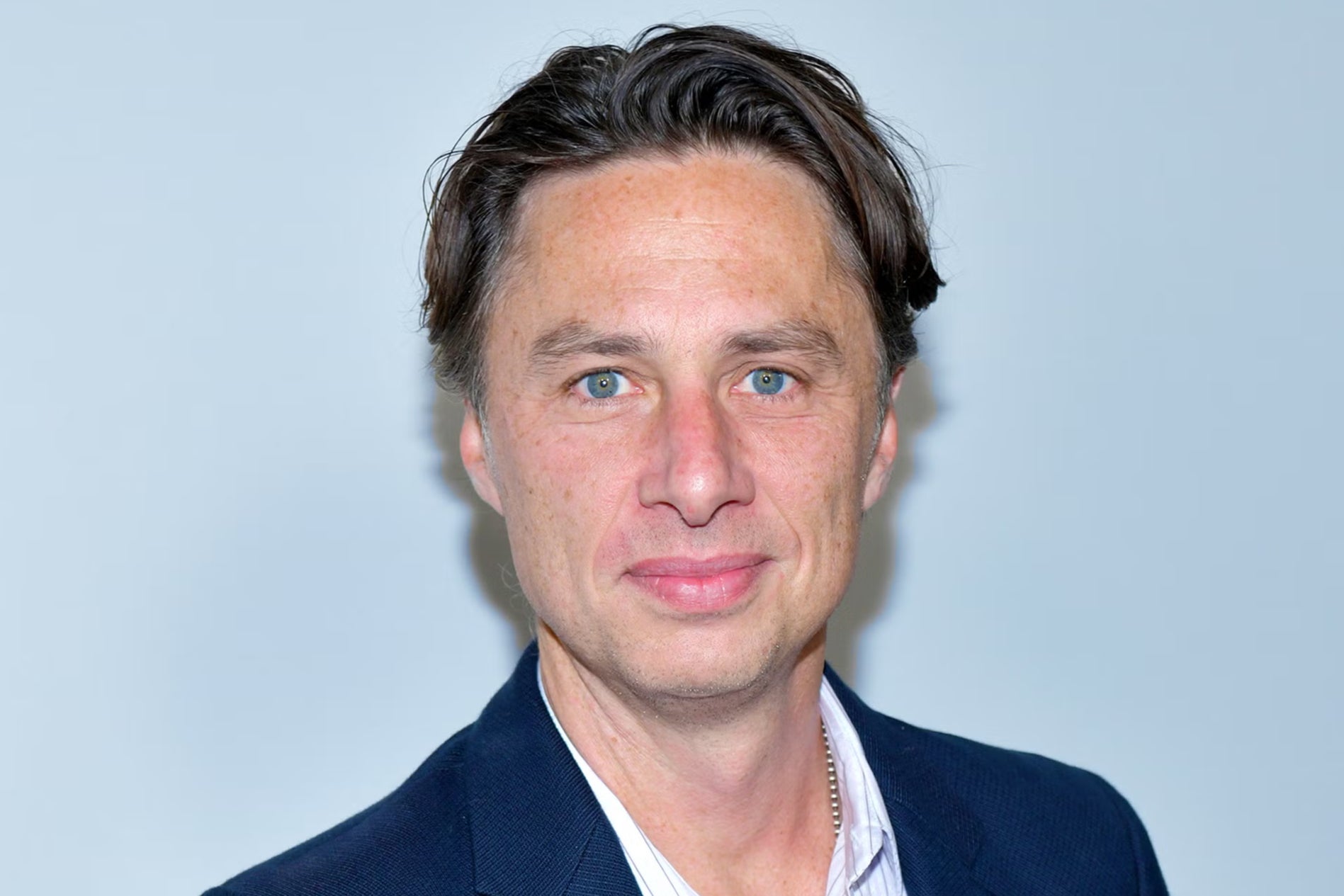 Leer en Español
Zach Braff's arms are inked in death. He stretches them out for me, his palms up. "My father abhorred tattoos," he says. "But then he died and I went kind of crazy." I see a skull. A hummingbird. The name "Chris". "My tattoos are mostly related to dying, and people that I've lost," Braff continues. He taps the man drawn mid-dance, hand raised up in the air, on his right forearm. "This is my friend Nick Cordero, who died of Covid. We did a musical together called Bullets Over Broadway, and this is the happiest I remember him." On Braff's other forearm are the words amor fati, or Latin for "to love one's fate". It's a nod to a scene in his new film, a drama about grief called A Good Person, but he says he also finds the expression "useful" day to day.
Braff is sitting opposite me in a London hotel room in loose trousers and a tight navy T-shirt. The 47-year-old actor and filmmaker is more ripped than you'd imagine – lean and wiry as opposed to the gangly daydreamer he embodied on long-running hospital comedy series Scrubs. He's also a lot more sensitive, too, with melancholy eyes and a fiddly half-smile. I once assumed the downbeat wistfulness he brought to Garden State – his seminal, divisive and once inescapable 2004 directorial debut – was more an indie-film affectation than the real him, but as he talks about the tragedies that have defined the most recent years of his life, it starts to seem authentic.
"The losses I've endured… there were so many moments where I felt like things couldn't get any worse," he sighs. Braff's sister died of a brain aneurysm in 2018. He lost his father a few months later. Then Cordero in the early stages of the pandemic, while he, his wife Amanda and their baby son were temporarily living in the guesthouse of Braff's Los Angeles home. Finally, last year, he lost to suicide his long-time manager Chris Huvane. So much pain made the rare moments of levity that much sweeter.
Sat in a hospital waiting room after his sister's aneurysm, Braff remembers his father saying something "he [didn't] think was meant to be funny, and we'd all start belly laughing – it's just this giant f***ing release". Braff started writing about that feeling, trying to dramatise both his grief and the scramble for those unexpected tunnels of light. What he ended up with was A Good Person, which approaches irrational tragedy with a sometimes comic lightness. "When we talk about grief and addiction, it can be maudlin. It can be too much. But if you can find the humour in it, that's how you can affect people."
The film stars Florence Pugh as Allison, a pharmaceutical rep with a Disney prince of a fiancé and a talent for singing and songwriting, whose aspirational life in a New Jersey suburb comes crashing down after she's involved in a fatal car accident. We catch up with her a year later, wherein she's depressed, estranged from her fiancé and addicted to opioids. Morgan Freeman plays her almost father-in-law, who commits to trying to help her. "A lot of times when grief happens, tragedy happens," Braff says. "Human beings reach for anything to numb the pain. So it just felt like something pretty universal. Everyone knows someone who's an addict, and everyone can tap into those feelings of wanting to help them."
Of course, it's impossible not to acknowledge the Pugh of it all. She and Braff were a couple between 2019 and 2022, their relationship trailed by online criticism over their 21-year age gap. In early 2020, abuse hurled at Braff became so rabid that Pugh recorded an Instagram video to condemn it. "I do not need you to tell me who I should and should not love," she said. The pair shot A Good Person soon after and split some time last year. A few minutes before I meet Braff, I'm told that any questions related to his personal life are strictly off-limits. It's surprising, both as their relationship was so intertwined with the film's development, but also because of Pugh's willingness to talk about Braff and their break-up in her own recent interviews. Make of that what you will.
Braff speaks of Pugh effusively on his own terms. "I wrote A Good Person for Florence," he says. "And because Florence was my partner at the time and… she's just…" He trails off. "I mean, all of her talent! I was like, 'I've gotta write something for her'." The temperature of the room shifts a little once I lead a conversation about her, though. I say that I'm glad he's doing press for the film and is proud of it, as I'd understand if they both chose to slightly bury it. "Why would it be buried?" he asks. Because it feels so intimate, I suggest, and created by the two of you at a very different time, and in a different context. "Do you have stories that you know of where a couple was dating and then they stopped dating and then they shelved the movie?" Well, not really. But I'd understand if a one-time couple found it too painful. Braff's publicist, previously typing away on a laptop in the bathroom of the hotel suite we're in, stands up and rests in the doorway ready to pounce. "We're both really proud of the movie," Braff continues. "We both want everyone to see it, so we're both promoting it and doing everything we can to get it out there." (Pugh and Braff would pose alongside one another at the film's London premiere a few hours later.)
There is – like Brad Pitt and Angelina Jolie in Mr & Mrs Smith or Ben Affleck and Jennifer Lopez in Gigli before it – a voyeuristic thrill to watching a famous couple collaborate on a film together, and it certainly powers A Good Person. Braff has provided Pugh with a total showcase. She gets long monologues, musical performances, big scenes of mania and pill popping. She is, as anyone who's seen her in films such as Midsommar or Little Women will know, brilliant. But divorced from all of that, A Good Person is also quietly lovely, a drama for adults that feels assured and tender. Allison, too, is full and complex in a way that Braff's female characters haven't always been.
I'm talking, of course, about Natalie Portman in Garden State. A quirky pathological liar with epilepsy, big headphones and The Shins playing on her Walkman, Sam meets struggling actor Andy (played by Braff) in a hospital waiting room, and slowly pulls him out of his funk. She was also the OG Manic Pixie Dream Girl – a term coined by film critic Nathan Rabin in 2007 to describe female love interests with no discernible inner life but for some reason a desperate need to make sad leading men feel better about themselves. Garden State is by no means the worst offender of the trope – Sam's apparent awfulness, like the hate for Garden State in general, has been wildly overstated – but the association stuck.
Access unlimited streaming of movies and TV shows with Amazon Prime Video
Sign up now for a 30-day free trial
Sign up
Access unlimited streaming of movies and TV shows with Amazon Prime Video
Sign up now for a 30-day free trial
Sign up
"I was just copying Diane Keaton in Annie Hall and Ruth Gordon in Harold and Maude," Braff says. "Those were my two favourite movies growing up, and I was kind of taking those two female protagonists and melding them into Natalie Portman. Of course I've heard and respect the criticism, but…" He pauses. "I was a very depressed young man who had this fantasy of a dream girl coming along and saving me from myself," he continues, bluntly. "And so I wrote that character."
Did he know back then that he was depressed? "Oh, I've known my whole life. I had OCD as a child. I knew I was battling something. That's what writing Garden State was about. I wasn't as extreme as Andy, but I was certainly battling my own demons. As I was writing it, I was hoping I could survive what became known as the quarter-life crisis, and depression, and fantasising that the perfect woman would come along and rescue me."
The criticism must have stung, then, I suggest – this was a movie that wasn't about him per se, but Braff and Andy were certainly similar. The film was warmly embraced upon release – it was a Sundance sensation, with a visual aesthetic and mid-tempo indie-rock soundtrack that came to define Noughties independent cinema – but that eventually began to turn. "It's the 10-year anniversary of realising Garden State sucked", went the headline for a Vice article in 2015. Did it bother him? He winces. "I mean, I just feel lucky that I get to make stuff. I can't really dwell on it. Anyone who's ever got a bad grade on an essay from a teacher can relate – just imagine it was out there in public, you know?" He thumbs his chin. "No one said being a creative person was easy, but you have to be vulnerable and authentically yourself. Otherwise, what's the point?" When it comes to other people's judgement in general, he thinks he's become inured to it. "Your skin gets tougher. When you're young, you're very vulnerable. But I've been doing this for 20 years now. You get used to it."
A Good Person was shot in Braff's hometown of South Orange, New Jersey, much like Garden State. "This felt like bringing two incredible actors back home to make a movie," he jokes. He shot scenes on the football field he played on as a teenager, and in his old high school. One day he texted photos to his friends of Morgan Freeman hanging out in what used to be his old principal's office.
"That town made me what I am," he says. "You're in this bubble, where some people don't leave, and others do. So there's this interesting energy, of a town with a direct line to infinite possibility." From his early teens he'd hop on the 25-minute commuter train to Manhattan to audition for acting gigs, landing a TV pilot at age 14, a Broadway play at 22, Scrubs at 26, and then writing and directing Garden State at 29. In A Good Person, characters endlessly valorise the big city and its potential, separating off those who leave and those who stay. Braff didn't anticipate the specifics of his life, the accolades or the tragedies, but he knew he'd be one of the ones that got out.
"I knew I was going to make movies and be an actor," he says. "I knew I wouldn't be living in South Orange. I knew I'd be the guy that got on the train."
'A Good Person' is in cinemas from 24 March, and is available on Sky Cinema from 28 April
Join our commenting forum
Join thought-provoking conversations, follow other Independent readers and see their replies