Fifty Shades of Grey London movie premiere picketed by domestic violence protesters
As stars walked the red carpet, demonstrators claimed that the film glorified abusive relationships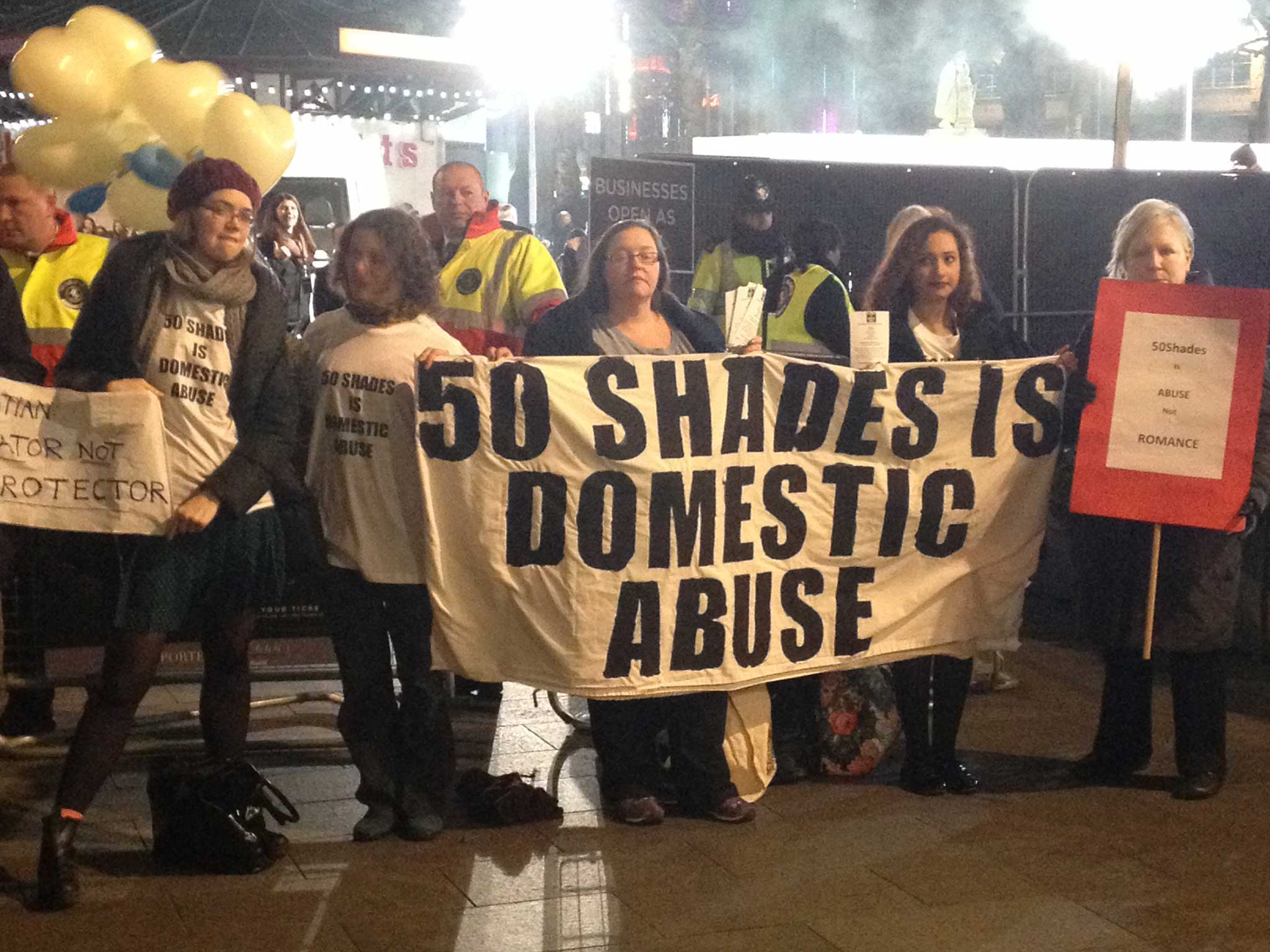 Protesters picketed the London premiere of Fifty Shades of Grey last night, claiming the light bondage film glorified domestic abuse.
A handful of protesters gathered outside the Leicester Square cinema yesterday evening as star Jamie Dornan, Dakota Johnson and director Sam Taylor Johnson walked the red carpet.
Brandishing signs such as "#FiftyShadesofBlue because not all Ana's survive their Christians" protesters claim that the film – based on EL James' bestseller – dangerously romanticises the notion a woman can fix a damaged man.
Another group of protesters were removed after they unfurled a banner claiming: "Christian Grey is a rapist."
However, director Mrs Taylor Johnson defended the film's direction, telling The Independent: ""I think they really need to see the film before they judge it. It's very important to understand that we did empower this character and that everything that she does in her sexual exploration is done willingly and consensually."
She continued: "[Empowering Anastasia] was something Dakota and I finessed along the way. We were on-set thinking 'how do we feel as two strong women about saying this'. I'm proud of where we got to."
The protesters were spearheaded by the group, '50 Shades Is Abuse', started two and half years ago by Natalie Collins.
Ms Collins told Yahoo news that she protested because she wanted women to have a "voice".
Fifty Shades of Grey film stills
Show all 24
She added: "The campaign doesn't aim to censor the film, we just want to create a presence that's offering a different perspective".
The group has had to clarify they are not opposed to BDSM, insisting their objections with the film lie with the portrayal of Christian Grey and his relationship with Ana's character.
"One article on our protest tonight wrong suggest we're conflating BDSM with abuse. This is of course untrue," the group posted on Twitter last night.
They added: "We're ANTI censorship, NOT anti BDSM, but very much PRO awareness raising."
Join our commenting forum
Join thought-provoking conversations, follow other Independent readers and see their replies