Guillermo del Toro's house of horrors: 'My wife likes it. My children are ambivalent, at best'
The public will soon get their first glimpse of the Mexican fantasy maestro's vast hoard of art, books and movie memorabilia at a new exhibition in LA. But, the director tells Tim Walker, sending his monstrous collection out into the world – if only temporarily – has been 'absolutely horrible'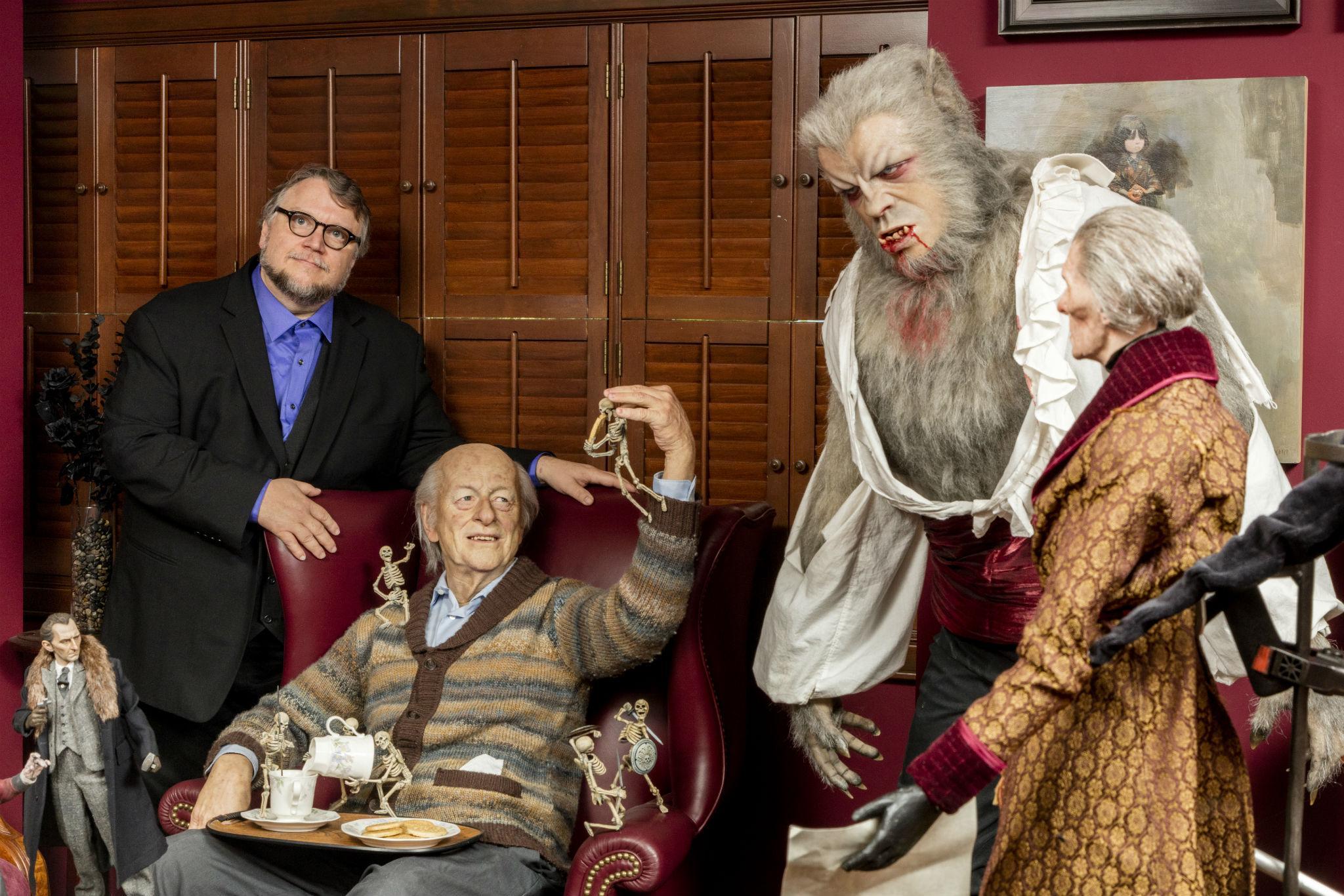 When Guillermo del Toro was a child growing up in Guadalajara, his mother bought him and each of his siblings a desk. "Mine was a fake Victorian writing desk," he recalls. "I kept my comic books in the drawers, my books and horror action figures on the shelves, and my writing and drawing stuff on the desk. I guess that was the first, smallest version of my collection."
The Mexican director of Hellboy, Pacific Rim and Crimson Peak has since created an onscreen menagerie of monsters and mythical creatures more distinctive than any other modern fantasy filmmaker. Meanwhile, back in the real world, he has also spent a lifetime amassing a vast physical collection of strange and wonderful memorabilia.
Today, the desk is at his family residence in Los Angeles, but the collection is kept nearby, in two adjoining homes filled with more than 10,000 books, toys, artworks, movie props and other macabre artefacts. A reference library, a private museum, a place for the muse to strike, Del Toro calls his spooky second home, "Bleak House", after the Dickens novel.
Following the success of his Oscar-winning 2006 masterpiece, Pan's Labyrinth, the 51-year-old tells The Independent, "The collection just kept expanding. It took up four rooms in our house, and it started to get very cramped. I didn't want to keep it in piles. I wanted to have the books classified, the art hung and so forth. So, around 2006, I bought the first of the two houses that are now Bleak House. It took me four years to organise."
From this weekend, fans will finally be able to see Del Toro's selected curiosities for themselves, as a new exhibition, Guillermo del Toro: At Home with Monsters, opens at the Los Angeles County Museum of Art (LACMA). Del Toro has lent the museum more than 400 artefacts from Bleak House, providing an autobiographical snapshot of his unearthly obsessions.
Among the objects on display is a stuffed werewolf he made when he was seven years old – a year before he first picked up his father's Super-8 camera and started shooting film. There are props and other items from his movies including Pacific Rim, Pan's Labyrinth, The Devil's Backbone and the TV horror series The Strain. There are original works by artists including HR Giger, Edward Gorey, Arthur Rackham, Robert Crumb and Moebius.
Perhaps the pièce de résistance is the huge Frankenstein head that would normally loom over Del Toro's entrance hall. The items on show at LACMA are just the tip of the iceberg, he says. "It's maybe 10 per cent of what is in the house. The house still looks very full but, to me, a shelf that has books on it without having action figures too is an empty shelf!"
Del Toro is currently in production on his next film, The Shape of Water, a supernatural romance set during the Cold War. He remains intimately involved in The Strain, which he co-created based on his own trilogy of vampire novels. He is producing a sequel to Pacific Rim, and a stage musical version of Pan's Labyrinth. "I am trying to ease back on the multiple projects because it makes me very neurotic, and it doesn't allow me a lot of downtime," he says.
Fortunately, Bleak House is not a distraction from work; it's his most valuable resource. He writes in the "rain room", which features a false window designed to appear as if a storm outside is battering the panes – a shortcut to the melancholy fantasy worlds in which his movies take place. The building houses a collection of 7,000 Blu-Ray and DVD movies, and 13 different library rooms, each containing books from a specific subject area.
Access unlimited streaming of movies and TV shows with Amazon Prime Video
Sign up now for a 30-day free trial
Sign up
Access unlimited streaming of movies and TV shows with Amazon Prime Video
Sign up now for a 30-day free trial
Sign up
Guillermo Del Toro's Bleak House
Show all 6
"It is a working library," the director says. "When we were designing the creatures for Pacific Rim, I would go upstairs to the shelves with natural history stuff and grab photos of sharks or monsters of the deep. When we were designing Allerdale Hall [the haunted house in Crimson Peak], I had books on Victorian architecture."
Del Toro estimates he spends 90 per cent of his time at Bleak House alone, kept company by waxworks of his favourite historical and fictional inspirations, including Edgar Allan Poe and the early 20th-century horror author HP Lovecraft (the filmmaker's likely doomed passion project is an adaptation of Lovecraft's novella, At the Mountains of Madness).
"To start with, I had somebody come to help me do the dusting every week, but they broke a few sculptures that I haven't been able to replace, so I don't do that anymore. There's one sculpture they broke the finger off, and it's glued but there's a hairline crack on the finger, and every time I walk by it, I think of that crack."
His family has a love-hate relationship with his collection, he admits. "My wife likes it. We stay at Bleak House when we are in LA together. But my children are, at best, ambivalent. My younger daughter doesn't like it – she finds the monsters too scary."
After leaving LA at the end of November, the exhibition is due to travel on to the Minneapolis Institute of Art and the Art Gallery of Ontario in Toronto. Del Toro was previously in talks to allow the tour to continue, taking his collection to Mexico City, Paris, Barcelona and London. But fans in those cities may now be disappointed.
"I felt very cheerful about the exhibit in the abstract," he says. "But on the day they actually came to the house and took the objects away, it was gutting. I stopped all the talks. I said, 'I don't want it to travel any more.' I don't want to go four years without my stuff. There are certain figures in the house that I just like looking at. It makes me happy to see them every day. When I go in and the giant Frankenstein head isn't there, it's absolutely horrible."
Join our commenting forum
Join thought-provoking conversations, follow other Independent readers and see their replies