Jamie Dornan interview: 'I'd like to know why I was cast as a murdering psychopath'
Jamie Dornan stars alongside Gillian Anderson in The Fall, BBC2's most watched drama in over a decade, back for series three this week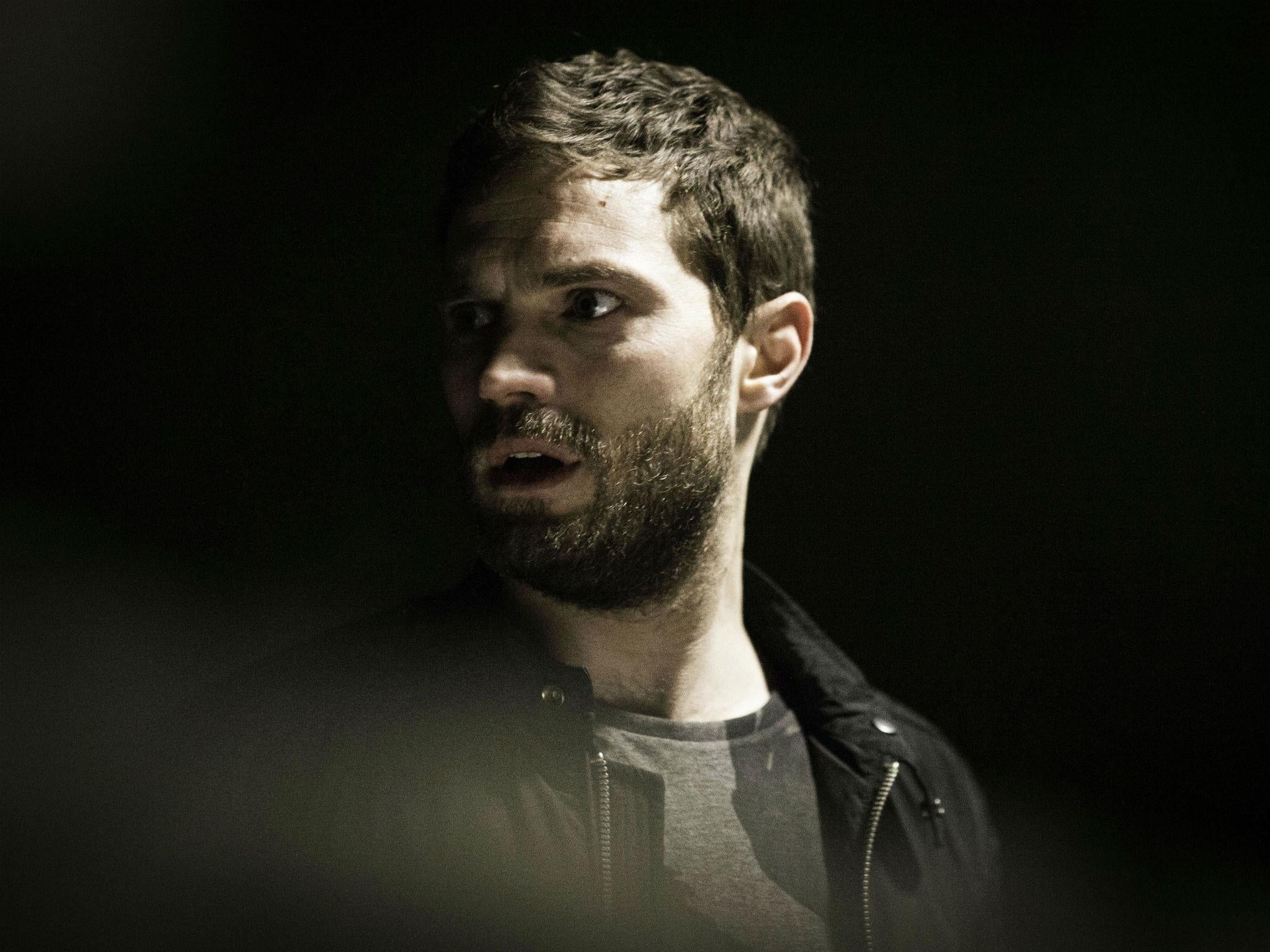 "What does The Fall need to do in series three?", asked a newspaper think-piece earlier this year, before the journalist provided his own answer. "Kill Jamie Dornan!".
"Charming", laughs Dornan, who plays the serial murderer Paul Spector, a broodingly handsome family man who has been stalking and strangling brunettes (his speciality) across Belfast for two series of BBC2's most watched drama in over a decade.
Hunting him has been Detective Superintendent Stella Gibson (played by Gillian Anderson), who, at the end of series two, finally seemed to have nabbed her man – although Spector was inconveniently gunned down by an aggrieved former client (rather splendidly, Spector worked as a bereavement counsellor) that left him lying in Gibson's arms, his blood spreading across her trademark silk blouse.
Now, fairly obviously, Spector will survive – albeit after an opening episode that is more akin to a particularly gory episode of Jed Mercurio's medical drama, Critical – for otherwise we wouldn't have a satisfactory conclusion to this particular game of cat-and-mouse. But finally incarcerated, can The Fall still generate enough suspense?
The publicist sitting in on the interview gives a little yelp as we stray into spoiler territory, but Dornan is willing to give my question a shot. "A way of answering it would be... he will do whatever it takes to stay in control of the situation," says the 34-year-old actor from Co Down in Northern Ireland. "And as much as he's caught and in police custody, he hasn't been convicted of anything, so that in itself brings up a lot of interesting prospects."
And what it also means is more scenes like the 20-minute two-hander between Anderson and Dornan in the final episode of series two, which Dornan describes as "maybe my favourite day of work ever". Eleven episodes in, it was also virtually the first screen time that the two stars of The Fall actually got to share.
"After the first series people would come up to me and say, 'I love The Fall... what's Gillian Anderson like to work with?'" remarks Dornan. "And I'd say, 'I've no idea...'
"I saw her three times during the first series: the read-through, one moment we had in the corridor of the police station, and then one day in the make-up trailer when she was working in the morning and I was working in the afternoon. Generally it was either a 'Jamie day' or a 'Gillian day', and Gillian has a young family as do I, so any time off I wasn't in Belfast, I was back with my family. We didn't see each other at all until we did all this press together and getting to know each other in the joint interviews."
Dornan is married to actress Amelia Warner, and they have two children aged two and six months. He says that Warner "knows it's just a job" and isn't fazed by the idea that her husband has become a star on the back of two roles that see him cast as a sexually-motivated serial killer and (in Fifty Shades of Grey and its already filmed sequels, Fifty Shades Darker and Fifty Shades Freed) as BDSM spanker Christian Grey.
Access unlimited streaming of movies and TV shows with Amazon Prime Video
Sign up now for a 30-day free trial
Sign up
Access unlimited streaming of movies and TV shows with Amazon Prime Video
Sign up now for a 30-day free trial
Sign up
As to what the creator, writer and (later) director of The Fall, Allan Cubitt saw in Dornan to cast him as Paul Spector, the actor says he is unsure. "I would like to know the answer to that one too," he laughs in his agreeably self-deprecating manner.
Cubbitt himself says he went out on a limb to cast Dornan – even telling the BBC that without him there would be no show. "Jamie hadn't done a massive amount and there were other names floating about, but I was absolutely convinced that we had our Spector," Cubbitt tells me. "I got very vociferous about it and said, 'if it's not Jamie than we don't have anyone'. And I sent the tape off to Gillian and said, 'I think we've found our Spector and she e-mailed me back to say 'Hoorah... we absolutely have'. So that was a very useful help in my argument."
An important difference between Dornan and the other actors during the six-hour audition came when he had to play Spector as a family man. He was apparently alone in portraying him as a normal loving father.
"I think it would be wrong to play him entirely as a monster," says Dornan. "One of the things that makes Spector compelling is that there are relatable aspects to him... there are no undercurrents of menace in those moments because it's a father talking to his daughter."
The actor's compellingly inscrutable performance has been the making of him – and almost certainly led directly to the Fifty Shades franchise, during which he also found time to co-star with Cillian Murphy in the film Anthropoid, about the wartime assassination by Czech resistance fighters of SS General Reinhard Heydrich in 1942.
He's also filmed the upcoming Netflix drama The Siege of Jadotville, about a courageous real-life defence by Irish UN soldiers besieged during a 1961 civil war in Central Africa. And he is reported to be in talks to play Will Scarlett in the upcoming Sherwood Forest epic Robin Hood: Origins, in which Taron Egerton takes the title role and Jamie Foxx portrays Little John.
It's all a long way from Dornan's days as a highly-paid model, most famously posing with Kate Moss in nothing but Calvin Klein jeans. "I hated it... I might as well as say that now," he comments of his job as a much sought-after mannequin. The work has however left him sanguine on the subject of objectification, a subject that has of late exercised other objects of the female gaze, Kit Harrington and Henry Cavill.
"Scenes like that are written often with an eye to attracting attention and gaining viewers," he says. "I'm only thinking of Poldark here because on the train yesterday morning there was a whole bloody thing about Aidan Turner's body and I've been in that situation before myself with people focusing on that instead of anything else."
Dornan feels "bitter-sweet" about bidding farewell to his career-making role as Spector. "It feels like a very appropriate and natural conclusion to the story," he says. "It would have been very hard to continue the Gibson-Spector dynamic beyond a third series – especially considering as he is not even loose. And even if he was, and he was still killing people and she couldn't catch him, that would get pretty tiresome after a while."
Gillian Anderson has stated her desire to return to the role of Stella Gibson at a later date. What would Dornan feel about The Fall without his involvement? "I would definitely watch it," he says. "I'd probably get a job as a runner, or make people tea, just hang out. It's a job that means a lot to me and a mainly Irish crew who have become family over four-and-a-half years. On the other hand, not have to inhabit the mind of someone so horrific will maybe be a bit of a relief."
The Fall returns to BBC2 at 9pm on Thursday 29 September
Join our commenting forum
Join thought-provoking conversations, follow other Independent readers and see their replies