Luke Hemsworth interview: How Westworld landed him the acting career that he thought he'd lost
'I don't think I ever saw acting as an actual career, until late', he tells Kaleem Aftab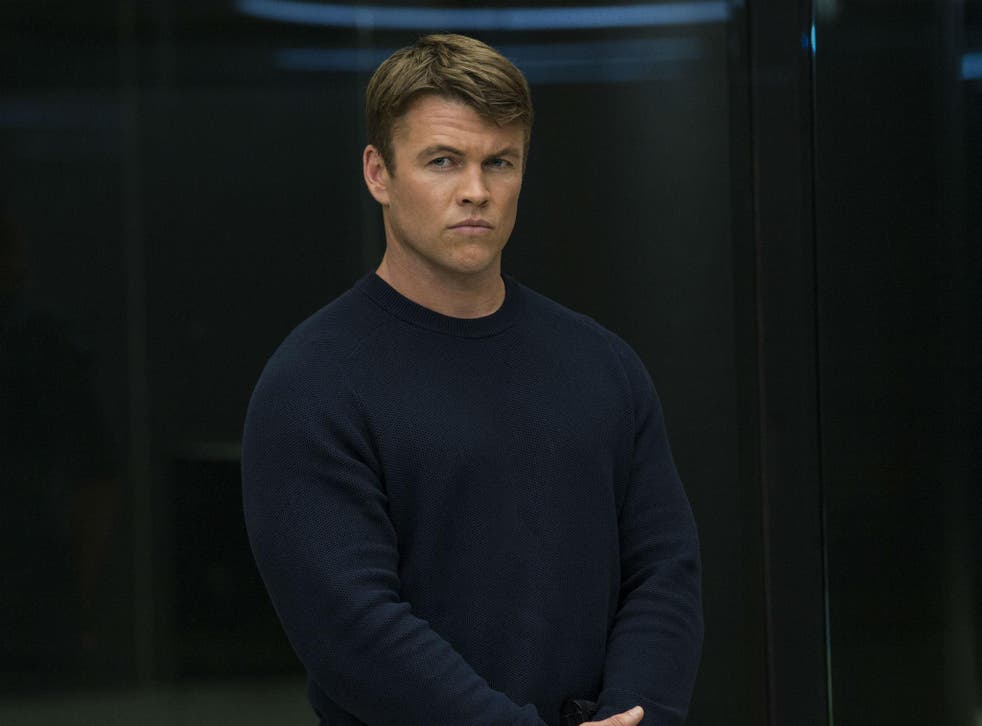 Westworld is the place that people go to live out their fantasies. The Golden Globe-nominated show is also where Luke Hemsworth, who plays Westworld's head of security Ashley Stubbs, landed the acting career that appeared to have previously slipped away from him. It seems you can get what you wish for.
For years, the eldest of the Hemsworth brothers looked on as doors opened in the acting world for his younger brothers, Thor star Chris, and The Dressmaker lead Liam. While they journeyed to Hollywood, the eldest Hemsworth took on a labouring job following in his grandfather's footsteps in Australia.
"I don't think I ever saw acting as an actual career, until late. Chris was much different," the 36-year-old Australian tells me at the Dubai Film Festival. "That's why I went down the road of getting a trade and doing flooring and supporting myself that way, because I never really saw coming to Los Angeles as an option."
From a young age, all Luke wanted to do was play. He was a keen sportsman, who would spend his time in the water surfing or playing water polo. Viewing a nine to five job as anathema, he wanted a career that would not involve an office. He saw potential in acting as, "I like making people laugh, so drama was never a big leap for me."
He trained at the National Institute of Dramatic Art in Melbourne before graduating to the set of Neighbours. Yet he never quite got that defining role and by the time he was 27, with the first of his four children on the way with wife Samantha, he decided to turn his back on acting.
"By that stage I had been in the acting industry and did a whole bunch of stuff and never quite cracked it in the way that I needed to have a career and be able to support myself," he recalls. Waiting for directors to call action often broke his spirit: "I was in a dark place and it had to do with the fact that things had not gone in a direction I thought that they would."
He would have given up acting had it not been for the success and generosity of his younger brothers, especially Chris: "I went and worked on Thor 2, as his personal trainer."
We laugh. Comparing the physique of Luke, shorter than his brothers, more stocky in build than lithe athlete, it's hard to believe that Thor would need training from this man seated in a borrowed three-piece grey Dolce and Gabbana suit. Luke admits, "I had very little experience [as a personal trainer]. But what I lacked in experience, I made up for in dedication."
So he moved his family to London, where Thor 2 was filming. He was paid extremely handsomely, which enabled him to relocate with his four children to Los Angeles, moving into a house bought for him by his two younger brothers. None of this surprises me, as I'd previously been told how the middle Hemsworth had used the money from his first Marvel movie to buy his parents a house.
Access unlimited streaming of movies and TV shows with Amazon Prime Video Sign up now for a 30-day free trial
Sign up
When I mention this to Luke, he has to hold back the tears. Taking off his sunglasses for the first time in the Dubai sun, he mumbles, "Yeah. Oh it makes me so emotional. I still remember it because I had to keep a secret. He'd transferred the money to our parents' bank account and I had to tell my mum to look. I'll never forget watching my mum open up her online banking page."
In terms of acting royalty it's middle brother Chris who is king. It can be an odd situation for an elder brother to have to look to his younger kin for support. But it's perfectly in keeping with the straightforward friendly attitude of the Westworld star that he sees it as a gift rather than something to begrudge.
"Chris has been in the industry for so long, and he's been a part of so many incredible productions and issues, and I can't help but look up to him and ask for advice, just seeing him be able to do that, to watch that."
Getting to Los Angeles was only the start of the battle. Hollywood is not famous for handing out roles because you're someone's brother. Nothing came easy. Even Westworld was a battle in which he had to face rejection before finally coming out on top. He first went to audition for gunslinger Teddy, a role that went to James Marsden. The months passed by, and actors of the calibre of Thandie Newton, Ed Harris, Sir Anthony Hopkins and Jeffrey Wright joined the cast.
Then came the call asking if he would be interested in taking on the role of Stubbs. "I think I only did one more audition after that, and sealed the deal," says Hemsworth. "It's a beautiful jumping off point. I'm not carrying the show so I've not got that pressure. It's an incredible feeling and a great introduction to an American production."
He says that the personality of the character was tailor made for him. "There is not a lot of hefty research that I had to do to play Stubbs. There is a lot of stuff that is quite close to me, there is a physical presence, there is an intellect, there is a wry sense of humour, and a sardonicism. Yeah, I think it's played quite close to my heart, this character. Maybe that is the answer," he states, laughing as he demeans himself.
The desire to keep people safe comes from his father. "He hates bullies. So does my mum. They are both champions of the underdog. My dad has spent 20 years of his life working in child protection and writing policy for organisations across Australia in order to recognise and safeguard against abuse. I think their influence is on all of us. We all don't suffer fools and we are very quick to defend someone."
Trying to get information out of him about the next season and discover if Stubbs will escape from a hostile tribe is like trying to find surf in the Dead Sea. Not that Hemsworth is trying to hide anything; he genuinely doesn't seem to know. He didn't even know what the big reveal in the finale of Westworld was going to be until it happened: "They [the show's creators] are very open to a point but they like to keep everything close to their chest. There is a lot of cloak and daggers and misdirection. And it's great on their part. No one knew that Jeffrey was disguised."
There will be a long gap before they start shooting season 2, which is not due to air until 2018. "They are trying to get it right. They don't want to go in doing what they were doing last time where they were under the cosh the whole time. They want to go in with a clear plan – A to Z and everything in between – at least have drafts in place."
In between times, and unlike in the show, Hemsworth finally gets to play a cowboy. He is the lead role in western Abilene, playing Wild Bill Hickok alongside Kris Kristofferson and Bruce Dern. "It's a film about Hickok's life just before he went to Deadwood and was shot in the back," says Hemsworth. "It's the first time that I've been number one on the call sheet. It was all last minute, and there was some trepidation over whether I could do it and learn the amount of material I needed to in the short time available. There was a lot of material – it's quite wordy, there is horse riding, shooting guns, but the scary stuff is what excited me."
Abilene will be out in 2017 and Westworld will be available on DVD in 2017
Register for free to continue reading
Registration is a free and easy way to support our truly independent journalism
By registering, you will also enjoy limited access to Premium articles, exclusive newsletters, commenting, and virtual events with our leading journalists
Already have an account? sign in
Register for free to continue reading
Registration is a free and easy way to support our truly independent journalism
By registering, you will also enjoy limited access to Premium articles, exclusive newsletters, commenting, and virtual events with our leading journalists
Already have an account? sign in
Join our new commenting forum
Join thought-provoking conversations, follow other Independent readers and see their replies