Mike Leigh interview: 'Intelligent, working people voted for Brexit – but what role did the truth play?'
The Peterloo director talks to Alexandra Pollard about political deception, his refusal to compromise, and the kind of world he's leaving his grandson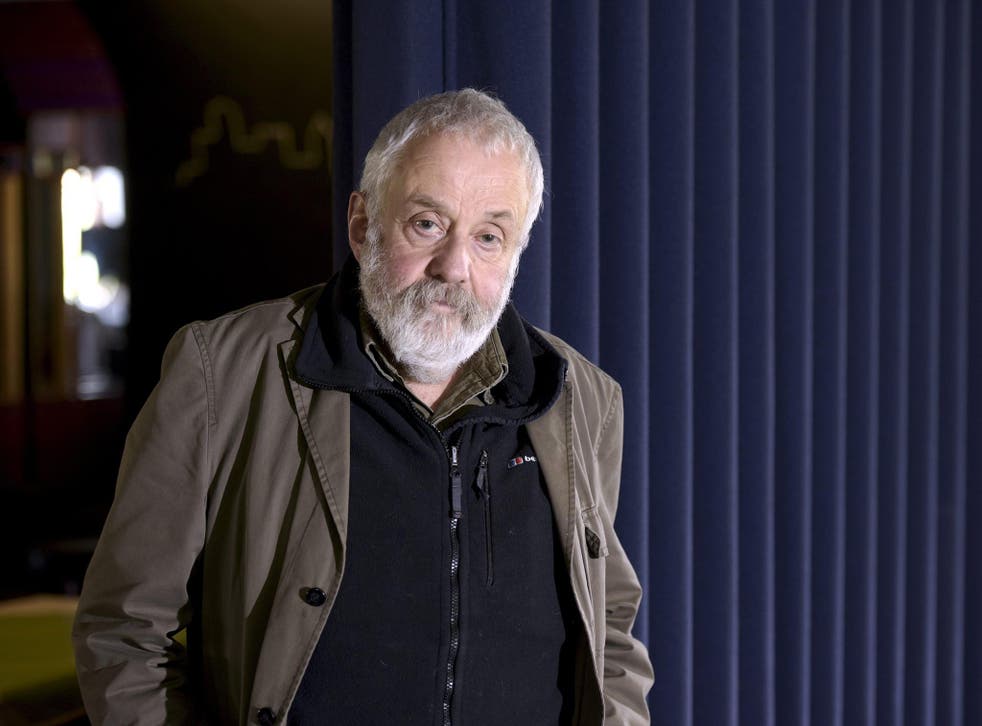 Until now, Mike Leigh has been something of a film festival darling. In 1993, the British filmmaker won the Best Director award at Cannes for his black tragicomedy Naked. His next film, 1996's Secrets & Lies, earned him the festival's even more illustrious Palme d'Or, and the following year, he was chosen to be on the jury. In 1999, his Gilbert & Sullivan drama Topsy-Turvy was given the coveted centrepiece position at the New York Film Festival, and in 2012, he was the president of the Berlin International Film Festival jury. And yet, despite his decorated past, Leigh's new film Peterloo ­– his grandest and most expensive project to date – was flat-out rejected by most festival gatekeepers.
"As far as Cannes is concerned, it's not a red carpet type of a film," Leigh concedes, playing with the zip of his fleece vest – the same black Berghaus fleece vest he's sporting in every other photo of him on the internet, and into which he is nestled in a sort of permanent shrug.
We're in an office room in Soho. Leigh only just made it in time – his plane back to London from a screening in Edinburgh was several hours delayed – but rather than possessing the harassed demeanour a late flight usually warrants, the 75-year-old from Salford seems unruffled. "I mean, we went to Venice [Film Festival] with Peterloo, and Maxine Peake showed up in a nice frock, but she doesn't actually carry the film, and she wouldn't claim to. As to why it was rejected by the New York Film Festival… that's a different matter entirely. In a way, that's more outrageous."
True, a two-and-a-half-hour ensemble film about a political rally in Manchester isn't, on the face of it, the sexiest sell. But Leigh – who earned a name for himself in the Seventies with his low-key style of "kitchen sink realism", before branching out into more explicitly political and historical territory with the likes of 2004's illegal abortionist drama Vera Drake – is rightly adamant that his film deserves to be seen. Not least in order to rectify the Peterloo Massacre's position as a footnote in classrooms and history books.
Peterloo official trailer
"What is remarkable for me is that people in Manchester and the northwest are proud of our socialist history," he says. "And yet, Peterloo wasn't really talked about." He grew up 15 minutes from St Peter's Field, the site at which 60,000 people gathered peacefully in 1819 to demand parliamentary reform, only to be swiftly attacked by the yeomanry, who charged into the crowd brandishing sabres, killing 15 people and injuring hundreds. But he wasn't taught about it in school – and nor are most children today.
"Henry VIII had six wives," he says. "For a school kid, that's simple. He had six wives, he bumped them off and blah, blah, blah. You don't have to extract from it any particular resonance. You could have a serious discussion about sexual politics. You could also have a very healthy discussion about the redundancy and stupidity of monarchies. But they don't, because it's a safe subject. To try and teach the Peterloo Massacre, how can you talk about it without talking about what it meant?"
With his film – whose enormous cast list includes Maxine Peake, Rory Kinnear and Tim McInnerny – Leigh attempts to unpick what the Peterloo Massacre meant, through speeches and conversations about the class divide, the virtue of democracy and the toxicity of power. It's not didactic though. It is a film of impressive grit and grubbiness, demonstrating the brutal gravity of its subject matter without sensationalising it.
At its heart, says Leigh, the film explores the concept of truth. "All these people showed up in good faith," he explains, "with a clear, honest, legitimate aspiration for their rights. That is in the spirit of truthfulness. Then you have all these various factions, like the magistrates, who want to suppress that. They're being disingenuous.
"Cut to Brexit," he continues. "Some boneheads might say; 'Hang on a minute, we've got the vote now and 52 per cent [voted to leave the EU]…'. But what role did the truth play in people's decision to vote Brexit? And to what extent has real truthfulness motivated what's gone on since, politically? I go to Cornwall quite a lot, and there were huge signs saying 'vote leave', and I talked to intelligent, working people [who were] saying: 'No, we've got to get out of Europe.' And then you get out of the train at Liskeard and there's a thing on the wall saying: 'The European Union funded the restoration of this.' The farmers down there get massive handouts from the EU. So that's what we're talking about when we talk about truth."
Access unlimited streaming of movies and TV shows with Amazon Prime Video Sign up now for a 30-day free trial
Sign up
In that respect, then, Peterloo is as prescient now as it ever was. But the film's most affecting moment comes not during one of its grandiose speeches, nor in the climactic carnage, but while Maxine Peake's Nellie is watching her four-year-old granddaughter sleep. "In 1900," she says to her husband, "she'll be 85. I hope it'll be a better world for her."
"That scene, we put together the day before we shot it," Leigh recalls. He famously works without a script, instead putting his actors through months of improvisation while he hones his narrative. "My first grandson was about to be born, so I was reflecting on exactly that – what will the world be like for this lad in 2100? Well. We're destroying the planet, et cetera, et cetera, which gives one cause to be reluctantly pessimistic about the future, about 2100, when my grandson will be the same age as that little girl would have been in 1900. On the other hand, I look at this kid who's about to start walking, and is full of beans, and you cannot do that and be pessimistic."
The teenagers of today are offering hope for the future too – like the survivors of the school shooting in Parkland, Florida, who are campaigning for tighter gun control in the US. If they're the leaders of tomorrow, the world might just be OK. "Well I hope they are," says Leigh. "Especially with what's happening in America, with this monster who's unleashing a lot of bile in large swathes of people. It's desperate, it really is. That's all I have to say about that."
Leigh often ends his answers this way. He is droll and avuncular, and passionate when he wants to be, but is unwilling to talk for longer than he deems necessary, or to entertain questions that he doesn't like – though I don't exactly get to finish many. He's talked a lot, I begin, about walking away from film projects if – "Well no, no," he interjects. "I don't know what the question is, but let's be clear, I haven't talked much about it and it hasn't happened much. It has happened, but it's not as big a deal as you may be about to make it sound. No, all that's about is, I will only do a film if it's clear that nobody's going to interfere with it. Anyway, go on."
One of the reasons he's given for quitting a project, I continue, is that he's been asked to cast an American star... "You know, you go to people and you say: 'I want to make a film,'" he says. I've still not actually asked my question, but I've sparked something in him now. "American backers would say: 'We don't care that there's no script, we don't care that you don't know what it's going to be about…' but they will insist on a star. Now, this is not about my prejudice against American actors – there are some really brilliant actors in the States, and I actually know quite a number of famous ones, and some of them have said they'd love to do a film with me.
"But that's got nothing to do with it," he adds sharply. "I'm committed, as a European filmmaker, to making films that come out of our culture. It's random to have an American actor, just so you can get the money. You're committed, then, to making a film that starts with the bogus premise that this actor is the star of the film – and that's not what I do or want to do."
He won't compromise in any other areas, either. "If they said: 'Yes we'll make it, but you have to shoot it in Arizona...' – well, you can make a very interesting film in Arizona, but I don't want to make a film in Arizona. I want to make a film in Surbiton."
"People ask me," he continues, "'Why don't you do television now?' Partly because as long as I can go on making movies for the cinema, I will, but also because I know people who make television, and it gets interfered with, very often by people who don't really know what they're talking about." He almost shouts that last bit, enraged at the very idea.
Indeed, having his work interfered with is Leigh's greatest fear. He would rather never work again than allow himself to compromise. "People don't tell painters what to paint or how to paint it," he says. "Or novelists what to put in their novels. They just get on with it. That's what I do."
Peterloo is out in UK cinemas on Friday 2 November
Support free-thinking journalism and attend Independent events
Join our new commenting forum
Join thought-provoking conversations, follow other Independent readers and see their replies