Baftas 2018 red carpet dominated by Time's Up and #MeToo movements
Andrea Riseborough, Gemma Arterton, and Angelina Jolie brought activists as their guests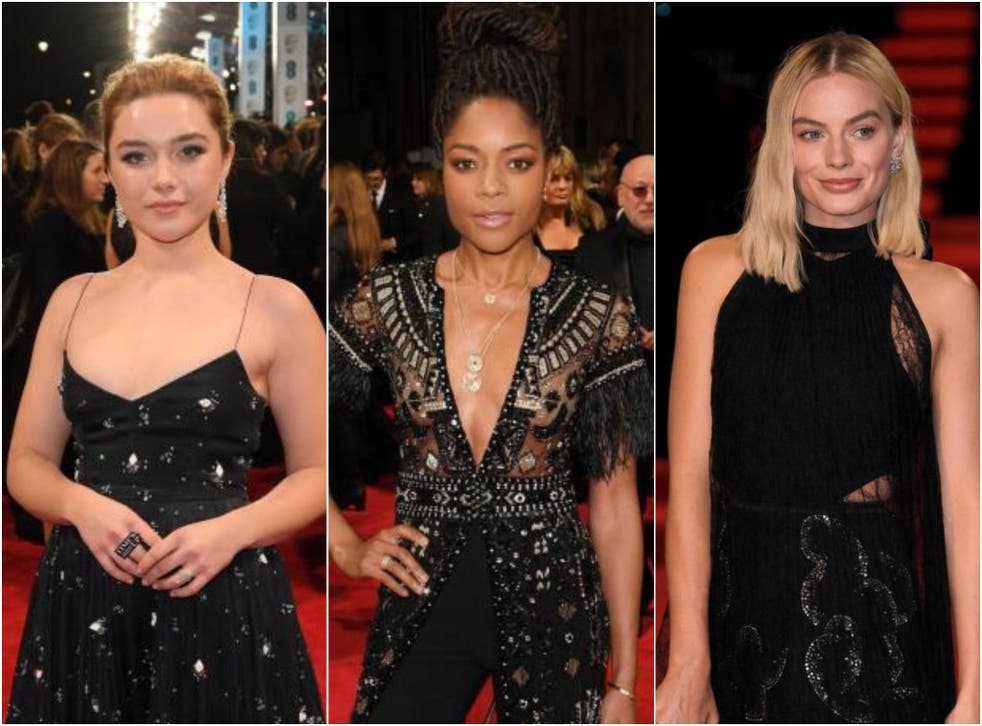 This year's Baftas red carpet was dominated by the Time's Up and #MeToo movements, numerous actors wearing all black in solidarity with those standing against abuse in the industry.
Many nominees and presenters — including Andrea Riseborough, Gemma Arterton, Naomie Harris, and Angelina Jolie — brought activists as their guests. They included Broadcaster Afua Hirsch, co-founder of UK Black Pride Phyll Opoku-Gyimah, and Loung Ung, the national spokesperson for the Campaign for a Landmine-Free World.
Follow along on out live-blog here.
Arterton was joined by former sewing machine operators Eileen Pullen and Gwen Davis, two of the 187 women who staged a three-week walk-out from Ford's Dagenham plant in June 1968 after learning they were to be paid 15 per cent less than their male counterparts.
Actors and filmmakers to wear all black were Margot Robbie, Octavia Spencer, Helen Bonham Carter, Lupita Nyong'o, Greta Gerwig, Edgar Wright, Kristin Scott Thomas, and many others. Many also wore Time's Up badges, such as red carpet presenters Edith Bowman and Dermot O'Leary wore.
BAFTAs 2018: Best dressed guests on the red carpet

Show all 26
Over the weekend, nearly 200 female British and Irish stars signed an open letter calling for an end to sexual harassment in the workplace.
The letter, published by The Observer and signed by Emma Thompson, Carey Mulligan, Saoirse Ronan, Gemma Chan, Keira Knightley and Emma Watson, said the Bafta are a time to "celebrate this tremendous moment of solidarity and unity across borders by coming together and making this movement international".
"This movement is bigger than just a change in our industry alone," it continues. "In the very near past, we lived in a world where sexual harassment was an uncomfortable joke; an unavoidable awkward part of being a girl or a woman."
It concluded: "If you have said 'time's up', if the stories you have read in the papers have resonated and distressed you – join us in shifting the dial. Let's make 2018 the year that time was up on sexual harassment and abuse. This is your moment too."
The Baftas ceremony will be broadcast from London's Royal Albert Hall and airs from 9pm today on BBC One.
Join our new commenting forum
Join thought-provoking conversations, follow other Independent readers and see their replies