Batman: Tim Burton's 1989 classic has (almost) everything modern superhero films are missing
'Have you ever danced with the Devil in the pale moonlight?'
Jack Shepherd
Tuesday 27 September 2016 13:37 Comments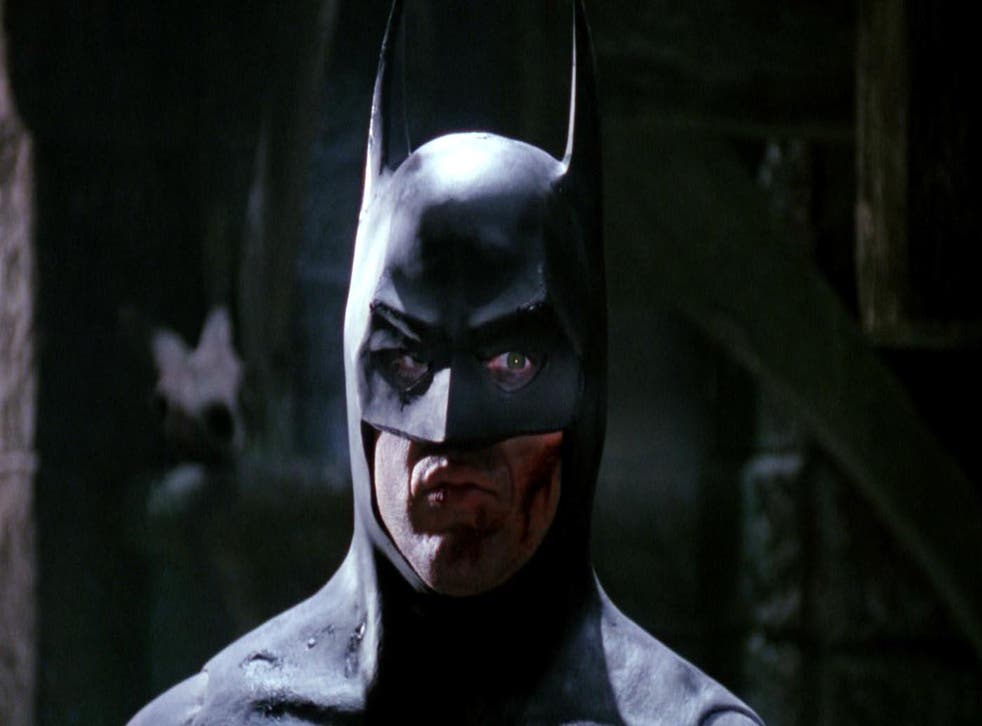 The year was 1989. While the last time Batman appeared on the big screen was in Adam West's wonderfully campy 1966 film, the more serious comics - such as The Dark Knight Returns and The Killing Joke - had proven increasingly popular. There was, to put it lightly, a demand for a 'serious' Batman film.
When Tim Burton - director of Pee-wee's Big Adventure and Beetlejuice - was announced as the upcoming Batman film's director there was outrage, many fans believing his odd style would lead to yet another West-esque version of the Caped Crusader. Warner Bros. did themselves no favours casting Michael Keaton as the lead, the actor best known for his comedy work at the time.
Against the odds, what transpired was a rather brilliant version of The Dark Knight, one that would break box-office records and set the tone for all future Batman adaptations.
With the release of Burton's next film, Miss Peregrine's Home for Peculiar Children, growing closer, we revisited the classic film, only to realise Batman holds the key to many problems with Hollywood's latest batch of superhero flicks. So, what can Marvel's Cinematic Universe, the DC Extended Universe, and the X-Men Cinematic Universe learn from Batman?
33 Superhero films set for release between 2016 and 2020

Show all 34
(A quick note: I thoroughly enjoy many modern superhero flicks, my favourite being Guardians of the Galaxy, but there are some faults among them. This discussion also focusses on the first of Burton's Batman films, only touching briefly on Returns.)
Style
For many, the Avengers and X-Men films come across as "flat and bland," taking no artistic risks, sticking to a tried-and-tested formula in an attempt to make each 'feel' in the same universe. While there are some diversions, a single director (minus perhaps Zack Snyder) has yet to leave as significant stylistic mark as Burton.
From Batman's suit to the Batcave, you can tell Batman is a Burton film. For instance, there's one moment when the Batwing aligns with the moon, a wonderful image that looks fantastic but adds little to the plot. Then there's the Batsuit, foregoing spandex and deciding on a more intimidating (and less flexible) suit with ridiculous ears. These stylistic risks are missing from many modern films. (Coming back to Snyder; the Batman v Superman director goes overboard on style, his films not having the necessary substance to make his imagery particularly impactful. Burton, however, finds a happy medium)
Noticeable music
Another criticism of recent superhero films is the music. Think about Iron Man's theme song? The Hulk's? Thor's? Spiderman's (not "Does whatever a spider can")? There's very little distinction between each. Meanwhile, Danny Elfman scored Batman and won a Grammy, his songs dominating many of the film's scenes, often equalling Burton's imagery for impact.
Then, of course, there are Prince's songs, blasted out by Jack Nicholson's Joker numerous times throughout the film to occasionally ridiculous yet brilliant effect. As a result, the album was number one in the US for six consecutive weeks. Only Suicide Squad has had original music that has made an impact on the charts recently (and the songs are not exactly Prince quality).
Access unlimited streaming of movies and TV shows with Amazon Prime Video Sign up now for a 30-day free trial
Sign up
Villains
More and more, the villains in superhero films are being criticised for lacking depth. Just look at Ant-Man; while a fantastically fun film, the villain - Darren Cross/Yellowjacket - has practically nothing going on. That's not Corey Stoll's fault, the script gave him absolutely no room to breath.
Burton's film, however, spends as much time, if not more, with the Joker than with Batman. Bruce Wayne is barely featured in the first 20-minutes, Burton electing to focus on Jack Napier's transformation into the psychopathic killer. Christopher Nolan used a similar tactic with The Dark Knight's version of the character, Heath Ledger's portrayal being critically acclaimed. No-one has compared since. Nicholson's Joker even had memorable lines such as "Have you ever danced with the Devil in the pale moonlight?" Can you remember anything Loki said to the Avengers? It's time for another great on-screen supervillain.
Thanks to Burton's stylistic flair, Gotham is far more than just another city; it's a proper setting, one that impacts on the viewer, its darkness perpetrating every crevasse of the screen. There are memorable buildings - such as the climatic cathedral - that you will actually remember once the film has finished.
Modern superhero films really fail to capture a sense of place, often jumping from somewhere-to-somewhere-else, failing to offer any flavour of the location. Again, this really comes down to bland places with no character of their own, something that really needs to be addressed.
Something Batman doesn't have and still needs improvement: female characters
Other than Kim Basinger's screaming Vicki Vale, there really aren't any notable female character's in Burton's film (Catwoman in Returns being noticably absent here). Modern superhero films, thankfully, have improved somewhat - the likes of Black Widow, Harley Quinn, Jessica Jones, Wonder Woman, and Agent Carter being notable characters. Unfortunately, there's still room for improvement: none of the aforementioned characters have led a feature-length film. Thankfully things are improving, with Wonder Woman, Harley Quinn, and Captain Marvel on the way. Still, it's taken long enough.
While Batman isn't a perfect film by any stretch of the imagination - it can drag in places and Batman Returns is wholly better - Burton's first superhero outing can teach the likes of Marvel, Warner Bros, and Fox a thing or two. So, studio executives, if you're listening - please - take risks and make a weirdly wonderful superhero films again. Taika Waititi, I believe in you.
Register for free to continue reading
Registration is a free and easy way to support our truly independent journalism
By registering, you will also enjoy limited access to Premium articles, exclusive newsletters, commenting, and virtual events with our leading journalists
Already have an account? sign in
Join our new commenting forum
Join thought-provoking conversations, follow other Independent readers and see their replies