Battle of the F-bomb: Wolf of Wall Street breaks swear word record
With 506 F-words in its two-hour, 59-minute running time, The Wolf of Wall Street uses the profanity approximately 2.81 times a minute
Tim Walker
Sunday 05 January 2014 01:00 Comments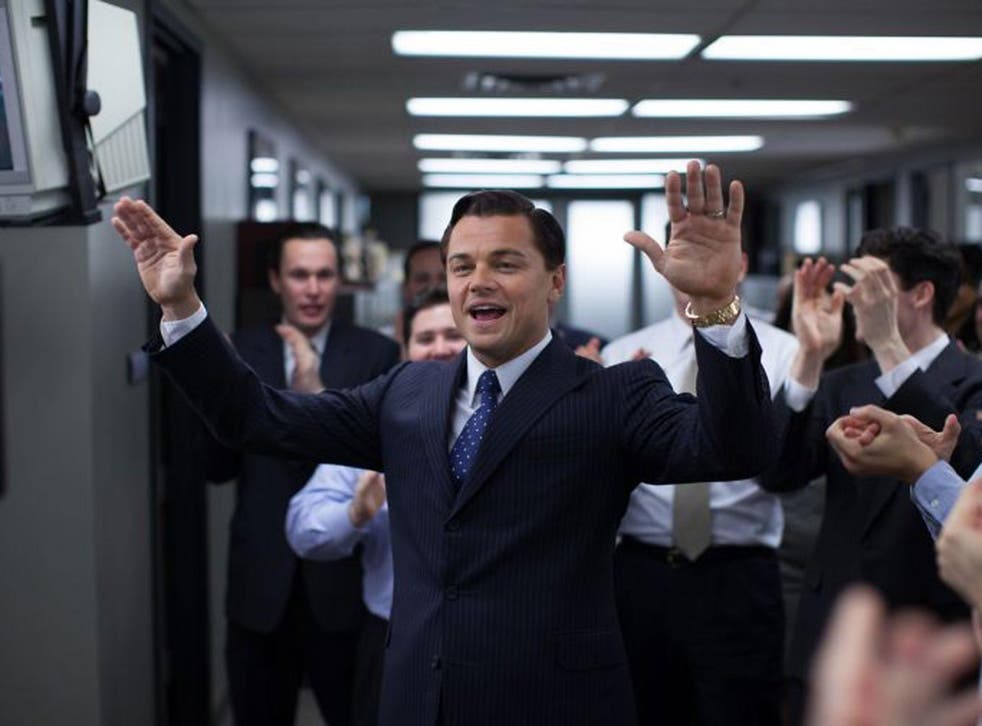 To judge by its mixed reviews, mildly disappointing box-office takings, and a minor controversy over its makers' ambivalent attitude to their subject, The Wolf of Wall Street won't be picking up all that many prizes this awards season.
But Martin Scorsese's new film, which stars Leonardo DiCaprio as infamous Wall Street trader Jordan Belfort, can claim one triumph: no non-documentary film has ever dropped quite so many F-bombs. According to a report by Variety, with 506 "f****" in its two-hour, 59-minute running time, Wolf uses the profanity approximately 2.81 times a minute.
The previous record holder was Spike Lee's 1999 serial killer drama Summer of Sam, which contained 435 instances of the word.
Though its overall count may be significantly lower, at 142 minutes Lee's film has a higher rate of utterances of the expletive than Scorsese's, with 3.06 per minute (fpm). Several critics have suggested Wolf would be a better film with a running time closer to two hours, though at its current rate it would then contain no more than 337 instances of the word. Wolf, it should also be noted, contains fewer "f****" than Belfort's memoir, on which it is based – and which boasts more than 700 such outbursts over its 500 or so pages.
As connoisseurs of his work will be aware, Scorsese has rarely shied away from the F-word in his four-decade career. In an anecdotal ranking compiled by Wikipedia, of films with 150 or more instances of the word, the 71-year-old director's Casino (1995) and GoodFellas (1990) are also in the top 20, with 422 and 300 respectively. Notable by its absence, however, is Scorsese's 1980 film Raging Bull, which contains perhaps the Oscar-winner's best-known use of the word: when Robert De Niro – as boxer Jake La Motta – asks his brother, played by Joe Pesci: "Did you f*** my wife?"
The top 10 contains two British films, Gary Oldman's 1997 directorial debut Nil By Mouth, and the Welsh crime film Twin Town, from the same year. The latter, which starred a young Rhys Ifans, hit a rate of 3.21fpm. It is outdone by Oldman's film, with its count of 428 – a particularly brisk 3.34fpm. Though it doesn't make it into the online ranking, another British production, Four Weddings and a Funeral (1994), beings with an unbroken stream of five "f****", followed by a further eight in only its first two minutes: an impressive, if unsustainable, 6.5fpm.
Also deserving an honourable mention is foul-mouthed government spin doctor Malcolm Tucker, played by Peter Capaldi in BBC2's The Thick of It and the 2009 film In the Loop, during which he delivers 85 "f****", on top of many more elaborate expletives.
Somewhat surprisingly, given the criticism he has faced in the past for his films' unsavoury language, Quentin Tarantino doesn't make it into the top 20. Instead, Tarantino's first two films, Reservoir Dogs (1992) and Pulp Fiction (1994), appear at numbers 24 and 25, with counts of 269 and 265.
The identity of the first use of the expletive on film is disputed, though the word appears in two pictures – Ulysses and I'll Never Forget What's'isname – from 1967, two years after Kenneth Tynan exploded the first F-bomb on British television. A ship's captain can also be seen to silently mouth the words "f***ing b*******" during a scene in 1960's Sink the Bismarck!.
Access unlimited streaming of movies and TV shows with Amazon Prime Video Sign up now for a 30-day free trial
Sign up
One of the most elegant instances of repeated uses of the word is from the small screen: a celebrated five-minute scene from the first series of HBO's crime drama The Wire, in which Baltimore detectives Jimmy McNulty and Bunk Moreland dissect a crime scene with no dialogue besides a series of 40 highly expressive "f****": a remarkable 8fpm.
Yet all of the above pale in comparison to the overall record-holder for the most "f****" in any film: a documentary about the history of the expletive in question called, simply, F***. In the 2005 film, which clocks in at just 93 minutes, director Steve Anderson elicits exclamations of "f***" from a broad selection of celebrities, racking up a surely unbeatable 857, at a rate of 9.21fpm.
Swearing on screen
Very English expletives
At the start of Richard Curtis's Four Weddings and a Funeral (1994) Charles (Hugh Grant) and Scarlett (Charlotte Coleman) are racing to get to a wedding after waking up late. "Oh, f***. F***," says Charles, after checking his alarm clock. "F***," says Scarlett, noticing hers. They then race down the motorway in a Mini, spewing a series of "f***", "f*** it" and even "f***ity f***".
Out of the mouths of babes ...
South Park: Bigger, Longer & Uncut (1999), the feature film of crude adult cartoon series South Park, contains 146 "fucks". The four boys sneak into an adults-only film, a musical by Canadian toilet humour duo Terrance and Phillip. They break into a song called "Uncle F***er".
Criminal tendencies
Spike Lee's Summer of Sam (1999), set during the 1976 New York City murders by David Berkowitz (aka "Son of Sam"), racks up 435 uses of the word over 142 minutes. Martin Scorsese's classic gangster biopic GoodFellas, chronicling the rise of New York mobster Henry Hill Jnr, contains 300. In The Wire, Baltimore detectives Jimmy McNulty and Bunk Moreland react to a crime scene: "Aw... f***", "Motherf*****", "F***. F***. F***in' f***", "F***?", "F***!", "F***in-A"....
Blue food
Gordon Ramsay is almost as well known for his ability to eff and blind as to cook. In 2011, the media regulator Ofcom criticised the eighth series of Hell's Kitchen USA for Ramsay's "very strong swearing".
Michael Allen
Register for free to continue reading
Registration is a free and easy way to support our truly independent journalism
By registering, you will also enjoy limited access to Premium articles, exclusive newsletters, commenting, and virtual events with our leading journalists
Already have an account? sign in
Join our new commenting forum
Join thought-provoking conversations, follow other Independent readers and see their replies