Berlin Film Festival: Refugee documentary Fire at Sea wins Golden Bear prize for best film
Italian director Gianfranco Rosi's film charts the rush of desperate African migrants risking sea crossings to Lampedusa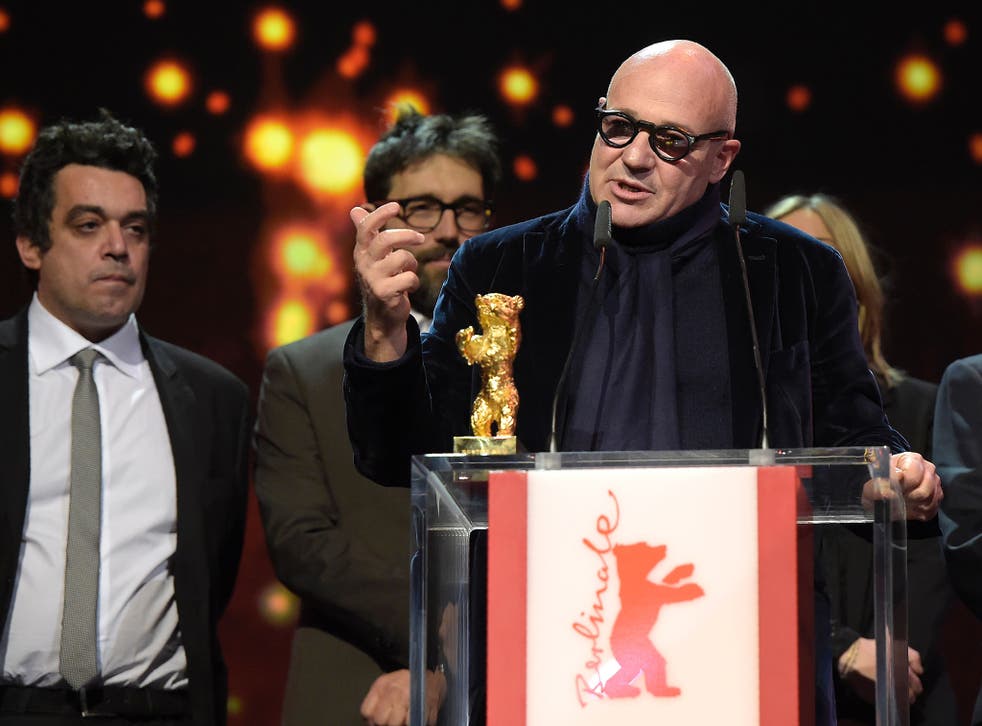 A film charting the rush of desperate African migrants risking sea crossings to reach Italy won the prestigious Golden Bear for best film at the Berlin Film Festival last night.
Fuocoammare (Fire at Sea) was made by Italian director Gianfranco Rosi, who shot on the tiny island of Lampedusa over the course of a year to tell the story of how local people deal with the arrival of 150,000 migrants. The winning choice follows a tradition at the festival, now in its 66th year, of celebrating socially conscious films. This year's Berlinale has been described as a tribute to refugees and its director, Dieter Kosslick, said many of the nominated films had shed light on acts of humanity during times of international conflict. Meryl Streep and Clive Owen were among the jury judges.
Rosi said he hoped his film would help "raise awareness" of refugees drowning at sea.
Other films up for the Best Film prize included Hele Sa Hiwagang Hapis (A Lullaby to the Sorrowful Mystery), an eight-hour historical drama about the Philippines from director Lav Diaz. Its screening started at 9.30am and ended shortly before 7pm, with an hour-long break for lunch.
Diaz said: "We're labelled 'slow cinema', but it's not slow cinema – it's cinema. I don't know why every time we discourse on cinema we always focus on the length. It's just like poetry, just like music, just like painting – where it's free, whether it's a small canvas or it's a big canvas." His film is set in the late-19th century during the Philippine revolution against Spanish rule and focuses on Andres Bonifacio y de Castro, considered one of the main instigators of the uprising.
Kosslick said the Berlinale celebrated diversity with films by African-American directors such as Spike Lee's Chi-Raq and Don Cheadle's Miles Ahead, as well as contributions by Asian, Middle Eastern and African directors.
Actor Gérard Depardieu used his appearance to mock George Clooney, who met Chancellor Angela Merkel to discuss the refugee crisis. "I worry that it went badly," he said. "It's good that now you can be an actor and an ecologist and a politician. You can do everything."
Register for free to continue reading
Registration is a free and easy way to support our truly independent journalism
By registering, you will also enjoy limited access to Premium articles, exclusive newsletters, commenting, and virtual events with our leading journalists
Already have an account? sign in
Register for free to continue reading
Registration is a free and easy way to support our truly independent journalism
By registering, you will also enjoy limited access to Premium articles, exclusive newsletters, commenting, and virtual events with our leading journalists
Already have an account? sign in
Join our new commenting forum
Join thought-provoking conversations, follow other Independent readers and see their replies