Bridge of Spies: Stasi prisoner portrayed in Steven Spielberg film brands depiction 'totally false'
Frederic Pryor has been left frustrated at the critically-acclaimed movie's portrayal of events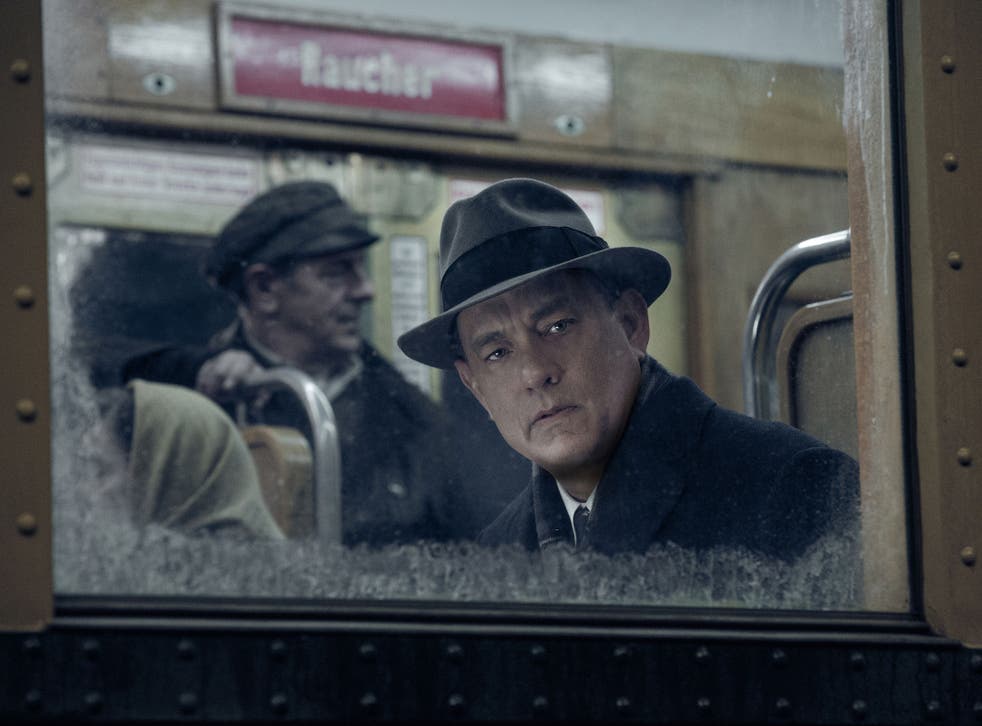 "Consummately crafted", "perfectly directed", with a "terrifically good" script, Steven Spielberg's new Cold War film, Bridge of Spies, has attracted plenty of praise from film critics.
One octogenarian has been less impressed at the movie's historical inaccuracy, however, branding its depiction of the principal characters as "totally false". And Frederic Pryor should know, as he is one of them.
Bridge of Spies is based on the true story of how US lawyer James Donovan, played by Tom Hanks, was enlisted to negotiate the release of US pilot Gary Powers, whose U-2 spy plane was shot down over the Soviet Union. This would be achieved in exchange for Rudolf Abel, a captive Soviet KGB spy held by the US. Boldly, Donovan insisted on a two-for-one deal by demanding the additional release of Mr Pryor, who was then an economics graduate student who had been arrested and held without charge by East Germany, too.
Mr Pryor has been left frustrated at the film's portrayal of events – and also revealed to The Independent that Powers failed to thank Donovan for his troubles in securing the pair's release in 1962.
Now 82 and living in Pennsylvania, Mr Pryor went on to become a respected economics professor and senior research scholar in the US following his six-month incarceration and subsequent release. The academic spent more than half a century "trying to forget" his ordeal. But this summer, he was informed by his son that a multimillion-pound film based on the events surrounding the spy swap had been developed and was due for release.
Mr Pryor was not given an opportunity to offer his input or even look over the script, co-written by the Coen Brothers and the British newcomer Matt Charman. In fact, he didn't see the film until recently, after queuing with his family to purchase tickets. "Almost everything the movie showed about me was fiction," Mr Pryor told The Independent. "I would have preferred if [Spielberg] had called me. He took the movie from the book of the same name – which was quite accurate – by a British author who took the pains to talk to me. But Spielberg just wanted to make it more exciting."
Mr Pryor said his East German lawyer, Wolfgang Vogel, played by Sebastian Koch in the film, is portrayed as "a loudmouth ideologue" trying to get the US publicly to recognise the East German government. "That was totally false. Vogel was a very quiet, well-spoken man. He was working for me," he insisted.
"They had me being arrested by trying to help some beautiful blonde through the Berlin Wall while it was being constructed. I was in Denmark at the time it was being built – and I didn't know any beautiful blondes in East Berlin."
However, despite his disappointment, Mr Pryor claims it is "no big deal" – he has coped with real hardship, after all.
Access unlimited streaming of movies and TV shows with Amazon Prime Video Sign up now for a 30-day free trial
Sign up
He attributes his arrest in 1961 to being "in the wrong place at the wrong time" after he travelled to Berlin to listen to Walter Ulbricht, the leader of the Communist Party, give a speech, and to visit the sister of a friend to check if she had any messages for him. "I didn't know that she had escaped and [the Stasi] had her house staked out. They looked in my car and found a copy of my dissertation on the foreign trade system of the Communist bloc. I was arrested on a fluke."
During his six-month prison stint, Mr Pryor was subjected to intense interrogation for six hours per day. His captors became fixated on a Yale library card he had on his person at the time of his arrest. The card read "special student, only room 413", and his interrogator spent a week on determining the apparent secret behind his "special" status. "I didn't know why it said that, until I remembered I hadn't paid my tuition fees on time," Mr Pryor said.
Speaking about his gratitude for the work to release him, he said: "After I got back to the US, I visited Donovan to thank him – he told me Powers never thanked him... Powers was not the world's most cultured person."
Surprisingly, given how strongly he contests the accuracy of the film, Mr Pryor said he "enjoyed" Bridge of Spies.
"It wasn't really about me, it was a character with my name," he said. "I don't like to have such a fuss made about me. I live a very simple life now."
Register for free to continue reading
Registration is a free and easy way to support our truly independent journalism
By registering, you will also enjoy limited access to Premium articles, exclusive newsletters, commenting, and virtual events with our leading journalists
Already have an account? sign in
Register for free to continue reading
Registration is a free and easy way to support our truly independent journalism
By registering, you will also enjoy limited access to Premium articles, exclusive newsletters, commenting, and virtual events with our leading journalists
Already have an account? sign in
Join our new commenting forum
Join thought-provoking conversations, follow other Independent readers and see their replies