Cannes Film Festival 2016: Ken Loach wins Palme d'Or for I, Daniel Blake
Jury president George Miller described the jury's selection as 'rigorous and happy'
Samuel Osborne Comments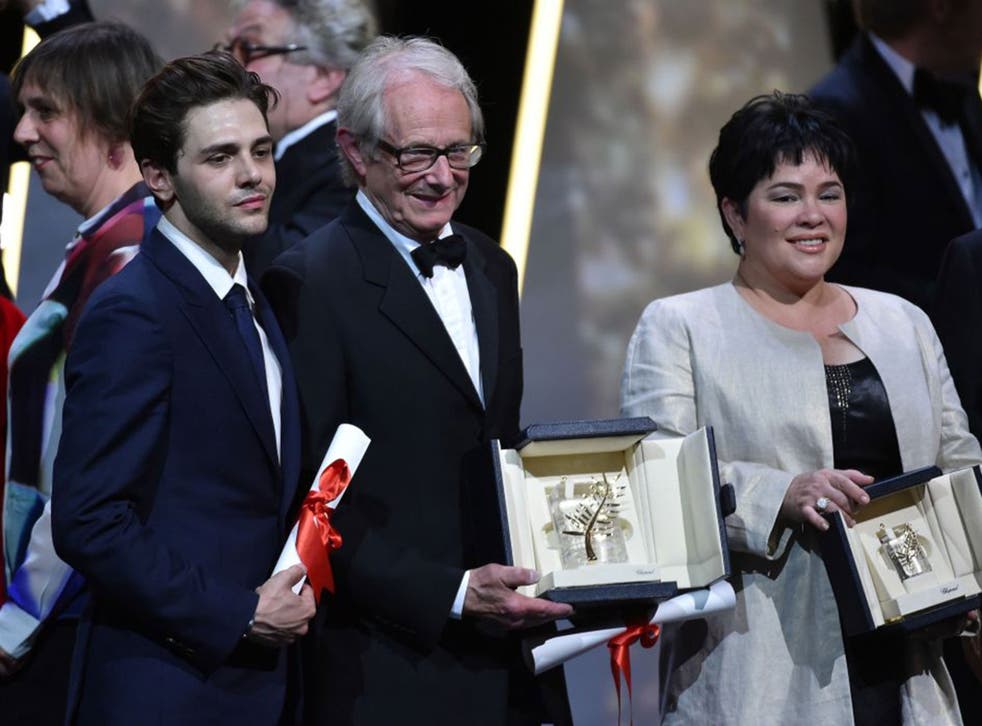 British director Ken Loach has won his second Palme D'Or at the Cannes Film Festival for his film I, Daniel Blake.
The award for the 79-year-old, the festival's top prize, was announced by actor Mel Gibson at the Sunday ceremony at the Palais des Festivals on the French Riviera.
Jury president George Miller described the jury's selection as "rigorous and happy".
I, Daniel Blake is a drama about a middle-aged widower in northern England who can neither work nor get government benefits after a heart attack. Loach previously also won the top award for "The Wind That Shakes The Barley."
"There is a conscious cruelty in the way that we are organizing our lives now, where the most vulnerable people are told that their poverty is their own fault," Loach told reporters earlier in the festival.
"If you have no work it's your fault you haven't got a job. Never mind in Britain, there is mass unemployment throughout Europe."
Labour's shadow business secretary Angela Eagle was among those who congratulated Loach, tweeting: "Well done Ken Loach!"
Her colleague Angela Rayner added: "Absolutely made up for Ken Loach on his film I, Daniel Blake which has won the Palme d'Or at Cannes Film Festival."
Comedian Robin Ince joked "hopefully he'll finally get backing for Kes 2: The Falcon Menace".
Canadian director Xavier Dolan picked up the runner-up Grand Prize for his film It's Only The End Of The World. The 27-year-old won the jury prize in 2014 for Mommy.
Director Asghar Farhadi's film The Salesman picked up several awards, including best screenplay and best actor for Shahab Hosseini.
Romanian director Christian Mungui, who was the favourite to win the Palme d'Or for Graduation, won the best director award, which he shared with French director Olivier Assayas for his paranormal thriller Personal Shopper, starring former Twilight star Kristen Stewart.
Feature film award winners:
Palme d'Or (Best Film): I, Daniel Blake, directed by Ken Loach (Britain)
Grand Prix: Juste la Fin du Monde (It's Just the End of the World), directed by Xavier Dolan (Canada)
Jury Prize: American Honey, directed by Andrea Arnold (Britain)
Best Director: Cristian Mungiu (Romania) for Bacalaureat (Graduation) and Olivier Assayas (France) for "Personal Shopper"
Best Screenplay: Asghar Farhadi (Iran) for Forushande (The Salesman)
Best Actress: Jaclyn Jose (Philippines) in Brillante Mendoza's Ma' Rosa
Best Actor: Shahab Hosseini (Iran) in Asghar Farhadi's Forushande (The Salesman)
Additional reporting by PA
Register for free to continue reading
Registration is a free and easy way to support our truly independent journalism
By registering, you will also enjoy limited access to Premium articles, exclusive newsletters, commenting, and virtual events with our leading journalists
Already have an account? sign in
Join our new commenting forum
Join thought-provoking conversations, follow other Independent readers and see their replies