The Independent's journalism is supported by our readers. When you purchase through links on our site, we may earn commission.
Cara Delevingne claims Harvey Weinstein tried to make her kiss another woman in front of him during 'terrifying' ordeal
Dozens of women have now accused the Hollywood mogul of unwanted advances, with Mr Weinstein having denied the allegations
Jeremy B. White
San Francisco
Wednesday 11 October 2017 22:01 Comments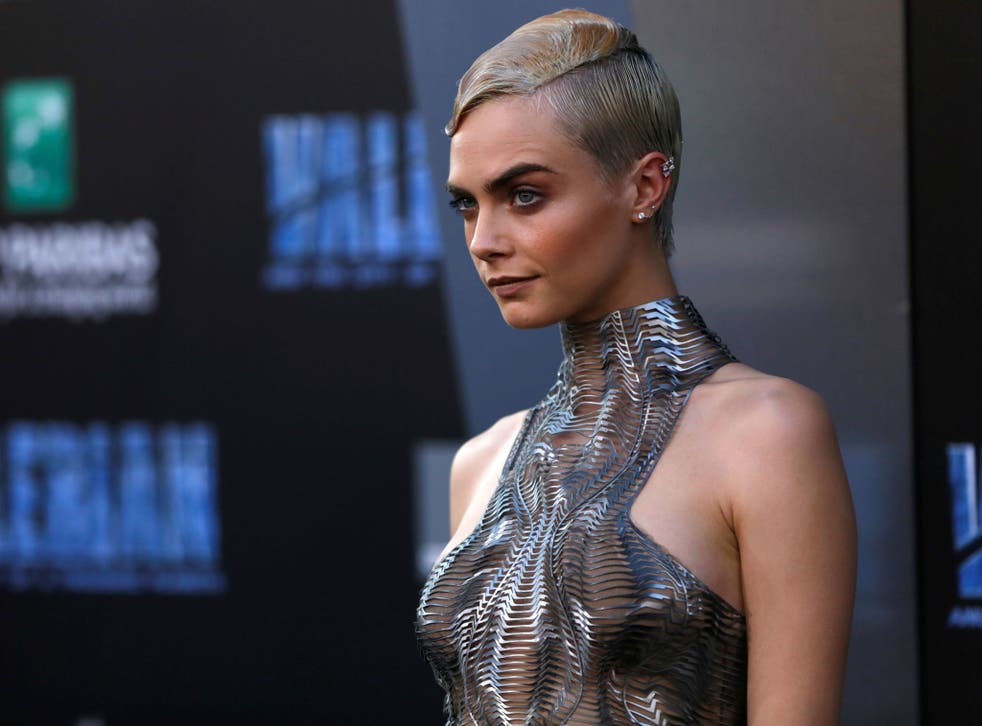 Model and actress Cara Delevingne has said she experienced unwanted sexual advances from producer Harvey Weinstein, lengthening a list of women who have come forward in recent weeks to accuse the embattled mogul.
Left alone with Mr Weinstein in a hotel lobby after a meeting concluded, Ms Delevingne wrote on Instagram, the executive began discussing "inappropriate things of a sexual nature" and then is said to have invited her to his room. Mr Weinstein then directed Ms Delevingne to kiss another woman present before trying to kiss Ms Delevingne herself, Ms Delevingne wrote.
"I felt guilty as if I did something wrong", Ms Delevingne wrote. "I was also terrified that this sort of thing had happened to so many women I know but no one had said anything because of fear".
Days after the New York Times published an article describing decades of accusations and alleged payoffs, the New Yorker ran a story that named more alleged victims - including three who accused Mr Weinstein of sexual assault. Luminaries like Angelina Jolie, Ashley Judd and Gwyneth Paltrow are among the women who have now come forward to accuse Mr Weinstein.
Mr Weinstein "unequivocally denied" any allegations of nonconsensual sex, and "there were never any acts of retaliation against any women for refusing his advances," spokeswoman Sallie Hofmeister said in a statement to the New Yorker. "Mr Weinstein obviously can't speak to anonymous allegations, but with respect to any women who have made allegations on the record, Mr. Weinstein believes that all of these relationships were consensual."
The author of the New Yorker report has claimed that a pervasive "culture of fear" silenced women who were allegedly sexually harassed by producer Weinstein.
In an interview with CBS, Ronan Farrow said: "A culture of fear but also a broad array of legal instruments... a machine designed to keep these claims quiet".
Harvey Weinstein: his accusers

Show all 42
Mr Farrow, who had a short-lived daytime show on MSNBC, had been working on the Weinstein story for NBC News. He told MSNBC's Rachel Maddow that earlier this year, he had a woman who granted an on-camera interview about Mr Weinstein's alleged behavior. NBC News President Noah Oppenheim said on Wednesday that the network reached a point this summer where it didn't feel all the elements were in place to air a story and didn't stand in Farrow's way when he wanted to take his reporting elsewhere.
Mr Farrow said on MSNBC that he "walked into The New Yorker with an explosively publishable piece that should have been reported earlier and immediately The New Yorker recognized that."
Access unlimited streaming of movies and TV shows with Amazon Prime Video Sign up now for a 30-day free trial
Sign up
Weinstein was protected by 'machine designed to keep claims quiet
Mr Oppenheim, in remarks he made at a town hall meeting Wednesday that the network released publicly, said that Farrow had greatly expanded the scope of his reporting after taking it to The New Yorker.
"The stunning story, the incredible story that we all read yesterday, was not the story that we were looking at when we made our judgment several months ago," he said.
Mr Farrow said that he had personally been threatened with a lawsuit by Weinstein. Many news organizations that cover Hollywood have faced questions about why it took so long to report on conduct that had allegedly been occurring over many years.
Mr Oppenheim said "the notion that we would try to cover for a powerful person is deeply offensive to all of us," noting other news organizations that had tried but failed to get the story.
An attorney for Mr Weinstein has dismissed the sexual abuse allegations as largely false. But the Hollywood titan's precipitous fall from power has continued, stretching into both his personal and professional life. He confirmed that he was separating for his wife, Fashion designer Georgina Chapman, who described her husband's behaviour as "unforgivable".
"In the end, she made the decision to separate", Mr Weinstein said in a statement released to the media, adding that "I support her decision, I am in counseling and perhaps, when I am better, we can rebuild".
The leadership of The Weinstein Company has moved swiftly to contain the fallout. After firing Mr Weinstein last week, the film studio's board of representatives released a statement pronouncing the company's executives "shocked and dismayed" and disavowing any knowledge of Mr Weinstein's alleged conduct.
"The Weinstein Company's Board of Representatives – Bob Weinstein, Lance Maerov, Richard Koenigsberg and Tarak Ben Ammar – are shocked and dismayed by the recently emerged allegations of extreme sexual misconduct and sexual assault by Harvey Weinstein," the statement said.
"These alleged actions are antithetical to human decency. These allegations come as an utter surprise to the Board. Any suggestion that the Board had knowledge of this conduct is false."
It pledged to cooperate with police in any criminal or other investigations "while pursuing justice for the victims and a full and independent investigation of our own".
The University of Buffalo, Mr Weinstein's alma mater, said it was moving to revoke an honorary doctorate it had awarded the film mogul.
Register for free to continue reading
Registration is a free and easy way to support our truly independent journalism
By registering, you will also enjoy limited access to Premium articles, exclusive newsletters, commenting, and virtual events with our leading journalists
Already have an account? sign in
Join our new commenting forum
Join thought-provoking conversations, follow other Independent readers and see their replies