David Bowie dead: remembering his movie roles
From Goblin King Jareth to that Zoolander cameo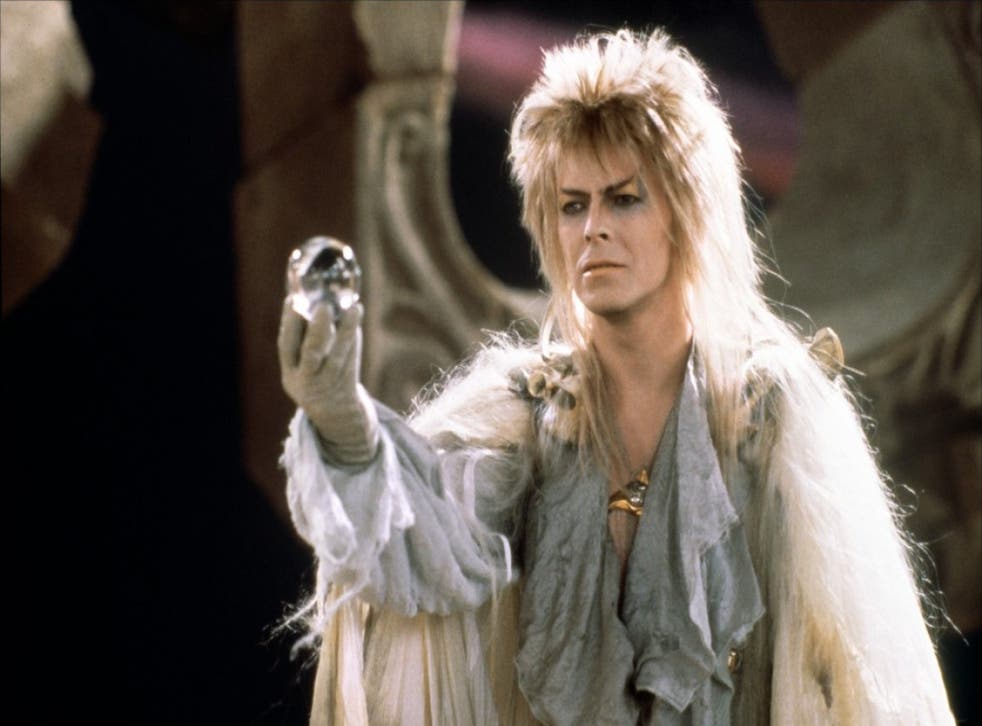 David Bowie was a brilliant musician, releasing 25 albums in his lifetime, the last of which - Blackstar - was released just days before he tragically passed away at the age of 69.
However, Bowie wasn't just a phenomenal singer. Over a career spanning five decades, he also racked up numerous roles in film working with some of the most influential figures in Hollywood (Nicolas Roeg, Martin Scorsese, Christopher Nolan).
In memory of the late icon, we reflect upon the performances that made him as much of a star on screen as he was off.
The Man Who Fell to Earth (1976)
Bowie made his lead debut in this sci-fi cult from Nicolas Roeg as Thomas Jerome Newton, an extraterrestrial who arrives on earth tasked with taking water back to his planet. Later openly admitting he was abusing cocaine "from beginning to end," his performance to this day emanates a hazy sense of life-imitating-art: "I actually was feeling as alienated as that character was," the singer revealed. "It was a pretty natural performance."
The Hunger (1983)


Following turns in both Just a Gigolo (1979) and 1981 German film Christiane F. (he starred and composed the soundtrack), Bowie went on to star in the late Tony Scott's revisionist vampire tale The Hunger alongside Catherine Deneuve and Susan Sarandon. Generating a cult fanbase - and a 1997 TV series - Bowie remained largely sceptical of the end product, despite commenting: "I must say, there's nothing that looks like it on the market" - a statement that could well have referred to the musician himself.
Merry Christmas Mr. Lawrence (1983)
That same year, Bowie starred in the adaptation of Laurens van der Post novel The Seed and the Sower playing Major Jack Celliers, a New Zealander prisoner of war held in a Japanese internment camp. He scored the role following an acclaimed tenure playing The Elephant Man on Broadway a few years previous, a performance that director Nagisa Oshima said showcased "an inner spirit that is indestructible." This role remained one of the singer's favourites.
Labyrinth (1986)
A year after turning down the chance to play Bond villain Max Zorin in A View to a Kill (the role went to Christopher Walken), Bowie starred in a film that cemented his popularity among a new generation of followers: Labyrinth. In it, he plays Goblin King Jareth and - despite its initial flop - has endured as one of his most iconic roles. Winning the role over fellow musicians Sting, Prince and Mick Jagger, director Jim Henson stated Bowie was cast for embodying "...a certain maturity, with his sexuality, his disturbing aspect, all sorts of things that characterise the adult world."
The Last Temptation of Christ (1988)
Bowie ticked off the opportunity to work with Martin Scorsese when he appeared as religious figure Pontius Pilate in The Last Temptation of Christ, replacing Sting who passed on the role. The scene above opposite Willem Dafoe (who played Jesus Christ) is a highlight.
Twin Peaks: Fire Walk With Me (1992)
If anyone could assimilate themselves into David Lynch's Twin Peaks universe with ease, it was David Bowie. No surprises then that the director secured the singer's presence for Fire Walk With Me, his prequel to the beloved TV series. Bowie played the mysterious FBI agent Philip Jeffries who returns after a two-year disappearance.
Basquiat (1996)
Bowie starred as Andy Warhol in Julian Schnabel's biopic of artist Jean-Michel Basquiat, a small but pivotal role for the singer. Filmmaker Paul Morrissey - the producer behind many of Warhol's films - claimed that Bowie's portrayal of the pop art movement founder was "the best by far."
Zoolander (2000)
If anything signalled that Bowie still had a flair for the offbeat all those decades on, it was his bizarre cameo in Ben Stiller comedy Zoolander in which he judges a 'walk-off' between male models Derek Zoolander (Ben Stiller) and Hansel (Owen Wilson).
The Prestige (2005)
Bowie memorably showed up in Christopher Nolan's magician drama The Prestige as real-life physicist Nikola Tesla. Such was the allure of Bowie's persona that, despite minimal screen time, he looms large in the memory long after the credits roll. Nolan even tasks him with delivering the film's best line: "You're familiar with the phrase 'man's reach exceeds his grasp?' It's a lie: man's grasp exceeds his nerve."
Register for free to continue reading
Registration is a free and easy way to support our truly independent journalism
By registering, you will also enjoy limited access to Premium articles, exclusive newsletters, commenting, and virtual events with our leading journalists
Already have an account? sign in
Register for free to continue reading
Registration is a free and easy way to support our truly independent journalism
By registering, you will also enjoy limited access to Premium articles, exclusive newsletters, commenting, and virtual events with our leading journalists
Already have an account? sign in
Join our new commenting forum
Join thought-provoking conversations, follow other Independent readers and see their replies