David Fincher's advice to young filmmakers is good for life in general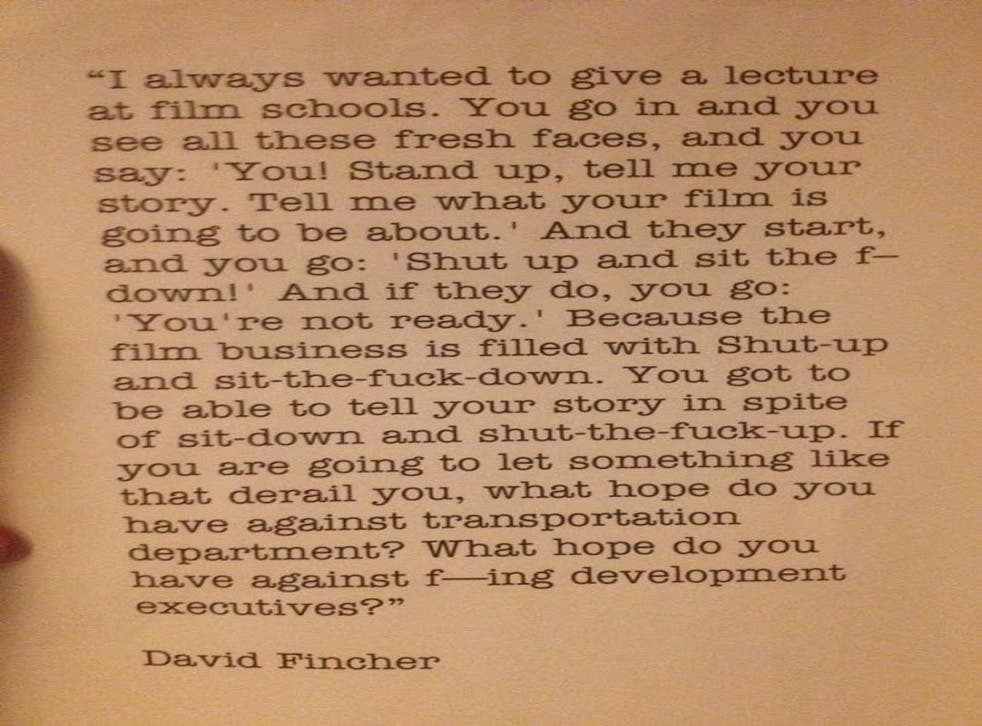 A quote from an old David Fincher interview has been doing the rounds today, in which he paints a sad portrait of the Hollywood film industry but will get you fired up to create.
Made to the blog Fincher Fanatic, it is a firm reminder that you must have complete confidence in your ideas and not let other people water them down or dissolve them.
It's not to be taken literally, I'm sure he wouldn't dream of shouting down a young filmmaker, but the idea of it is impactful enough.
Fincher certainly knows what it's like to fight bureaucracy, with one of the leaked Sony emails seeing producer Scott Rudin and Sony chairman Amy Pascal discussing "shoving him onto a movie that should never be made".
Looking back over the interview, he also revealed an intriguing plus to relative anonymity I hadn't thought about before.
"One of the things I like about being a director is, when your plane is late, you are doing homework. Because you are sitting there in the lounge, listening to people talk. That's your job," he said.
"When you become the focus, when people feel like 'I can't act like myself, because that's the guy who did whatever', all of a sudden you lose an advantage."
Register for free to continue reading
Registration is a free and easy way to support our truly independent journalism
By registering, you will also enjoy limited access to Premium articles, exclusive newsletters, commenting, and virtual events with our leading journalists
Already have an account? sign in
Register for free to continue reading
Registration is a free and easy way to support our truly independent journalism
By registering, you will also enjoy limited access to Premium articles, exclusive newsletters, commenting, and virtual events with our leading journalists
Already have an account? sign in
Join our new commenting forum
Join thought-provoking conversations, follow other Independent readers and see their replies