David Tennant on Marvel's Jessica Jones, feeling sympathy for Kilgrave, Netflix and the Golden Age of TV
The Doctor Who actor also speaks about revisiting the BBC series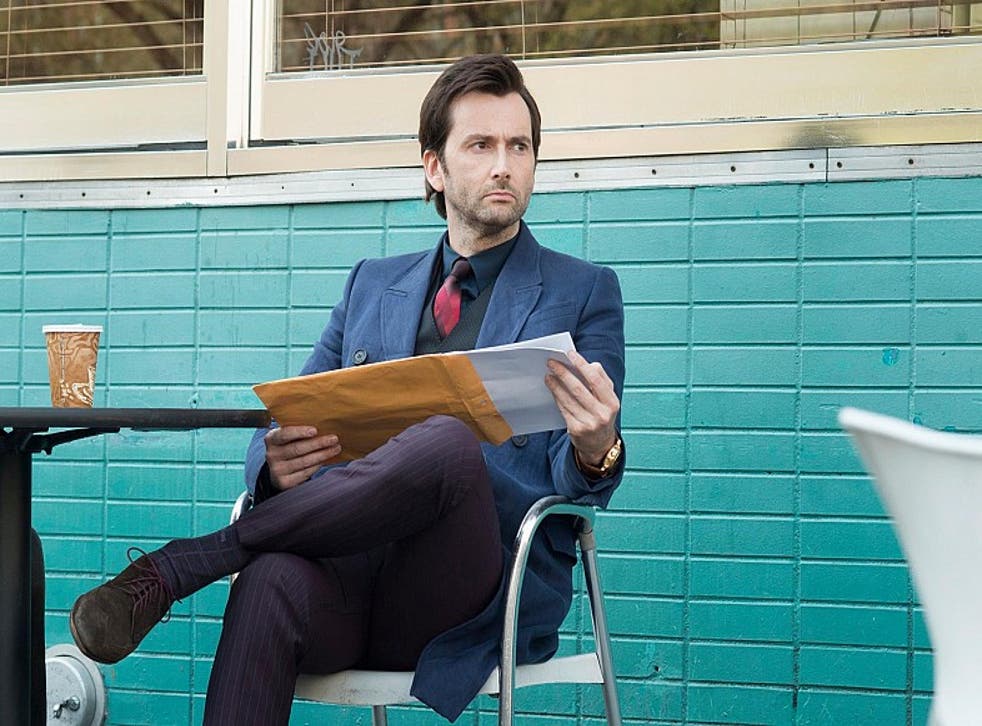 Marvel's upcoming TV project, Jessica Jones, is somewhat different to anything the Avengers studio has done before.
Even compared to their other Netflix show, Daredevil, Jones is a twisted tale, featuring large amounts of sex, heavy drinking and a genuinely vile villain in the form of David Tennant's Kilgrave.
"Let's not condemn him out of court here," the actor says after I ask whether he knew of the character's 'sick' comic book history. "He's quite extraordinary."
Kilgrave - better known by fans as the Purple Man - has the power to control other people's minds, to compel them to do whatever he wants, whether that is to hand over car keys or jump off a building.
"[Mind control] is at first a fairly fantasy idea but it quite quickly becomes a complex thing," the 44-year-old says. "If that was your lot in life, if you could never know if someone was doing something because they wanted to or if they had to, I think it would be difficult to maintain any equilibrium of normality.
Tennant points out the moral complexity behind Kilgrave's power: how would you maintain being a good person if you could have whatever you want, get people to do whatever you want them to do? It is not only these questions - all of which the show touches on - that make him unlike most other comic book villains.
"He's not a supervillain in the traditional sense. He's not trying to take over the UN or launch a nuclear bomb or become leader of the free world. He's just trying to have a nice time."
Feeling sympathetic for Kilgrave
If you've seen any of the promotional material for Jones, you will have noted that Kilgrave does some terrifying things. In one scene, based in a police station, he makes all the officers point guns at each others' heads, threatening to make them pull the trigger.
Not a character the average person feels sympathy for, but strangely Tennant does: "I think there's a lot to be sympathetic for.
Access unlimited streaming of movies and TV shows with Amazon Prime Video Sign up now for a 30-day free trial
Sign up
"There's something of a tragedy to Kilgrave's situation in that he has everything he wants at all times, which of course makes him obsessed with the one thing he can't have: Jessica's true affection.
"That's what he is chasing, and we can all sympathise with that sense of wanting what you can never have. You may argue with his methods, but he's only following his heart."
The 'Golden Age' of TV
Tennant's career has primarily been on TV, and he firmly believes we are currently going through a "Golden Age" of television.
"I wouldn't necessarily say [TV] is better than film but there's a lot of extremely good writing in television," he says. "I'm drawn to it because you get a number of hours to develop an idea and it seems to be where the good scripts are appearing, in my experience.
"Who knows why but I think TV is in a real Golden Age where it is reforming itself and how it's going to go forward. It could be something the industry is finding a challenge, but actually it is engendering creativity."
26 Netflix shows you need to watch

Show all 26
Jones is being released onto Netflix all in one go, something that has only been done with a handful of past shows.
"All the different ways we receive television - with the long form structure and that fact people now expect to dedicate a number of hours to a story - it allows writers, and indeed actors, to tell more complicated, more interesting stories, and that seems to be a very positive thing."
Revisiting Doctor Who
His most famous character, and indeed one of his best, was the tenth Doctor in the BBC's Doctor Who, a role he has recently gone back to, having recorded three audio drama with Catherine Tate.
"Doctor Who is such a massive part of so many peoples lives, and it's always there, so it's always nice to revisit, even if briefly," he says. "It was fun! Nice to work with Catherine Tate, always a pleasure."
Having starred in Doctor Who, Harry Potter and now a Marvel show, you would have though the Scotsman may have had enough of touring comic cons, yet the opposite proves true.
"You can never have enough reasons to go to a comic con. I'm very happy to clock up as many franchises as there are going. I was a fan of Marvel Comics, and still am, so I get why people get enthused in those worlds, because I do."
Can we expect to see him in a Marvel film?
With his apparent excitement to be part of the Marvel world, can we expect to see Tennant in one of the upcoming Marvel movies? "What Marvel may or may not have planned for any of their actors or properties I am not at liberty to discuss," he says bluntly.
I rephrase the question, would he like to appear in a Marvel film in the future? "What Marvel may or may not have planned…" You're not going to budge, are you? "What Marvel may or may not have planned…"
Jessica Jones is available on Netflix from 20 November.
Register for free to continue reading
Registration is a free and easy way to support our truly independent journalism
By registering, you will also enjoy limited access to Premium articles, exclusive newsletters, commenting, and virtual events with our leading journalists
Already have an account? sign in
Register for free to continue reading
Registration is a free and easy way to support our truly independent journalism
By registering, you will also enjoy limited access to Premium articles, exclusive newsletters, commenting, and virtual events with our leading journalists
Already have an account? sign in
Join our new commenting forum
Join thought-provoking conversations, follow other Independent readers and see their replies