Doctor Strange director 'listening and learning' after The Ancient One whitewashing backlash
Scott Derrickson has come under fire for casting Tilda Swinton as a major Tibetan character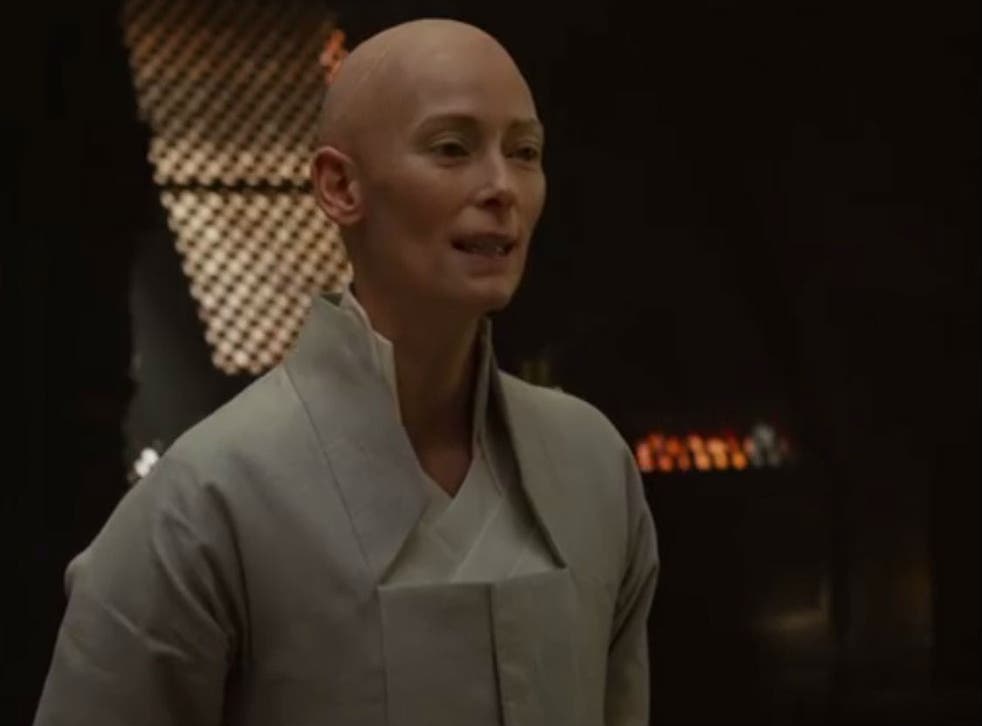 Doctor Strange director Scott Derrickson has said he is "listening and learning" to a fierce whitewashing backlash over Tilda Swinton's casting as The Ancient One.
He posted a tweet on 4 May acknowledging the "raw anger/hurt from Asian-Americans over Hollywood whitewashing, stereotyping and erasure of Asians in cinema" after white actress Swinton was announced to play the Marvel movie's Tibetan, and originally male, character.
Oscar-winning Anglo-Scottish actress Swinton is yet to comment on the criticism but high-profile Asian stars including George Takei and Margaret Cho have expressed their distaste on both her casting and that of Scarlett Johansson as Japanese cyborg Motoko Kusanagi in Ghost in the Shell.

C Robert Cargill, Doctor Strange's screenwriter, said recently that Swinton was cast on her talent and not her race. He insisted that it was also a "political move" as had a Tibetan character been cast, the film could have been banned by the Chinese government.
Star Trek's Takei, however, did not believe him, writing on his Facebook page: "You cast a white actress so you wouldn't hurt sales…in Asia? This backpedaling is nearly as cringeworthy as the casting. Marvel must think we're all idiots. They cast Tilda because they believe white audiences want to see white faces."
Further down in the comments he added that the "long-standing practice" of rewriting originally Asian roles for white actors to play "leaves Asian invisible on screen and underemployed as actors".
Hollywood whitewashing controversies

Show all 11

Marvel has already issued a statement on the controversy, highlighting a "very strong record of diversity" that sees the studio "regularly depart from stereotypes and source material".
"The Ancient One is a title that is not exclusively held by any one character, but rather a moniker passed down through time, and in this particular film the embodiment is Celtic," the message read. "We are very proud to have the enormously talented Tilda Swinton portray this unique and complex character alongside our richly diverse cast."
Benedict Wong, a British actor born to Chinese parents, will play the role of the Sorcerer Supreme's sidekick but how much screen time he will be given remains in doubt. Wong was not seen in the film's first trailer when it premiered last month.

It remains to be seen whether Swinton will eventually address the whitewashing scandal surrounding her major part. Rooney Mara, who sparked outrage after playing native American princess Tigerlily in Pan, said earlier this year that she "hate, hate, hated" being on the wrong side of the whitewashing conversation. "I don't ever want to be on that side of it again," she told The Telegraph. "I can understand why people were upset and frustrated. Do I think all of the four main people in the film should have been white with blonde hair and blue eyes? No."
A recent Hollywood diversity report found that women of colour were less likely to be featured as a significant character in a film: just 27 per cent had major roles as opposed to 38 per cent of white females.
Doctor Strange reaches UK cinemas on 28 October.
Register for free to continue reading
Registration is a free and easy way to support our truly independent journalism
By registering, you will also enjoy limited access to Premium articles, exclusive newsletters, commenting, and virtual events with our leading journalists
Already have an account? sign in
Register for free to continue reading
Registration is a free and easy way to support our truly independent journalism
By registering, you will also enjoy limited access to Premium articles, exclusive newsletters, commenting, and virtual events with our leading journalists
Already have an account? sign in
Join our new commenting forum
Join thought-provoking conversations, follow other Independent readers and see their replies