Doctor Strange writer says whitewashing Tilda Swinton's Ancient One was a 'political move' to please China
'He originates from Tibet, so if you acknowledge that Tibet is a place, you risk alienating one billion people'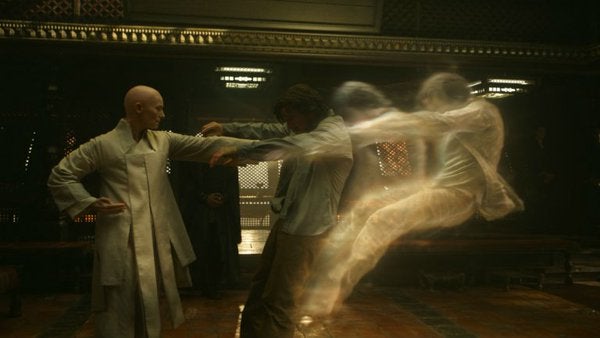 In the last few weeks, Marvel has been criticised for two casting announcements. Recently, the superhero studio came under fire for casting Fin Jones as Iron Fist in the Netflix TV show, while the release of the Doctor Strange trailer had fans up-in-arms over Tilda Swinton's Ancient One.
Many have accused Marvel of 'whitewashing' the character, as in the comic books he is portrayed as mystical male Tibetan mentor for Stephen Strange. Screenwriter C. Robert Cargill has hit back at the critics, saying how the casting choice was made to please China.
"[The Ancient One is] a racist stereotype who comes from a region of the world that is in [a] very weird political place," he said in an interview for the Double Toasted Podcast, via The Guardian.
"He originates from Tibet, so if you acknowledge that Tibet is a place and that he's Tibetan, you risk alienating one billion people who think that that's bullsh*t and risk the Chinese government going, 'Hey, you know one of the biggest film-watching countries in the world? We're not going to show your movie because you decided to get political.'"
33 Superhero films set for release between 2016 and 2020
Show all 34
China has become one of the biggest film markets in the world, with Transformers and Marvel flicks regularly grossing millions of dollars in the country.
It should come as no surprise the studio didn't want to risk the film being removed from Chinese cinemas (especially when you consider they only show 34 international movies show in the country each year) but it still stands that an Asian actress could have taken the role: something Cargill also remarked on.
"If you are telling me you think it's a good idea to cast a Chinese actress as a Tibetan character, you are out of your damn fool mind and have no idea what the fuck you're talking about," he said.
"Oh, 'she could be Asian!' Asian? She should be Japanese, she should be Indian, really? The levels of cultural sensitivity around this thing is, everyone is staking out their one particular place and not realising that every single thing here is a losing proposition."
Speaking about Marvel giving the traditionally male role to a female actor, he added: "There's not a lot of talk about, 'Oh man, they took away the job from a guy and gave it to a woman.'"
"Everybody kind of pats us on the back for that and then decides to scold us for her not being Tibetan. We knew that the social justice warriors would be angry either way."
The first Doctor Strange trailer was released earlier this month while the film will hit cinemas 28 October.
Join our commenting forum
Join thought-provoking conversations, follow other Independent readers and see their replies